St. Thomas aka The Railway City is exploding with flavour! Whether you love coffee and craft beer or fantastic sweet treats and pizza, you'll find it here.
The best part? St. Thomas is one of the many towns you can explore on the Elgin County & St. Thomas Great Taste of Ontario passport so if you check into five of these spots, you'll receive a $25 Feast On® voucher!
Let's roll.
Stop 1: Streamliners Espresso Bar
Where: 767 Talbot St, St Thomas, ON. (View Map)
First stop- put a little perk in your step with a trip to Streamliners Espresso Bar. Stocking locally-sourced product like Las Chicas, a St. Thomas-roasted coffee and  Woodstock's Habitual Chocolate for their hot chocolate, you can feel good about supporting the local economy as you sip away.
Crafting rich and creamy hot chocolates, brilliant and coffee-forward cappuccinos and more, this is more than just a coffee shop. It's a hidden gem. Their bright cafe is the perfect spot to enjoy catching up with friends, catching up on work emails or just chilling out a little.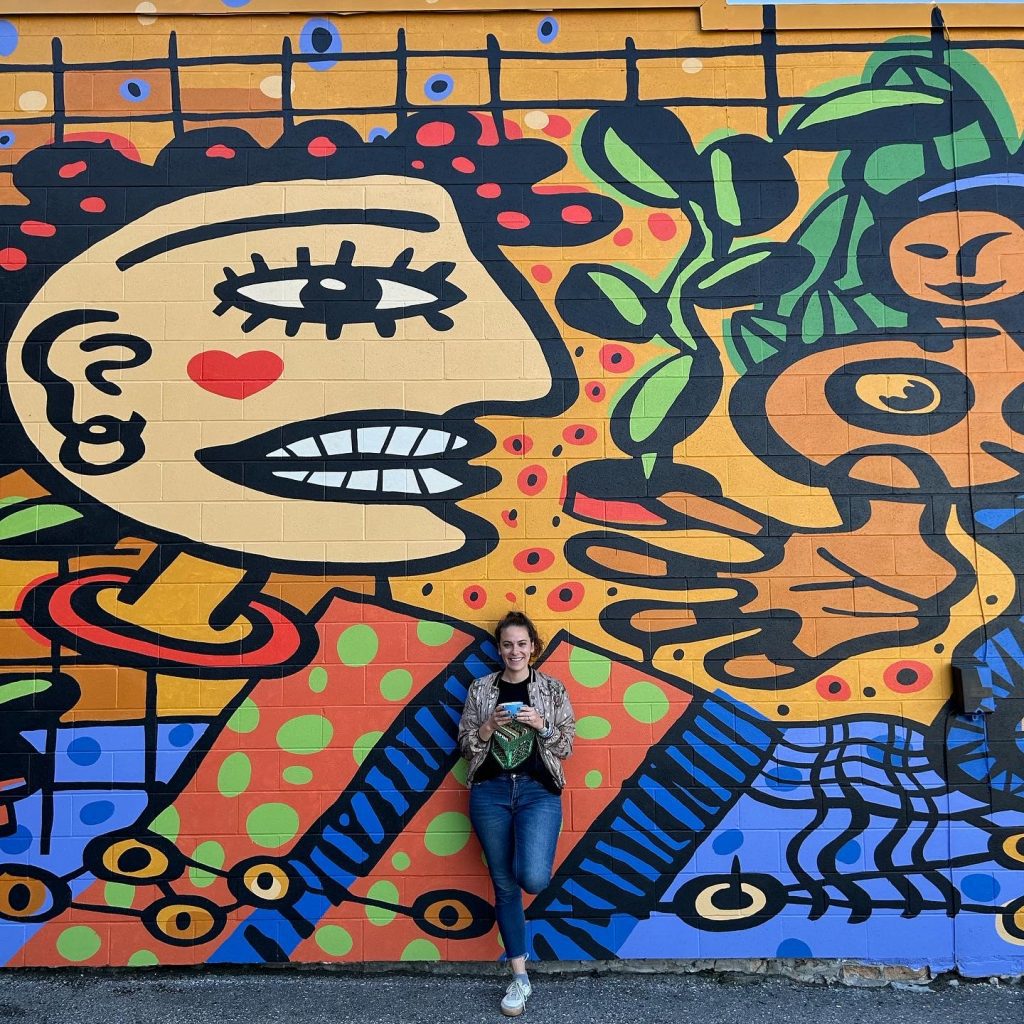 Plus don't forget about the mural about back! Created by local artist Andrew Lewis, it's a colourful welcome on gray and sunny days alike!
Stop 2: Caps Off Brewing
Where: 767 Talbot St, St Thomas, ON. (View Map)
Psst! Want to grab a beer where the locals do? This is your spot.
Started as a home brewing adventure, this teeny tiny brewery has major heart. Grab a seat in their tap room as you enjoy a flight or bundle up and head outside to the patio!
We loved the warmth of this brewery as everyone seemed to know each other…we also loved the Drop of a Hat IPA. Just sayin'.
Stop 3: Railway City Brewing
Where: 130 Edward St, St Thomas, ON. (View Map)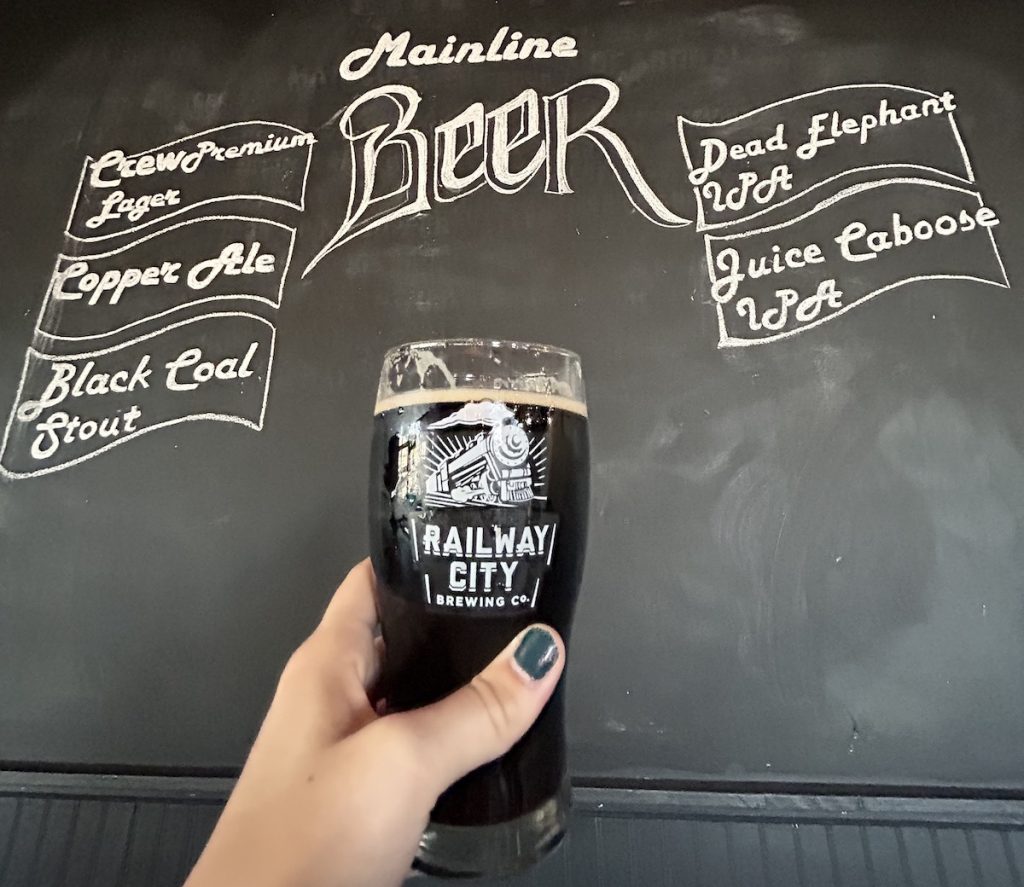 A classic named for the city it calls home, Railway City Brewing has been open since 2008 when they were located downtown. After making the switch to a bigger spot in 2013, Railway City has continued to serve some tasty craft beers made right in house.
They also host some pretty cool events and workshops including "Brewniversity" where guests learn about the brewing process.
Our insider scoop? Ask them to combine their Black Coal Stout with their Orange Creamsicle Ale (or the cherry-vanilla) for a truly tasty combo. They may look at you like you have two heads but trust us, it's worth it.
Stop 4: Elgin Harvest
Where: 400 Sunset Dr, St Thomas, ON. (View Map)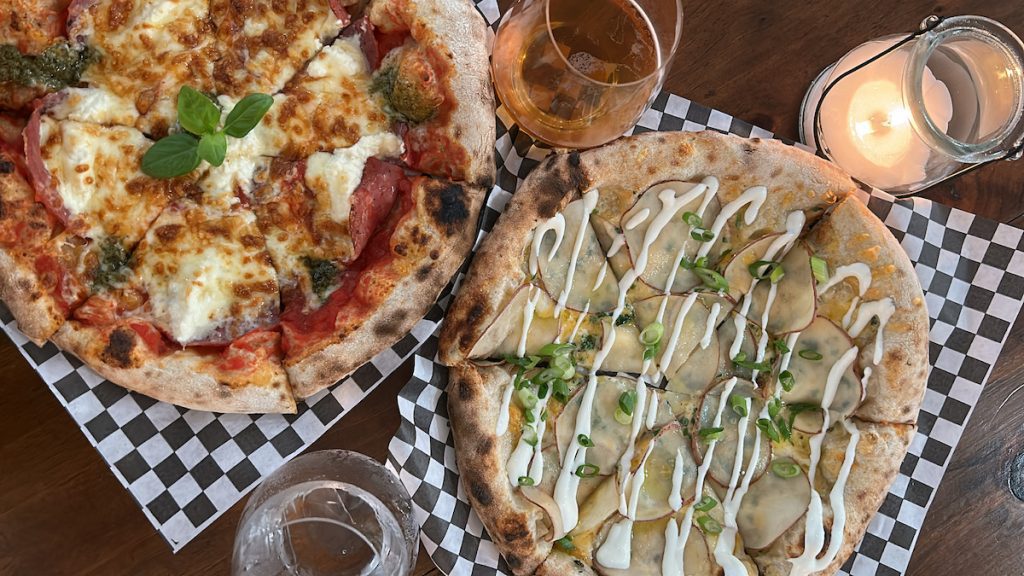 What if we told you one of the best pizzas in the province was nestled into the road leading from St. Thomas to Port Stanley? This wood-fired beauty can only truly be appreciated with your taste buds so common down!
Elgin Harvest, run by Chef Cindy Bircham, started back in 2012 when Cindy used to bring her wood-fired oven around from place to place serving up tasty 'za for the masses (coincidentally, one of those places was Railway City). Luckily enough, just this past year, Cindy opened her own spot so folks can have pizza every week with her.
With an epic line of of Ontario-based spirits like Dillon's gin and tonics and beer from London Brewing Coop as well as art by local artists on the wall, Cindy's love for local shines in everything she does.
Of course, that includes the pizza. We enjoyed a seasonal pizza with thinly sliced potatoes as well as the Bee Sting pizza which features tomato, salami, ricotta cheese, basil pesto, mozzarella, spiced honey and…oh crap now we're drooling.
Stop 5: The Ice Box
Where: 125 Ross St, St Thomas, ON. (View Map)
View this post on Instagram
At the end of the night, we hope you're feeling wonderfully full but also saved room for a little icy treat. The Ice Box in downtown St. Thomas serves amazing cones and cups of small-batch ice cream and gelato that is sure to end your night in an extra-sweet way.
Please note: the Ice Box will be closed until May 2023 as they move into a new space! 
Have fun!
We hope you have a great time! Don't forget to check into those stops as you go along so you can collect that Feast On® voucher when all is said and done.