Gift cards to local spots are the best holiday present for everyone on your list: your neighbours, friends, family, your kid's teacher. (Especially your kid's teacher!)
Shawn Adler, owner and chef at The Flying Chestnut Kitchen in Eugenia, Ont., is a pro at adapting, especially during COVID-19. Located about 25 minutes from Collingwood, Adler's restaurant is unpretentious with a pre-pandemic casual-fine-dining menu that didn't translate to take-out boxes. So, he's made a pivot to totable comfort foods with the help of an outdoor wood-burning oven, grill and smoker.
His formula is simple: Fresh, local and often organic ingredients plus spirits and beers from nearby makers equals the perfect takeaway meal. Menus are scrawled in marker on sheets of paper then posted on Instagram. The lineup varies, but easily slots into categories; Fried Chicken Fridays, Smoking Saturdays and Sundays are the wildcard days that are deliciously at the mercy of Chef. It feels friendly and rustic, like grabbing dinner from a friend of a friend.
"Everyone in the industry is having to reinvent the wheel," Adler says. "You can't be set in your ways; you have to adapt." The new take-out approach, a weekly market and outdoor dining in warmer weather have helped The Flying Chestnut Kitchen survive. And gift cards promise to be another tool this winter. 
Once considered a last-minute cop out, gift cards now spark hope for small businesses and local restaurants. Suddenly, they're a symbol of investment and good will, because if you value an establishment, you'll pay now and reap the rewards later. What better way to spread some cheer and break bread—distantly or virtually, of course—than by keeping it neighbourly?  
Gift cards are easy shopping, too. Many restaurants and shops offer them virtually or accept e-transfer payments. A gift card doesn't expire, so they're painless to mail and offer loads of flexibility to the recipient on when and how to spend it. A gift card to a spot you love is thoughtful and personal—and you get to introduce your friends and family to something new. To make the gesture even more warm and fuzzy, jot down your favourite dishes or menu suggestions.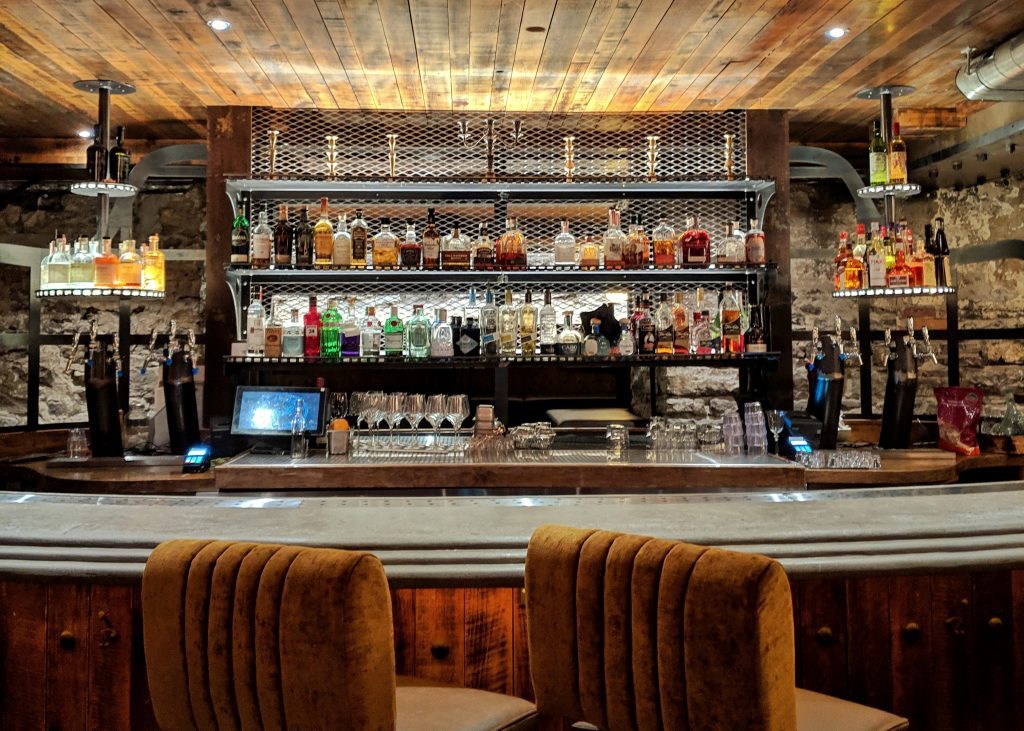 ---
At Rabbit Hole, a cocktail bar, restaurant and speakeasy nestled into a 120-year-old historic building in Ottawa, Ont., gift cards can be used for meals or drinks, but they can also be applied to new virtual events. Like The Flying Chestnut Kitchen, they've gotten creative in a bid to save their business; they now offer Zoom cocktail classes, where their mixologists offer pointers, and catered wine and cheese pairings and tastings. "We realized that quite a few people would be unable to come in and celebrate, let alone in their home with loved ones. It was clear that we needed to find new ways to connect people virtually," says general manager Ellie Dellis.
For businesses themselves, the impact of a gift card lives on long after the meal itself. Buying one contributes directly to a business's bottom line, helping them not only keep the lights on, but employ more staff and stay in the black. Plus, introducing your loved ones to a new spot will get them talking and sharing, which means local restaurants will reach a whole new roster of customers. If your list is long, buy lots of smaller gift cards. And when you hand them out, challenge the recipient to do the same. This small act casts a net that reaches further than you may think. 
That's how Patricia Thompson, vice-president of sales and marketing at King Cole Ducks—a fourth generation duck farm in Whitchurch-Stouffville—sees it, too. She and her sisters are leading the flock at the zero-waste operation and they are super focused on staying local, from stocking honey and chutneys from local vendors in their farm-fresh store to purchasing wood shavings from a nearby woodworker for nests and compost to supplying grocery stores and restaurants, including many hard-hit Asian establishments. And Thompson encourages everyone to look a little harder into how to shop local. 
"Ask retailers and restaurants 'is it local?'" That helps support us, and then we can help support around the globe because we can afford to," she says. "Local isn't always the cheapest, but it's not just a job, it's our life. You are supporting families and we appreciate it." 
Of course, a gift card isn't the ultimate fix, but it's a strategy that can have a hand in helping save your favourite spots. "This is when we need you the most. If you want us to survive, this is the time to put your money where your mouth is," Adler says.
It turns out, the worst part of gift card-giving is deciding who to support.
---
How to help small businesses beyond gift cards

Remember, this is a marathon so your long game matters. Buying gift cards helps, but so does showing support in other ways. Here's how. 
Word of mouth
Had a delicious meal or a great experience? Tell people, both online and in real life. Recommendations go a long way, especially when they come from people you know. Don't be shy about recommending that incredible burger joint, or texting friends the name of your favourite Indian restaurant the next time they're debating who has the greatest butter chicken. 
Shout them out on social
You can be supportive without spending money. Social media is a powerful beast and engaging on a small business' Instagram or Facebook page will help their organic reach. Like, share and comment on their posts, and do it a lot. Tag your friends, repost stories and if you've ordered takeout, post about it and tag them. 
Spread the love by shifting your shopping habits
A one-stop shop is tempting, but if you can do it safely, spread your dollars out. Many restaurants have scrambled to offer pantry goods. Support that. It might be a little out of the way to make an extra stop for sourdough bread from a restaurant, beans from the local coffee shop or produce from the corner store, but it's worth it. "Support the business that you want to be there after this is over," says Adler. "If you love your corner pub, you're going to have to suck it up and pay a bit more for that six-pack." 
Buy subscription services or use their virtual tools
So many businesses are going digital. If they offer an option to do a virtual cooking class or beer tasting, do it. And if a vineyard has a wine subscription, say yes. Or, sign your giftee up for one of Foodshare's Good Food Boxes. These produce boxes come in a variety of sizes and contain fresh and culturally diverse fruits and veggies sourced from local and BIPOC-led producers. You can opt to add on treats, too, such as organic coffee, locally produced honey, sourdough bread from Mabel's and pasture-raised meats sourced from a small-scale farm in southern Ontario. And this project doesn't just support local producers; the revenue goes toward Foodshare programs that improve access to fresh food in low-income and racialized communities. 
Keep ordering take-out, and do it directly through the restaurant
Takeout is perfectly safe, but if you really want to help local restaurants, avoid using food delivery platforms. Food apps take a large percentage from restaurants, so your money goes farther if you cut out the middleman.
Donate your time and expertise
And you don't have to spend money. If you have a skill that can help a small business, they might appreciate the help. That could mean a pro bono marketing consultation, or discounted rates on web development. Better yet, you'll be helping to build a local supplier network in your community, which is good for everyone involved.
---
CONTENT FROM GLOBE CONTENT STUDIO
ORIGINALLY PUBLISHED DECEMBER 11, 2020
as part of the Great Taste of Ontario Special Report