"I have always said that the joy of food should go way beyond the plate…and it does." – Nigel Slater, Tender Vol. II
In the first installment of Tasty Tidbits for the year, we're hitting the hay to explore the growth of agri-tourism around the world and right here at home. It is our belief at OCTA that agricultural products are at the root of all culinary tourism and essential ingredients to providing culinary tourists with an authentic taste of place.
Defined as "the act of visiting a working farm or any agricultural, horticultural or agribusiness operation for the purpose of enjoyment, education or personal involvement in the activities of the farm or operation" by the University of California's Small Farm Program and accepted by OMAF, agritourism is quickly becoming an attractive new revenue stream for farmers looking to diversify their business, reduce dependency on fluctuating commodity prices, promote farm heritage and educate consumers.
The economic impact of agritourism is significant:
Every $1 of farm income generates an additional $2.40 spent in the local agricultural economy
On-farm and farmer direct marketing initiatives increase a consumer's price paid to the farmer ten-fold, from $0.09/dollar to as much as $.90/dollar


– Waterloo Regional Health study

In 2005, 400 farms were practicing agritourism with a return of $166M in sales
In 2009, 750 farms were practicing agritourism with a return of $210M in sales


– Ontario Farm Fresh Marketing Association (OFFMA) Survey

In 2009, 72% of agritourism farms reported an increase in visitors over the last two years
Agritourists' interests are closely aligned with those of food tourists. In 2006, the Canadian Travel Activities and Motivation Survey (TAMS) found that agritourists are more likely to:
Go shopping/dining
Visit historical sites, museums and art galleries
Attend festivals and fairs
Attend wine, beer and food tastings
Participate in cultural experiences
Participate in outdoor activities (eg. swimming, hiking, wildlife viewing)
These additional motivations show that agritourists are interested in experiencing the local food and culture of a destination not just at the farm but at other attractions as well.
From farm stays to horseback riding to picnics in the field with freshly picked fare, farms are quickly becoming highly sought after destinations for tourists looking to reconnect with the natural environment and their foodways.
In the 2013 edition of Bon Appetit's list of the Best Food Lover's Hotels in America, Tennessee's Blackberry Farm topped the list. The 4,200 acre property was also awarded the title of Number One Small Hotel in America by Zagat Survey and offers guests the chance to partake in fly-fishing, skeet shooting, barbecue picnics, campfire cooking classes and dinners in a restored barn with an 8,000 square foot wine cellar.
Also on the list? Willows Inn, a stunning outpost just off the coast of Washington State on Lummi Island where guests can learn sustainable farming techniques and collect eggs from the farm's family of chickens. Farther south along the Oregon Coast at Abbey Road Farm, grain silos have been converted into suites to create a truly memorable bed and breakfast.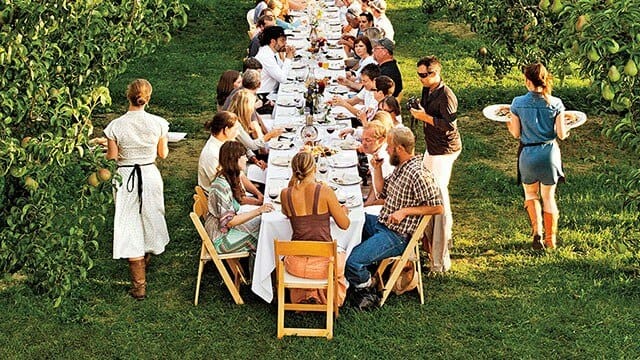 Of course, agritourism is not contained to farmers south of the border – best practices are on display across the globe. In Ontario, there are hundreds of u-pick farms, on-farm markets and country accommodations to choose from, including Piebird B&B and Foymount Farm. Find more u-picks on Harvest Ontario and in the newly launched 2013Ontario Culinary Adventure Guide.
To learn how OCTA can help grow your agritourism business, enhance the agri and food tourism programs and experiences in your region and attract culinary tourists, please drop us a line!