One for the basket, one for me. It's a time honoured tradition, one that affords many delicious opportunities to explore Ontario's rural places at your own pace.
We've gathered up some of our favorite pick-your-own strawberry spots into a nice little list for all you berry-loving jammers, bakers and preservers. Take an afternoon, visit a farm and pick your own this season!
---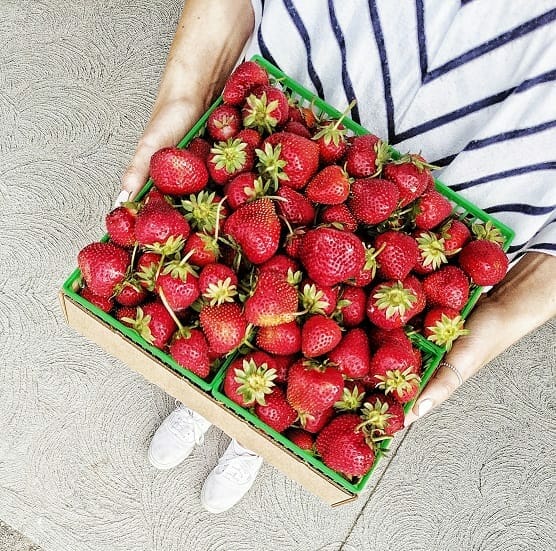 In Season Now:

Strawberries
Did you know that strawberries are actually a member of the rose family? They are not really berries or fruit, but are actually the enlarged ends of the plant's stamen. It is the small black spots which are actually the fruit.
To pick, gently hold stem in between your thumb and index finger. Carefully pinch and break the stem – but don't squish the berry!
---
Austin's Pick-Your-Own, Norfolk County
Originally opened by the family of Glenn and Jean Austin, Austin's Pick-Your-Own Strawberries has been providing Norfolk with pre-picked and pick-your-own produce for 43 years! There's a dozen reasons why Norfolk County is considered the strawberry capital of Ontario – and the Austin's are one of them.
---
Bayfield Berry Farm, Bayfield
This farm is a family run operation with a focus on farm-to-table products. Not only can you pick your own strawberries, blueberries, and raspberries, but you can also stop in for Saturday & Sunday breakfast buffets!  Think fresh strawberries on top of fluffy, homemade pancakes.
---
Brooklands Farm, Bracebridge
The next time you're in Muskoka, make sure you stop by Brooklands Farm, especially if you're looking for some quality strawberry picking. You will find 5 different types of strawberries begging to be made into pies and jams!
---
Strawberry Creek Farms, Newmarket
Strawberry Creek Farms boasts pick-your-own options for several fruits and vegetables, including, of course, strawberries! In addition you will find a farm market and their own 'Amazing Acres Playground' which includes farm animals and straw bales.
---

---
Richmond Nursery Garden Centre and Farm, Ottawa
Make a day out of strawberry picking at Richmond Nursery! There is a picnic area, a playground and a pet farm!
---
Downey's Farm Market, Caledon
Our list wouldn't be complete if we didn't mention Downey's Farm! In addition to pick-your-own strawberries you will find a farm market, a family play area, wagon rides, the "Kritter Korral", mini-golf, and even an entire festival dedicated to strawberry picking.
You read that right! On July 1st, 2018, Downey's Farm is hosting a Canada Day Strawberry Festival! To read more about the festival, click here.
---
Stay tuned for more of our 'Where To Pick-Your-Own.'