Cask Days is an annual celebration of cask ales – unfiltered, unpasteurized, and naturally carbonated brews served directly from the barrel. This year, over 300(!)  beers and ciders were available to sample at Evergreen Brickworks, and while we couldn't try them all (for obvious reasons), here are 10 of the Ontario brews we fell in love with.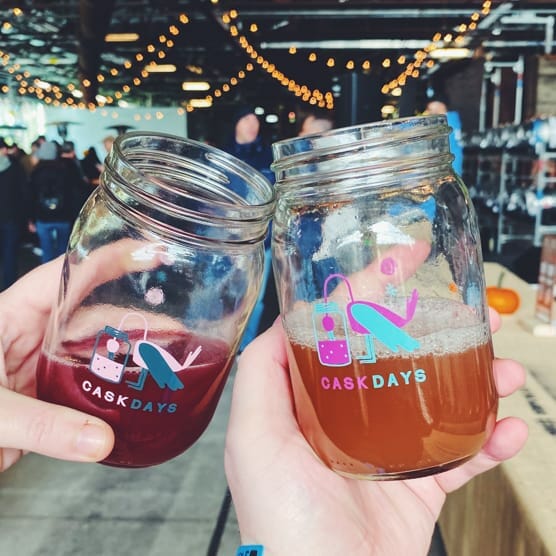 ---
Fairweather Brewing Company
Pineapple Sour with Vanilla & Naga Viper Chillies
This sour has bite! From tangy to smooth to the kick of heat – this is a wild ride, and we're here for it.
---
Cowbell Brewing Company – Thunder and Lightning
Blonde Ale with Ginger & Lemongrass
Crisp, refreshing, and zesty! This blonde ale strikes a great balance.
---
Bellwoods Brewery – Mega Coffee-Infused Imperial Stout
Imperial Stout with Coffee
Holy coffee, batman! Extremely coffee forward with the light sweetness of a stout. Not for the faint of heart, but perfect for a coffee lover.
---
 Muddy York – Tequila Daisy
Tequila Barrel-Aged Sour with Lime & Vancouver Island Sea Salt
Attention margarita lovers: this one's for you!
---
 Elora – Lodestar with Elderberry
Fruited Sour with Elderberry
Part of Elora Brewing Company's Lodestar lineup of fruited sours, this one features the tangy tartness of elderberry. A great addition to an already stellar lineup of seasonal sours.
---
 Left Field X Dominion City – 1000 Victories
Ontario IPA
Featuring local Ontario hops, barley, yeast, and honey – this juicy IPA offers all the components of a great IPA, with an authentic taste of place.
---
Rainhard – Cut and Run
Foeder Aged Sour with Blackberry, Lemon & Vanilla
Fruity sweetness upfront balanced by vanilla, with a tart finish.
---
Sawdust City – You Salty Dog
Beet Gose
Sawdust City are marching to the beet of their own drum with this unique flavour profile. Earthy, salty, and slightly sour flavours combine for a refreshing gose style beer.
---
Wellington Brewery – Duck Dive
IPA with Blackberry & Chai

Fruity, spicy, hoppy, tart – this IPA is chock-full of subtle complexities.
---
Short Finger – N.E.S.
New England Sour with Plums
This funky sour strikes all the right chords. Fruity, tart, and full of plum flavour.
---
If you couldn't make it to Cask Days this year, fret not! You'll be able to find Cask Days 2020 (and lots more awesome local events) when they are announced on our event calendar.
Cheers!