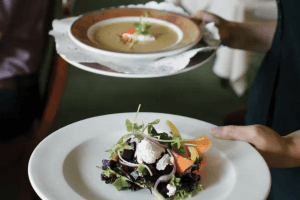 At Heather Lodge, executive chef James Jennings whips up delicious three- and four-course meals.
If you usually think of a winter holiday as a chance to escape the snow, here's an alternate idea: Stay close to home and experience the joys of winter. Whether that means cozying up with a private fireside chef or luxuriating at a spa, Ontario has stays to make you (and your tastebuds) appreciate the season in a whole new way.
Lungovita, on Lake Erie in Harrow
Although heading to a beach resort might seem more like a summer plan, Lungovita makes the most of the Canadian winter in Ontario's Southwest. Heated tents (or geodesic domes, if you're feeling extra fancy) can accommodate two to four people and come equipped with a personal bonfire pit.
The premises also boast luxury bathrooms, as well as hot tubs and saunas, which are available year-round. Although the nature retreat does not sell food, it is within walking distance from three wineries – North 42 Degrees Estate Winery, Colchester Ridge Estate Winery (CREW) and Viewpointe Estate Winery – where guests can enjoy delicious meals and of course, wine tastings.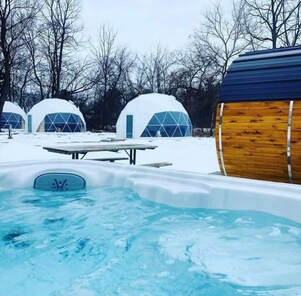 Beach resort Lungovita is a refreshing escape, even during the cold months.
Glen Oro Farm in Oro-Medonte
Say yes to glamping. Glen Oro Farm's luxury eco-retreat in Simcoe County isn't just chic and comfortable, it also gives visitors the option to book a private chef. Chef Paul LaForet of LaForet Catering will head to your "glampsite" and cook dinner over an open fire. Choose from a set menu (which allows for dietary accommodations) or splurge on a seasonally-inspired five- or seven-course tasting menu. If you're not into the private chef idea, there's another delicious option: Chef Melanie Robinson, 2015 Chopped Canada champion and owner of local restaurant Eclectic Cafe, will deliver a brunch box, charcuterie platter or seasonal dinner for Glen Oro visitors. Each tent and geodesic dome at the farm also includes an ensuite bathroom and kitchenette, in case you want to cook for yourself.
Calabogie Peaks Hotel in Calabogie
If you love winter unapologetically, Calabogie Peaks Resort, in Ontario's Highlands, is an excellent place for skiing, skating and snowshoeing. Guests have marvelled at how friendly the ski slopes are for visitors of all levels, from the new to the highly experienced. Then, once you have had enough time in the snow, head back to the hotel for Feast On-certified fine dining at Canthooks Restaurant. Enjoy a cozy après ski dinner with the Swiss/German-inspired menu, complete with spaetzle and schnitzels made in-house. Beer lovers: Be sure to order a flight of brews sourced from the Canadian Beer Award-winning Calabogie Brewing Co.
Primeau's Ice Castle on Lake Nipissing
For the truly adventurous foodies out there, consider catching your own food this winter – in style. Couple Pat and Stephanie Primeau created their "ice castle" fishing business in 2017. Overnight ice fishing requires staying in a heated ice hut, but the Primeaus are no ordinary outfitters. Their luxury huts are converted trailers with predrilled holes in the floor for fishing. Even better, they're fully decked out with satellite television, couches, beds, washrooms and propane stoves. That means you can catch some of Lake Nipissing's whitefish, pickerel and perch without leaving the sofa, literally. Just make sure you have a fishing permit.
Heather Lodge in Minden
Go for a classic cottage on the lake at this Haliburton Highlands adults-only resort, which has been around since the 1940s. Cozy up in one of its 12 studios, all of which boast king-size beds, classic Canadian lodge-inspired decor and all the creature comforts you need for a relaxing getaway. Then, head to the Feast On-certified restaurant, which offers three and four-course meals – just make sure you make a reservation in advance. Executive chef James Jennings has 25 years of experience and the menu changes seasonally, so you will want to go back year-round! When you aren't eating a stellar meal with a view of Twelve Mile Lake, be sure to take advantage of the Lodge's snowshoes and cross-country skis. There are plenty of trails near the property, and Algonquin Park isn't far away. The charming riverside village of Minden also offers plenty of unique cafes and a riverside walking trail.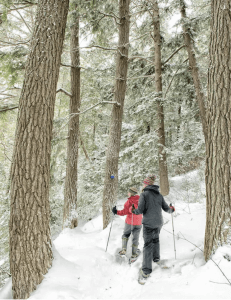 Heather Lodge in Minden has snow shoes on offer so guests can explore nearby trails.
Point Pelee National Park's Otentiks in Leamington
If you're not exactly the roughing it type, consider booking a stay at one of Point Pelee National Park's Otentiks, which are a cross between an A-frame cabin and a prospector tent. Each all-weather structure features hardwood floors, heat, electricity and high-density foam mattresses, so guests can relax in maximum comfort, even during the winter months. Importantly, four of the park's Otentiks are accessible and two are pet-friendly. And while there's no eating inside the tents themselves, each one is equipped with dishes and a gas barbecue for outdoor cooking. Or, head into town for a handmade burger at Freddy's, a family-owned restaurant that Freddy and Maria Makhlouf have been running since 1988. Freddy's gets glowing reviews, and sweet tooths take note: There are 32 flavours of ice cream on offer.