Looking for a romantic getaway with a few delicious date ideas? We have you covered. Look no further than Kingsville, Ontario.
Plan your next Eat Drink Dine Adventure in Kingsville Ontario!
There's something in the air when it comes to visiting Southwestern Ontario, Kingsville – It could be the incredible hustle and bustle of the vibrant community or the beautiful farmlands you pass by on the way.
Looking to celebrate that special someone or celebrate an anniversary? Why not plan the perfect getaway using the Eat Drink Dine Kingsville Great Taste of Ontario Passport (keep reading for details)?!
Before we dive into this delicious guide take a peek at our Eat Drink Dine Adventure in Kingsville Ontario!
Download the Great Taste of Ontario Passport
Before heading out, we recommend downloading the Eat Drink Dine Kingsville Great Taste of Ontario passport (located handily right on this blog)! When you check into three stops on the passport, you'll receive a $25 Feast On® voucher right to your phone.
Brunch Date Like a Pro at Kingsville's Best Breakfast Spots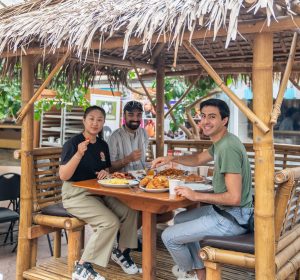 A perfect getaway cannot begin without having a good ol' brunch! We've got the rundown on the best spots to visit from the Eat Drink Dine Great Taste of Ontario Passport to do just that.
Brunch Option 1: Recharge at Red Lantern Coffee Co.
Where: 4 Main St W, Kingsville, ON (View Map)
This spot is perfect for those not into a massive breakfast or brunch.
Not only do they offer a delicious variety of worldly coffee flavours but they have some incredible, fresh pastries to pair with your morning brew!
Red Lantern Coffee Co. is a specialty coffee roaster located in Kingsville, Ontario focusing on providing fresh roasted, approachable coffee from around the world! 
Now that you are well caffeinated and calibrated to take on the day! It's time for brunch! No matter where you decide to go on this list we are sure you won't regret it!
Where: 1550 Road 3 E, Kingsville, ON. (View Map)
This magical tropical oasis is truly a feast for the eyes! Colasanti's offers a variety of tropical plants, succulents, bonsai trees, orchids, seasonal plants, flowers, and more. Many varieties are grown on-site in our production greenhouses! Did we mention they have an arcade and Petting Farm – This truly can be the best brunch/dinner date ever!! But in terms of food here's what we recommend. 
You should start with the Three Egg Breakfast which includes three eggs, hashbrowns, toast, bacon and sausage!
If you're feeling like dessert we highly recommend you try their famous PB&J Donut French Toast! We're talking about 4 Colasanti's Donuts, cut and turned into French Toast with a delicious PB&J filling! This spread will surely get you full to start your adventure in Kingsville!
Where: 70 Park St, Kingsville, ON. (View Map)
This iconic Kingsville breakfast spot has got it all! It truly's got the charm to wow anyone you decide to bring on a brunch date, or special occasion! We'd recommend you start with the Chicken Bacon n' Waffle – crispy fried chicken on a fluffy Belgian waffle, topped with strawberries.
Good ol' eggs more your thing? Don't miss out on their omelettes packed with farm-fresh goodness, like the Western, or the mouthwatering Chicken Fajita – Grilled chicken, onion, green peppers, jalapenos, salsa, and cheddar cheese. Trust us whatever you choose, you'll be satisfied!
Do you have a sweet tooth? Try the Strawberry Cheesecake French Toast, a creamy delight with strawberry sauce, whipped cream, and icing sugar!
Brunch Option 4: Green Heart Kitchen, INN & FARM
Where: 28 Main St W, Kingsville, ON. (View Map)
This breakfast takeout spot has mastered the art of creating delicious, locally sourced breakfasts. We highly recommend you try their banana berry smoothie bowl and grab their delicious Butcher's Bacon BLT – Butcher-style bacon with lettuce, tomato and cheddar cheese with maple mayo on our freshly baked super seed sourdough. Perhaps split each with your sweetie if you're in the mood to try more than one!
The best part? You'll feel extra good shopping there as Green Heart gives back 3% of every order towards meals at a local food bank and to their local FEED IT FORWARD program which feeds kids in Windsor/Essex Elementary Schools!
Fall in love with Kingsville's Vibrant Wine and Beer Scene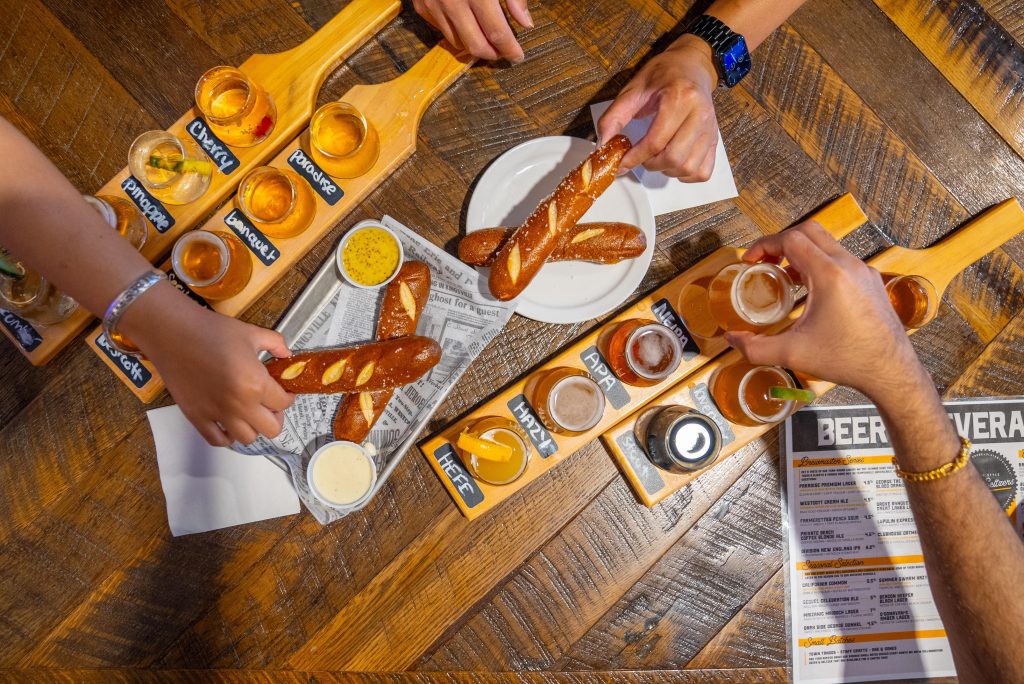 If you are looking to have a serene and relaxing day sipping the best brews and wines we recommend you stop at Pelee Island Kingsville Winery 
Where: 455 Seacliff Dr, Kingsville, ON. (View Map)
You and your special someone can enjoy a tour of the winery and taste exclusive wines you can only find in-store. This winery will surely add a sparkle to your romantic day.
If you are more of a beer lover we highly recommend you do a beer crawl to visit Banded Goose Brewing, The Grove Brew House and the delights offered by Taphouse 127/Kingsville Brewery!
Check out our blog on how to explore the Kingsville Wine and Brew scene like a pro!
Explore Kingsville's exceptional Lunch & Dinner Stops
This next list of Lunch/Dinner stops is tried and true, and is a must-go to truly experience Kingsville's incredible offerings!
Did you know many of the restaurants on the Eat Drink Dine GTOO Passport use locally sourced produce from local farms such as Lee & Maria's Farm? (psst… make sure to check out their incredible farm tours)!
#1 Jack's GastroPub –
Where: 31 Division St S, Kingsville, ON. (View Map)
JACK'S GastroPub takes pride in sourcing its ingredients from nearby farms, ensuring that each dish reflects the bountiful produce of the Kingsville region. The farm-to-table philosophy supports local farmers and producers and guarantees that you are savouring the best that nature has to offer. 
#2 Koi Sushi
Where: 18 Main St W, Kingsville, ON. (View Map)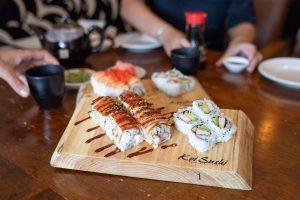 We can't even begin to tell you how incredible this sushi was! We were able to taste Koi Sushi's best-seller rolls!
We highly recommend their "FireCracker" roll – It includes shrimp, tempura, cream cheese, crab, and house sauce drizzle. It's then baked until golden brown, truly a dream!
#3 Taphouse 127
Where: 15 Main St W, Kingsville, ON. (View Map) 
Taphouse 127 is a restaurant by Kingsville Brewery that specializes in pairing a beautiful selection of Kingsville Brewery beers alongside proteins and game meats from the Butcher of Kingsville.
Their menu is a feast for the eyes! With a list of appetizers perfect for sharing (affectionately referred to as the Opening Act), this spot is made for date night.
Of course, the main courses offer a big show too! Try their all-beef burgers or if you feel extra hungry treat yourself to their Tomahawk steak dinner for two. It's basically a recipe for romance as it also comes with their daily soup, an app of your choice as two of the steaks fire-grilled and finished with their signature venison pemmican butter, paired with garlic, red-skin mashed potatoes and honey!
#4 The Main Grill & Ale House
Where: 24 Main St W, Kingsville, ON. (View Map) 
This charming eatery, located in the heart of Kingsville, is the perfect place to unwind and indulge in a satisfying evening meal.
Top on our list? Their Lake Erie Perch fillets are locally sourced, and they come with a side of fries and coleslaw. Fresh and crispy on the outside, you're going to love them. 
Prefer something more casual? No worries! The Alehouse Nachos don't miss.  Picture crispy tortilla chips loaded up with BBQ beef, melted cheddar ale cheese, juicy tomatoes, zesty salsa, and a dollop of creamy sour cream…ok we're drooling.
Enjoy Your Romantic Getaway
We hope you have a fantastic romantic getaway with your sweetie in Kingsville. Want more trip planning tools? Check out our blog here to help you plan A Gourmet Weekend Getaway!
Don't forget to check out the full list of Eat DrinkDine establishments when you download the passport through the Great Taste Of Ontario. When you check into three stops, you'll receive a $25 Feast On® voucher to use at participating certified restaurants throughout Ontario!