Nestled in the beautiful landscapes of Southwestern Ontario, Kingsville is a town that captivates beverage enthusiasts with its thriving wine and beer scene.
Explore Kingsville's Vibrant Wine and Beer Scene
We have the inside scoop on where to go to taste exceptional wines, savour the finest craft beers, and explore the heart of Kingsville's vibrant brewery culture!
From the prestigious Pelee Island Kingsville Winery to the artistic flair of Banded Goose Brewing, The Grove Brew House and the delights offered by Taphouse 127/Kingsville Brewery, this journey is a celebration of Kingsville's liquid treasures and the passion behind every drop.
Download the Great Taste of Ontario Passport
Before heading out, we recommend downloading the Eat Drink Dine Kingsville Great Taste of Ontario passport (located handily right on this blog!) When you check into three stops on the passport, you'll receive a $25 Feast On® voucher right to your phone!
Explore the Pelee Island Kingsville Winery
Where: 455 Seacliff Dr, Kingsville, ON. (View Map)
At the heart of Kingsville's wine legacy stands the award-winning Pelee Island Winery. A visit to this enchanting vineyard is an invitation to indulge in the finest wines, where each sip unveils the essence of the region's terroir.
You don't have to leave the mainland to do it either! If you don't have the time to hop on the ferry to Pelee Island, you can check out their location right in Kingsville.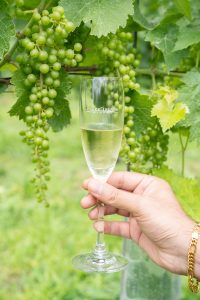 Discover the art of winemaking through guided tours and learn about the rich history of their sun-kissed grapes transformed into vintages of distinction.
Pelee Island Winery's illustrious presence has put Kingsville on the global wine map, drawing wine lovers from far and wide to savour the fruits of Kingsville's labour!
We recommend you sign up for a tasting and a tour of the Kingsville winery! Discover the hidden treasures from the vine to the winemaking process and experience the behind-the-scenes tour.
With a wine glass in hand, you'll have a truly wonderful experience learning and sipping your way through this incredible facility.
Craft Beer Alchemy at Banded Goose Brewing and The Grove Brew House
Where: Banded Goose Brewing, 15 Main St E, Kingsville, ON. (View Map); The Grove Brew House, 86 Wigle Ave Unit 1, Kingsville, ON. (View Map)
With a population just over 21,000, you may not expect such a diverse beer and wine scene but you'll certainly stand corrected.  We explored and sampled our way through rivers of beer and rich history.
So raise your glass to the artistry of craft beer at Banded Goose Brewing and The Grove Brew House, where innovation knows no bounds.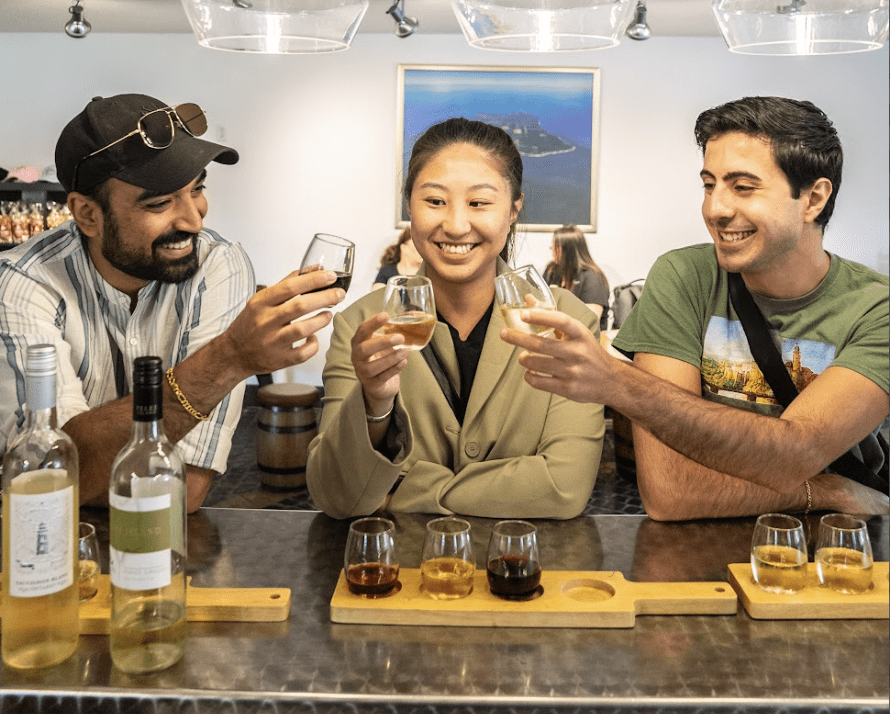 We recommend you start your beer-tasting journey at Banded Goose Brewing, a microbrewery that embraces the spirit of experimentation. Immerse yourself in the delightful world of hops, malts, and creativity as you sample their range of unique brews, each one a testament to the brewers' ingenuity and dedication.
Our favourite on tap was "GRACE," a delicious White Stout with blueberry, white chocolate, and coffee. Additionally, as fans of the show Ted Lasso, we were delighted to see "Jamie Tartt: Berlinerweisse" on the menu!
They suggest adding a fruited syrup to enhance the flavour of this brew. You can choose from lime, watermelon, mango or peach.
The vibes and beer were all in check, truly an awesome place to lose track of time hanging out with friends or family after a long day of exploring the magic of Kingsville!
After Banded Goose, craft beer lovers will find delight when they head over to The Grove Brew House. A local favourite with exceptional flavours on tap, you will not be disappointed here!
The Grove Brewing Company offers an array of mouth-watering eats like Detroit-style pizza (drooool), Grove nachos, and gastro favourites like the BBQ mac & Great Lakes finest fish n' chips. All this and we still haven't gotten to the beer!
The flights they offer can satisfy everyone from the pro-beer connoisseurs to the "I drink beer sometimes" crowd. No matter where you sit on that scale, The Grove has got the brew or hard seltzer for you.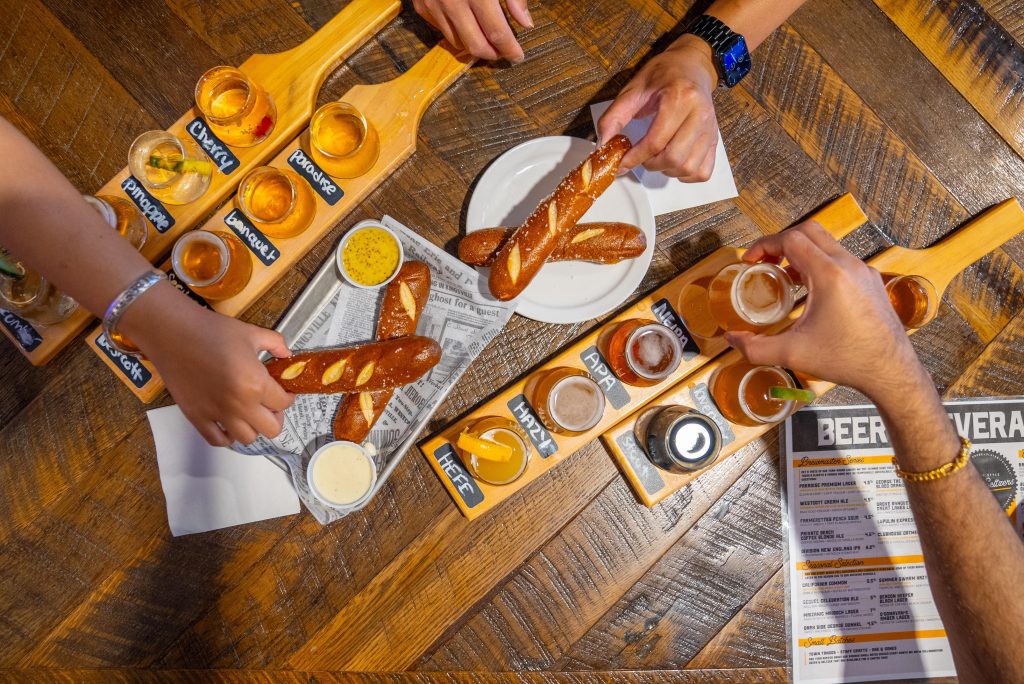 So…what should you get? Well, here's what we're into right now.
For the regulars: Westcott cream ale, Grove Banquet Great Lakes Lager, and the beacon keeper black lager. A flight of these exceptional brews is a must on your visit to the Grove!
For the:  "I like beer but not too much beer:" Try their incredible hard seltzers like pineapple lemon lime lemonade and iced tea. We also think you'd like the Paradise premium lager – a simple, easy-drinking brew.
Raise a Glass at Kingsville Brewery
Where: Kingsville Brewery, 15 Main St W, Kingsville, ON. (View Map)
Ready to keep going? Time to hit up Kingsville Brewery!
"For those who wander," Kingsville Brewery will fulfill all your beer cravings. Open to the public with a patio for the summer, you can sit and indulge in some of Kingsville's best brews!
We got the chance to try the hefeweizen brew straight from a fresh tank! This incredible liquid gold wheat beer is cloudy with bright white foam that brings up the aromas of ripe banana, bubble gum, a hint of clove, and a slight bit of honey. You might call it the bee's knees.
Next, we recommend you try their India pale ale and their Czech-style lager! These two brews are truly a feast for the senses and are a must-try for all beer lovers.
The experience got even better as we explored the brewery. Here, we had the chance to learn more about the chemistry and scientific genius that is used to create the beer. It's no wonder why so many of Kingsville Brewery's beers can be found on tap through out the region!
Finish with Food
This Beer and wine crawl throughout Kingsville will surely make you work up an appetite!
Here is a list of some of Kingsville's Eat Drink Dine restaurants to check out when you're ready:
Pair your wine-tasting with farm-to-table dining at Colasanti's Tropical Gardens or elevate your craft beer adventure with inventive dishes at Jack's GastroPub.
If you're looking for casual fine dining, head on over to the Main Grill!Check out the full list of Eat DrinkDine establishments  when you download the passport through the Great Taste Of Ontario. When you check into three stops, you'll receive a $25 Feast On® voucher to use at participating certified restaurants throughout Ontario!
Kingsville's wineries and breweries are not merely places to sip and savour; they are gateways to the town's soul. Whether you're a wine connoisseur, a craft beer enthusiast, or simply seeking new tastes to explore, Kingsville's beverage scene welcomes you with open arms and a glass filled with liquid magic!