Nestled along the shores of Lake Erie and surrounded by breathtaking countryside, Kingsville beckons as a hidden treasure trove of culinary delights, ready to indulge your taste buds in an unforgettable summer feast?!
Wondering where to begin your epic adventure? Read on for the ultimate food lover's itinerary in Kingsville, ON!
What You Need to Know
Prepare yourself for a delightful mix of local flavours, farm-to-table experiences, and charming eateries. This itinerary will take you on a culinary journey that will leave you craving more.
Adventure tip: Make sure to wear comfortable shoes for exploring the town and bring your appetite. Kingsville is brimming with mouthwatering delights waiting to be savoured!
One more thing you shouldn't miss! Before you head out, make sure to download the Eat Drink Dine Kingsville Great Taste of Ontario passport. As soon as you check in at three stops on the passport, you'll snag a fantastic $25 Feast On® voucher delivered straight to your phone! 
Day 1: Friday
Stop 1:

Breakfast at Beach House Grill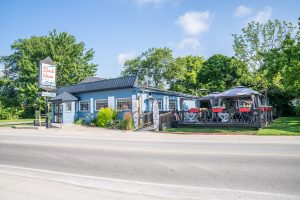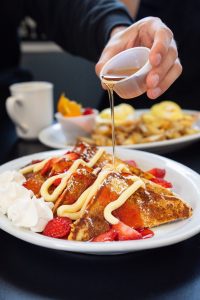 Where: Beach House Grill,70 Park St, Kingsville, ON N9Y 0A2(View Map)
Gear up for an incredible breakfast adventure at Beach House Grill! Imagine this: you're by the peaceful lake, soaking in the serene atmosphere. Now, think seriously delicious eats. Picture Chicken Bacon N Waffle – crispy fried chicken on a fluffy Belgian waffle, topped with strawberries. And don't miss their amazing omelets, packed with farm-fresh goodness. Got a sweet tooth? Try the Strawberry Cheesecake French Toast, a creamy delight with strawberry sauce, whipped cream, and icing sugar. This stop will surely get the good vibes brewing for a perfect morning!
Stop 2: Wine Tasting at Peelee Island Winery Kingsville
Where: Pelee Island Winery Kingsville, 455 Seacliff Dr, Kingsville, ON. (View Map)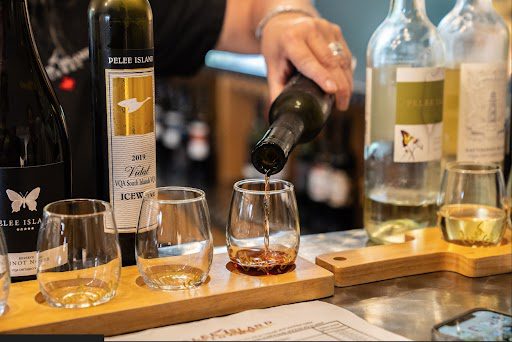 Welcome to Pelee Island Winery Kingsville, where the art of winemaking thrives in Canada's warmest grape-growing region. With a history of winemaking that dates back over 150 years, you'll be able to taste the difference that this experience makes in the wines produced.
First up? A tour of the winery and vineyard! Your tour guide will delve into the secrets that set Pelee Island Winery's wines apart from others as you walk along giant old barrels and out among the grapes. To top it all off, you'll get to enjoy a tasting of their signature wines along the way. Yum!
Want to kick things up a notch? As a special treat, the folks at Pelee Island Winery also offer a cheese and wine pairing and well…isn't that grate?
Stop 3: Farm-to-Table Dinner at Jack's GastroPub
Where: Jack's GastroPub, 31 Division St. S. Kingsville, ON. (View Map)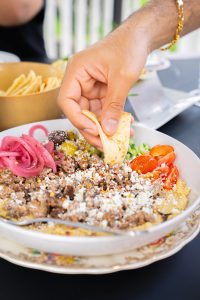 JACK'S GastroPub takes pride in sourcing its ingredients from nearby farms, ensuring that each dish reflects the bountiful produce of the Kingsville region. The farm-to-table philosophy supports local farmers and producers and guarantees that you are savouring the best that nature has to offer. 
While you're here, don't miss out on indulging in their unique delights. Our personal favourite is the Summer Lamb Gyro dish – a burst of flavour that'll leave you completely satisfied. This delightful dish brings together tender lamb, refreshing cucumber-dill yogurt, tangy feta cheese, and zesty pickled onions. And, of course, it's a must to enjoy it with their delicious naan bread on the side! To enhance your dining experience, feel free to delve into the meticulously crafted assortment of wines sourced from EPIC wineries and locally brewed beers. Every sip unfurls a voyage across the intricate landscape of their locale's beverage heritage, providing an impeccable companion to your meal. 
Stop 4: Experience Tranquility at Green Heart Inn
Where: The Green Heart Inn, 28 Main St. W. Kingsville, ON. (View Map)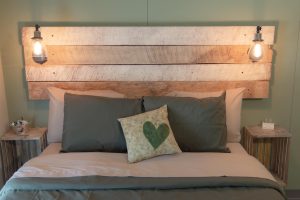 After a delightful dinner, it's time to continue your journey of exploration and relaxation at the charming Green Heart Inn. Nestled in the heart of Kingsville, this quaint inn offers a serene and welcoming ambiance, perfect for unwinding after a day of delicious adventures.
The inn's commitment to eco-friendly practices adds to the charm, allowing you to enjoy your stay while also supporting sustainable initiatives.
Whether you choose a cozy suite or a charming guest room, you'll find a peaceful retreat awaiting you, providing a space to recharge and rejuvenate.
So, kick back and relax. This is vacay after all! The best part? The Green Heart Inn is the sister business of Green Heart Kitchen so you may find a few delicious treats provided from the source during your stay!
Extra Stop for adventure?
Explore Colasanti's Tropical Gardens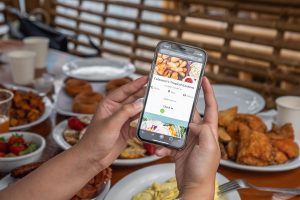 Where: Colasanti's Tropical Gardens,1550 Road 3 E, Kingsville, ON N9Y 2E5(View Map)
Get ready to dive into an adventure that's absolutely brimming with excitement at Colasanti's Tropical Gardens! The journey began in 1942, and from that point on, they've been dedicated to delivering smiles and unforgettable moments. And let me tell you, it's not just the lush greenery and stunning blooms that will leave you in awe – get ready to step into a world of pure fun! Kickstart your day with a visit to their delightful restaurant, where your taste buds are in for a treat with a tropical feast. Imagine digging into mouthwatering dishes while you're surrounded by vibrant colours and amazing nature vibes – it's basically like having a picnic in your own little paradise! 
But wait, there's even more excitement waiting for you indoors! Get ready to be blown away by the awesome indoor activities they have in store. Mini Golf, Arcade games, and a chance to hang out with some adorable animals – they've got it all to make your day absolutely unforgettable. From the adrenaline rush of thrilling rides that'll have you screaming with delight, to the chill vibes of cool activities that'll keep you entertained, the indoor activities are your go-to spot for a mega dose of laughter and adventure. So whether you're exploring the lush gardens, or treating yourself to scrumptious food, Colasanti's Tropical Gardens guarantees you a day that's bursting with non-stop, full-on fun! 
Day 2: Saturday
Stop 1:  Breakfast Delights at Green Heart Kitchen
Where: Green Heart Kitchen, 28 Main St. S. Kingsville, ON. (View Map)

You don't have to go far to begin your day on the right foot! Savour a wholesome breakfast right downstairs at Green Heart Kitchen, conveniently located at Green Heart Inn. In less than one minute, you can indulge in a fresh and healthy breakfast made from scratch.
Kickstart your morning with a delicious smoothie and a selection of freshly baked bread. Green Heart Kitchen takes pride in its commitment to sustainability and eco-friendly practices, adding an extra layer of goodness to your dining experience.
Once you've had your fill (take your time, as we said, this is vacay) it's time to head out on the town!
Stop 2: Awakening Your Senses at Red Lantern Coffee Co. 
Where: Red Lantern Coffee Co,4 Main St W, Kingsville, ON (View Map)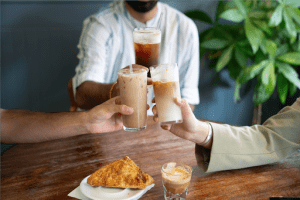 Time for the next quick stop – Red Lantern Coffee Co.! This place is a total haven for coffee lovers and anyone on the lookout for some seriously delightful flavours. Get ready to be wrapped in the cozy aroma of freshly brewed coffee! Whether you're gearing up for the day or just want to kick back, Red Lantern Coffee Co. totally has your coffee needs sorted. 
Grab yourself a latte or a classic black coffee, and don't leave out a little treat like a scone – you deserve it! Settle in for a lovely chat with your family or friends, making the most of this special moment!
Stop 3: Discover Craft Brews at Banded Goose Brewing Company
Where: Banded Goose Brewing Company, 15 Main St. E. Kingsville, ON. (View Map)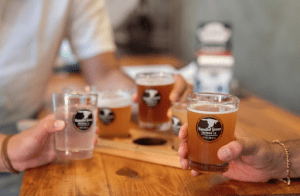 Next on your Kingsville adventure, make your way to Banded Goose Brewing Company, a local gem known for its exceptional craft beers brewed right on-site.  
Settle in and unwind in the cozy taproom, where the friendly atmosphere will instantly make you feel at home. Banded Goose takes great pride in their handcrafted brews, each one carefully concocted to offer a unique taste and style. Two drinks are highly recommended: Mr. Business APA and Watermelon Ale. 
Mr. Business APA presents a refreshing and delicately bodied American Pale Ale, boasting moderate bitterness and a pronounced hop-forward profile. Hints of grapefruit zest and orange rind are complemented by undertones of pine resin. It's a rare hop-focused ale with an ABV below 5%.  
The Watermelon Ale is perfect for those leisurely moments on the patio. And offers a revitalizing and unfiltered experience. It carries the essence of a wheat-style ale, coupled with tangy notes reminiscent of sour watermelon candy.  
Now if those brews have you ready for dinner…we've got your back. Keep reading.
Stop 4: Hearty dinner at The Main Grill & Ale House
Where: The Main Grill & Ale House, 28 Main St. E. Kingsville, ON. (View Map)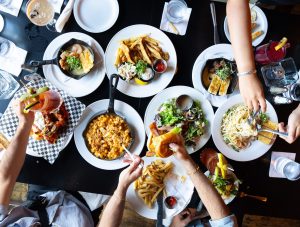 As the day winds down, treat yourself to a delicious and hearty dinner at The Main Grill & Ale House. This charming eatery, located in the heart of Kingsville, is the perfect place to unwind and indulge in a satisfying evening meal.
Here are a few dishes you cannot miss: They've got these Lake Erie Perch fillets that are locally sourced, and they come with a side of fries and coleslaw. And then, they offer their signature Alehouse Nachos – picture crispy tortilla chips loaded up with BBQ beef, melted cheddar ale cheese, juicy tomatoes, zesty salsa, and a dollop of creamy sour cream. Drooling yet? 
But wait, there's more! They've got this Main Street Pasta that's all about the harmony of flavours. It's got succulent chicken, earthy mushrooms, vibrant spinach, and these delicate noodles, all coated in your pick of a rich roasted garlic cream sauce. 
And hey, make sure not to miss out on grabbing a drink! This eatery has teamed up with local beer, wine, and spirit vendors to create a truly enhanced dining experience. 
Day 3: Sunday
Stop 1: Lunch at Mettawas Station Mediterranean Restaurant
Where: Mettawas Station Mediterranean Restaurant, 69 Landsdowne Ave. Kingsville, ON. (View Map)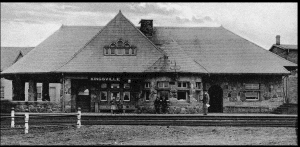 Start your day with a delicious brunch at Mettawas Station Mediterranean Restaurant. Built inside a historic train station, the food brings this history to life, one plate at a time. Let's dive in!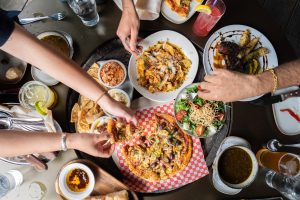 Their menu, inspired by the Mediterranean, presents an array of delectable dishes that are sure to captivate your taste buds.  Don't miss their award-winning sandwich, "The Trainwreck" – featuring breaded veal cutlets, tomato sauce, and provolone cheese, crowned with vegetables, all nestled on ciabatta bread. 
If you're leaning towards something refreshing, the Mediterranean Salad is a must-try. It boasts Romaine lettuce, tomatoes, kalamata olives, artichokes, cucumbers, roasted red peppers, red onions, pepperoncini, and feta cheese, all adorned with a drizzle of red wine vinaigrette dressing. And, let's not forget the stellar pasta and pizza selections that are guaranteed to cater to your every craving! 
Stop 2: Taste Local Flavors at Lee & Maria's 
Where: Lee & Maria's, 692 Seacliff Dr. Kingsville, ON. (View Map)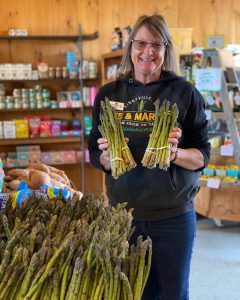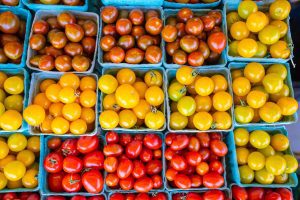 Sandy soil is the name of the game in Kingsville and the folks at Lee and Maria's have been cultivating fresh fruits and veggies on their 30-acre family farm since 1978! Why not join the farmers on a tour of the farm?
You'll walk rows of crops with the farmers, learning about the different equipment and growing methods they employ each season as you spot mouthwatering goodies growing in the fields.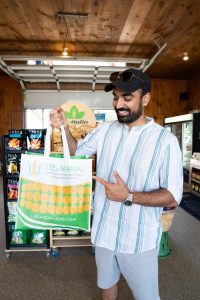 Get your hands dirty and partake in the joy of picking some of the best local produce around. The experience is not just educational but also rewarding as you engage with nature and witness the beauty of the farming process…plus taste a few delicious things along the way! Feeling hungry yet?
After the tour, join together around some fruits grown right here at Lee & Maria's and a few grown at neighbouring farms. Trust us, you'll taste the difference that local makes. Ready to go? Book the experience. 
Stop 3:  Unwind at Grove Brew House 
Where: Grove Brew House, 86 Wigle Ave. Unit 1, Kingsville, ON. (View Map)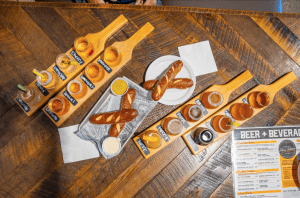 After a delightful time at Lee & Maria's, we recommend pulling up a chair at The Grove Brew House for a few craft pints. Located in the heart of Kingsville, this brewery offers a perfect setting to relax and savour the flavours of handcrafted beers, this brewery provides the perfect ambiance to unwind while relishing the nuanced flavours of their handcrafted beers, all proudly made right here in Essex County. 
Grove Brew House stands as a pioneering figure in the realm of craft beer for the region, deeply rooted in the Southshore community and perpetually mindful of the local ethos. Their commitment to sourcing local ingredients is something they hold in high regard, extending both regionally and provincially. 
Looking for a recommendation? Try the Private Beach Coffee Blonde for a sweet and refreshing blend of vanilla beans and coffee. And don't miss the Paradise Lager, a crisp lager inspired by Kingsville's history. 
If you're also feeling a little peckish (hey we're impressed), make sure to try the Bavarian Pretzel – baked pretzel sticks with a sprinkle of coarse salt, served with Grove beer mustard and a fondue of Westcott Cream Ale. It's a must-order! 
More than just a destination for exceptional beer, Grove Brew House serves as a vibrant hub for building community connections and savouring laid-back moments. So, raise your glass and immerse yourself in the distinct Kingsville flavours at Grove Brew House. It's a tribute to skillful craftsmanship, camaraderie, and the pure delight of enjoying a finely crafted brew. 
 See you in Kingsville
Kingsville is packed with flavour and amazing people. Think you'd like to explore more? Check out this recent blog we wrote about sipping your way through it!
Sip Sip Hooray! A Guide to Kingsville's Wineries and Breweries