It's no secret that supporting Feast On® certified restaurants feels good. Still, the experience tastes even better when you dine in a restaurant or sip delicious craft beverages, knowing the stop makes an extra effort to get local on their menu! Let's explore these incredible top 5 #FeastOn® certified stops in Grey County!
What is Feast On®?
Haven't heard of the Feast On® program? No worries! Feast On® is a local food certification run by the Culinary Tourism Alliance (that's us). We conduct an audit of restaurants and foodie businesses in our network to ensure that a certain percentage of their annual food spend is on ingredients grown and sourced right here in Ontario. You can explore them all on our website.
Feast On® in Grey County
These five spots are truly walking the walk when it comes to sourcing and championing local produce, meat, drinks and more in Grey County. Which will you visit first?
#1: Mudtown Station
Where: 1198 1st Ave E, Owen Sound, ON (View Map)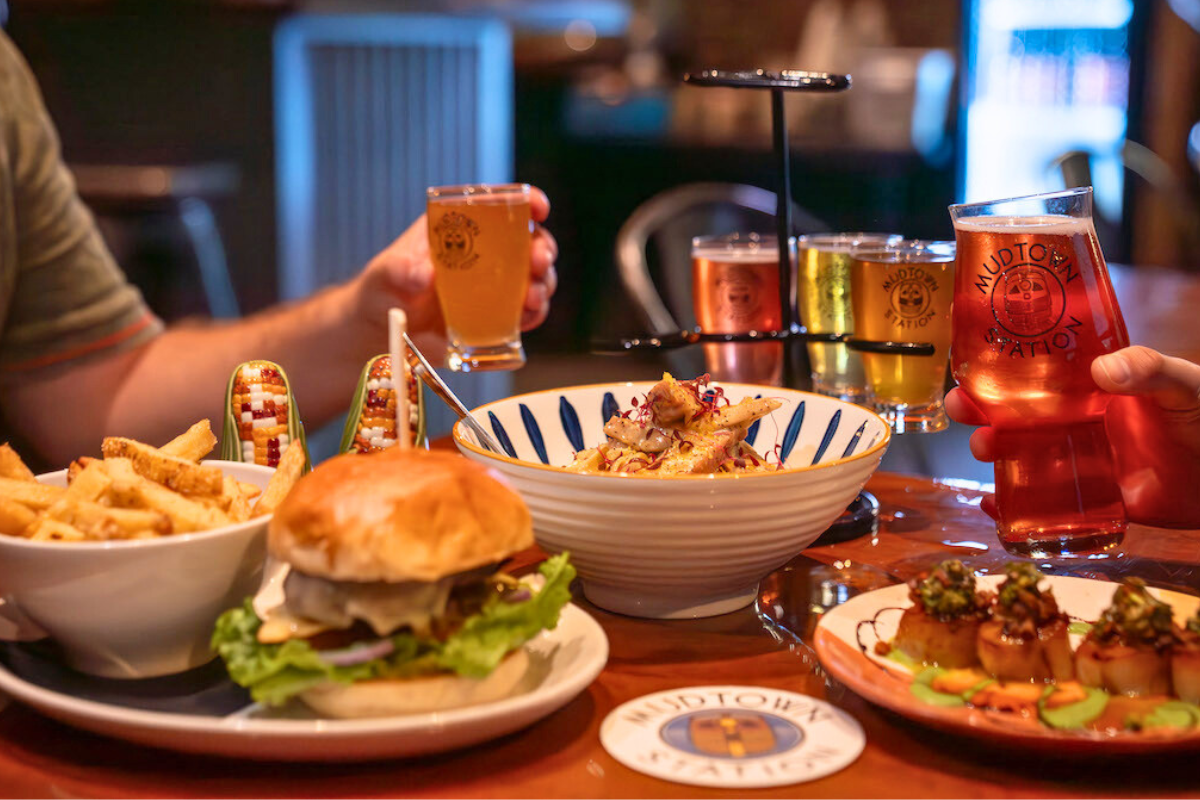 It's quite rare to dine in a restaurant that exudes this much charm and history. A truly unique experience, Mudtown Station in Owen Sound is a staple and a must-visit in Grey County!
Take a moment to analyze the photo above to understand our excitement about this Feast On® certified local gem. Located on the east harbour in Owen Sound, this historic CPR train station turned restaurant has been preserved by Mudtown Station and is now a super cool spot spot to dine and enjoy an incredible view of the harbour!
Let's dive into their delicious menu!
We indulged in seriously delicious PEI Mussels. They sat in a lightly curried coconut cream, Caribbean slaw, and were topped with grilled sourdough. We couldn't resist also ordering the pan-seared Atlantic scallops. These bad boys are so easy to share, and you might want to order two plates because they will go quickly!
Of course, what is a great meal without great drinks? We recommend pairing your meal with a selection of Mudtown's brews in a flight. We chose their Mudtown Lemongrass Saison, Mudtown IPA, Mudtown Station Haster Saison, and a Raspberry Seltzer!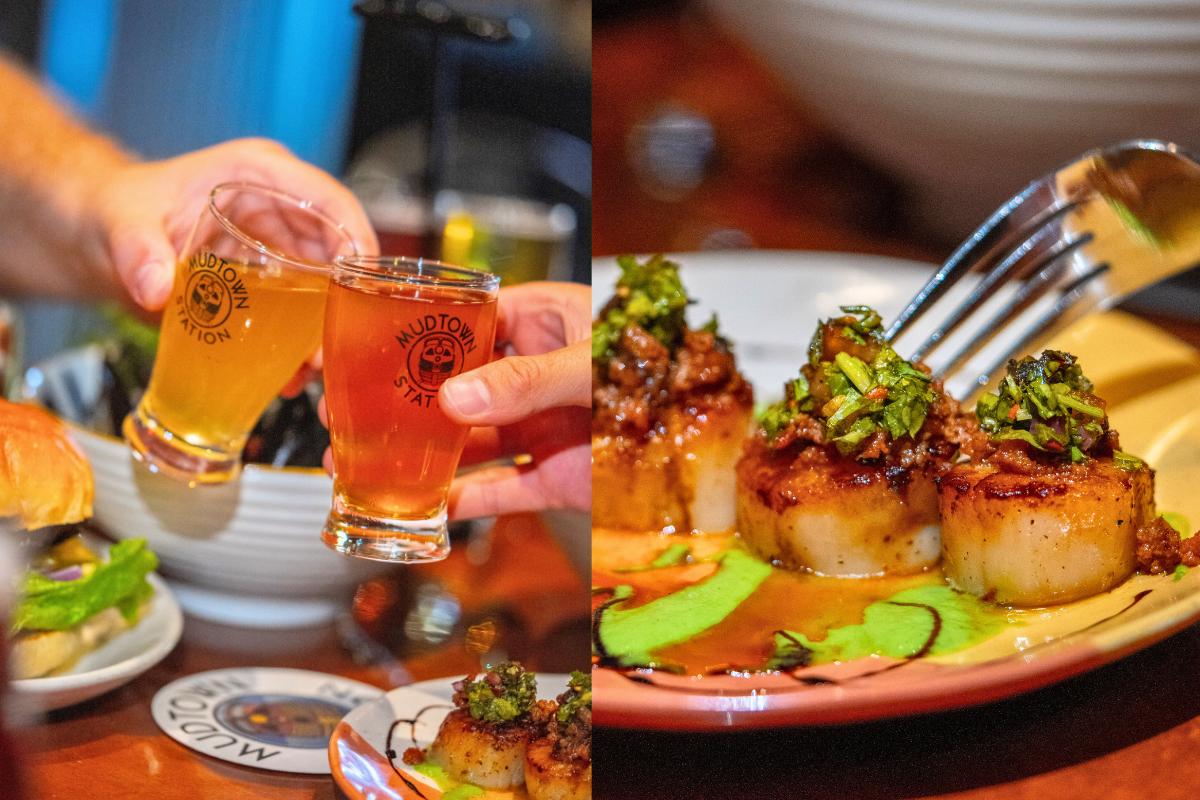 Next, it's time for mains. We love tucking into their hardy options like the Mudtown burger topped with old cheddar and their oh-socreamy Cacio E Pepe Pasta dish with chicken! Trust us, these two hit the spot.
Admittedly, you'll likely be stuffed after all of this but we urge you to power through to dessert. The peanut butter and chocolate pudding leaves little to be desired. Best decision of the night! #NoRegrets
#2: Bruce Wine Bar
Where: 8 Bruce St S, Thornbury, ON.  (View Map)
The renowned Bruce Wine Bar in Thornbury is a #FeastOn® certified restaurant and bar that truly walks the walk, delivering exceptional eats to feed your curiosity.
While their menu takes inspiration from across the globe, the folks at The Bruce, under the helm of Chef Shaun Edmonstone, do their best to source as many ingredients as possible locally. This value comes across in their signature, wood-fired pizzas, seasonalentrees, and importantly, their sustainably-sourced seafood.
Standing next to their house-crafted artisan cocktails, sommelier-curated wine list and of course, a healthy share of Ontario craft beers, we can't see why you wouldn't want to go here.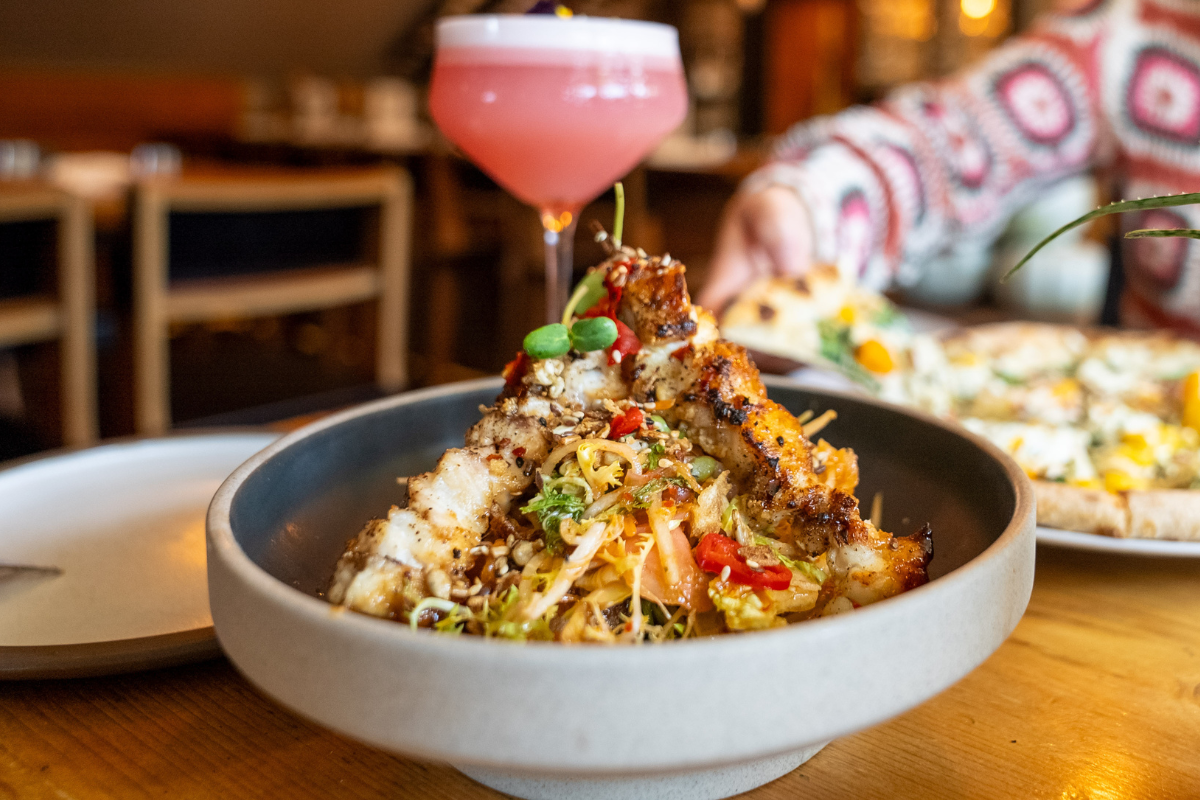 During our last visit, we truly immersed ourselves, letting our hungry taste buds take the wheel. The first order of business? A squash and apple pizza—featuring roasted squash, matchstick Goldsmith's apple (grown right down the road), citrus and herb ricotta and a roasted garlic and thyme cream base, topped with toasted pumpkin seeds. Drooling yet?
Following that, we enjoyed the crispy rice bowl with fresh market pickerel. It's worth noting that their menu changes with the season, ensuring that no matter when you dine, you're in for an indulgence of incredible locally sourced goodness, even if the dishes mentioned in this article aren't on the menu any longer.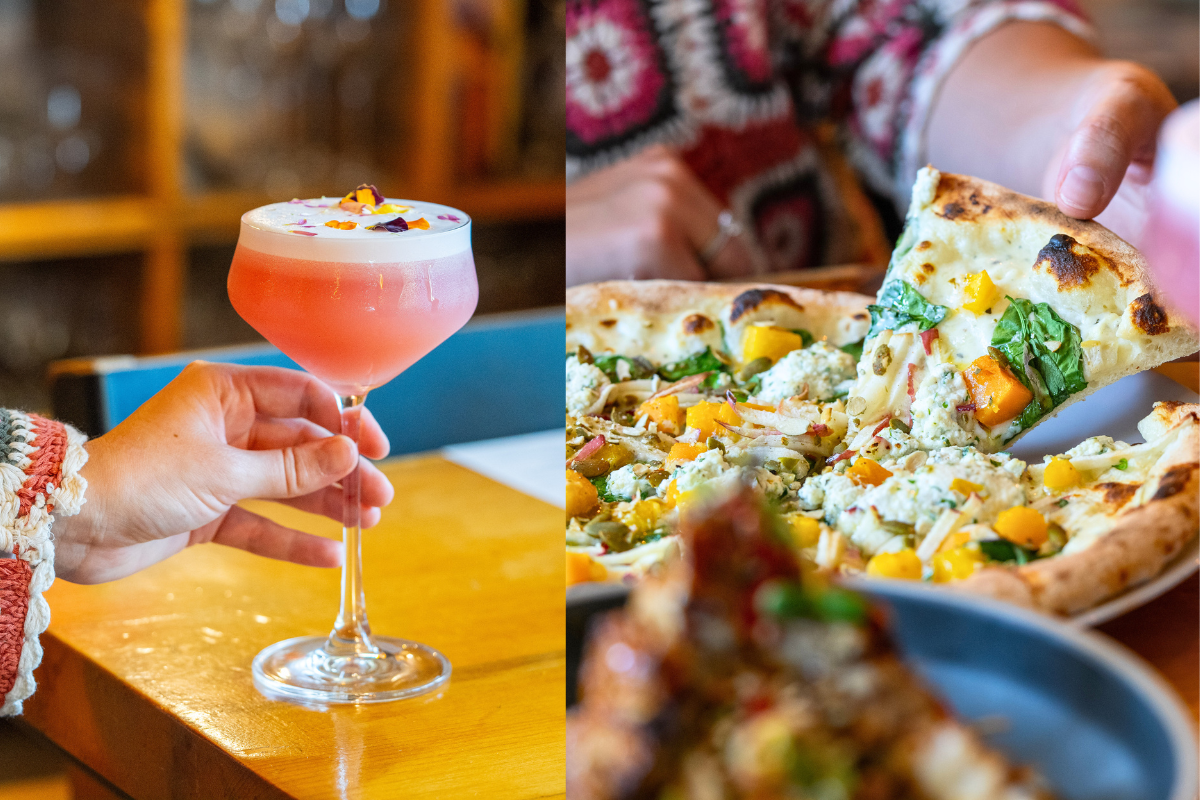 Of course, we couldn't resist sipping on one of their pretty cocktails, like the 'Nature' featuring reposado tequila, house vanilla liqueur, ginger, mulled honey crisp, and lemon. Don't blame us if you end up ordering two!
#3: Red Hen
Where: 384265, Concession Rd 4, Priceville, ON. (View Map)
Red Hen Artisanale is truly a one-of-a-kind Feast On® destination experience!
Meet Lauren, the dedicated owner orchestrating a captivating series of workshops with a focus on sourdough and its delectable possibilities. Embrace a return to your natural roots by delving into the art of fermenting the foods that nourish our systems.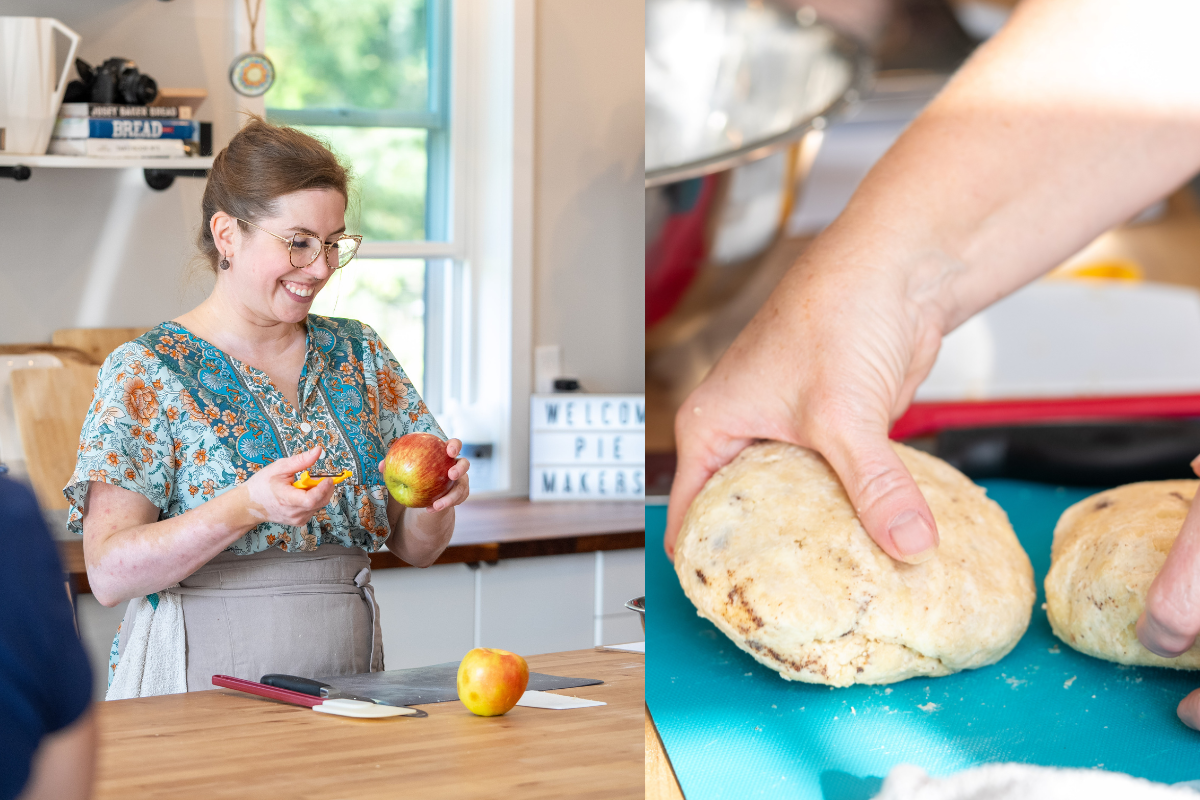 The workshops, carefully designed for all skill levels, aim to bring people together around something we happen to love- food! Whether in-person or virtually, the intimate group sizes curated by Lauren allow participants to "get to know your neighbour," receive hands-on assistance and have all their questions thoroughly addressed.
Located on a beautiful country road in Markdale, you can try your hand at everything from croissants and loaves of sourdough to bagels, baguettes and so much more. Check out the list of workshops available online.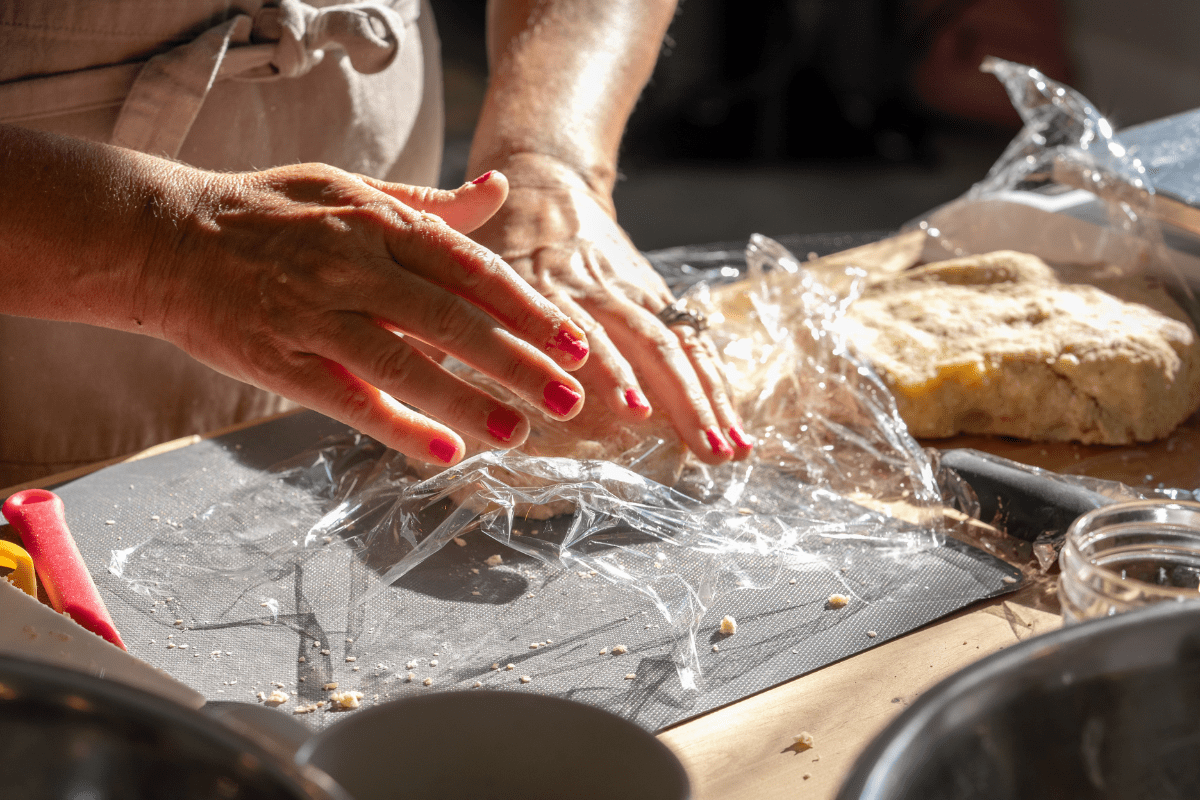 #4: Secret Lands Farm
Where: 317714 3 Line, Meaford, ON  (View Map)
Welcome to Secret Lands Farm!
A true gem to find serenity, you'll discover the enchanting world of Secret Lands Farm, nestled south of Owen Sound, Ontario. Since 2013, this family-operated sheep dairy farm has thrived, providing a sanctuary for over 400 sheep in pesticide-free pastures and creating some wicked-awesome cheeses along the way.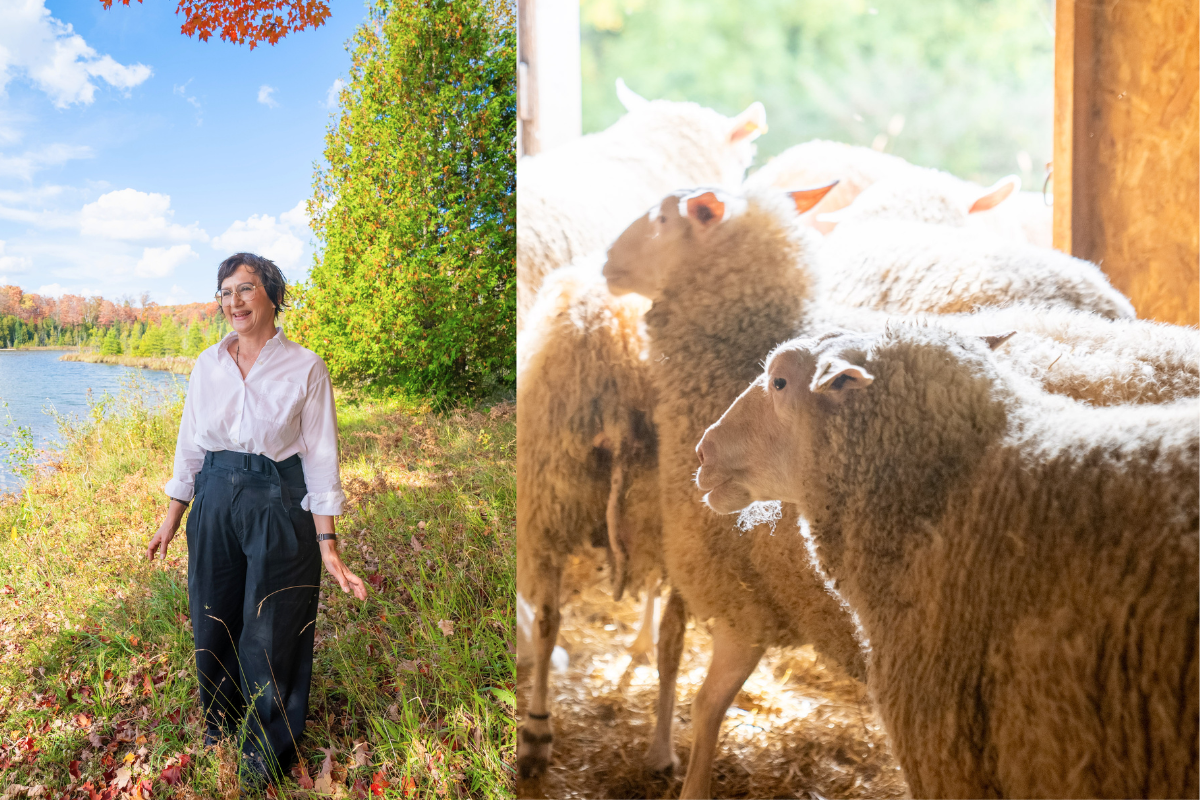 Harmonizing modern technology with timeless European traditions, Secret Lands crafts a delectable range of hormone-free dairy products, artisanal cheeses, and succulent meats. Small-batch production, the exclusive use of their own sheep's milk, and a commitment to fresh well water and pristine air ensure an unparalleled culinary journey.
We visited recently to participate in a farm tour and tasting. In our eyes, it's the best way to reconnect with nature, try some delicious new cheeses and even meet some cute sheep friends along the way.
Starting with our tasting, co-owner Sophie led us through a beautifully-curated board of their cheeses featuring everything from smoked pecorinos to labneh and even brought us some fresh coffees with sheep milk in them! For a crisp fall day, tucking under their gorgeous gazebos overlooking the farm was just about the best thing we could imagine.
Once we finished up, Sophie's son and the head cheesemaker, Roman, brought us into the cheese factory where he walked us through the ins and outs of cheesemaking at Secret Lands. A very small operation with lots of heart, output and frankly, deliciousness, it'll impress you what these folks can do from crafting to aging in their space.
Think you might like to get in on a tasting and tour yourself? You can sign up on the Secret Lands website.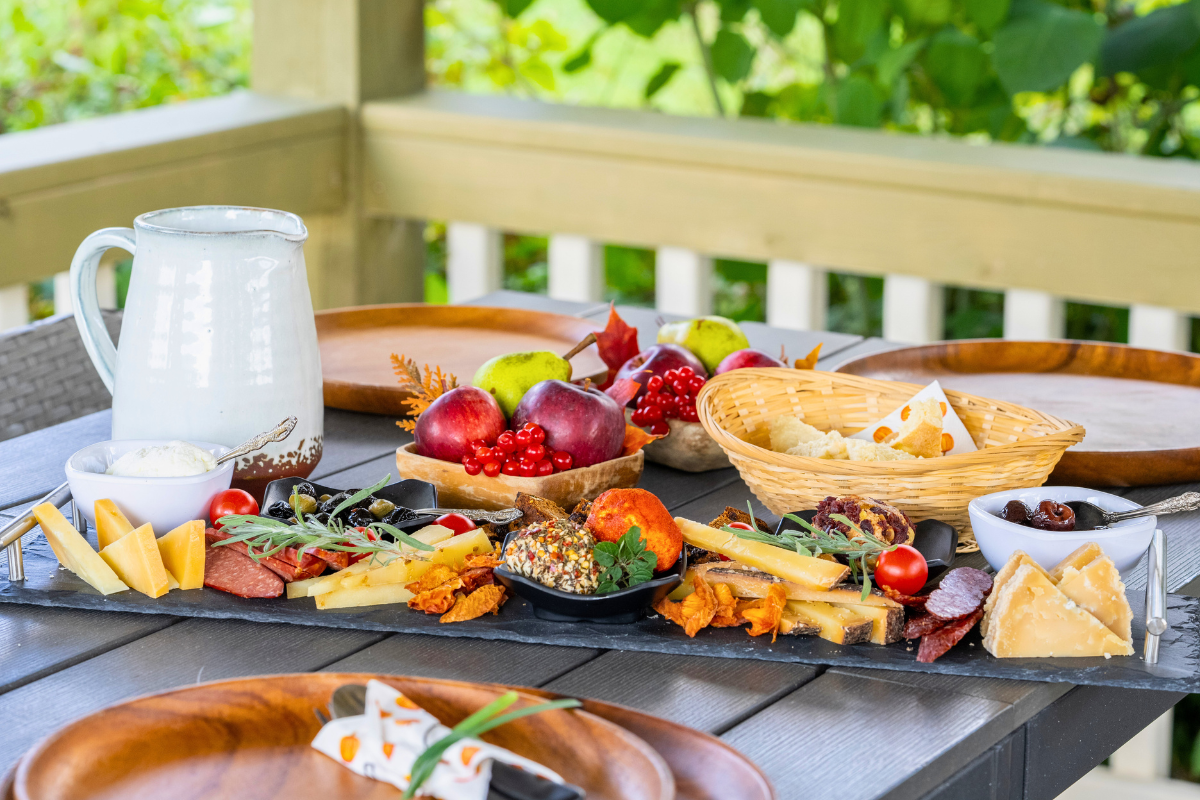 #5: Down Home by Sumac and Salt
Where: 135299 9 Line, Markdale, ON (View Map)
Ready for a one-of-a-kind dinner that celebrates all the bounty that Grey County has to offer? You're in luck. Welcome to Down Home by Sumac and Salt!
In the Grey area, Joel and Hannah, the exceptional duo behind this stop, are well-known for crafting delicious pop-up meals that champion local. During the pandemic, they decided to open their own restaurant right on their farm property and it's been booming ever since.
We got the chance to visit them at their beautiful property, which we can only describe as the coolest, tastiest dinner party out there. Picture being invited to your friends magical rural farm house except…your friends are also fantastic chefs and sommeliers.
With Joel at the kitchen helm and Hannah creating a beverage list that makes Ontario shine, it's pretty darn unbeatable. Want to know more about their road to creating Down Home? Check out this blog.
There's a symphony of elegance weaved into this farmhouse energy that gives a pop of excitement to every bite as you savour their 10-course meal. We highly recommend you book in advance to avoid disappointment.
Your time here will be curated and every visit will surprise you but we are happy to be sharing our truly wonderful experience with you as to what to expect.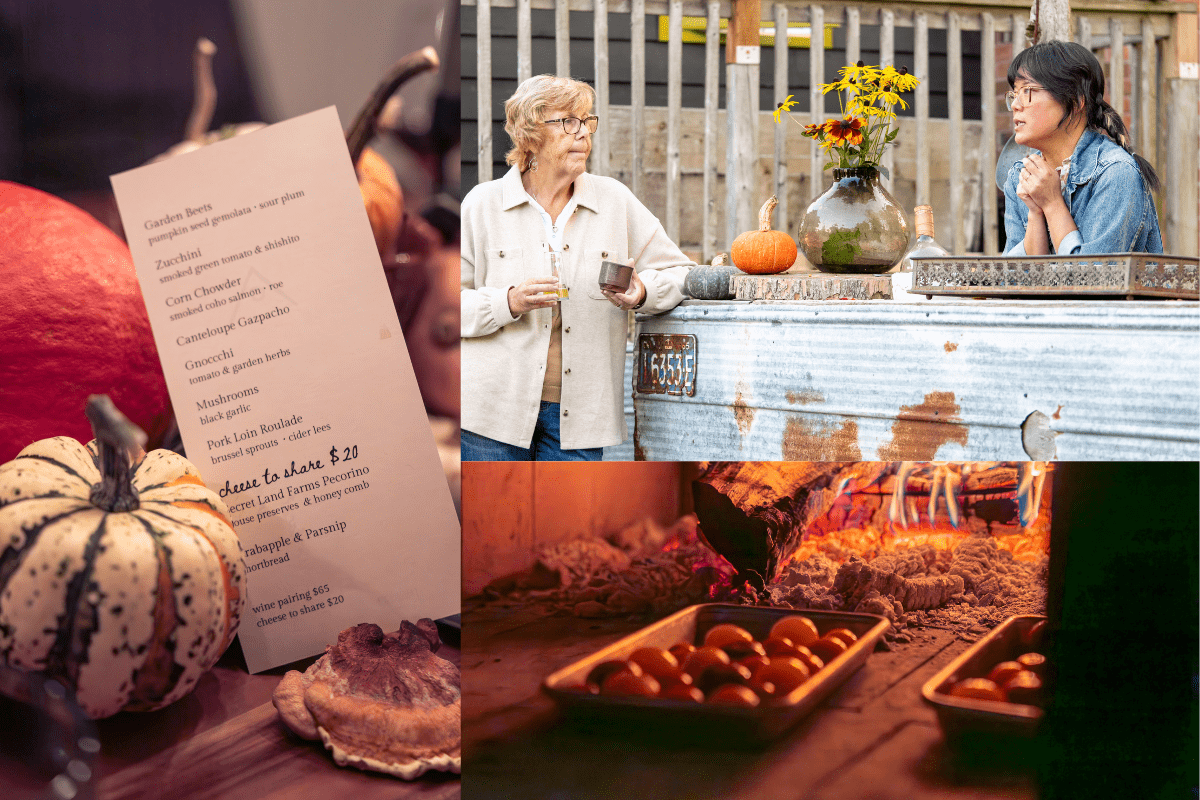 As dinner time approached, we strolled through the lush edible garden and were served a delicious, hearty chicken broth. This wholesome broth was crafted by simmering chicken feet over an open flame and then infusing it with sunflower oil made from the farm's very own sunflowers. This truly set the scene for a wonderful night.
The 10-course meal was rolled out gradually allowing you to savour each bite, and gave us a moment to aww at the attention to detail and artistry, that is truly crafted with love and dedication.
We absolutely couldn't stop talking about the garden beet dish that used ingredients sourced from their own farm as well as Side Road Farms. Topped with piped Ontario goat cheese and carmelized honey, the flavour combo was unreal. This all sat on a tart, thick, and oh-so-good plum condensed sauce, topped with a dehydrated dusted tuile made from all the beet scraps used in the dish.
Hot tip: Make sure to opt in on their wine pairing which is 2-3oz of 5 wines paired with specific dishes to delight you even more on this edible journey.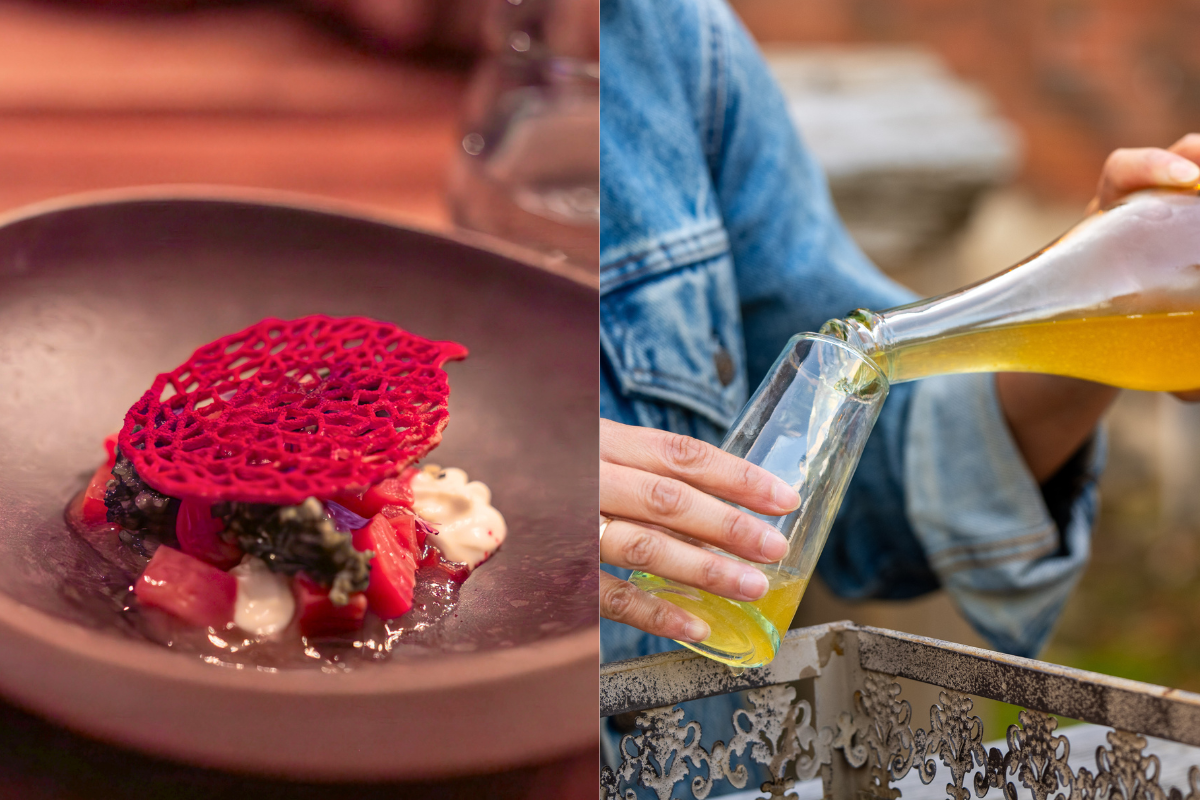 Keeping local at the heart of everything they create, Joel and Hannah have created a sanctuary, that embodies a true taste of place and exemplifies the power of sourcing local.
Teaming up with Side Road Farms offering certified organic veggies, flowers, and pasture-raised chicken, they also source from Secret Lands Farms for their cheese!
This experience is one to behold, so we recommend you attend with an open mind and empty bellies. The interior of their farmhouse coupled with Joel and Hannah's warmth will make you feel right at home.
We recommend this feast for couples and families celebrating any special occasion…we also wouldn't judge if you made a reso all for yourself. You'll be in great company.
Happy exploring! Cheers to your #FeastOn® journey in Grey County!
We hope you enjoy exploring these 5 Feast On® stops in Grey County! Want to start planning a getaway? Check out this itinerary.