Nothing beats feeling the wind on your face while whizzing along pretty country roads on a summer day.
Bike month is a celebration of biking. It's an opportunity for folks to try riding a bike for the first time, connect with new people and discover – or rediscover – the joys of exploring the great outdoors on two wheels. And if you are one of the lucky ones who already own a bike or were able to snag one before the spring rush wiped out bike inventories across Canada (and around the world!), it's time to gather your bubble and hit the trails in Ontario.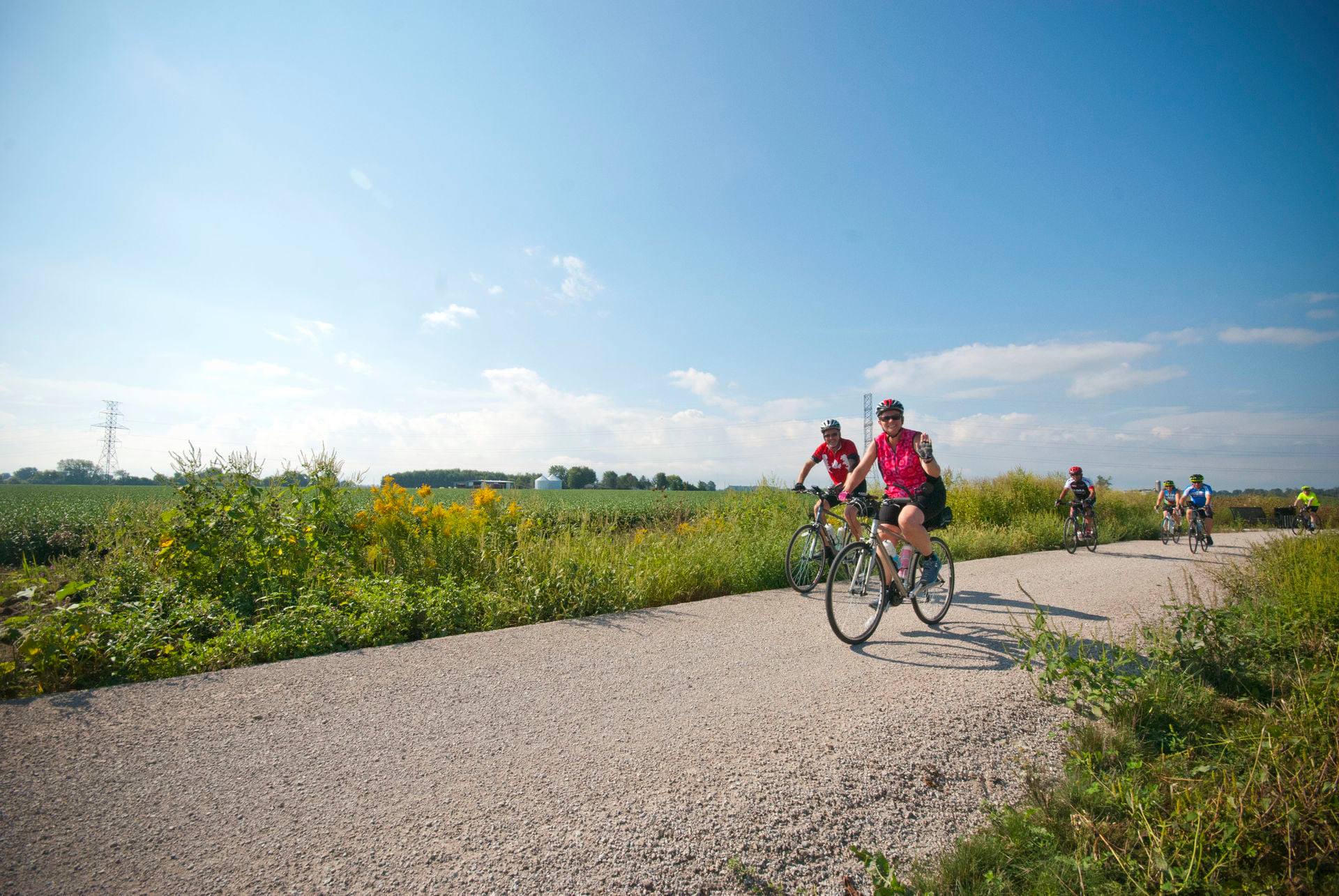 Take part in Bike Month, May 31 – June 30
Taking part in Bike Month is easy – all you need is a bike (and a helmet. Remember, safety first!). While you can hop on the saddle and hit the trails right away, there are a couple more ways you can celebrate Bike Month this summer.
1:  Bikemonth.ca is a good place to find information on events happening in cities across the Peel, Toronto and York regions.
We're pretty excited about this years' Bike Month events hosted by Toronto, Burlington, Brampton and Oakville. You'll also find lots of resources on their website, from route planning to safety equipment, to tips on riding with kids. And don't forget to sign up for Bike Month's Bike Bingo – it's an interactive Bingo card and each Bingo square has a fun bike-related activity that'll keep you active during Bike Month! Players stand a chance to win some cool prizes.
View this post on Instagram
2: For resources and information on cycling in Ontario we recommend checking OntarioByBike.ca
You'll find plenty of information on cycling events, trails, route maps, ride guides and itineraries, as well as bike friendly places to eat, drink, visit and sleep along the routes.
View this post on Instagram
3: While planning your Ontario bike adventure, be sure to check our Great Taste of Ontario page for cycling routes like this, this, this, and this, as well as road trip ideas.
There are over 90 itineraries featuring cafes, restaurants, breweries, wineries, cideries, accommodations and attractions in over 50 cities and towns across Ontario. You can also download one of +80 passports to help guide your planning and when you're ready, take the time to safely visit the growers and makers who make Ontario so special. Each time you check-in your passport, you'll be one step closer to redeeming some sweet Ontario-made prizes – while supporting communities across Ontario too!
4: Every Ontario Road trip – on two-wheels – deserves the prefect Ontario playlist!
We've curated 7 Spotify playlists with the help of Matt Morgan of Siegel Entertainment Ltd., featuring amazing local artists for all those wanderers who love local beats. You can download them from Spotify.
---
HAPPY BIKE MONTH ONTARIO!