Welcome to the Great Taste of Ontario Partner Resource Portal.
Below you will find two important forms: the first is an upload portal for your Passport Data Collection Template, the second is a portal to submit itinerary content throughout the course of the Great Taste of Ontario campaign. For your convenience, we've include links to all the relevant files sent through the partner list-serv, as well as key dates to keep in mind as the program unfolds below. These dates are subject to change and should only be used as guidelines.
---
IMPORTANT DATES
Subject to change.

December 17, 2020
Last Partner Call of 2020
December 31, 2020
Deadline for businesses to achieve #SafeTravels Stamp
March 1, 2021
Spring "Itinerary" content submissions open
May 1, 2021
Summer "Itinerary" content submissions open
GLOBE AND MAIL SPECIAL REPORTS
NUMBER OF REGIONAL
PASSPORTS BUILT
58
as of December 17, 2020
NUMBER OF SMALL
BUSINESSES FEATURED
1155
as of December 17, 2020
OVERALL
PROGRAM REACH
2,009,737
as of December 17, 2020
---
HOW IT WORKS: FOR DMO PARTNERS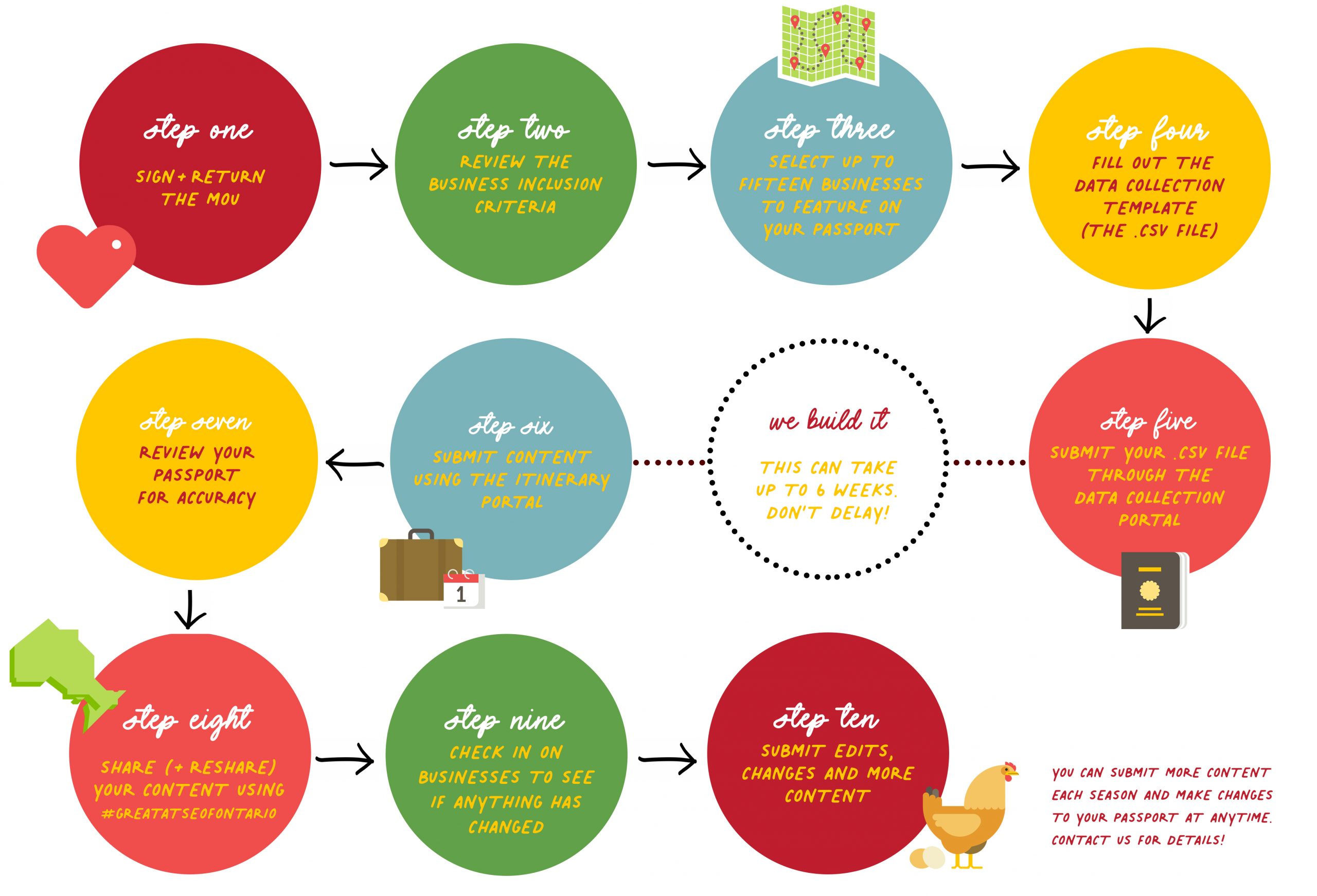 ---
FEDDEV ONTARIO IS PROUD TO SUPPORT THE RESILIENCE OF SOUTHERN ONTARIO'S TOURISM SECTOR THROUGH THE WORK OF TIAO AND THE CULINARY TOURISM ALLIANCE

---
Having trouble? Contact Agatha Podgorski at [email protected].
Sometimes a 30-minute phone call makes all the difference. Book a meeting with Agatha here.