Max Meighan and the folks at Avling are on a mission to create a circular economy in the heart of Toronto. With a focus on local in everything they do, they're succeeding!
Ready to visit? Grab your FeastOn® gift voucher for $25 off your meal.
Avling Brewery Farm and Kitchen
Read on for how this brewery, farm and restaurant crafts delightful brews and meals using the things they grow and partnering with other local farms.

In the beginning
Max Meighan has talked about owning a restaurant since high school so it's no surprise he runs one in downtown Toronto, but what he created is a lot more than that.
Avling is the result of the melding together of two of Max's earliest loves: working in restaurants and working in breweries.
Max has worked in kitchens from Montreal to Toronto to the UK where he switched to craft brewing and all the while he noticed one thing: great ingredients make for great food.

As Max began to think of returning home to Toronto to open his own craft brewery, he wondered what could set his apart. How could he approach it with a culinary mindset? The aha moment came one day while reading Dan Barber's book, The Third Plate.
As Barber grappled with what it means to be a true farm-to-table restaurant, so too did Max with the added layer of an on-site brewery.
Realizing that as a brewer he uses more grains than even a bakery, Max realized he could have a massive impact on the environment and the economy by working with local producers and growing some of his own grains. From there, the idea grew.
Farming at Avling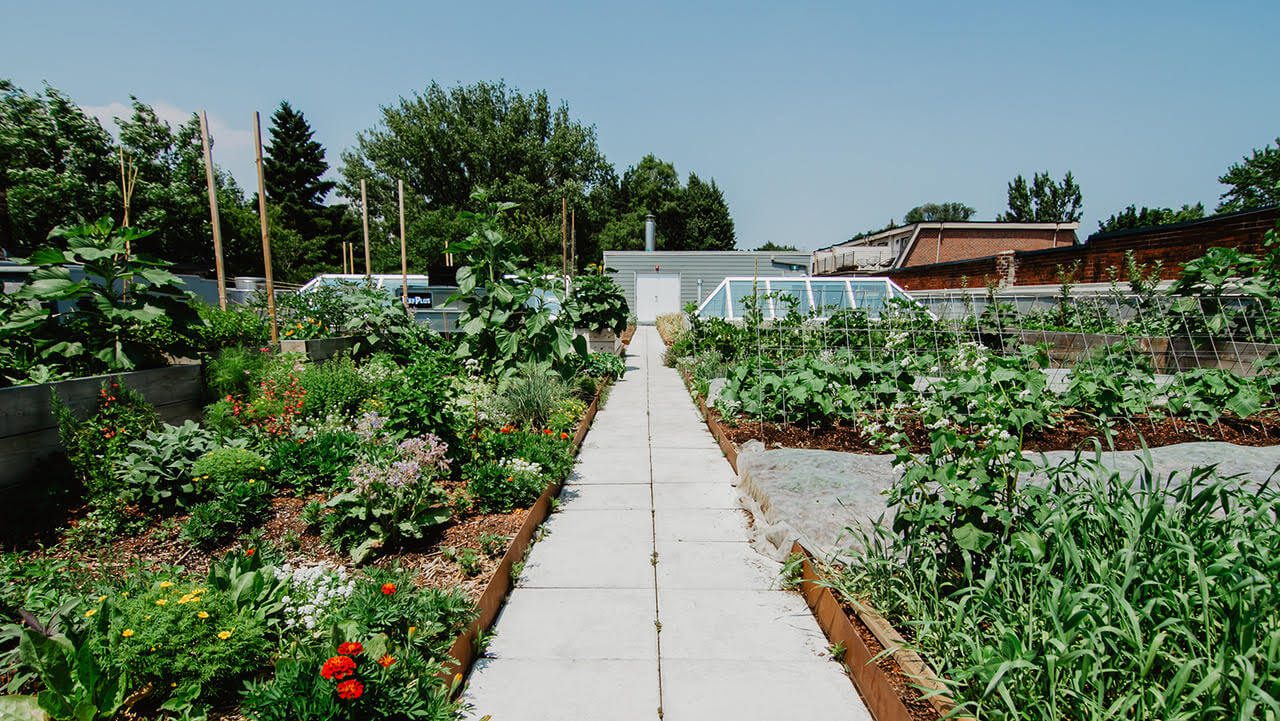 Today, Avling has a 4000-square-foot rooftop farm at the brewpub. Located in Leslieville in a pre-war building, the rooftop farm was easily installed and grows everything from garlic, tomatoes and carrots to hot peppers and even hops.
The farming is done with ecological methods including crop rotation, no-till, cover crops, composting and more. Then those fresh ingredients are taken downstairs to the brewery and kitchen and used in the food and beers. How cool! Of course, having all those fresh ingredients makes for great-tasting brews and food. There's just something sooo much better about fresh ingredients that haven't been sitting on a truck.

Want to know more about the farm? You can even go for a farm tour and guided tasting during the open season on Wednesdays!
"Having a circular economy onsite is like having a feedback loop of positivity," says Max Meigan. "It has an upward spiral of positive benefits and reinforces the brand." We'd say that's a pretty good way to know you're on track.
To top it all off, Avling has created some meaningful partnerships that allow them to locally source what they don't grow.
Plan Your Visit

Ready to visit? Avling is home to some pretty cool initiatives and events. Whether you're just stopping by for a beer and dinner or you're taking part in one of their Queer Beer Nights, brunches with guest chefs or maybe a pollinator workshop and summer solstice party at the farm, you're bound to have a great time and your taste buds will thank you!
Want to know something extra cool? Avling also accepts Feast On® Gift Vouchers. You can grab your $25 voucher to use at participating FeastOn® restaurants on our website and cash in at Avling!