Restaurants, producers, breweries and more in Kawartha Lakes, Peterborough, and Northumberland are hungry to celebrate their historic waterway in a big way.
In 1920, all the Trent-Severn Waterway's linkages — including over 40 locks, some 50km of human-made channel, and more than 130 dams — were completed, and the waterway became a fully navigable 386km-long system.
Kawarthas Northumberland, the regional tourism organization for the area, is partnering with Parks Canada to commemorate the 101st anniversary of through navigation on the waterway. All summer, you'll be able to find Trent Severn Waterway themed drinks, eats and more in the area by looking for window decals and icons online identifying businesses in Trent-Severn Trail Towns.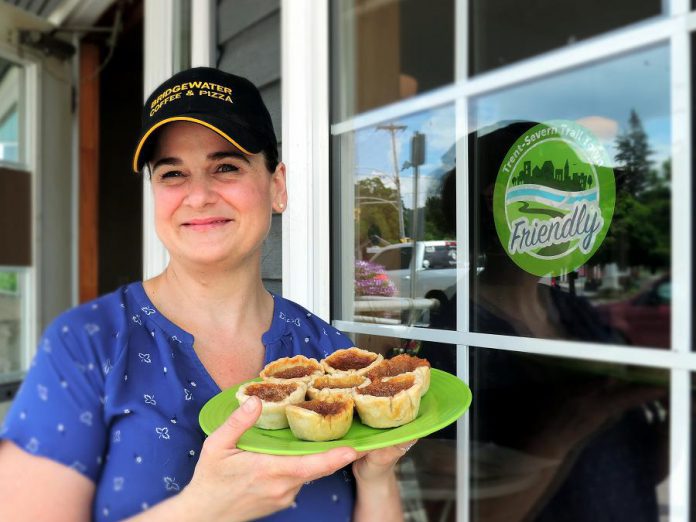 While the list of participating businesses is not live quite yet, you can start exploring the unique trail towns along the route at tswtrailtowns.ca.
A Trail Town is a destination along a long-distance trail. This trail is not a land trail – it's is a waterway trail. Along the waterway, Trail Town communities welcome visitors travelling by car, boat, kayak, canoe and bike with warm hospitality and pride of place. The Trent–Severn Waterway is a 386 kilometer long canal route connecting Lake Ontario at Trenton to Georgian Bay, Lake Huron, at Port Severn. There are 44 locks  – the first was built in 1833 – along the waterway, including 36 conventional locks, two sets of flight locks and two hydraulic lift locks and roughly 32 kilometers of man-made channels. The waterway is a National Historic Site of Canada and its scenic, meandering route has been called "one of the finest interconnected systems of navigation in the world".
Trail towns include Bobcaygeon, Buckhorn, Campbellford, Coboconk, Fenelon Falls, Hastings, Lakefield, Lindsay and Rosedale – all home to plenty of delicious treats! Want a sneak peek at what to expect from businesses in the region? Read our collection of stories from our time along the Trent Severn here:
The 'Taste of the TSW' culinary tourism initiative encourages food and beverage producers and providers in 'Trail Towns' along the Trent-Severn Waterway in the City of Kawartha Lakes, Peterborough City and County, and Northumberland County to to showcase a product celebrating the waterway. For more eligibility criteria and to sign up for the initiative, visit rto8.com/taste-of-the-tsw.