They may not be lookers (we're talking about the more common types found in grocery stores), but sautéed in a little butter until golden brown, they transform into the most incredible umami-rich flavour bombs. Mushrooms are a powerhouse of nutrients, packed with vitamins, minerals and antioxidants. We should be eating more mushrooms!
Lucky for us, many farms in Ontario grow mushrooms year-round. From a crunchy spring salad to warm broths and soups in the fall, these versatile fungi can be used in all sorts of dishes, no matter the season.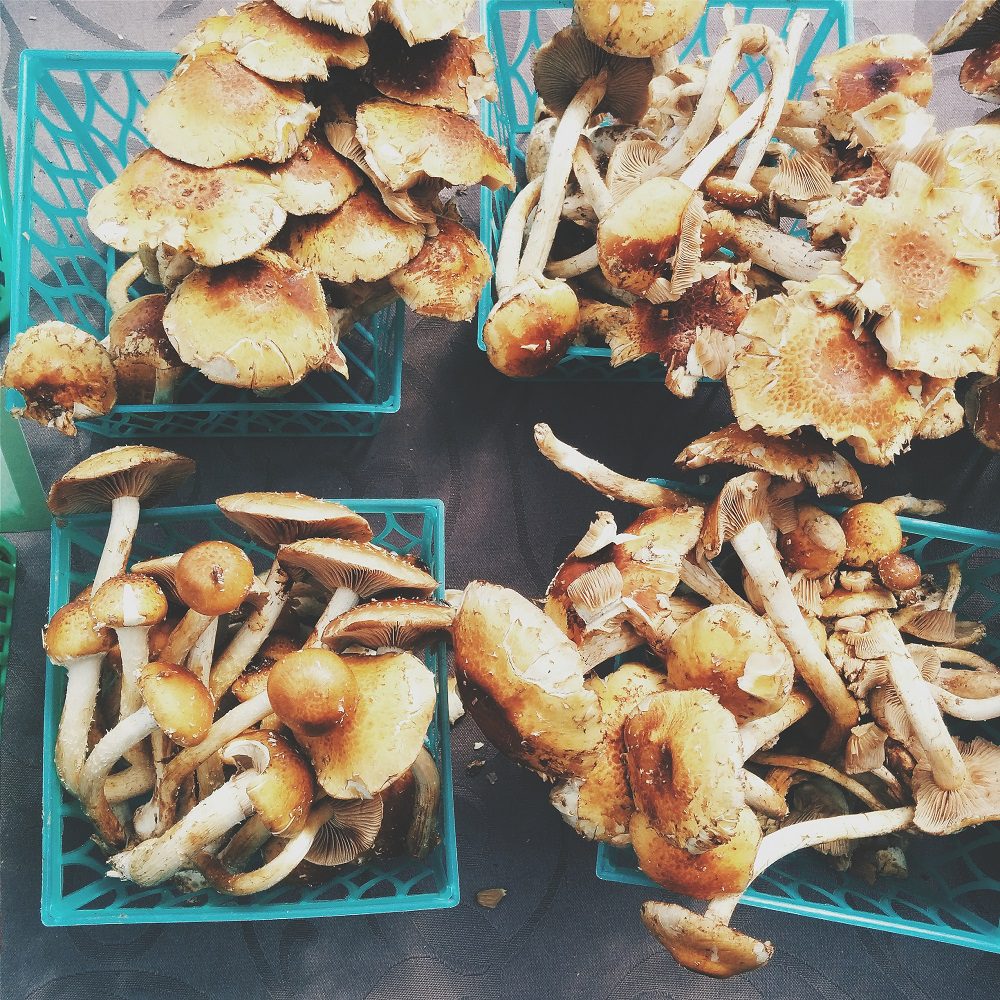 There are three common varieties of mushrooms grown in Ontario: the ubiquitous white button, brown cremini and portobellos. A few farms also grow specialty mushrooms like oyster, shiitake, king oyster, and enoki. Grown inside warm humid rooms in large tiered trays of peat moss, cultivated mushrooms have a six-week growing cycle and are harvested by hand in stages or flushes.
Here are ten mushroom farms that grow and sell mushrooms to retailers, farm stands and restaurants across the province and beyond. When you pick up a pack of brown creminis from the grocery store, chances are they were grown on a farm in Ontario. So next time you're perusing the produce aisle or eyeing a basket of fungi at the farmers' market, keep an eye out for them!
---
Kendal Hills Farm
Clarington, ON
Situated in 70 acres of woodland in the Oak Ridges Moraine, Kendall Hills Farm, owned and operated by husband and wife duo Emily and Dave, raises fowl & other livestock using regenerative farming practices. They also cultivate and wild-harvest an amazing variety of gourmet mushrooms that change with the seasons, from shiitakes to maitakes and lion's mane to blue oyster. Kendall Hills mushrooms can be purchased online through their virtual farmers' market.
---
Radical Gardens
Timmins, ON
This Timmins-based, Feast On certified restaurant and specialty bakery also operates an organic mushroom farm. They grow oyster mushrooms, chestnut mushrooms, and shiitakes which they supply to other restaurants and grocery stores in the North.
---
Lincoln Mushroom Farms
Hamilton, ON
A long-standing family farm in Ontario, Lincoln Mushroom Farms grow white button, cremini and portobello mushrooms for the wholesale supply chain and restaurant industry. Visitors to the farm and local customers can buy their produce directly from the farm.
---
Whitecrest Mushrooms
Putnam, ON
wixsite.com/whitecrestmushrooms
Located near the small town of Putnam in Middlesex County, Whitecrest Mushrooms is a family owned and operated mushroom farm that grows creminis and portobellos all year long. Owners Murray and Chantelle Good, both huge  supporters of local foodways, go above and beyond to provide the freshest mushrooms to farm markets and restaurants in the area.
---
Did You Know…
White button, cremini and portobello are in fact the same type of mushroom, Agaricus bisporus, but at different stages of growth?
The brown cremini is the older sibling of the white button, and portobellos are mature creminis that have been left to grow larger. But they do differ in taste. White button is the mildest tasting, followed by cremini mushrooms which are more flavourful. Since portobellos have more time to grow, they have less moisture than its younger counterpart. As a result, these mushrooms have a stronger, earthier flavour.
---
Holburne Mushroom Farms
Queensville, ON
facebook.com/holburnemushroomfarm
Paolo Furlano, whose third-generation farm in the town of Queensville, is among the largest producers of shiitake mushrooms in Canada. By mushroom farm standards, they are a small operation with just 4 growing rooms, but they produce a whopping 7,000 pounds of certified organic shiitakes a week which is supplied to markets across Ontario, Winnipeg and Quebec.
---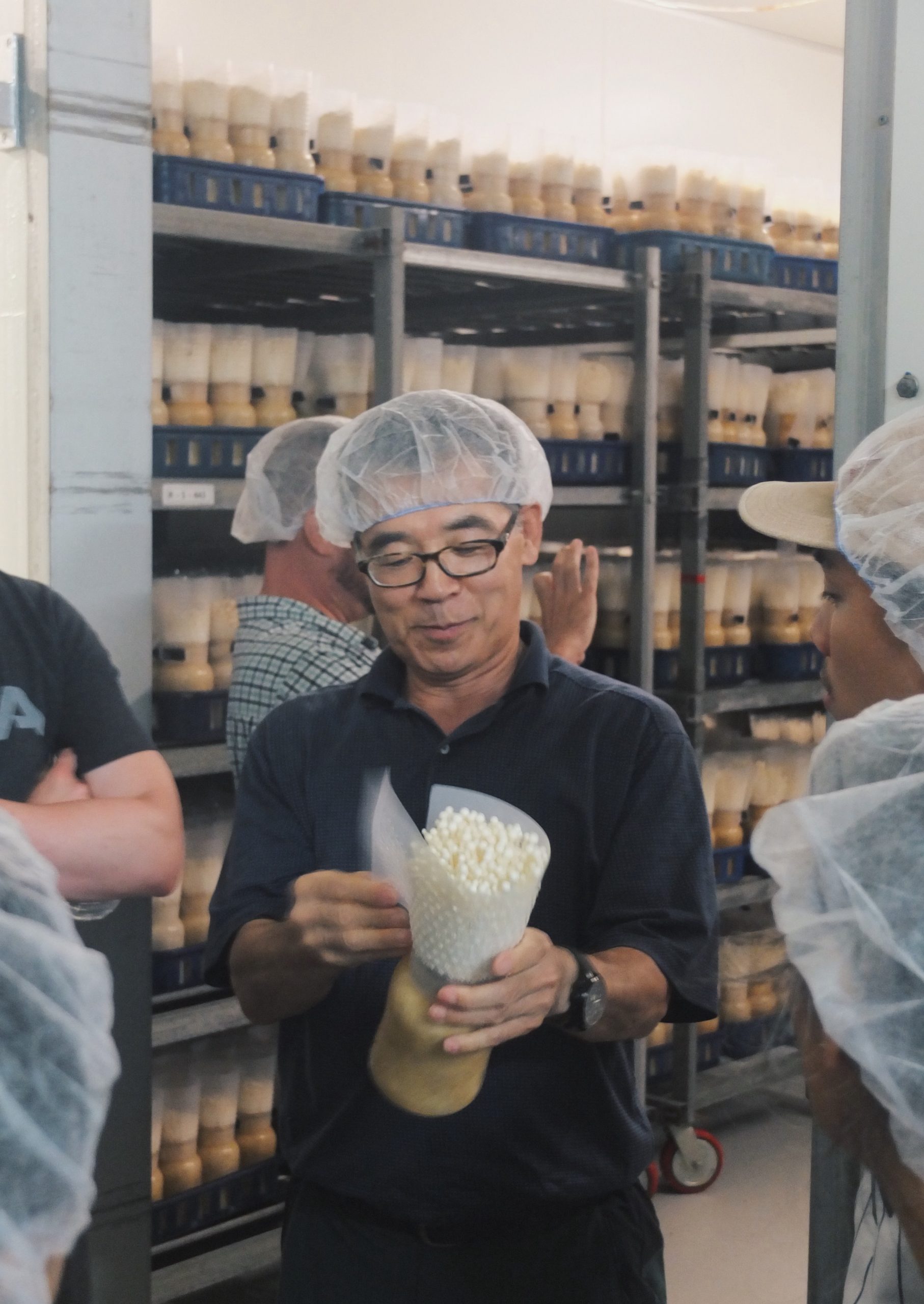 Enviro Mushroom Farm Inc.
Burlington, ON
Enviro was founded in 2000 by Yun Joon (Ben) Park and three others who experimented with growing specialty mushrooms using Korean bottle technology in a refurbished chicken processing facility in Milton. Today, Enviro's state-of-the-art 15,000 sqft growing and processing facility located in Burlington produces close to 3 million pounds of certified organic specialty mushrooms, annually. Enviro maintains the safety and quality of their enoki and king oyster mushrooms by growing them with filtered air, purified water, without the use of pesticides, and once harvested , they're shipped to retailers within 24 hours.
---
Unionville Mushroom Farm
Stouffville, ON
This family-owned and operated business located in Stouffville, has been growing mushrooms since 1972. Besides the popular varieties, they also offer seasonal wild mushrooms such as black trumpet, chanterelles, porcinis and morels. Unionville mushrooms are supplied to customers in Ontario, Quebec and the Eastern United States.
---
Shogun Maitake
London, ON
Maitake mushrooms, also called Hen of the Woods, are native to Japan and parts of North America. Whether cultivated or grown in the wild, these frilly brown fungi have an earthy aroma and an intense gamey flavour, with a delicate feathery texture. Shogun Maitake, a hydroponic mushroom farm in London, uses a growing process pioneered by founder by Yoshinobu Odaira that replicates the natural growing conditions of Maitake mushrooms (they grow wild in the mountains of northeastern Japan). They produce close to 1,300 pounds of organically grown Maitake mushrooms per day.
---
Carleton Mushroom Farms
Osgoode, ON
With 15 years of mushroom farming experience under their belt, Fernando and Anabela Medeiros started Carleton Mushroom Farms in 1984. They produce up to 10.5 million pounds of mushrooms per year and are a leading supplier of fresh mushrooms to Eastern Ontario and Western Quebec. Carleton mushrooms are cultivated using ethical, environmentally friendly growing practices and cutting-edge technologies, and without the use of chemicals and pesticides. In addition to their line-up of fresh mushrooms, they also offer an assortment of dried options.
---
Windmill Farms
Ashburn, ON
Windmill Farms is one of the largest producers of organic mushrooms in Canada. They grow a variety of fresh mushrooms year-round. The original farm located east of Toronto in the village of Greenwood was built in the early 60's and consisted of 6 small growing rooms, producing up to 50,000 pounds of mushrooms per year. Today, Windmill Farms employs leading edge technology in all phases of its mushroom production and is recognized as one of the best managed agricultural businesses in Canada.
---