Originally published in Watershed Magazine
Story by: Signe Langford       Photography by: Johnny C.Y. Lam
---
Chef Hidde Zomer is serious about the alchemy of fire and food at this Prince Edward County gem.
Good chefs understand the magic of playing with fire. At Bloomfield's Flame + Smith restaurant, Chef Hidde Zomer combines woodfire cooking with open flames and embers to create a sizzling dining experience.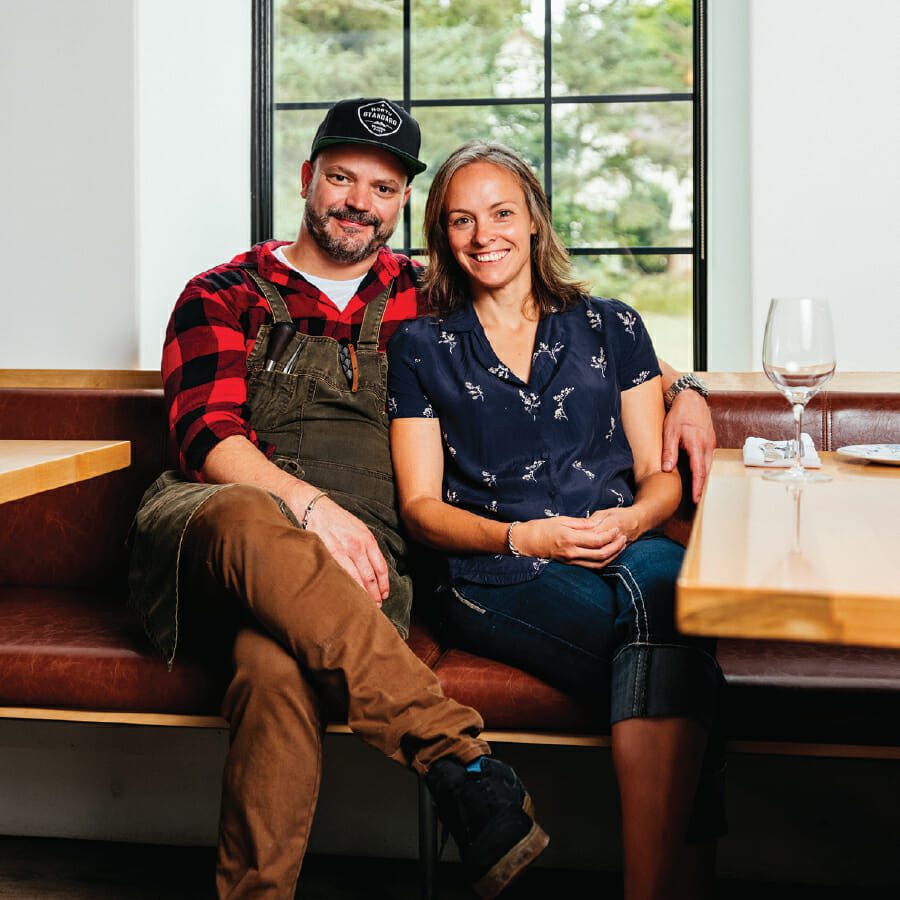 There's an ethos and passion that infuses both the menu and the atmosphere at Flame + Smith.
When they created their restaurant, Hidde and his wife Sarah, who is the business's coowner, worked with Toronto design firm Stacklab to convert the 120-year-old former forge/dairy/roadhouse into two spacious rooms oozing with rustic charm: exposed, rough-hewn rafters, sliding barn doors, and a Scandi-style wood-burning stove warming a couple of comfortable tub chairs.
It's during fall and winter that the interior of the place is at its cosy best, with the stunning custom-built grill, hearth and a wood-fired oven where Hidde's farm-to-fire cooking takes centre stage. A chef with a passion for firewood, Hidde has stacked and displayed small logs like wine bottles near the sunken open kitchen, each shelf labelled with the wood's species and region of origin.
The bar, handsomely clad in black antique tin ceiling tile and punctuated with burnt orange bar stools, sits idle at the moment, patiently awaiting the time when life again allows bars to function as they're intended: to bring people together. The dining tables have been spaced the mandated distance apart. The harvest tables – once a centre of conviviality – are in storage for the moment, but not forever.
The rooms are the ideal setting for the food that's prepared and served in them. Hidde and Sarah know that the best food is often the simplest. It's a grass-fed steak, dry-aged; it's perfectly crispy skin and properly charred meat with the subtle essence of hickory, maple and apple wood; it's a squash picked at seven in the morning and tossed on the coals for dinner, a perfect example of "farm-to-fire" cooking. Cooking in embers and ashes is a technique Hidde often uses at Flame + Smith.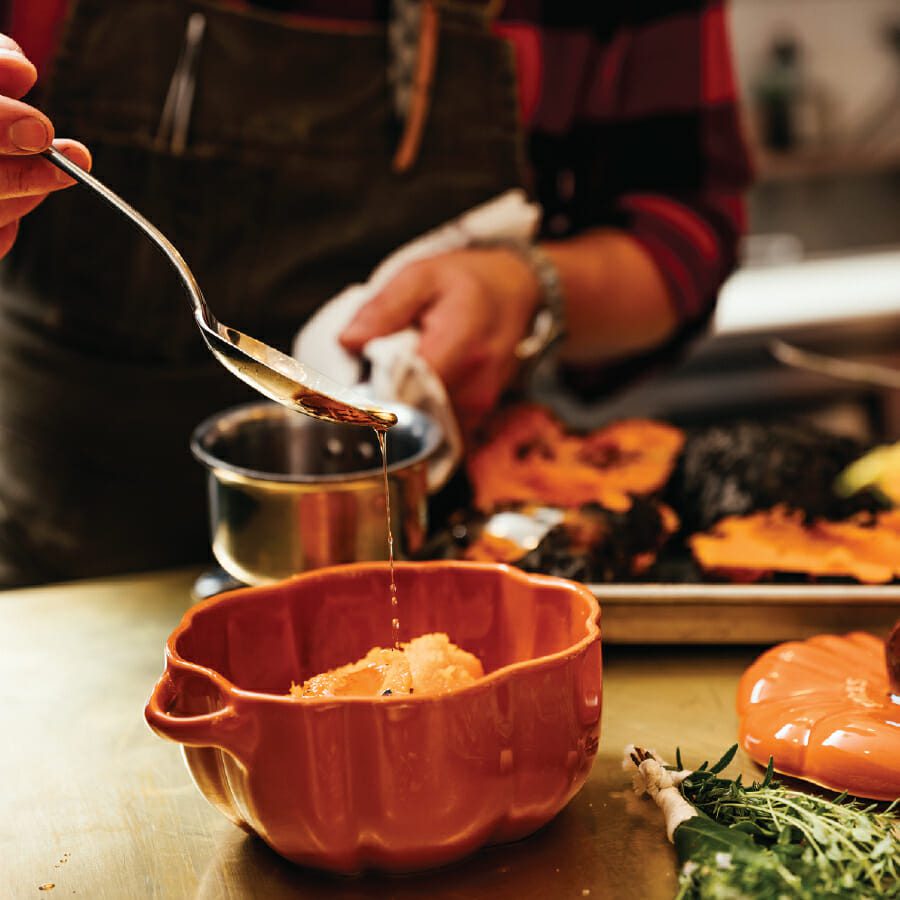 Everything starts with proper care and attention to the ingredients Hidde and Sarah gather. They know the value of a well-raised animal or of produce that has been grown only metres away, with kindness and integrity. And they work closely with some of the best purveyors in both Prince Edward and Northumberland Counties.
The wet blanket of COVID-19 has not been nearly enough to douse the flame of creativity of the restaurant's team. But it hasn't been easy. "In March," says Sarah, "we suffered a huge loss. There was a moment when we wondered how long we could last." In self-preservation mode, the couple got to work right away adapting to the situation.
"Since COVID, we've basically opened three different restaurants," she says. "We're down to 42 seats from 135, and our patio is operating at about 30% of its capacity." For a restaurant that already operates on thin margins, this hits hard.
"But," Sarah adds, "we're rolling with it. We've increased the surface area of our outdoor space; and we've become a take-out place too."
Hidde had to rethink the menu, making it more portable and more family-friendly. Sarah retooled the kitchen, putting plates and silverware in storage and replacing them with takeout containers; she also revamped the restaurant's website, adding an ordering platform. Sensing that this was the new normal – at least for the foreseeable future – the couple installed a washing station on the patio, so patrons could clean up without setting foot inside.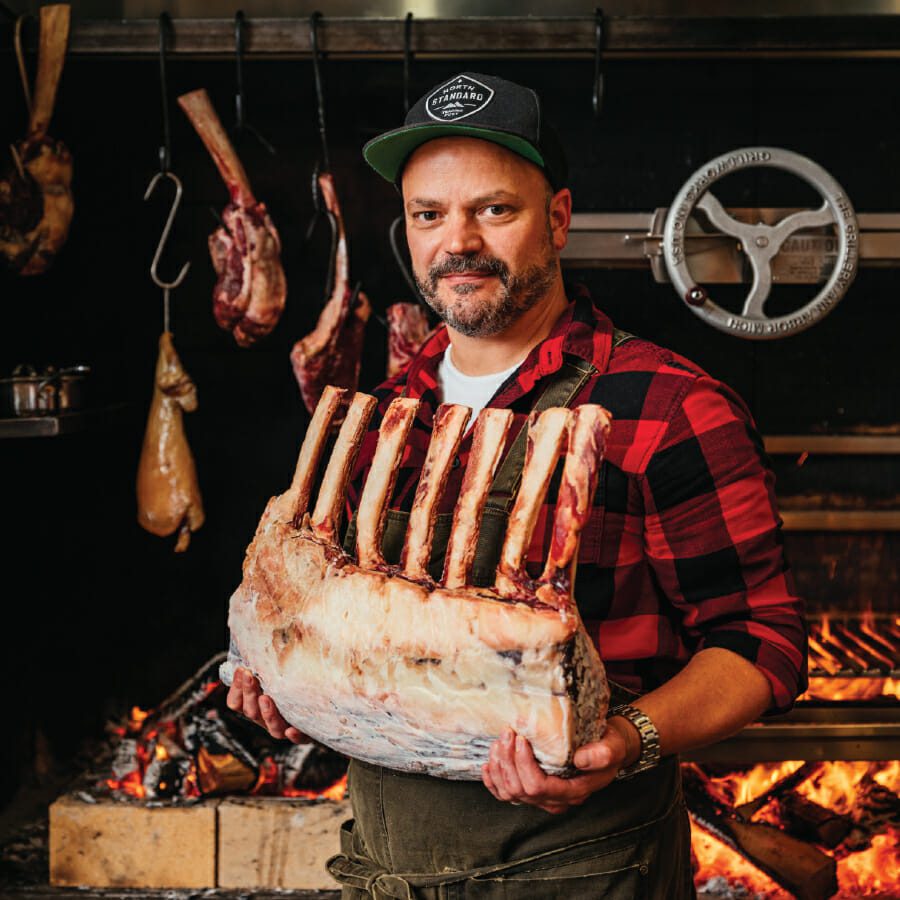 It was stressful, but by April, the duo were finding a new groove with take-out and curbside pick-up being ordered by loyal customers daily. They were even able to start hiring back some staff. "We're proceeding with caution," says Sarah, "just living in the moment."
And in that moment, there is the restaurant's kitchen garden to harvest; the couple's two young boys – Evo and Hugo – to care for; and to come, the as yet unknowable-but-inevitable challenges of running a restaurant in the County in winter during a pandemic.
Come winter, it will be the fierce PEC sense of community that will help everyone – farmers, bakers, shop owners, and the Zomers – weather this storm. As Sarah said, "When you have a lot on the line, you hustle, and I keep reminding myself that a high tide raises all ships."
---
Watershed Magazine celebrates life in Northumberland, Quinte and Prince Edward County with page after page of award-winning editorial and design.
Find out more at watershedmagazine.com
---