The homegrown story of everyone's favourite savoury snack.
---
THE SUPPLIER:
Hoenhorst Farms Ltd.
It wasn't always Cox Wensink's plan to become a dairy farmer.
"I took a bit of a detour," she says from her family's property in Innerkip, Ont., just north-east of Woodstock. Although she loved growing up on the farm run by her father, she wanted to forge her own path. She studied mechanical engineering at Queen's and product design in Delft, then spent several years working as a consultant in Europe.
But "something always drew me back to the farm," says Wensink, who remembers coming home from university "just to milk a few cows," or drive the tractor during the hay harvest. "In the end, I decided to continue the family tradition, and I'm glad I made that choice. It's a wonderful life."
She took over the day-to-day operations from her parents a few years ago and now spends her days overseeing the production of 32,000 litres of milk and the care of nearly 1,000 Holstein cows.
That number includes the 460 cows who are milked by robots. "The cow decides for herself when she wants to be milked," explains Wensink, "and walks into this box, where she gets some pellets as a treat while this arm swings out from below and attaches the milkers to her." The robot can sense when the cow is done and detaches, leaving her free to amble off, maybe to take a nap. "It's kind of neat, because cows find their own routine," says Wensink, who is passionate about ensuring her cows are happy, relaxed and healthy.
While the setting might be a little different, Wensick says that dairy farming and management consulting aren't all that different. "Farming is always continuously evolving, and you're always looking to improve," she says, adding that this is one of her favourite parts of the job. "I see it as a super-fun, never-ending project."
The most recent improvement—completed in February—has been renovating the young heifer barn, which houses the two- to six-month old calves who were born on the farm and will one day join the herd. A key change was covering the floor in a layer of straw, which is more comfortable for the cows. "What's so rewarding about a project like that is you immediately see a change in the animals," says Wensink, noting they appeared even more relaxed than they had been before. "When calves have everything they need, and they know they have nothing to worry about, they start playing," she says, noting they're particularly fond of straw. "They'll gallop around with their tails up in the air, almost like playing tag with each other. It's very cute."
It's also part of what makes her so proud to be an Ontario dairy farmer. "We're held to really high standards," she says, "and it feels good to know you produce a high-quality, nutritious product, the animals are treated well, and you respect the environment. It's nice that when you see an Ontario dairy product in the store, you can tell your friends and family, 'Buy that, we know it's good.'"
---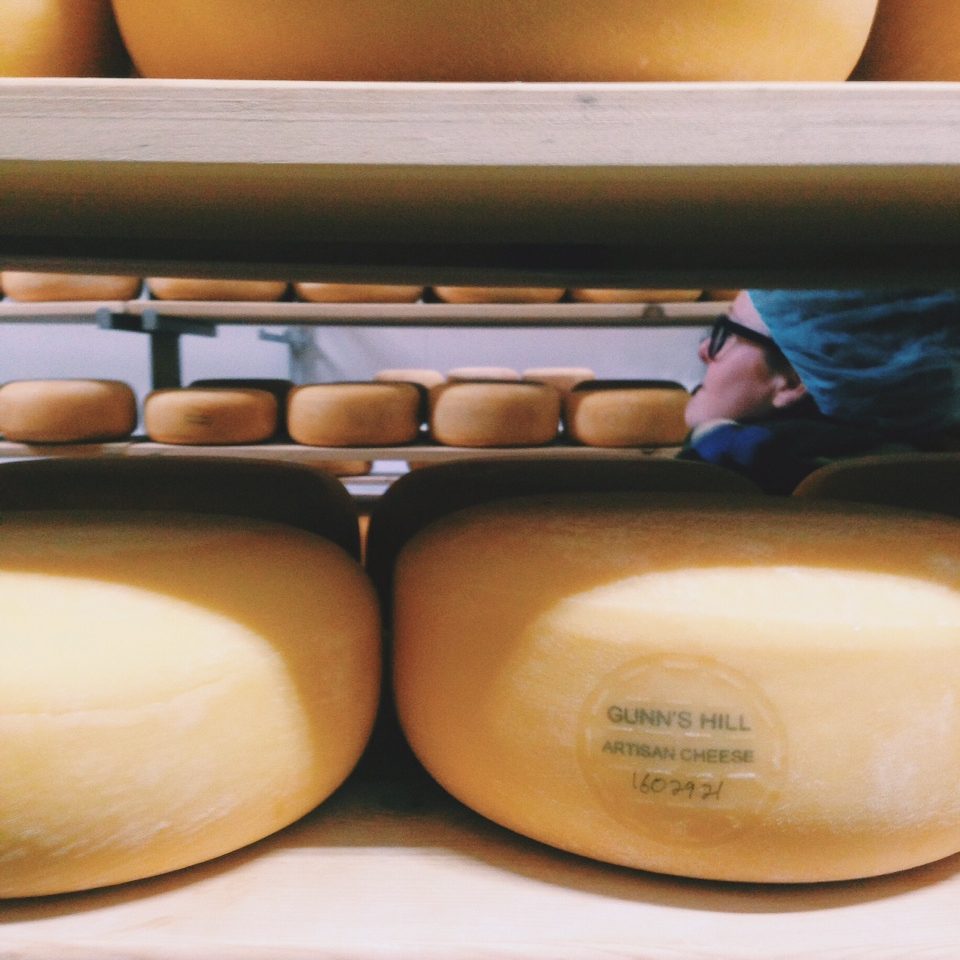 THE MAKER:
Gunn's Hill Artisan Cheese
Gunn's Hill Artisan Cheese, co-owned by Shep Ysselstein and Colleen Bator, makes small-batch cheeses using milk from his brother's cows, who graze in the fields around the cheese factory. "To put it in scope," he says, "it takes us a year to use the amount of milk one of the biggest cheese producers use in a day."
Ysselstein grew up on a dairy farm—the very one that Gunn's Hill sits on now—and always knew he wanted to run his own small business.
Combine his upbringing with Oxford Country's rich history in cheesemaking, a happenstance visit to a cheese factory in Thunder Bay, and the fact that he really likes cheese, pursuing the craft felt like a natural next step.
After stints in the Swiss Alps, Vancouver Island and upstate New York, Ysselstein came home to the family farm and set out to make cheese, including their best-selling Five Brothers, a Swiss-style cow's milk cheese that's also available smoked. (His favourite, though, is their Handeck, aged for two years on cedar planks.)
It's a process that's both short— "if we start at 4 in the morning, we have wheels of cheese by noon," he says—and long, in the sense that you have to wait, often a few months, to see if your cheese is ageing as it should, thanks to the endless variability involved in the process. "The milk, for instance, can change over time. The fat content can slowly be dropping as we head into summer, or their feed could change," explains Ysselstein, who says each wheel of cheese is subtly different. "It's phenomenal how complex the aging process is."
---
THE RESTAURANT:
SixThirtyNine
Owning a Feast On certified restaurant in Oxford County, Eric Boyar always knew he'd have to have cheese on the menu. "It's the dairy capital of Canada," the chef and co-owner of SixThirtyNine says. "It just makes perfect sense for us to use the cheese in our backyard."
Since Boyar opened his farm-to-table restaurant in downtown Woodstock, Ont. in 2005, there's been a mini boom in new cheesemakers in the region, many drawing on the area's rich Dutch heritage to create European-style cheeses. "The people in Oxford County are dedicated to making great quality cheeses, and they're not just treating it well while they're making it," he says. "Before that, they're making sure the cattle are well looked after, and their properties are well maintained."
One of the perks of Boyar's job is getting to know these cheesemakers and learning about their passion for the craft. "Those conversations solidify the relationship," he says, "but the cheese also just speaks for itself."
One of those newer cheesemakers in Gunn's Hill Artisan Cheeses, who make frequent appearances on SixThirtyNine's menus, which change seasonally. "Shep's aged cheeses are amazing," says Boyar, who's a particular fan of Gunn Hill's Five Brothers Reserve, which is aged for 18 months. "The flavour is intensified, and it's just that much better of a cheese," he says. "When you bite into it, you get goosebumps."
When Boyar uses cheeses like Gunn's Hill on his menu, whether in pasta, arancini or served on a cheese board, his goal is to let the cheese shine. "You want to centre the dish around the cheese and make it the star of the plate." An example? "With feta, you don't want to cook it too much. But a nice grilled cheese made with Oxford's Harvest?" he suggests, referencing another of Gunn's Hill's cheeses. "That would be phenomenal. Nice and gooey and melty and delicious."
---
CONTENT FROM GLOBE CONTENT STUDIO
ORIGINALLY PUBLISHED MAY 28, 2021
as part of the Great Taste of Ontario Special Report