Please follow your region's public health measures and advice, and enjoy Ontario's bounty from home if necessary.
For travel restriction updates, please visit the Ontario COVID Resource center.
There is nothing more iconic (or exciting!) than syrup season in Ontario. Those first days of spring when the snow is just starting to melt and the sun starts to stay out later. The best way to celebrate the start of this special season is to visit a sugar shack, or bring the experience home with some sweet treats from local producers.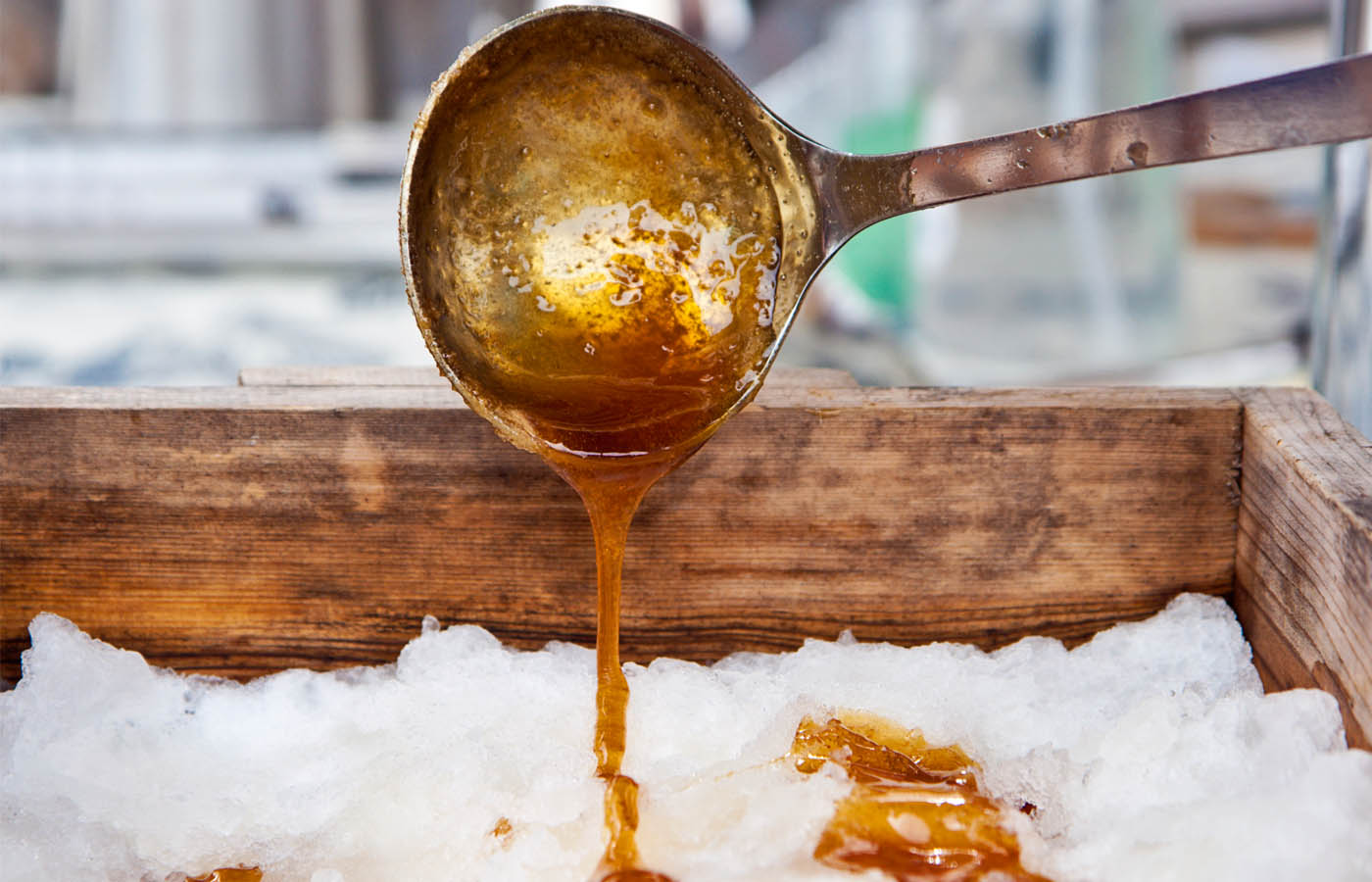 A sugar shack has many names – sap house, sugar house, sugar shanty or sugar cabin – but only one goal: to provide a hands-on, sticky sweet experience with maple. Each one is (usually) hyper-seasonal and only open when the sap is flowing.
Every year in March and April, when the temperatures plummet below zero at night and rise above zero in the day, maple trees in Ontario are tapped for their sap. This sap is boiled, usually over open flames, and reduced down into syrup.
A visit to a sugar shack usually involves standing my the fire, pouring hot syrup on snow, munching on maple taffy and – if you're lucky – digging into a piping hot pancake breakfast made with fresh from the pot syrup.
Here's our list of the very best sugar shack experiences in Ontario.
---
Lanark County is the maple capital of Ontario
---
Known as the Maple Capital of Ontario, Lanark County is packed with maple activities like museums, sugar bush trails, and farms for the full maple experience!
Be sure to check out Wheeler's Maple Heritage Museum. It was named one of the Top 10 maple experiences in Canada by Canadian Geographic and was awarded the Guiness World Record for the largest collection of maple artifacts. This year, breakfast is available by reservation only. Be sure to check their website for updates.
We know you want to visit some sugar bush trails and taste that delicious maple so head to Fulton's Pancake House for some at-home breakfast kits and maple treats. There are also Nordic Trails and snowshoeing available.
Want to learn how maple syrup is made? Ennis Maple Products makes it the old fashion way using wood fire, and they even have maple products on-site as well!
---
OTHER GREAT MAPLE EXPERIENCES
---
This year not all sugarbushes will be welcoming visitors, but that doesn't mean we need to do without our annual maple fix; there are plenty of maple-inspired activities and experiences you can have at home or in your community.
4570 Westminster Drive, London, ON
No bells and whistles here, just a sweet time. Experience the ambience of an authentic working maple syrup operation producing pure Ontario Maple Syrup.  Sample the first fresh drops of syrup, dip into some delicious maple butter and welcome spring!
1865 Chemin O'Toole, Cumberland, ON
Maple taffy on snow, s'mores, trails, and a pancake breakfast – the Proulx Farm Maple Festival has it all. Tickets need to be purchased in advance to maintain safety precautions.
131 River Rd, Dunnville, ON
Offering backyard maple syrup making packages and they are working on a drive through 'history of maple syrup' tour of the farm!
---
Stay sweet friends!