Our visit to Thunder Bay wowed us in SO many ways. Fantastic Thai food, epic Finnish pancakes and jaw-dropping scenery of Lake Superior's northern shore are just the tips of the iceburg.
Add to that list, a selection of cocktails that we would go back to again and again and now we're wondering why we don't live there full time.
3 Spots for Epic Cocktails in Thunder Bay
While there are several great spots to grab a drink in Thunder Bay, three really stood out to us. Read on for our top three spots to grab a cocktail in Thunder Bay.
In Common
Where: 40 Cumberland St. S. Thunder Bay, ON. (View Map)
We had: The Pretty in Pink, Coffee Cocktail, Mojito with Ginger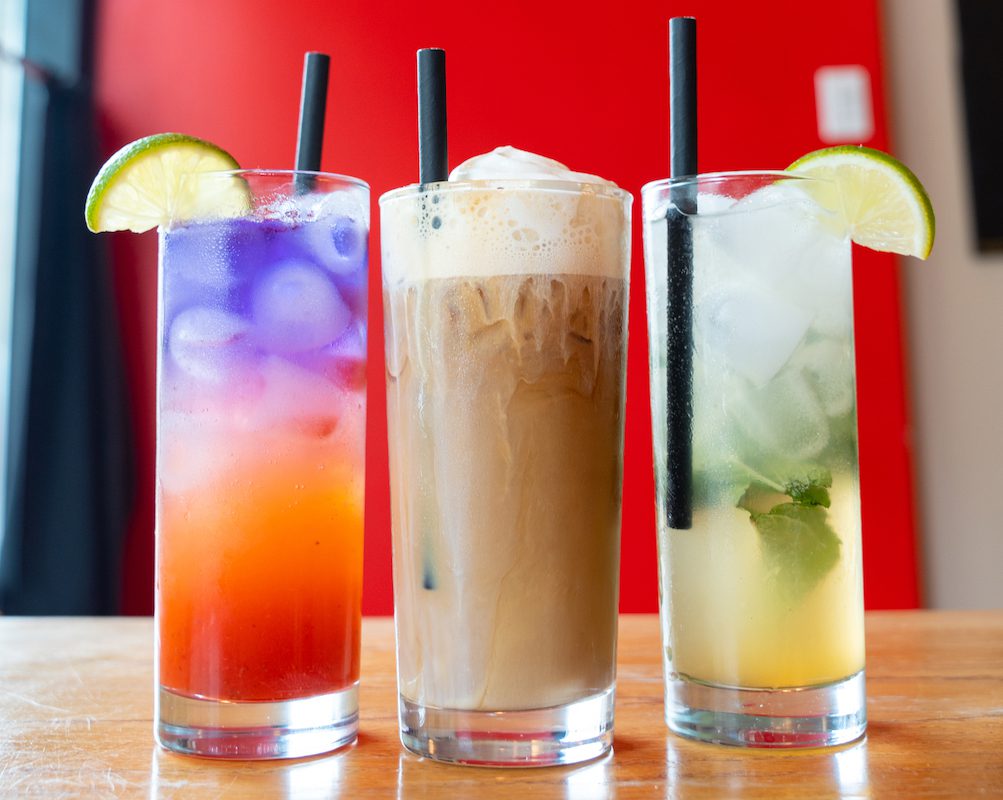 Entering In Common is a lot like going home at the end of a long day. It's cozy, comforting and relaxed. The food? So tasty and so locally focused. We want to talk cocktails though.
The Pretty in Pink cocktail was just that (pretty and pink…and purple). Combining fresh strawberry puree, lemon juice, house-made simple syrup, Empress 1908 gin, and club soda, this cocktail was perfect for a warm day.
The coffee cocktail was served cold in a frosted glass and topped with whipped cream, but we could easily see it translated into a wintery version warmed up for those chilly Thunder Bay days.
Finally, the mojito with ginger was a custom-make. Halfway between a mojito and a mule, it's perfect for those who just can't make up their mind between the two popular drinks.
In Common's drink menu is ever-changing so why not pop in and check out what else they have on deck?
Tomlin Restaurant
Where: 202 ½ Red River Rd. Thunder Bay, ON. (View Map)
We had: Sloe Gin, On My Mind, New Guy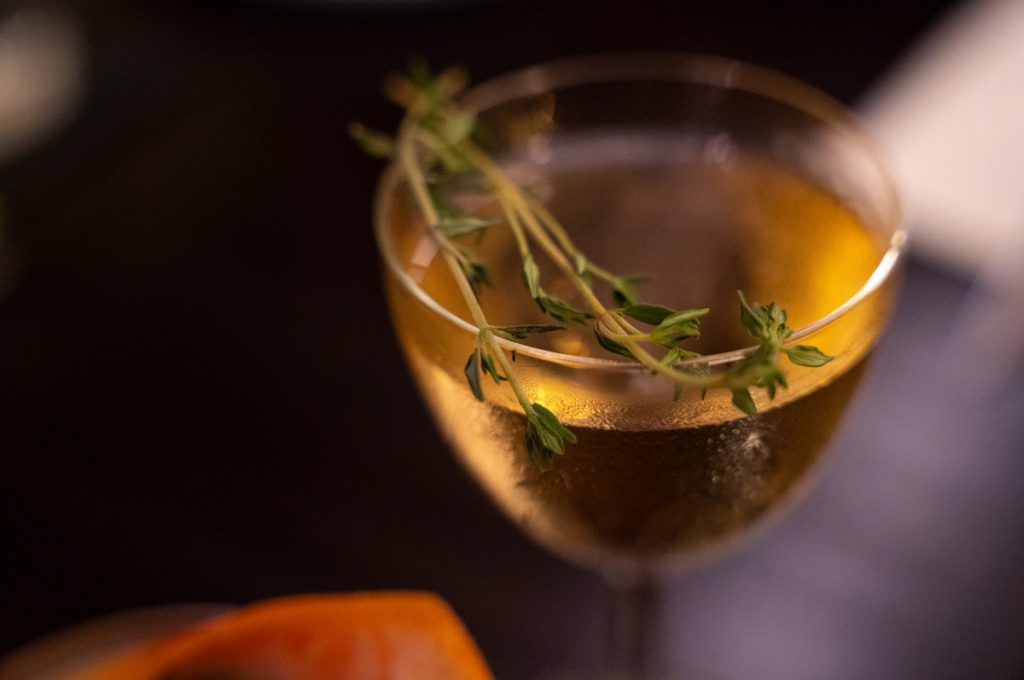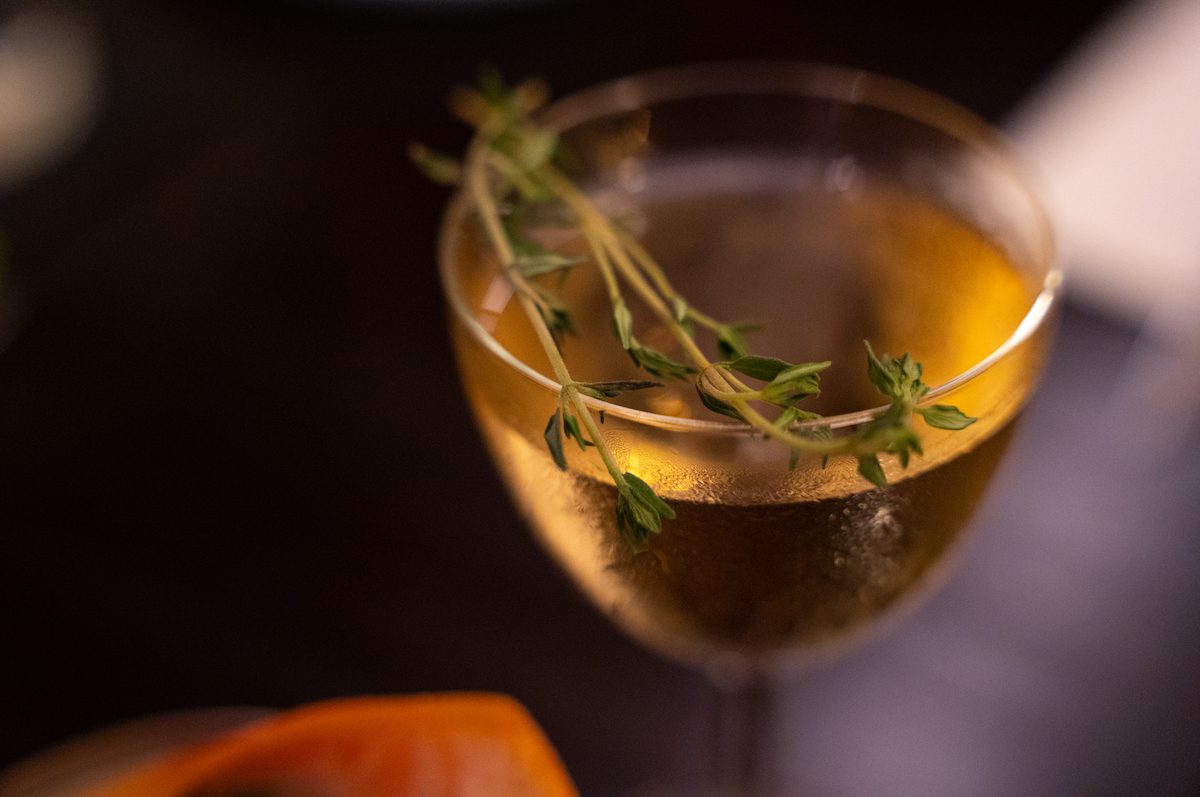 The trick with the drink menu at Tomlin is that it changes a lot, so with the exception of the Sloe Gin, you may not find these on the menu. That being said, their cocktail menu is crafted by in-house team members and they're always fantastic. Here's the run-down on what we ordered.
Starting simple, the Sloe Gin combines cassis, lime, mint and egg white. Completely refreshing, it's perfect any time of year.
On My Mind is a completely different take on a gin cocktail from the sloe style. On My Mind has gin, thyme-infused peach schnapps (yum!), Lillet and orange bitters and is topped with a sprig of fresh thyme. If you wanted to feel sophisticated, this is the cocktail for you.
Finally, New Guy stirs together Blanco tequila, amaro Montenegro, ginger, lime, and hopped grapefruit bitters. Packing the punch, this one is served up in a copper mug and fuses together a pretty spectacular palette of flavours.
Of course, this cocktail menu goes best with food. We tried their Chef's Menu and it did not disappoint! With several courses of delicious eats, each layer of the meal was an experience to be savoured. This spot fills up quickly so be sure to make a reservation!
Woodside Bar at Goods & Co.
Where: 251 Red River Rd. Thunder Bay, ON. (View Map)
We had: Pillow Talk, mimosa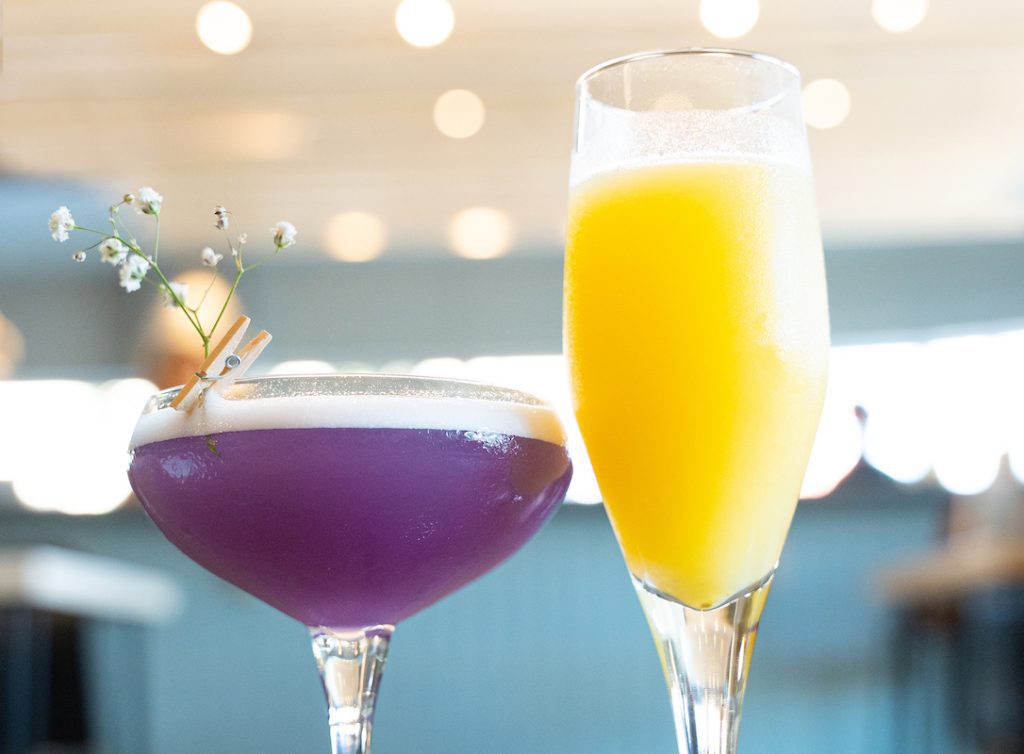 The Pillow Talk cocktail might be one of the prettiest creations we've ever drank! This cocktail was expertly crafted with egg white, lemon, butterfly pea tea syrup, Chambord and empress gin. Its bright lavender colour and clothes-pinned flowers give it a touch of elegance. Who doesn't love that?
Seeing that Woodside (located inside the epic Goods & Co. Market) is one of Thunder Bay's trendiest brunch stops, we had to give their mimosa a go too. It did not disappoint so if that's your jam, make sure you grab one (or two)!
Cheers to that!
Cheers to exploring Thunder Bay through their cocktail scene! Indulge a little too much? No worries. Be sure to check out our fav spots for a hangover meal in Thunder Bay.