From housewares to cocktail kits, we've got everyone on your list covered.
The holidays are going to look a little different this year, but that's all the more reason to splash out on carefully considered presents for your loved ones. (And to support small businesses, for that matter!) We've put together a list of must-have options all made by local Ontario artisans to take the guesswork out of gifting.
Ottercreek Woodworks 
Black Cherry Charcuterie Board, $125, ottercreekwoodworks.com
This stunning charcuterie board showcases the natural beauty of our Canadian landscape. Made from cherry wood that was sourced within 50 kilometres of Ottercreek Woodworks in Tillsonburg, Ont., this handcrafted serving vessel is perfect for entertaining. Just imagine how impressive it will look packed with artisanal meats, cheeses, fruits and nuts.
---
Topsy Farms
Navy Blue and Red Checkerboard Wool Blanket, $200, topsyfarms.com 
Gift your BFF a cozy throw—the ideal companion for movie night, an evening by the fire or curled up with a good book. Woven from unbleached Canadian wool on the shores of Amherst Island, this stylish blanket will last a lifetime, just like your friendship.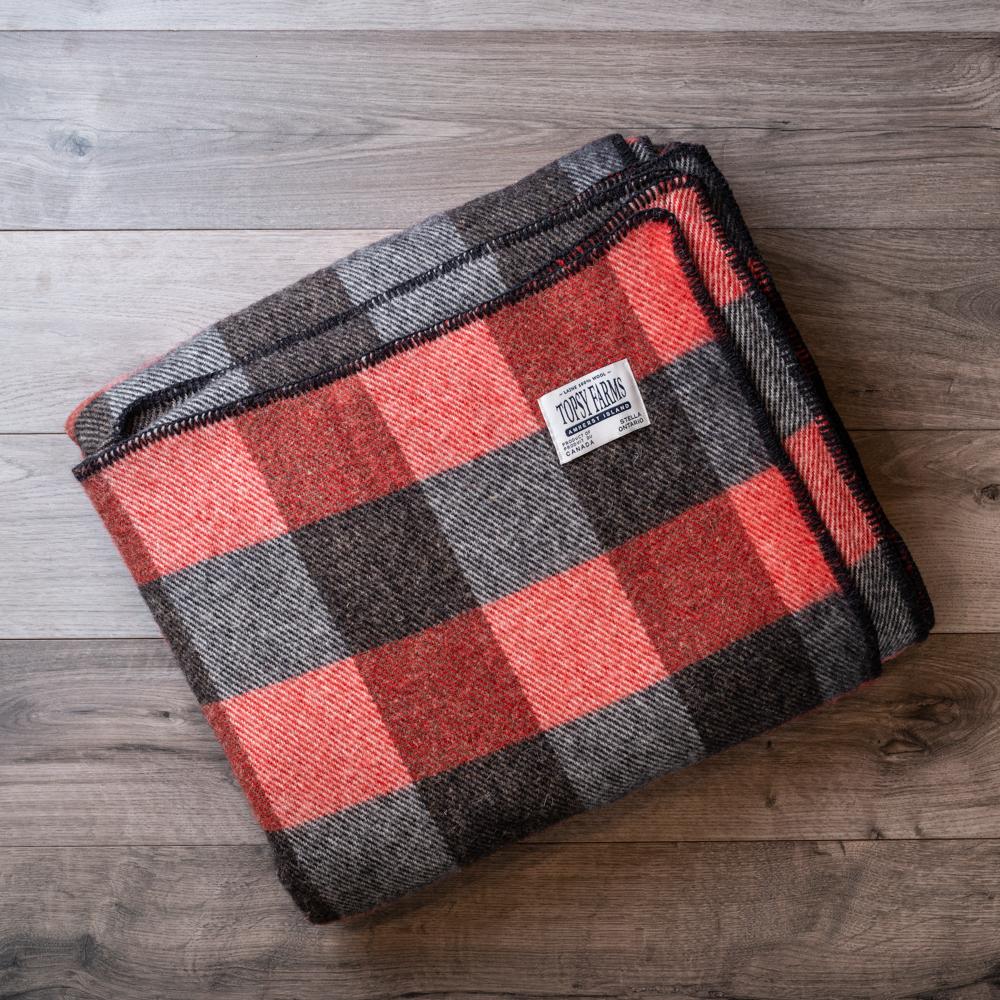 ---
Top Shelf Distillers
Canadian As Apple Pie Kit, $58, topshelfdistillers.com
If you have a cocktail enthusiast in your life, this Canadian As Apple Pie Kit is the ultimate gift. Update their bar-cart with refreshing moonshine that's made from locally sourced, all-natural ingredients in Perth, Ont. The kit includes a growler of their latest batch of reunion apple pie moonshine, aromatic bitters, two bottles of Fever-Tree Premium Ginger Beer plus a swanky Top Shelf Distillers tote bag.
---
SoapBliss
Cold-processed handmade soap, $6 per bar, etsy.com/ca/shop/SoapBliss 
This Oakville-based small business is known for its stocking stuffer-worthy soaps, which are free of detergents, phosphates, and sulfates and come in unique scents, including IPA beer, Muskoka Boathouse (scented with cedar, sandalwood and "a dash of spice and frankincense"), cucumber and green tea and pomegranate. There's even an ultra-mild unscented version for babies. 
---
Pluck Teas
Honey Chai, $32, pluckteas.com
If tea is their drink of choice, be sure to pick up a delicious blend from Toronto's Pluck Teas. Founder Jennifer Commins started the company in 2012 to improve the quality of restaurant tea—and she's known for infusing her tea with local ingredients. We recommend this winter warmer, which is made with honey harvested by Ontario Honey Creations. 
---
LUVU Naturally
Lunah Life Face & Body Whip in Frankincense & Jasmine, $30, luvunaturally.ecwid.com
Remind your giftee to rest, recharge and relax with skincare from Huron County's LUVU Naturally. The Huron County company uses only natural and ethically sourced ingredients, and they offer products for the whole family. We love this luxe face and body cream, which contains wrinkle-fighting neem oil, scar-reducing frankincense and ultra moisturizing jasmine. If you're feeling extra generous, consider gifting your BFF one of Huron County's Hygge Boxes (available through https://519tours.ca/), which contain offerings from LUVU Naturally, as well as mittens and socks from Cranbrook Acres Alpacas, a "Lake Huron" scented candle from Olive + Rose, seasoning mix from The Garlic Box and chocolate from Sugar & Spice. 
---
The Scented Market
Milk & Honey Soy Wax Candle, $27, thescentedmarket.ca
When in doubt, a heavenly smelling candle is always a crowd pleaser. This one from The Scented Market in Arliss, Ont., has familiar notes of milk and honey and is hand-poured with natural soy wax that lasts 100 hours. Bonus: when finished, the jar can double as a chic piece of home décor.
---
CONTENT FROM GLOBE CONTENT STUDIO
ORIGINALLY PUBLISHED DECEMBER 11, 2020
as part of the Great Taste of Ontario Special Report