Black's Distillery in Peterborough embodies the spirit of spirit-making. Located just West of Lock 21, we made sure to visit Robert Black's award-winning distillery on our trip to discover the taste of place along the Trent-Severn Waterway.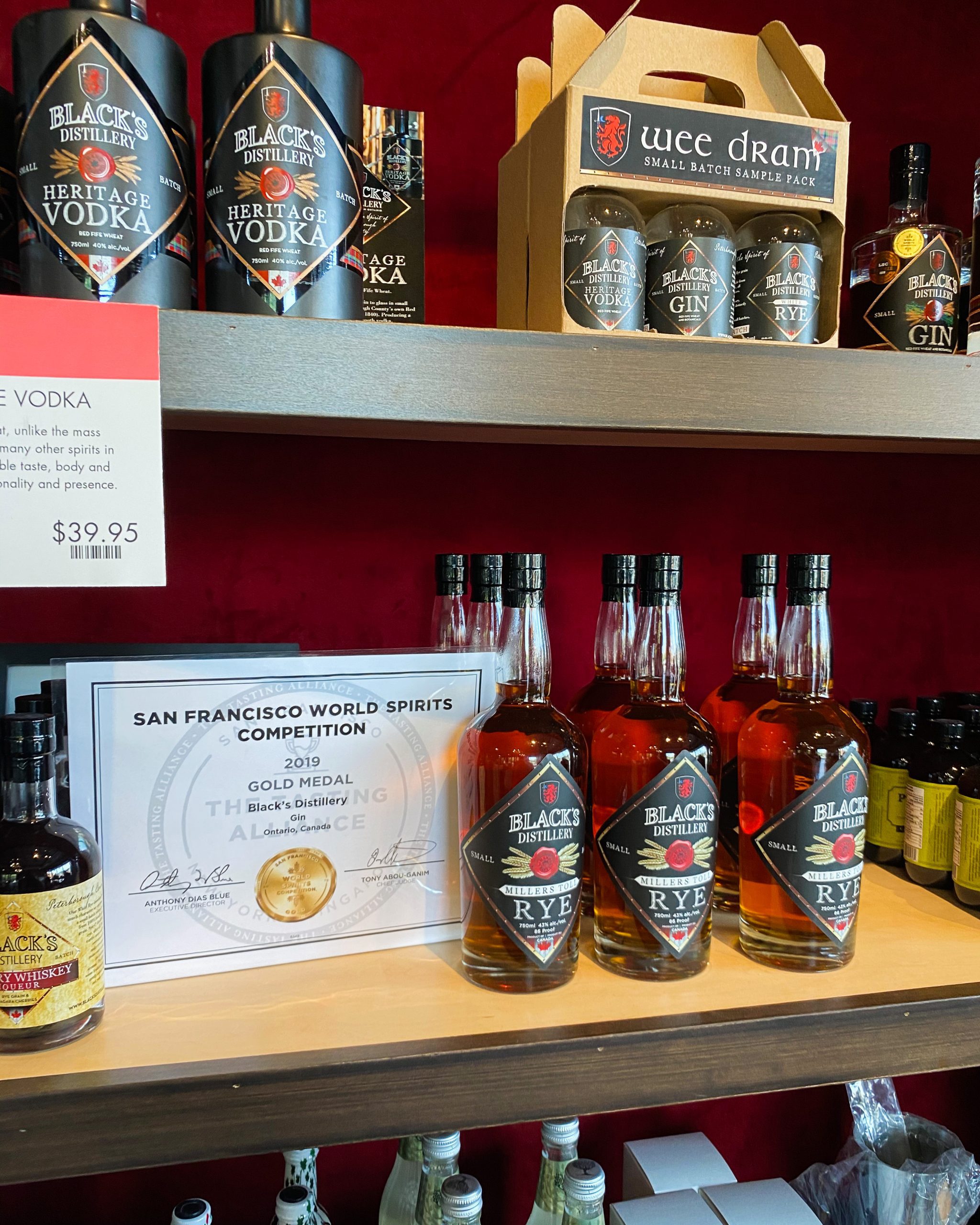 Coming from a career as a tool and die maker, Black fell in love with the art of spirit-making through its history. " One of the things that intrigued me was in medieval times, alchemists could change substances into something else," he said, "they thought these guys were magicians, so that was a fascination for me and really what they were doing mostly was distilling and making potions."

Black told us of his family history, rooted in Scotland. He's visited many times - and it was there that he decided to make the career pivot. Seeing the process of scotch-making first-hand drove his interest further. "In 2010, I was standing on Isla, which is a west coast island where they make the peaty scotches. They harvest the peat from the ground, and they malt the grain, when they are done malting they dry it and stop the malting process with peat fibres that they harvest from the ground - you can't get any closer to mother earth than that," he explained, "that terroir from the peat gets infused into the barley and distilled into these fine spirits." Clearly, Black had found his calling, and judging by his vast knowledge and passion; we're glad he did.

His spirits bring the terroir of the area to your glass, using Canada's most cherished heritage wheat - Red Fife wheat. Produced by David Fife just south of Peterborough in the 1840s, Red Fife Wheat was distributed across Canada as a popular grain for baking. Generations later, Black is distilling spirits using the very wheat that originated in the Peterborough area. "I remember going to the museum when I was a kid, so I knew he had this grain which has this nice history to it and there are travellers that come to see the lang pioneer village, he explained, "this grain went out and developed the grain industry out west, and without that, it wouldn't be what it is today."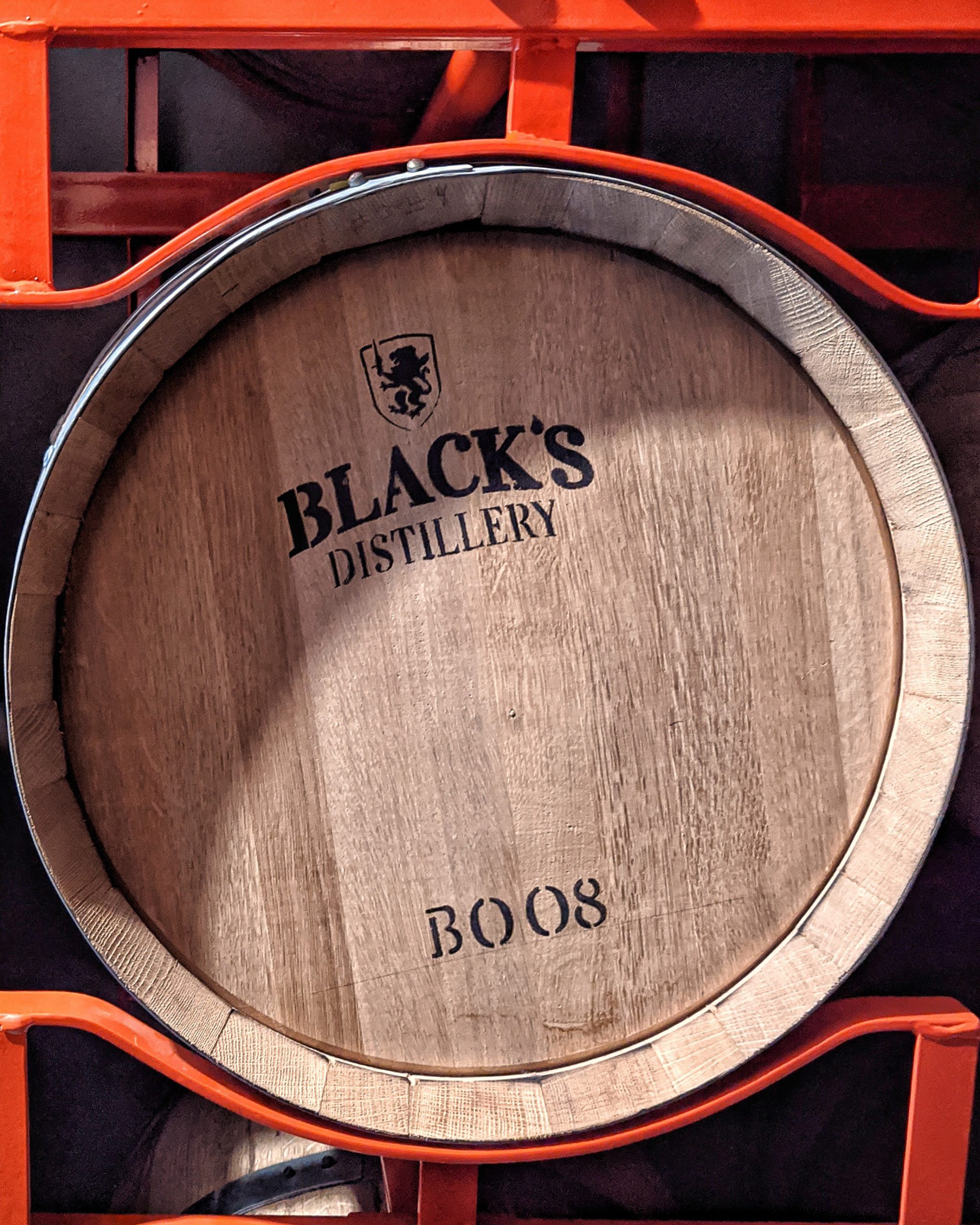 Black's makes a variety of hand-crafted spirits, including a delicious gin - that won gold at the 2019 World Spirits Competition. The distillery has a deep connection to the ingredients they use, with an all-natural approach and recipes true to the land's history.
The distillery itself has a beautiful interior, with the equipment in full view. Black put his tool and die making experience to good use and helped with the design and implementation of the equipment - equipment so cherished that he affectionately (and cleverly) named the stills. Thank Ethyl, Penny, and Michelle for helping the alchemists at Black's produce their spirits. Agatha Podgorski, our Communications Director sampled the gin with Black, "Wow, that definitely has a lot of personality!" she exclaimed.


We loved chatting with Black about his business and the region. With our trip centred around the 'taste of the Trent-Severn,' he told us about growing up in the area and what the Waterway meant to him. "We're so fortunate to have this in our backyard, we can travel up and down the Waterway, and there's so much wilderness to get into," he said. When we asked him where else he'd recommend we visit to get a true taste of place, he immediately mentioned his experiences at Lang Pioneer Village and the craft brews at the Publican House Brewery. 
We ended our visit taking home a few bottles and a newfound appreciation of the art, history and terroir of spirit-making in Kawartha's Northumberland.
---
Black's is located at 99 Hunter St E, Peterborough.
They're open for pickup with limited entry.
Please check their website for details.
---