Everyone knows that the best parties always end up in the kitchen. Meet Eleanor McGrath, Farmer & Owner of Springfield Farm in Apple Hill, Ontario.
---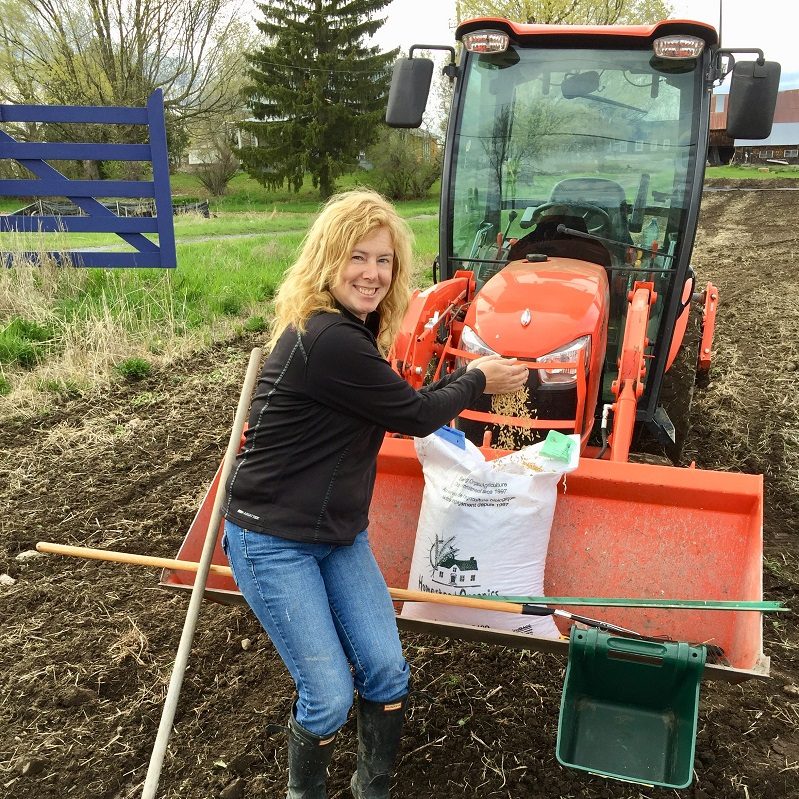 ELEANOR MCGRATH
SPRINGFIELD FARM
Apple Hill, ON
Feast On Certified since 2020
---
What's your favourite seasonal ingredient to produce on your farm?
That's hard, it's almost like asking which is your favourite child. It's changed over time. My favorite seasonal ingredient would have to be maple syrup, but I've actually captured that – I know how to do it. I tried a whole bunch of herbs three seasons ago, and purple basil became this outstanding star in our garden. It has this beautiful color, it's unusual, and the taste is nutty and incredible. The heritage tomatoes we grow, as well as cilantro, are also favorites.
I'm also determined to learn to grow oats for many reasons. It is actually an unusual crop grain in our region. Oats are just one of those crops I've learned a lot about. This will be my third season trying to grow oats, so my big ambition is to finally crack the oat growing thing.
What do you think is the most underrated ingredient grown or produced in Ontario?
Apples. Our farm is in a beautiful little hamlet called Apple Hill, and near Apple Hill is where the Macintosh Apple was discovered on the McIntosh Farm. So right there you have this rich cultural food history. We don't realize as consumers, how important apples are, and how incredibly they show the history of migration of food and transference of knowledge.
There is always still more to be made from apples in the sense of crossbreeding. The more we can get people engaged in preserving the Heritage apples and really source out old orchards that are almost down to the last few buyable trees, the better. We need to actually actively save those trees and start realizing how important apples are to us as people and also to wildlife like pollinators, birds, and deer.
Why was it important to incorporate agritourism in your farm operations?
For 25 years I've been a fundraiser in the small, not-for-profit space, so a lot of my work has centered around marketing and events. So, I've been able to use this experience with farming to diversify what we can do at Springfield Farm. But also, I really have to give credit to my daughter Madeleine, who stayed in a big army tent, right next to a barn, on a Dutch farm in Holland, and as she was telling us about her experience, this light went off, and I thought, "we could do that".
I think now with COVID, there's this interest in and opportunity for consumers to interact with farms in new ways. Knowing your farmer, knowing where food comes from, and now, the ability to walk outside in acreage are all attractive to visitors. There has been a marriage between farming land and consumers, who are looking to get back to the real stuff. When people ask me what my end game is, I say that the goal is to be a farm environmental oasis. That is what I would love to share as an agricultural destination.
What's the most rewarding thing about being a farmer & business owner?
If I looked back to years ago and knew then what I now know about farming, I know that if I had been planted on a farm at the beginning of my career, I would be so happy. Farming makes me feel relevant and helps to keep my mind going because it's a challenge every day. Physically it's like wow, because you have to lift heavy bags of soil or seeds; and it allows me to be part of a great community.
In our busyness, I think sometimes we don't realize what's really golden is going north or south of us. But finding these communities with such a cool, rich history and farming has been fabulous, and farming, though challenging, makes me feel happy and proud.
What do you enjoy doing outside of your role as a farmer?
I spend a lot of time engaging in agritourism volunteer work. I am so proud and pleased to do this work because I think that it is going to lead to a lot of good things for all farms that want to participate in what we're doing. I've also been really fortunate to be a trustee on the Ireland Canada University Foundation (ICUF), and that has been a nice link to my past life of organizing and doing things within the Irish Community Canadian community, which I find really fun. So, I do a lot of volunteer work. But the primary focus is my family and the farm and the kids.
What's the best part of working in an Ontario culinary destination?
Being part of a destination with such a rich history. I think that one of the most important things in our region, in particular, is its history. We have to acknowledge the incredible history, culture, and how much we as settlers have benefited from the knowledge of the Iroquois and Mohawk in particular. When I'm producing maple syrup I have to, as a settler, acknowledge that huge contribution, which now economically, is an incredible contribution to agriculture and to consumers.
I think sometimes we don't realize as consumers, some of that history which was suppressed. It is important to start sharing and acknowledging that we wouldn't have maple syrup today if it hadn't been for the original settlers to this country learning first-hand how to extract sap from the trees and turn it into maple syrup. It's important for us to acknowledge gratitude and ask, "can you please share more oral stories with us". I just think that there is so much more that can be shared when you start acknowledging where that knowledge originally came from.
Why is Feast On important to you?
In 2017 my sister Irene and I attended an agriculture event in Alexandria where Rebecca McKenzie spoke about Culinary Tourism Alliance and Feast On. I saw that other farmers were very excited about Feast On, and that event always stayed with me.
This year, now that I've really started to grow heritage tomatoes, herbs, and things like that in strength, I have products that could possibly be what a chef wants to use for their restaurant, and that led me to apply. As a restaurant consumer, I realize how important that Feast On designation is, and that made me excited to work on becoming certified.
What does your perfect weekend in Apple Hill look like?
A perfect weekend is beautiful sunshine, lots of birds singing, having my seedlings thriving, and hearing my husband's bees buzzing around. We have a yellow 1973 Volkswagen Beetle, and, on the weekend, we pull it out and look like everyone else out there with their vintage cars and drive around.
Alexandria in North Glengarry has a really charming main street of small communities and we love going to the Buvette du Marché. If we head into Cornwall, Pitt Street the lovely main street there, and it has a lot of local spots. We love going to The Spicy Pearl, which features Caribbean cuisine. I love the jerk chicken. Both of these restaurants bring the sensibilities of their respective cultures to their food.
---