Everyone knows that the best parties always end up in the kitchen. Meet Pastry Chef Tammy Maki, the owner of Raven Rising, a global Indigenous chocolate and pastry company in Sudbury, Ontario.
---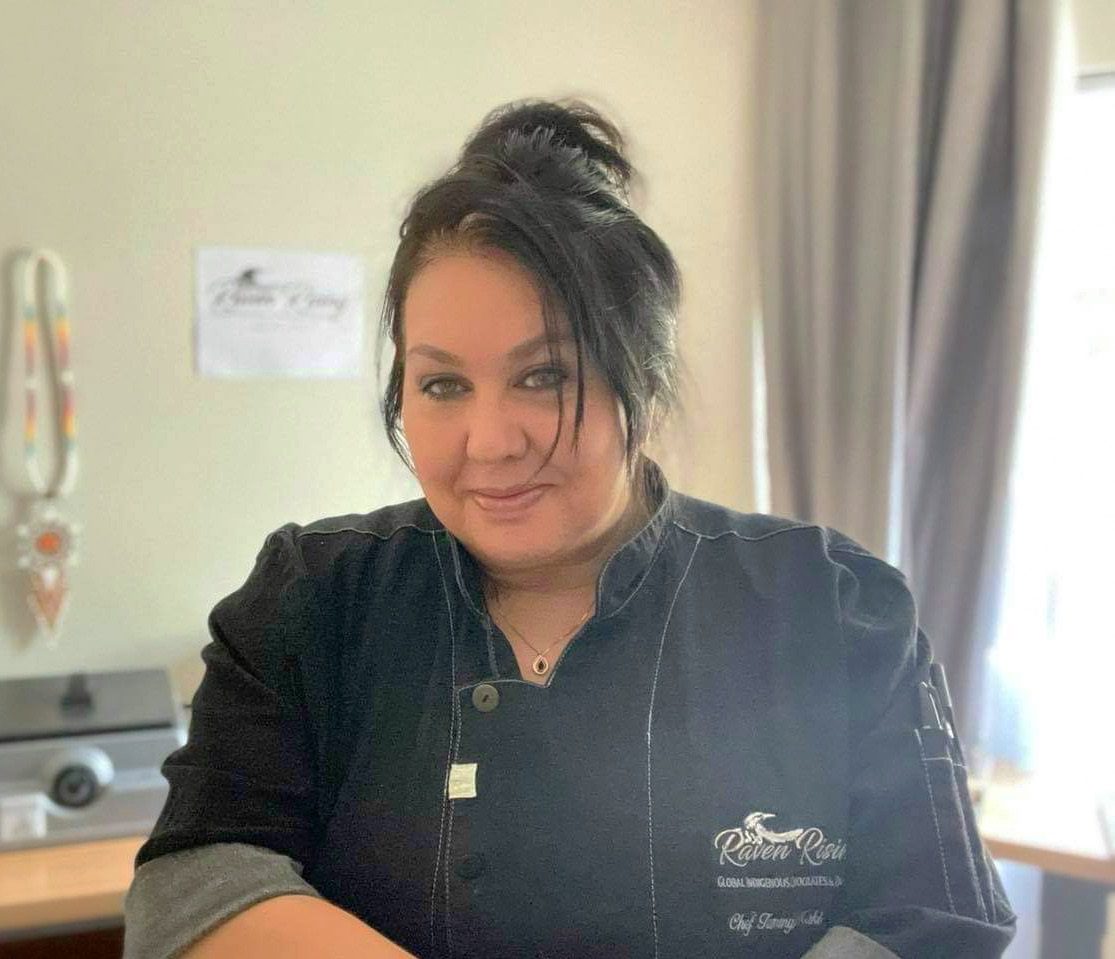 TAMMY MAKI
RAVEN RISING
Sudbury, ON
---
Can you tell us a little bit about how you became a pastry chef?
I was in and out of the electrical trade for a very long time, but have always loved cooking and baking. Even when I had my own electrical contracting company, I would come home and bake after working very long hours, because baking was just my outlet.
Midway through my adulthood, I decided to change my career, so I went back to college to study baking and pastry arts. Within a week of finishing culinary school, I moved to Banff, Alberta to work as a first-year Apprentice. It was such an experience to pack up my existence and move out west to start this new journey.
I spent many years working out west working at the Fairmont Springs, Rimrock, Wedgewood, and Westin, and also became certified as a Red Seal Journeyman Pastry Chef/Baker-Interprovincial. Throughout my career, I've wanted to know everything I could about as much as I could. I wanted to experience everything I thought would make me the best pastry chef I could be, and fortunately for me, working at some of these places was phenomenal because they gave me an outlet to freely express myself through my craft.
How did Raven Rising come to be?
After working out west I returned to Ontario and started a small pastry consulting business, but COVID-19 hit, and that business didn't make it.
So I had this idea for a business in my head, and I had recently found out that I was a Sixties scoop. I knew for many years that I had been adopted, and I was adopted by a great family, but finding out that I was forcibly taken from my mother was very overwhelming. I decided to pursue the business I had been thinking about, and when I opened Raven Rising it was important to convey my Indigenous identity and my identity as a strong female pastry chef.
I thought it would be difficult to get people to understand where I was coming from. I wanted to introduce people to Indigenous ingredients but in a format that they would be more comfortable trying. So I chose chocolate.
Early on, I introduced an ingredient called a red hairy skunk current. I put it in chocolate, and it was awesome! Red hairy skunk currents have been harvested by Indigenous Peoples for years, and it's great to be able to introduce others to ingredients like this, that they may not have even known existed. The sound understanding of products that I'm working with has to be there, so I get to learn a lot about my heritage through the ingredients that I use.
I was raised in a Finnish family, and that upbringing has also really helped me. Finnish people have an affinity for nature. I can remember going out mushroom picking, fishing, and hunting when I was younger. There was always this love for nature, and that has helped me to understand ingredients and stories, which is an important part of Raven Rising.
How did you choose the name Raven Rising for your chocolate and pastry business?
A raven is actually my spirit guide. One day my friend Priscilla who is part-owner of two Calgary restaurants said to me, "Well how about the name Raven Rising?" I thought it was phenomenal! It was kind of an ode to a phoenix rising. I've reinvented who I am, especially as an Indigenous person, and have chosen to rise above all stereotypes and negativity. I'm happy doing what I'm doing, and the name Raven Rising reflects that.
I call my company Raven Rising Global Indigenous Chocolates and Pastry, to recognize Indigenous People all around the world. My hope is to be able to touch base with Indigenous communities in different countries, share stories, and feature ingredients that come from their locales.
You've said that Raven Rising was born from your love of food, but also Indigenous traditions. What Indigenous traditions influenced the birth of your business?
Being Indigenous is all about learning and teaching. In Indigenous cultures, being a knowledge keeper is extremely important. Through my business, I have adopted the tradition of passing on knowledge – knowledge about ingredients, producers, and communities. I include tasting notes with all of the chocolates, as well as a little blurb about each chocolate so that people understand what ingredients are included in the product they're eating. I also share various legends that relate to the First Peoples when people sign up for my chocolate membership
I would like to see what I've learned be passed on to others and would love to see new apprentices come from Indigenous communities. I want to be a positive role model, and promote trades like pastry arts in First Nation communities across Canada.
How do you define Indigenous ingredients?
Indigenous ingredients are ingredients that are native to a specific region, and that have a relationship with the First Peoples of that region. Things like berries, beans, and corn are common Indigenous ingredients, but there's so much more!
I'm amazed at what existed before the settlers coming. It's incredible to see how our people used food for sustenance, but also medicinal purposes. I think of things like willow tea, which has properties to take away a headache, or tree tar, made from pine and spruce, which goes on burns and rashes. Mother nature gives us so much. It's important to look around and understand how many ingredients there are to forage and appreciate.
Is there a Global Indigenous ingredient that you particularly like to showcase?
Every time I work with a new ingredient I fall in love with it. The last chocolates I made were wild grape chocolates. Wild grapes are the most purple, sour fruit. They possess such a grape-y essence. When added to chocolate they are so good!
What's your favorite dish to cook at home?
I work so much I barely get to cook, but when I do, I like to make pho. I make my own take on pho. I cook the chicken really really slowly, put two different stocks together, put some wine in there, and use big long noodles and lots of veggies. It's the ultimate comfort food.
What does your "perfect weekend" in Sudbury look like?
My perfect weekend is a trip to the lake with my grandkids on the beach getting tanned, barbecuing in the back of my Rav, my daughter yapping in my ear, and everybody just outside and just being happy. I have lived in so many places across Canada, and I always miss Sudbury when I'm gone because of the area's lakes and streams. The nature around here is unbeatable. There's no place like it in the world.
What do you wish more people knew about Indigenous food?
That is so much more than they think it is. People think they know what Indigenous food is all about, but it's more – it is all-encompassing and everywhere.
---
Five Indigenous Businesses Creating Delicious Things You Need To Try