This recipe comes to us from The Pottery Restaurant in beautiful Grey County – home of the Apple Pie Trail. The Pottery has been offering guests exploring the Blue Mountains a taste of Georgian Bay for over a decade.
Not only is this dish delicious, but it's also a great opportunity to use us the rest of your cold stored Ontario root vegetables before spring arrives with asparagus, rhubarb, kale and other greens in tow.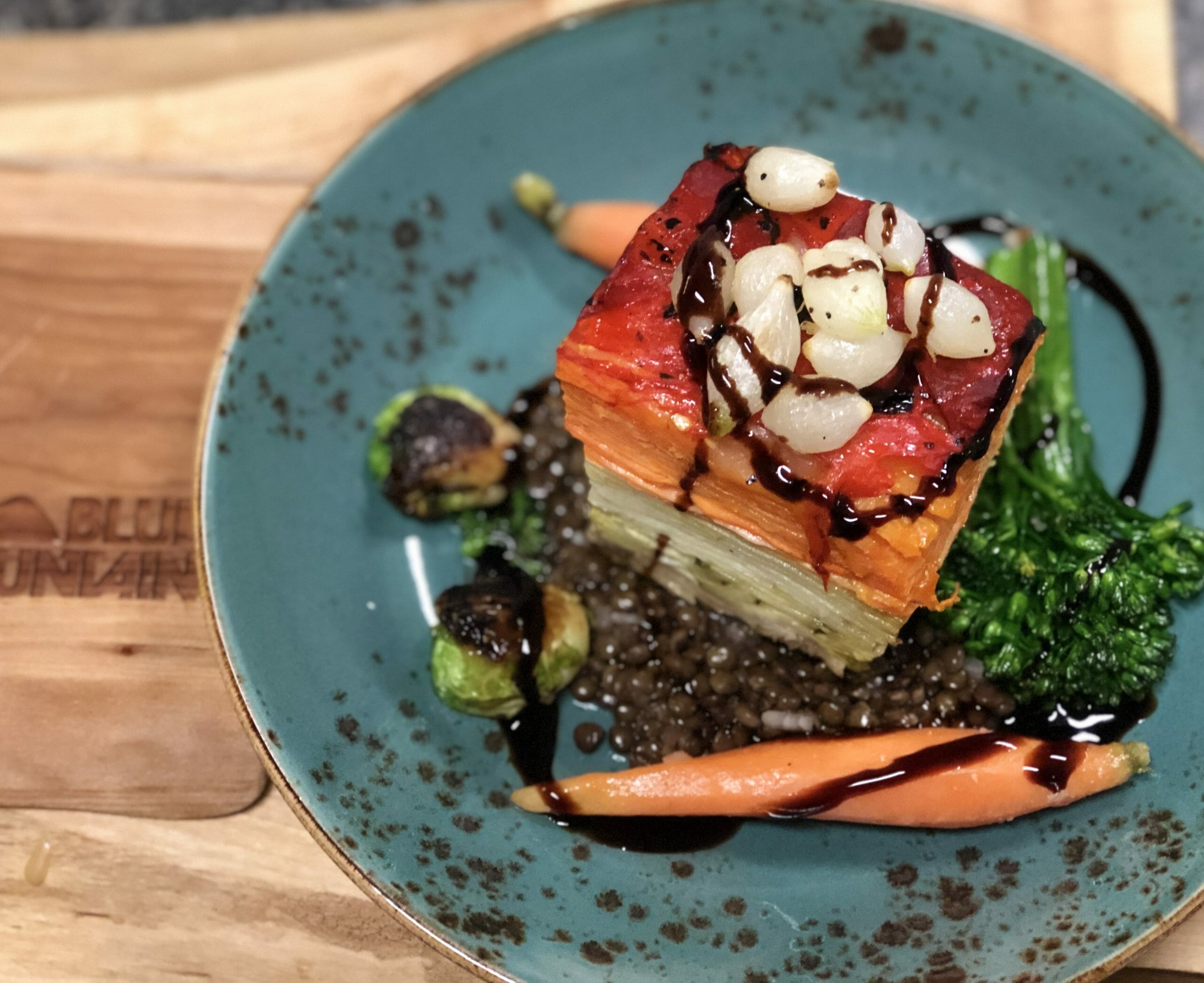 Roasted Vegetable Stack
1 small Ontario purple beet
1 medium Ontario red onion
2 small zucchini
2 Ontario russet potatoes
2 Ontario sweet potatoes
1 small can of roasted red peppers
1 tbsp corn starch
salt & pepper to taste
2 tbsp Balsamic reduction (to garnish)
2 tbsp of pickled pearl onions (to garnish)
Thinly slice beets, potatoes, and red onions. 1/4″ slice the zucchini, sweet potatoes and peppers.
Place parchment paper in a small hotel pan or baking tray with high sides. Rub with olive oil so the vegetables don't stick.
Layer the vegetable slices, starting with the red peppers, adding corn starch through a fine sieve, and the salt and pepper between each layer. Continue with the rest of the vegetables, from bottom to top: zucchini, russet potato, sweet potato, purple beet, red onion.
Cover with parchment paper, add weight on top and bake at 375F for 40 minutes.
Cool completely before cutting.
To serve, top cut portions with pearl onions and drizzle with Balsamic vinegar reduction. This dish goes great alongside your favorite legumes (we like lentils for this!) or simple mixed greens.
---
Now, you didn't hear it from us – but this dish would also be delicious with a nice, crunchy Ontario apple tossed into the mix. We like a Braeburn for this.