All directions across Sarnia & Lambton County point to ice cream treats this summertime. There is nothing more satisfying on a hot summer day then to enjoy an ice cream cone to cool down. We've created a list of must-taste delicious ice cream shops for you to visit.  There are hundreds of sweet and creamy flavours to taste and we guarantee it'll put a smile on your face.
We all scream for ice cream!
---
Ice Cream Galore
105 St. Clair St.  Point Edward
Ice Cream Galore is an old fashioned ice cream parlor located in picturesque Point Edward, Ontario. This popular spot has been serving premium ice cream, fresh waffles, delightful desserts and custom ice cream cakes since 1977.  Customers can expect only the finest ingredients in all of the ice cream treats. Waffle cones are made fresh daily to ensure a mouth-watering experience each time you visit. Only a short walk down Michigan Ave. and you will have a front row seat at the scenic St Clair River, sit back, relax and watch the freighters and pleasure boats pass by.
Ice Creamery
158 Nelson St.  Sarnia
At the Ice Creamery desserts are a true passion including small batch hand crafted ice cream, chocolates, caramels and speciality cakes.  The finest and freshest ingredients are used to create sweets that fill your belly and warm your heart. The Front Street location is open from May till Thanksgiving week-end, and located conveniently across the street from Centennial Park with its award winning floral gardens, walkways, out-door stage and wakeboarding options at Sarnia Bay Marina.
Rustic Scoops
4209 Petrolia Line, Petrolia
In the heart of historic downtown Petrolia, the Rustic Scoops Ice Cream Bar is a new favourite spot for locals and visitors alike. With over 24 premium ice cream flavours, 8 flavours Soft Serve ice cream, milkshakes, sundaes and ice cream cakes to order.  Make some summertime memories one scoop at a time with family and friends.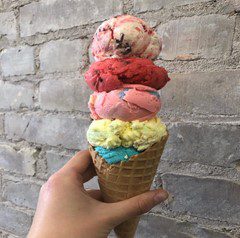 Java and Scoops
45 King St. West, Forest
Java and Scoops is an unassuming petite shop with friendly counter service of speciality coffees, old fashioned ice cream and delicious health conscious lunch options featuring vegetarian, vegan and gluten free choices available.  We suggest stopping by for lunch and trying a taco grilled cheese sandwich.  Let's tempt you with a delicious dessert Affogato is vanilla ice cream, topped with espresso, drizzled with sticky caramel and Himalayan sea salt. You'll thank us for this suggestion!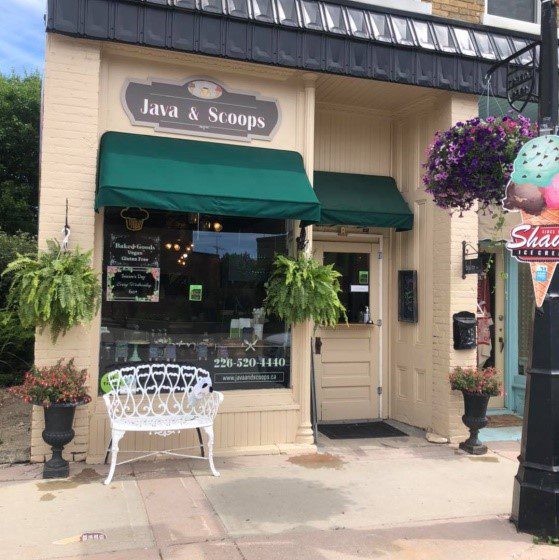 Denny's Drive-In
86 Ontario Street, Grand Bend
This 1950's style drive-in is a summertime favourite with family and friends in the popular beach resort town of Grand Bend.  The patio at Denny's Drive-In is the perfect place to meet for an ice cold sweet treat.  Serving up soft serve ice cream, super shakes and flavourful sundaes.  Open weekends from April till Thanksgiving weekend.
Crystal's Ice Cream Shack
156 King St, Sombra
Driving along the picturesque St. Clair Parkway with the St Clair River as your guide will bring you to the quaint village of Sombra. In the heart of the village is Crystal's Ice Cream Shack, a family owned and operated business serving scoops of scrumptious Shaw's Ice Cream.  You can count the flavours, there are over 30 flavours to choose.   That many choices mean a second or third visit for sure !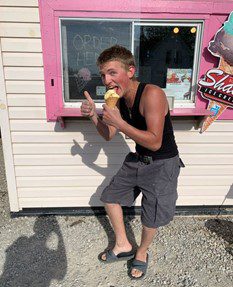 ---