---
Excerpt from "Five Fabulous Reasons to Visit Downtown Whitby" by Laura Watts for the Downtowns of Durham Series
---
"The beautiful buildings and architecture give the downtown core a charm that you simply can't find in modern-day shopping centres."
If you live in the Durham Region, you might think you know what downtown Whitby has to offer, but have you ever truly experienced it? There are so many hidden gems, often hiding in plain sight, that make this historic downtown a must-see destination. Here are six fabulous reasons to head to downtown Whitby today. Here's six reasons to explore this charming downtown!
1. Your Coffee Fix
Brock St Espresso and 8-Bit Beans are two places you should head for your cup of joe. Both locations offer several fantastic caffeinated options.
Brock St Espresso is a great morning destination. Featuring every type of coffee beverage you can imagine, from lattes to their famous espressos, Brock St. is a beautiful place to sit with your laptop and work the morning away.
Across the road is 8-Bit Beans, catering to gamers at their café-cade on the corner of Brock and Dundas.  This unique new spot features fun coffee flavours like Taste Invaders and Overclocked, and is the perfect spot for your end of the day java jolt.
2. Breakfast
If you want the most fantastic breakfast in Durham, you need to visit FoodArt Café or better known as FART Café. The family-owned restaurant has a line up of delectable breakfasts that are out of this world. Banana French toast with chocolate drizzle anyone? Plus, while you are eating, you can check out the array of local artists featured at the restaurant.
3. Lunch
The Vault Gastropub is a delightful way to spend your lunch hour. The atmosphere is terrific with the big vaults in the back and what can only be described as a cool vibe. Their Big Vault burger with special sauce will keep you going, and their signature hand held's are AH-MAZING. Kids will love their mac and cheese balls, and there is something for the whole family.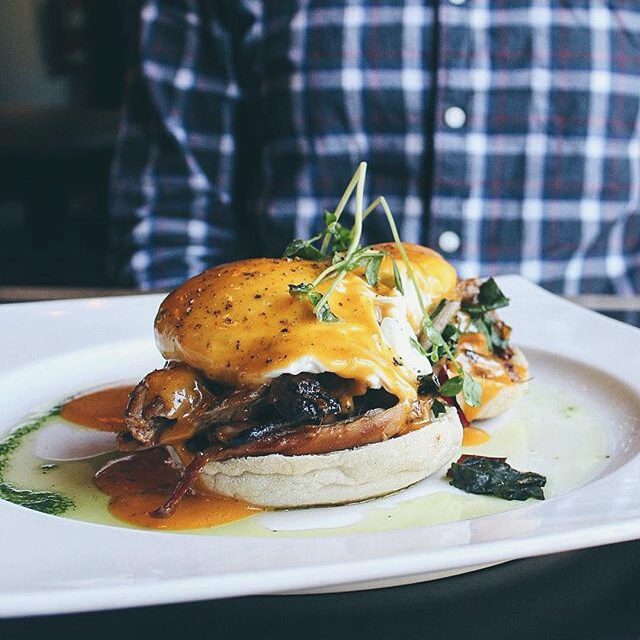 4. Dinner
For a dinner that is delicious and sustainable, you must dine at KB. Named after owner and culinary expert Kevin Brown. Their local, seasonal, sustainable cuisine is to die for, and their pasta and slow-roasted pork loin are scrumptious. Enjoy a nice glass of wine or cocktail with dinner and soak in the colorful and friendly atmosphere.
5. Dessert
There's no better place to buy dessert in downtown Whitby than M&R Cakes and Café and Cupcake Junkie Bakery & Café. Each location has its unique take on sweet treats. M&R has a fabulous high tea service along with beautiful cakes. As for Cupcake Junkie, well you can guess what they specialize in, but all their mix and match cupcake size desserts are just as delectable as their cupcakes.
Other fantastic restaurants and bakeries you have to try are Caldense Bakery, making their excellent baked bread, pastries, and treats since 1968. Nice-Bistro, which has fabulous French cuisine and menu options such as quiche and coq a vin as well as 12welve Bistro & Tapwerks, which arguably makes some of the best food in the downtown core.
6. Drinks
You can't talk about downtown Whitby without mentioning Brock Street Brewery. The craft beers they make come in a variety of flavours for every person's taste. Their beers are also available at many of the downtown restaurants.
---