Looking for a weekend getaway or an impulse adventure? Then look no further than Peterborough & the Kawarthas, where The people are down-to-earth. The beauty is breathtaking. The activities are endless.
Located south east of Ontario, on the north eastern edge of the Greater Golden Horseshoe, surrounded by prime agricultural lands and connected by the Trent-Severn Waterway, Peterborough & the Kawarthas has much to offer those looking for a perfect getaway filled with food, culture and outdoor adventure.
Make the most of every second as you eat, sip and explore your way through the winding country roads and rolling hills of Peterborough & the Kawarthas.
---
Eat & Drink Like a Local
---
The new wave in local cuisine is not new in Peterborough & the Kawarthas. For hundreds of years, the produce of centuries-old farmlands and passionate people have been and continue to be the most important ingredients in the local food scene. Blend that with the region's long, storied history of brewing connected to Canada's Treasured Waterway and today's growing number of craft beverage makers, and you have the perfect pairing for a mouth watering experience.

Ashburnham Ale House
128 Hunter St E, Peterborough
ashburnhamalehouse.ca
Located along a multi-use trail, Craft Beer Café offers simple yet delicious food, craft-brewed beer, fine wine and exceptional coffee.
Rare
166 Brock St, Peterborough
raregrillhouse.com
Rare is a Feast On Certified restaurant that's committed to locally sourced ingredients. They've spent years building amazing relationships with the top farmers and growers in Peterborough & the Kawarthas. Simply put, Rare believes great conversation, exquisite drink and high quality food are the three ingredients that make a Rare experience.
Blackhoney Café
221 Hunter St. W. Peterborough, ON
blackhoneycafe.ca
Blackhoney is the answer to everyone's sweet tooth. A café with many fancy espressos, locally sourced food and house made desserts, they do catering and custom baking too. Vegan options are available.
---
Kawartha Country Wines
2452 Peterborough County Rd 36, Buckhorn ON
kawarthacountrywines.ca
This picturesque, family-owned winery specializes in innovative fruit wines, cider, vinegars and gourmet preserves. They use locally grown, farm-fresh fruits that are processed with the highest standards to produce premium, award-winning wines. Nestled in the heart of the Kawarthas, Kawartha Country Wines is an ideal cottage country destination that's not to be missed.
Rolling Grape Vineyard
260 County Rd 2, Bailieboro, ON K0L 1B0
belmontlakebrewery.com
On the family farm in the middle of their vineyard is where you'll find their winery, a perfect place to You can enjoy their estate wines and learn about the vineyard.
Belmont Lake Brewery
54 Fire Route 17, Havelock ON
belmontlakebrewery.com
Belmont Lake Brewery is a small craft brewery situated on the shores of the beautiful Belmont Lake. Originally from England, the owners moved here in 2011 with a brewery in their shipping container, their rescue dog Jack and a vision of brewing traditional English beer with a Canadian twist.  The recently built brewery is sympathetic to the environment, using local timber for the board and battening. Inserted in the interior walls are a few Victorian stained glass panels – also originating from England!
Black's Distillery
99 Hunter St E, Peterborough
blacksdistillery.com
Black's Distillery uses local grains to make fine spirits. Black's signature Heritage Vodka is made from the locally developed (circa 1842) Red Fife Wheat. They have a tasting room and an on-site retail store.
The Olde Stone Brewing Company & Restaurant
380 George St N, Peterborough ON
oldestone.ca
For 22 years they have been supplying their guests with a warm, rich pub atmosphere, simple yet delicious food and of course, a perfectly hand-crafted selection of ales. The Stone is a perfect place for dining, celebrating a significant event or just getting together with friends over a delicious in-house brewed pint or glass of wine.
The Publican House Brewery & Pub
300 Charlotte St, Peterborough
thepublicanhouse.com
Publican House Brewery is a craft brewery creating some of the finest and most interesting brews in Ontario. Attached to the Brewery and nestled in the 150-year old building that inspired their brands, is the Feast On Certified Publican House Brew Pub. With a focus on local, they bring a new spin to pub food. The pub features a wood fired pizza oven, beer pairing options and daily specials.
Pie Eyed Monk
8 Cambridge St. N., Lindsay ON
pieeyedmonkbrewery.co
Pie Eyed Monk is a brewery & restaurant located in the historical C.L. Baker building (built in 1868) in downtown Lindsay, Ontario. They specialize in local craft beer production and also operate a full service restaurant with patio.
Church-Key Brewing Company
1678 County Rd. 38, Cambellford ON
churchkeybrewing.com
Church-Key takes pride in producing authentic ales while supporting the local communities. Their beer is made by real people, using only the highest quality local ingredients. Grab some to go on your way to your lakeside retreat in Peterborough & the Kawarthas.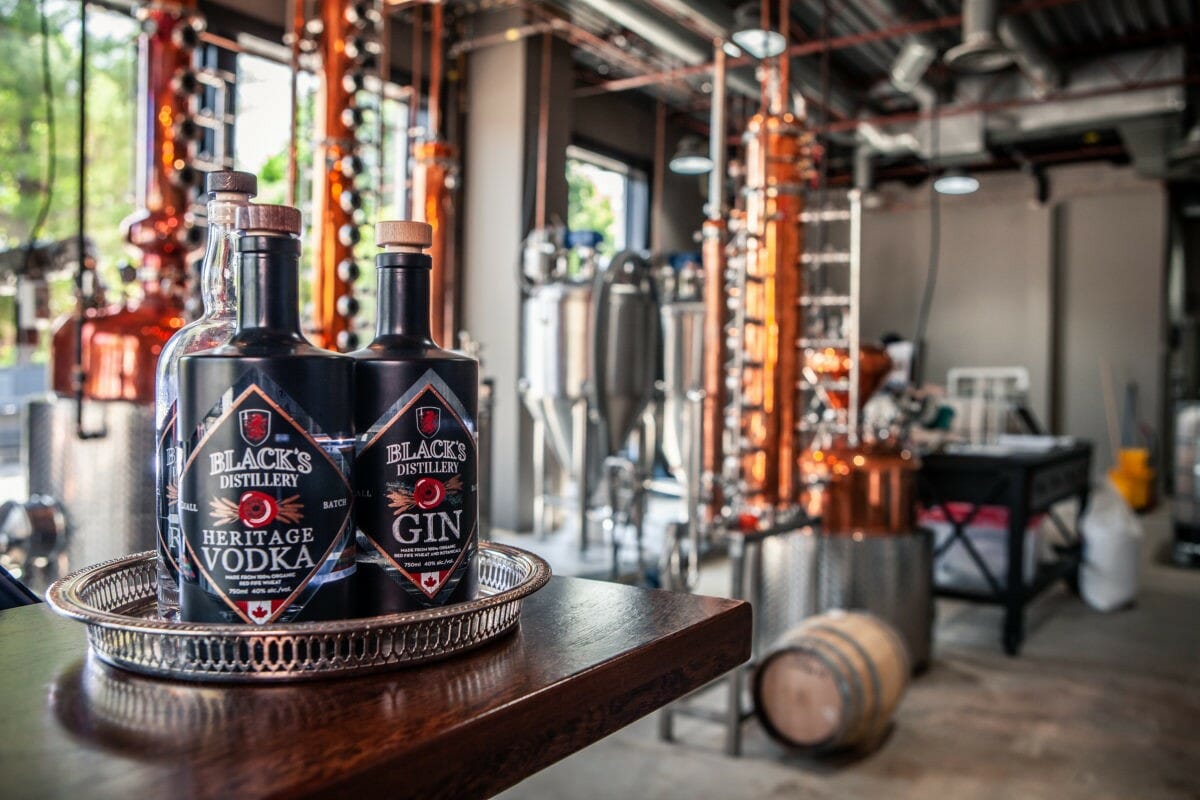 ---
Stay in a room with a point of view
---
There are a lot of accommodations with unique personalities to be found here, many still run by the people who own them.
The Old Bridge Inn
2057 Old Highway 28, Lakefield, ON
www.theoldbridgeinn.com
Originally built in 1887, the Old Bridge Inn was operated as a general store known as "Kearny's Store". This wonderful old building resonates with history. They offer casual fne dining, a riverside patio, and bed & breakfast.
Burleigh Falls Inn
4791 ON-28, Lakefield, ON K0L 2H0
burleighfallsinn.com
Burleigh Falls Inn is a resort located on beautiful Stoney Lake on the Trent Severn System. You can enjoy luxury rooms and dining on the scenic Stony Lake. They are also pet-friendly and have a few rooms just for you & your pooch! Burleigh Falls Inn has been awarded the Safe Travel Stamp from the World Travel & Tourism Council.
Fredrick's at Beachwood Resort
3043 Beachwood Dr, Lakefield, ON K0L 2H0
beachwoodresort.com
Experience Frederick's at Beachwood's fine country cuisine while taking in the panoramic view of Lower Buckhorn Lake from your table.  Enjoy a glass of wine while Chef Michael Henson prepares your dinner. There is nothing more exquisite than good wine, great food, cheerful service and a superb view. Make sure you take some time to walk the property and take in the surroundings, or sit by the fireplace, relaxing after a fine meal.
Elmhirst's Resort
1045 Settlers Line, Keene, ON
elmhirst.ca
Elmhirst's Resort is an all season, cottage resort and conference facility. It offers a spa and a host of activities for the whole family. There is a large working farm with animals raised on site. The food they produce, known as Elmhirst's Own, is served in their Feast On Certified restaurant, bringing new meaning to Farm to Table. They also maintain partnerships with local suppliers to round out their menu offerings and reflect their commitment to sustainability. Angus Beef, turkey, Pekin duck, fiddleheads, greenhouse herbs and harvested vegetables are featured on their seasonal menu.
Elmhirst's Resort has been awarded the Safe Travel Stamp from the World Travel & Tourism Council.
---
Discover hidden gems
---
If you're looking to inject a little nature, history and culture into your itinerary, here's a list of places we make sure to visit when we're in Peterborough & the Kawarthas.

Petroglyphs Provincial Park
2249 Northeys Bay Rd, Woodview, ON K0L 3E0
ontarioparks.com
The park features the largest known concentration of Indigenous rock carvings (petroglyphs) in Canada. Depicting turtles, snakes, birds, humans and more, this sacred site is known as "The Teaching Rocks".
Peterborough Lift Lock
353 Hunter St E, Peterborough, ON K9H 7B5
pc.gc.ca
The Peterborough Lift Lock is a National Historic Site of Canada and is located on the Otonabee River section of the Trent Canal. One of only two hydraulic lift locks on the Waterway, Lock 21 is the highest hydraulic lift lock in the world.
Canadian Canoe Museum
910 Monaghan Rd, Peterborough, ON
canoemuseum.ca
The Canadian Canoe Museum is a unique national heritage centre that explores the canoe's enduring significance to the peoples of Canada, through the world's largest collection of canoes, kayaks and paddled watercraft.

Lang Pioneer Village Grist Mill
104 Lang Rd., Keene, ON K0L 2G0
langpioneervillage.ca
At Lang Pioneer Village Museum, Peterborough County's history is brought to life as costumed interpreters welcome you into over 30 homes and businesses located in the picturesque village. Representing a full century in time, the Village will not only take you back in time, but also through time. Mills provided an invaluable service to farmers who, prior to having access to a mill, had been forced to carry wheat long distances to be ground into flour. Many Peterborough County villages, such as Lakefield, Warsaw, Young's Point, Buckhorn, Norwood and Lang are all developed around mills.
Whetung Ojibwa Centre
875 Mississauga St, Curve Lake, ON K0L 1R0
whetung.com
Whetung Ojibwa Centre offers a spectacular collection of Native crafts as well as Fine Art, Jewelry, Moccasins, Leather Work, Sculptures and much more from Curve Lake First Nation and across Canada.
---