Lean into the joy of being alone this summer as you eat your way through three Ontario destinations that will help you reconnect with what you eat, where you are and, of course, who you are.
3 Must-Visit Ontario Foodie Destinations for Solo Travellers
Read on for our top three foodie destinations in Ontario for solo travellers this summer!
A Solo Adventure to Perth County
Point those wheels towards Perth County for an adventure that will leave your heart and belly full!
View this post on Instagram
We recommend booking a stay at the Wild Rose Sanctuary to call home base. Choose from either their luxury tent or their cabin- both perfect for the solo traveller.

You'll be able to enjoy the surrounding farm and property which includes a scenic river, forest and lots of nature to bask in. In warmer months you can even do a little fishing or swimming!
With this as your home base, you're central to all kinds of mouth-watering amusement!

Lovers of sweets will eat up the baked goods at Anna Mae's Bakery where you'll find amazing Mennonite baked goods, the famous broasted chicken and a massive selection of preserves and pickled items. Call ahead to book the "Buggy Booth" for a perfect photo-op while you're there! Impressions Bakery or Fresh Start Bakery In Listowel are also great places to pick up a few hit-the-spot treats. Heck – you're flyin' solo! Why not hit up all three?!
More of a cheese fan? We've got your back. Stonetown Artisan Cheese is an award-winning stop that specializes in firm, cow's milk cheeses in a plethora of varieties. They also sell fondue cheese and quark! Stock up and don't forget that cooler.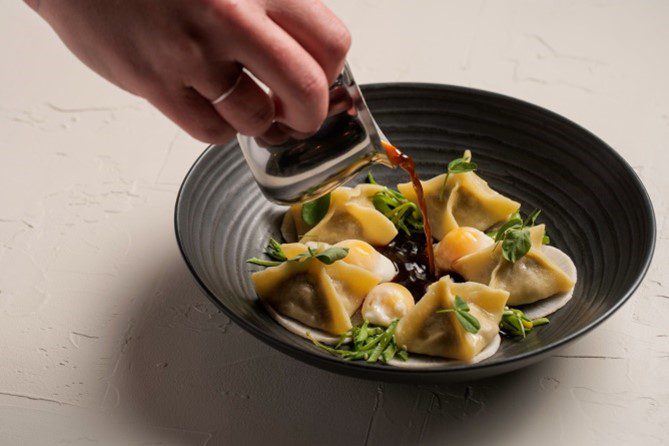 Looking for a meal? You've got options. Pull up a seat at the bar at hōm restaurant (call in advance to book your spot) for lunch or dinner inspired by Perth County's rich agricultural land or hit up the Sugar Maple Restaurant for pizza, sandwiches and more. This casual spot is a fav local hang, but you can also grab something to-go if you prefer to spend more time checking out the area around the Wild Rose Sanctuary!
If you're loving the vibes at the Wild Rose Sanctuary and prefer to spend more time at your home base, order dinner from the accommodation owner Julia who prepares delicious meals using food found from the property as well as local farms stores. Psst! We highly recommend the beet hummus!
Just down the road, TLC Alpacas offer alpaca walks (call ahead to book). Focusing on these gentle creatures will help you reconnect with mother nature like no other!
When it's time to hit the old dusty trail, consider making one last pit stop at the Wild Hog Country Market to stock up on savoury souvenirs. Open Tuesday-Saturday they carry meat and produce and have an on-site bakery and café so you can grab a coffee and a treat for the road!
Ice Cream Lovers Rejoice in Chatham-Kent!
Remember when you were a kid and your parents would make you stop eating ice cream after one or two scoops? Well, guess what- you're an adult now and you can make a whole road trip out of eating ice cream if you please (we don't take responsibility for any tummy aches though)!

Set your eyes (and tastebuds) on the Chatham Kent Ice Cream Trail.
Our perfect day along the ice cream trail combines two of our favourite things: ice cream (obviously) and the water. We recommend starting in Rondeau with a half day spent in the provincial park (or camp overnight)!
You'll love discovering the beautiful water for a swim or a little fishing or paddling as well as over 26km of protected trails through the Carolinian forest, marshland and more. It's the perfect way to start the day actively!
Afterwards, it's time to get down to business (the ice cream business that is). Head to Bayview Market for your first cone of the day. You can even get them rolled in sprinkles! Then, head to the charming town of Erieau for a little lunch and beer.
Bayside Brewing Co. overlooks Lake Erie and turns out incredible food and drinks. One of four breweries that call Chatham-Kent home, grab a pint of their made-in-house brew and something to eat as you recharge after all that activity. Their Cajun-baked pickerel and wood-fired pizza is sure to be a hit.
Finally, wind down your day with a stop in Blenheim for a final cone (or keep on trucking to Chatham if you're still ready for more)! Frostbites is the summer spot in Blenheim to grab some ice cream. This stop has an old-school ice cream parlour vibe you'll love and allllll the beachy goodness you're craving.
Design your cone however you want: hard ice cream, soft ice cream, a sundae, a split, topped with gummy bears? They've got you covered! Maybe you want to try their specialty: The Blenheim Kitchen Sink. We're talkin' loads of ice cream, generous whipped cream, sprinkles, wafer cookies, Oreos AND a cherry on top! How sweet is that?
Sustainable Savouring in Northumberland County
Just west of Prince Edward County, sits a 2000-sq-km outdoor playground that's a big breath of fresh air — with fresh, local food and drink to match making Northumberland County a great place to discover this summer on a solo trip.
The food producers and farmers here are really taking care to grow their food in a sustainable manner and learning all about it makes for an exciting adventure.
View this post on Instagram
Start your visit at Café Lviv for a taste of delicious Ukrainian eats. Shortly after the war in Ukraine began, Olena Hankivsky, Mayor of Port Hope, together with 150 volunteers, raised the money to transport and house over 30 Ukrainian families in Northumberland County. Café Lviv was then opened by some of the newcomers with the mayor's partner, Giorgi Kvekveskiri at the helm.

From classics like borscht and varyenki (pierogies) to less common dishes like Nalysnyky (Ukrainian Crepes) and Olivye Potato Salad, you'll be dazzled by the menu!
Craving something sweet? Northumberland is also home to a variety of honey-based businesses including The Bee Works Honey & Gift Shop (which finds its home at Dancing Bee Equipment) – a slick, modern storefront stocked to the nines with hundreds of honey products including honey, soaps, sticks and more. From beginner beekeeping to honey harvesting and candle making, see what all the buzz is about and sign up for a workshop.
Another sweet stop is MoreRoses Apiaries & Honey, which crafts premium honey sourced from over 150 beehives across the region. They even won Reserve Grand Champion Liquid Honey recently at the Royal Winter Fair so you'll definitely want to stop by! Their location is an old-school, serve-yourself stand in Hastings but you can call ahead to book a tour as well.
For those seeking gut-friendly goodies, head to the Grafton hills for awesome views and wellness-inspired (certified gluten-free) whole food at Ste. Anne's Bakery and Cafe founded by the owners of Canada's famous Ste. Anne's Spa. Minutes away in the Village of Grafton stop in at The Lass & Ladle, a sustainably-minded and locally-focused take-out kitchen with plenty of road-trip-friendly options.
View this post on Instagram
If your jam is niche artisan food, Northumberland is bursting at the seams with delicious stops.
Nothing could be butter than swinging by Lofty Butter Company Market in Colborne for small-batch cultured butter in limited edition flavours featuring local ingredients – or try Empire Cheese & Butter Co-op (est. 1876 and owned by local dairy farmers) in Campbellford where you can grab fresh, squeaky cheese curds six days a week!
Saucy Dotty's is a heartwarming tale of a business run by Dotty herself! This octogenarian has all the fun, positive vibes we need. Bottling her aunt's sauce recipe from the 1940s, Dotty sells directly from her storefront location in Brighton – yum!
Finally, after a day for the books in Northumberland County, settle in for a beer in a setting steeped in history. Church-Key Brewing's roots go back to 1840 when its building was first constructed as (you guessed it) a church.
Owner John Graham is a master brewer who uses local hops and has won many noted awards for his brews, including his original Northumberland Ale. The storefront of the church building has been recently renovated and is open for tasting or picking up beer from 10 am to dark, seven days a week.
Fogorig Brewing took its name from the historic 1834 mill perched atop the rolling Trent Hills that it calls home. Learn the history of the area via your tastebuds with one of Fogorig's kin crafted core beers or seasonal brews – all locally made and heritage inspired. Here you're invited to "come for the beer and stay for the sunsets". What a perfect way to end a day in Northumberland.
Take the Road Less Traveled
Cheers to you solo traveller! Don't forget before you head out to download your Great Taste of Ontario passport. Check into three stops and you'll be instantly rewarded with a $25 Feast On® voucher. You got this!