With three craft breweries in Chatham-Kent a variety of flavours to choose from, you'll never go thirsty on your visit to Chatham-Kent. Winding roads, rural scenery, and water on both sides of the region make for incredible views. Just like each view, each brewery offers its own charm that will have you coming back again.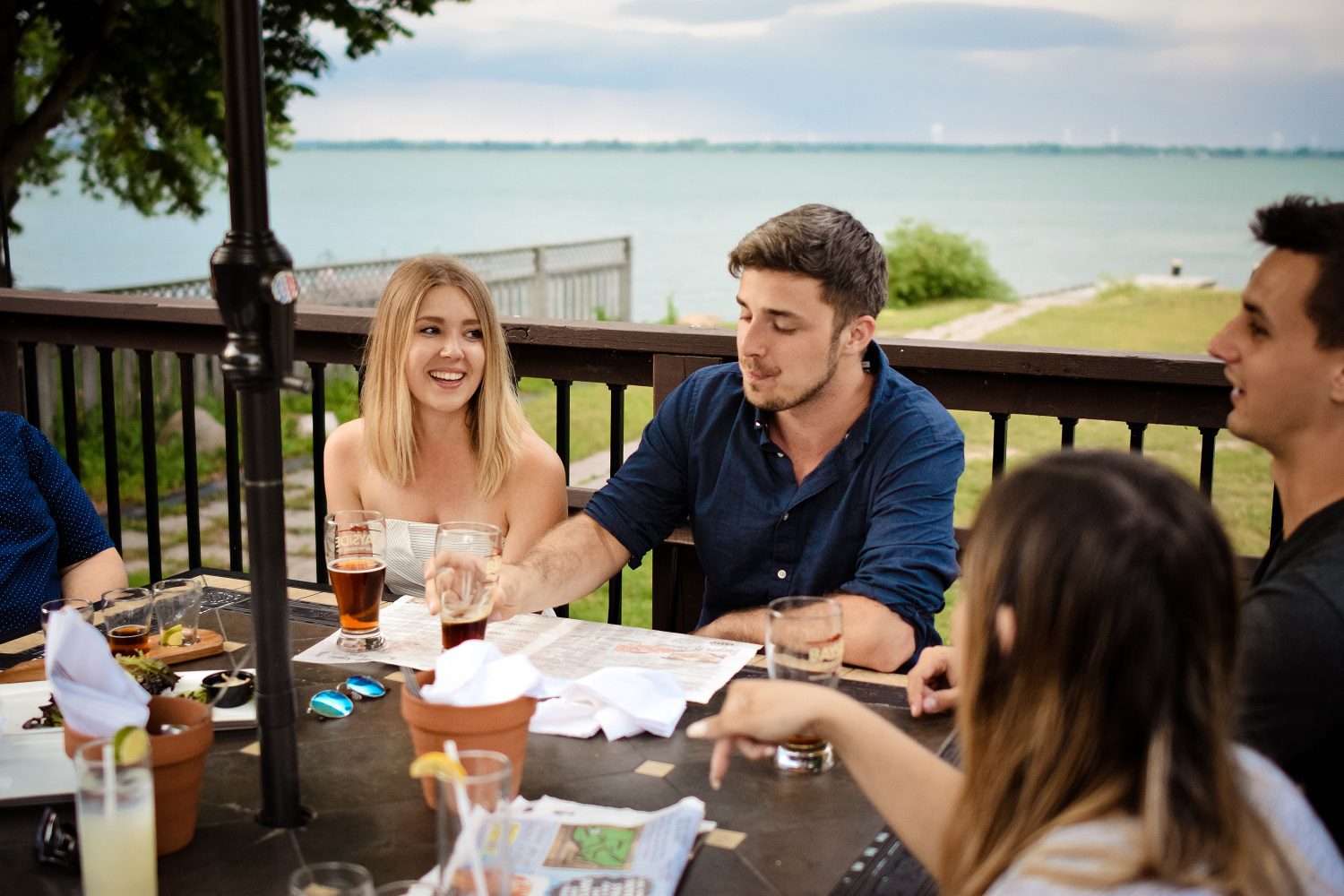 Starting in Erieau, Bayside Brewing Co. offers captivating views of Rondeau Bay. Sip your selection on their expansive patio (open seasonally) with the sounds of the water, feeling of the breeze, taking in views only Erieau can offer. Pairing your selection with one of their incredible menu offerings can be a tough choice, with so much to choose from, but you can never go wrong with their claim to fame; wood oven fired pizza.  Try the Carnivore Classic, featuring pepperoni, bacon, ham, dripping with more cheese than you could ask for or the Vegetarian with fresh mushrooms, spinach, peppers, pesto, goat cheese and mozzarella. Our personal go to of course is the CK Hawaiian. Did you know that the Hawaiian Pizza was created in Chatham-Kent in 1962?
Built on a sandbar between the shores of Lake Erie and Rondeau Bay, Erieau offers instagrammable moments you won't want to miss. Be sure to capture a photo on the iconic pier with the lighthouse before you leave! 
Whether you traverse the winding roads of Chatham-Kent, taking in rural scenery, stopping at road side stands or orchards, depending on the season, or hit the many boutique shops in the various downtowns is completely up to you.
We highly recommend making your reservations for your next brewery early, as that's the only way (for now) you can enjoy a pint at Red Barn Brewing Co. This however is one stop you won't want to miss. Family, farm and beer is what Red Barn is all about, and a great place to gather and share memories. The expansive patio, brewing room and brew house are brand new to CK in 2020. We suggest a pint of Home Farm, a blonde ale, served ice cold down at the Home Farm. Inside the Brew Room, you'll find hand-crafted items to commemorate your visit, perfect your own bar at home, along with a six pack to go. What's also unique about Red Barn, is their food, because, well, it's not "theirs". At Red Barn, you'll find food trucks serving incredible culinary delights. They may rotate in offerings, but what won't rotate is the exceptional service and flavours offered from each one. 
A great day in CK deserves a great night's sleep, and you'll find just that, and more, at RetroSuites Hotel, an upscale boutique hotel. Choose from one of kind rooms to lull you into a deep and peaceful sleep. Might we suggest the cozy and rustic "Log Cabin" room, featuring all checked red and black accents with log styled furniture, including a king sized bed and custom built stone fireplace and walk in glass shower. Perhaps you'd rather say oui to the sights of "Paris", with a tin ceiling, luxurious king sized bed with French décor and a large walk in glass shower that also features a separate soaker tub. 
Weekend brunch at RetroSuites is served inside the famed Chilled Cork Restaurant. They are renowned for their professionally caring, consistent and comfortable service delivered with a dash of small town-hospitality. For those with a sweet tooth, the Crème Brulee French Toast is one of their most requested dishes, while you can never go wrong with their anything but basic eggs benedict.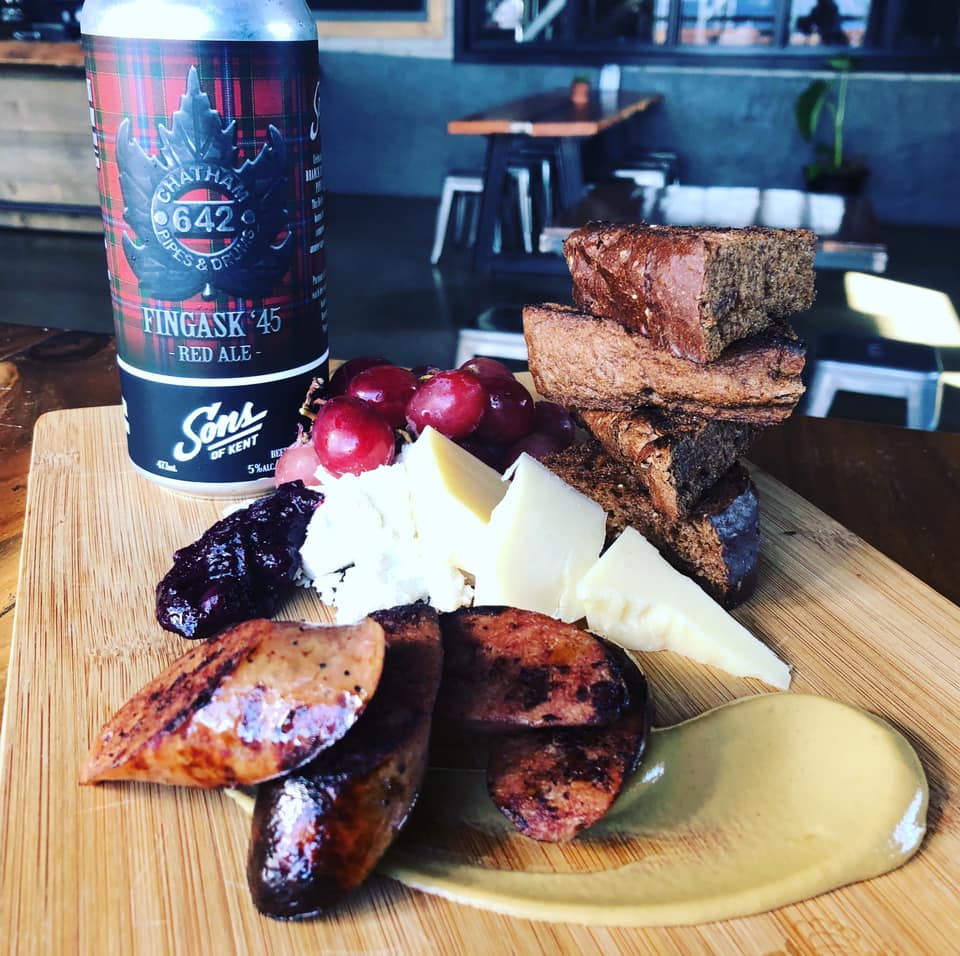 Just steps away from RetroSuites you'll encounter our final brewery, Sons of Kent Brewing Co. Here you'll find premium Ontario craft beer created by traditional methods but with modern ingredients. Firmly believing in supporting local agriculture, they partner with area farmers to produce a variety of hand crafted brews all with local ingredients. Overlooking the tap room, you'll get a first hand look at the process, as all beers are produced and bottled on site, and available to take home from their bottle shop. While their menu isn't expansive, it is selective in offering just the right pairing for each pint. The mini charcuterie board, featuring signature SOK sausages, goat cheese with blueberry compote, aged cheddar, Dijon and local dark rye bread is just one example of the culinary treat you are in for. 
Welcome to Chatham-Kent, and cheers!
---