Discover world-famous dishes and explore the oh-so-amazing flavours of the Latin, Caribbean & South Asian communities in Toronto!
The incredible flavours of Toronto's Great Taste of Ontario passports await!
Prepare to experience the incredible offerings and mosaic of flavours in the GTA. You can find a variety of authentic and homemade Caribbean, Latin American and southeast Asian cuisine right in your backyard! So pack your bags… Let's explore! 
Ps. International Flights are not needed.
Southeast Asian passport 
The Toronto Southeast Asian community prides itself on its eye-catching dishes and a full range of sweet, sour, salty, and spicy flavours. Drawing from a dozen countries, the sheer diversity in Southeastern Asian cuisine will take your tastebuds to another world.
Fans of delicious Thai food won't want to miss out on Isaan Der – Thai Kitchen for their fiery Som Tum – a green papaya salad with yard-long beans and fish sauce, and big bowls of Massaman curry. You'll also want to try their famous Chicken Satay – Skewers of grilled chicken marinated in turmeric, lemongrass and galangal, served with a homemade peanut sauce. 
View this post on Instagram
Talk about delicious food! But if you're looking for fantastic Indonesian-style food you'll need to grab a seat at Nusa Dua [N2] Kitchen & Bar – this family-owned Indonesian restaurant serves slurpable Mie Goreng – Javanese-style fried egg noodles, Nasi Goreng – a Jakarta-style egg fried rice, and Dadar Jagung – Indonesian-style corn fritters.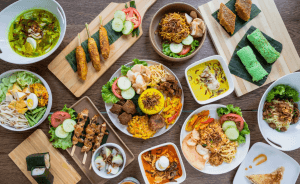 Lastly, take your taste buds on a trip to Northern Thailand and Laos when you taste the vibrant flavours of the dishes at PAI. We recommend you dive into their Khao Soi with fresh egg noodles, Pad Gra Pow kissed with Holy Basil and Sai Ua – a Northern Thai pork belly sausage with turmeric and lemongrass.
View this post on Instagram
The Latin American Passport 
From Mexican mole and Argentinian Asado to Peruvian ceviche and Salvadoran Pupusas, this Toronto Passport will help you discover Ontario's best Latin American cuisine.
We recommend Carmelitas Restaurant – this casual eatery in the Junction serves Mexican & Salvadorian fare such as Pupusas, ceviche & tacos. Carmelitas offers a unique experience and flavours with a mix of Mexican and Salvadoran cuisines.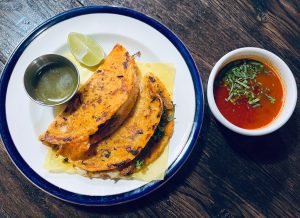 Continue on your Latin American taste bud tour and visit Casamiento. This restaurant celebrates El Salvador with its national dish Pupusas. Their mouth-watering, thick, doughy bean- and- pork stuffed corn flour cakes will make you want to order seconds.. and maybe thirds. We don't judge! 
View this post on Instagram
Our last stop in this passport is El Trompo – located in the heart of Kensington Market, El Trompo taqueria offers homemade Mexico City-style tacos and exceptional guacamole. Their most popular Taco is the "Al Pastor" – pork meat marinated in a traditional sauce, served on corn tortillas, garnished with pineapple, cilantro, lime and onion. They also offer a delicious brunch like the Huevos Rancheros -Two sunny-side-up fried eggs served on two fried tortillas and topped with green hot sauce.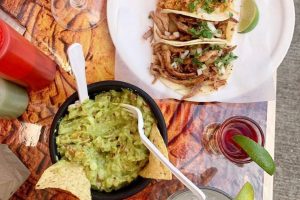 The Caribbean Passport 
Experience the incredible blends of spices, fresh herbs, and fresh fish with this passport. It is truly the most diverse and flavourful Caribbean cuisine that Ontario offers!
Our first glimpse at the passport leads us to Albert's Real Jamaican Foods at 542 St Clair Ave W, Toronto. Their Goat Roti, Patties and Jerk Chicken are shining examples of the authentic dining experience offered in this passport.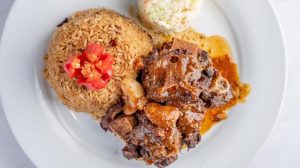 Keep the Caribbean tour sailing and explore Chubby's Jamaican Kitchen – they offer home-style cooking infused with the warmth and vibrancy of Jamaica's culture and people. Chubby's is a celebration of the island's food, and they offer a variety of Jamaican dishes starting with their Likkle Bites appetizers to their Big It ups Mains that will have you debating at the table. We recommend you trust your gut but you can also start with Saltfish Fritters made with Mango-lime-papaya salsa, and excite your taste buds with some jerk chicken or with the curry chicken made with homemade curry spice, and pineapple chutney over jasmine rice.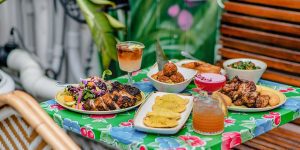 Continue your Caribbean adventure and grab a seat at the iconic Rasta Pasta – a fusion restaurant that combines the essence of Jamaican and Italian culture to give you a unique experience. Their world-famous dish "the Vatican" combines delicious Italian paninis with Jamaican chicken that's been marinated for 2 days. Their food will have your taste buds going crazy for Jamaican Mi Crazy Chicken – Jerk chicken served with rice and coleslaw/vegetables. 
View this post on Instagram

End your night on a sweet but spicy note exploring Caribbean flavours and live music at Sugar Kane! Explore their incredible Sweet & Spicy flavours from the Caribbean with a Big Bold Cajun kick!  We recommend you try their mouthwatering Creole Jambalaya – a delicious rice dish with chicken, shrimp, spicy sausage, sweet peppers, and onions in a bold creole tomato sauce. Make sure you save room for dessert and try their SugarKane Sundae – French vanilla ice cream, grilled pineapple, rum sponge cake, waffle cone pieces & butter caramel.
View this post on Instagram
Be sure to take in the incredible sights and energy of the people and most importantly enjoy all the flavours offered from the Latin, Caribbean & South Asian passports on your next visit to the Greater Toronto Area! 
ENJOY!
We hope you have a wonderful time exploring. Don't forget if you download these three GTA passports from the Great Taste of Ontario passport, and check into five spots and you'll receive a $25 voucher for a participating Feast On® Restaurant!