Written by Pamela Hamel, Foods By Nature
---
The call of the wild beckons your thirsty, hungry travelling spirit! Food tastes better outside and even better on the lakeshore. The Taste Temiskaming Lake Tour is a 2-night trek along some of the most picturesque towns in Ontario and Quebec, and could very well be the most Northerly epicurean adventure you'll ever take.
Travel tip: make sure to pack your berry picking baskets and Coleman coolers for all your edible souvenirs!
Saturday mornings are for market experiences: Day 1 is a triple take on three unique food and artisan markets. You will start your exploring in North Bay, trek to Temagami, and finally, venture North to Temiskaming's Riverside Market. Catching all three is possible, but you'll need to get up at the crack of dawn — just like farmers do! We start this epic taste journey in the Gateway City of North Bay, whose bustling market is home to more than 50 vendors selling freshly roasted coffee, craft beer, mini donuts and silky fudge. From North Bay, head North on Hwy.11 to Temagami to visit the artisan market. Stop in at the new Temagami Outfitting Co. for supplies, souvenirs or a lunch al fresco on the patio.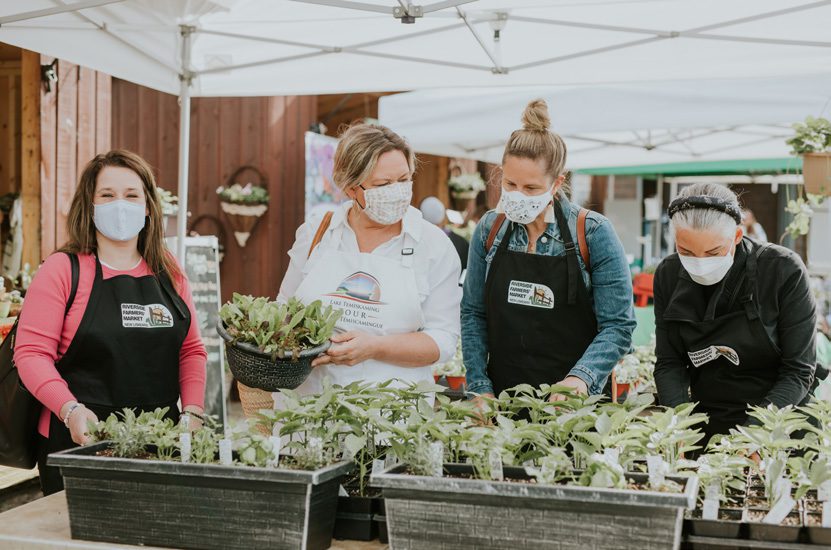 Arriving in the City of Temiskaming Shores, you will experience a breathtaking view overlooking the valley of farms. This area is speckled with grazing cows, hillsides bursting with colorful wild flowers, green pastures and fluffy clouds. You'll instantly discover why we call it Temisk-amazing. Looking for somewhere to eat ? Or perhaps you're interested in going on a Farm Tour?
Say CHEESE at the famous Thornloe Cheese factory. This prized cheese maker is best known for its Devils Rock blue cheese, grassfed butter, aged cheddars, and squeaky cheese curds that come in 8 different flavours. The secret to their legendary success is fresh milk and traditional artisan processes. Your cooler just got a little fuller.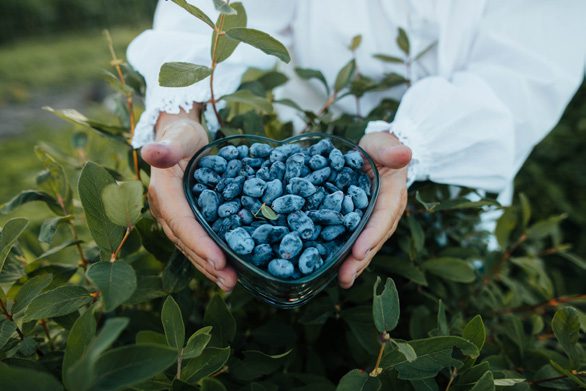 Visit grazing bison in the lush fields of Bison du Nord, a ranch style adventure with wagon rides fun for the road tripping crew. Verger du Terroir's pick your own orchard on Hwy. 11 in the City of Temiskaming Shores is a berry pickers delight. But beware: eating too many berries in the field will not go unnoticed!
Shore up for the night with the locals at their favourite hang outs for taps and pours, char and flat grills and a fresh local menu Zantes Bar and Grill. Visit 28 on the Lake to enjoy a wide variety of craft brews and well-rounded menu. Tap That Bar n Grill sets a high standard for burgers, best paired with a Classic Caesar rimmed with Thornloe Cheese's Devil's Rock blue cheese.
Travel a few extra minutes to Haileybury for a smattering of gastronomic offerings. Hitting up the patio at WhiskeyJack brewery to sample their Ontario Craft Brew Gold awarded brews is a must. Saunter across the street for an elevated dining experience from Chef Gerry at L'Autochtone Taverne Americaine. His Indigenous culture blends a Taverna infusion with fish tacos to die for. The unique Wendigo Egg and nightly specials make this place a 10/10 – and let's not forget their refreshing and inventive cocktails! By the way, sunsets in the North really light up around 9:30pm, so later dinners are always a good thing.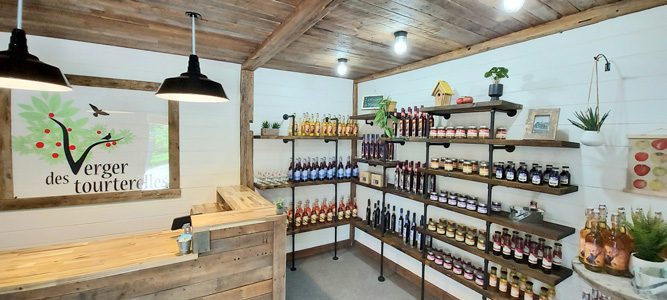 On day 2, we head into Quebec. It's a quick 15-minute drive to the border town of Notre Dame du Nord for Quebec-style breakfast and bottomless coffee at Rendez-Vous Des Quinze. Our drive for the day takes us South along Hwy.101 through picturesque forests, farm fields and valleys. Stop at Abitemis Honey to peek into their production room – be sure to grab some honey and beeswax candles. Next, visit Verger des Tourterelles for a tour of their fruit orchards and try their orchard-grown hard ciders, mistelles, or fruit digestives made with alcohol.
Next, arrive in Ville Marie (home of the yearly Foire Gourmande a mega weekend for gastronomic adventures in local delights) and settle into your charming Lakeside room at Chez Eugene before starting your day of discovery. You'll find les Chocolats Martine down by the spectacular marina. This chocolatier is sensory delight for chocolate lovers, and even has a cheese counter boasting some of Quebec's and France's best. With cheese on our minds, it's a short drive to Fromagerie La Ferme Au Village in Lorraine Ville, PQ for their award winning "La Cure du Clocher" fondue cheese, fresh Tortillon and "Le Coeur du Village" made with wine from local winemakers Domaine Des Ducs. Respected for producing wine jelly and a selection of aperitifs wines "Rose-Marie", a summer rose with floral notes of the region's wild flowers.
Quebec is world-famous for its food, and Ville Marie doesn't fall short! One of my all-time favourites is Cassse-Croute La Fringale for take-out – just look for the orange roof to satisfy your craving for classic Quebec-style poutine! Quaint dinners can be enjoyed on the patios of St. Eugene for a farm to table experience, Motel Louise Rec. for classic hot sandwiches, or Le Cimonak for gastro pub fare. Check them all out on Facebook.
It's Day 3 and we're ready for some sweet, delicious crepes! La Gaufriere in downtown Ville Marie is a bustling bistro serving up grilled hot stacks of papery thin crepes to boaters, travellers and locals.
This road trip sparkles with fresh water lakes as we head south to Témiscamingue, a city located at the south end of Lac Témiscamingue on the upper Ottawa River. In the historical old town neighbourhood, the legendary bistro Tem-Rose serves up the classic hand-packed burgers with fresh cut fries — oh yes please, and add cheese! Walleye fish & chips with coleslaw is particularly tasty and very on theme for our lakeside trek.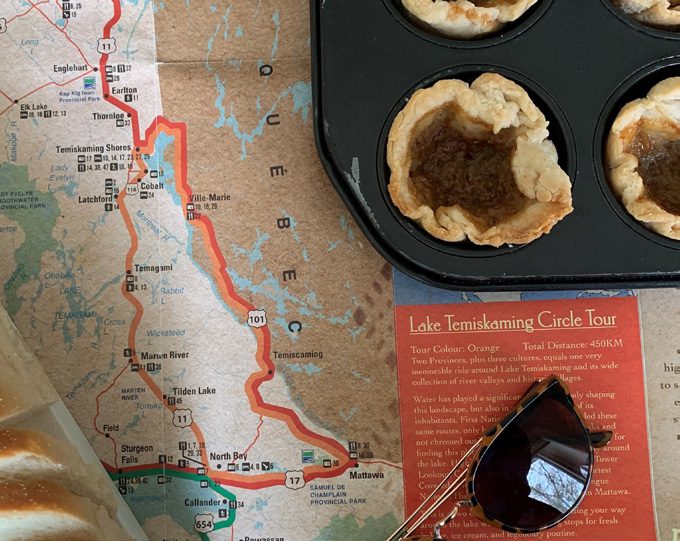 The final stop on this mission is at the headwaters of the Ottawa River in the Town of Mattawa . What better way is there to complete our three-day journey than with some sweet treats? Ice cream and baked goods are perfect to end this adventure into the food culture of the Lake Temiskaming Tour.
---