Start off the day right at Kit's Little Kitchen for coffee and home-baked treats. Kit's is located in the hamlet of Glen Williams in Halton Hills. They have a patio for you to enjoy their wide selection of Irish treats or if you have more of an appetite, grab a fresh sandwich. Kathryn, better known as "Kit," will make you feel at home with a warm and welcoming environment!

After a morning at Kit's Little Kitchen, stroll past century homes and the historic St. Alban's Anglican Church. There are many beautiful century homes in Glen Williams full of rich history as well as the Church, which has been standing since 1902 right off the Credit River. Take the Glen Williams: Heritage Tour and spend part of the day exploring the village.
Once you are done strolling down Main St, make your way back to Copper Kettle Pub patio for lunch. Not only do they offer a spectacular patio to lounge at, but a wide range of menu items all made fresh with locally sourced ingredients. They also have chalkboard features every day, so be sure to keep an eye out for their specials!
Next, you will want to check out Feathered Nest Furnishings for an eclectic mix of upcycled, consigned and new furniture and décor.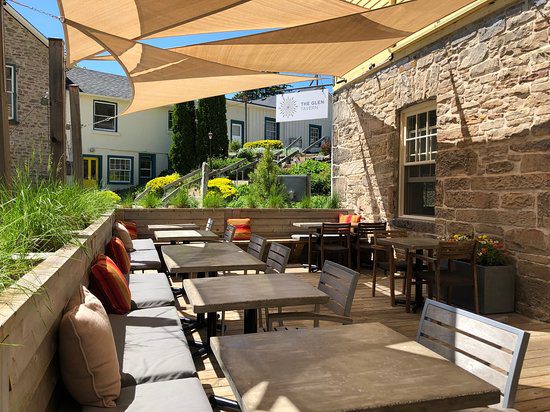 To finish off a great day, check out Williams Mill Creative Arts Studio, located in the big yellow building in Glen Williams. Browse and shop amongst a diverse and creative collection of locally talented artists and their artwork. Creatives include stone and wood carvings, watercolours, textiles and more. Not to mention, down the stairs from Williams Mill is The Glen Tavern. The tavern features a breathtaking outdoor patio that makes for a classy yet relaxing atmosphere. With a good selection of food and drink, you will not be disappointed with what they have to offer!
---