Winter- you may love it or hate it but regardless of that, it's coming. This winter, make the most of beautiful rural Ontario in all its snow-blanketed glory when you plan a trip to Oxford County.
Eat your way along five stops of the Oxford County Cheese Trail as you enjoy curds, gouda, old English cheddars, sizzlin' hot havartis and so much more.
A Winter Escape to the Oxford County Cheese Trail
Discover the hidden flavours and gems along this trail. Just 90 minutes from the GTA, Oxford County is an easy-breezy getaway to enjoy. Made up of over twenty stops, this is a self-driving trail where you'll discover cheesemakers, restaurants, retailers, farms and more. Keep reading for one of our fav ways to spend our time there.
Stop 1: Taste Award-Winning Gouda at Mountainoak Cheese
Where: 3165 Huron Rd. New Hamburg, ON. (View Map)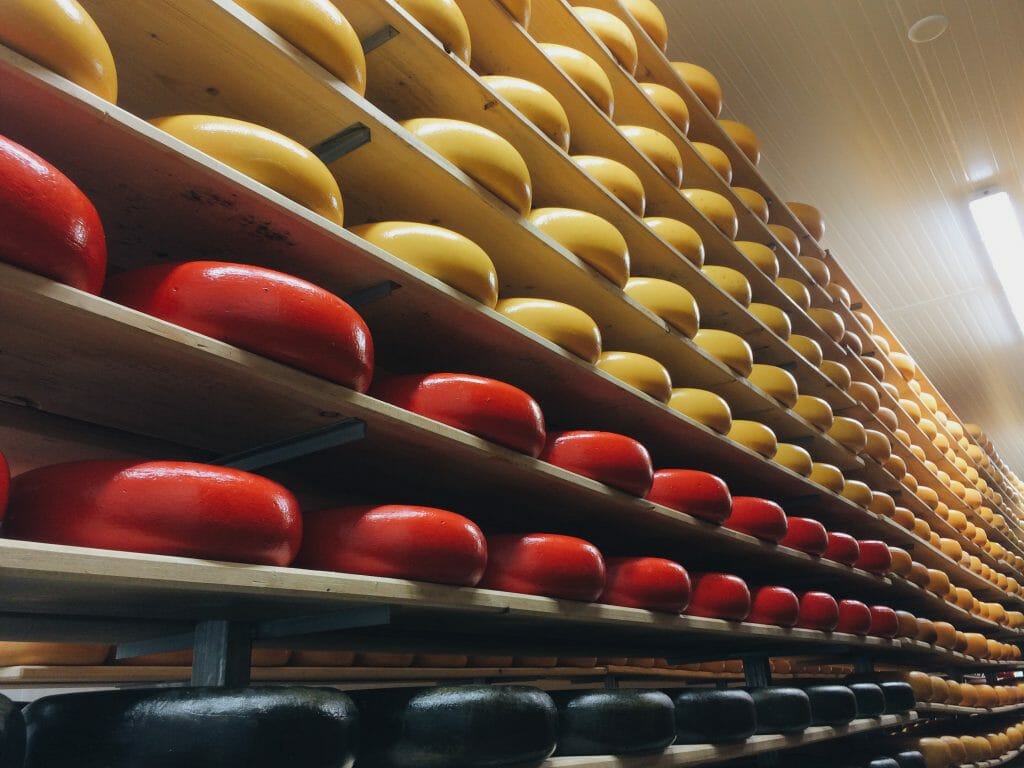 All aboard the cheese curd express! Destination: Mountainoak Cheese where they craft over twenty different kinds of award-winning Gouda in their on-farm factory.
Using unpasteurized milk pumped underground directly from their dairy barn and right into the cheese factory, it doesn't get much more farm-to-table than this!
Head to their farm shop and discover all sorts of flavours from their popular Heritage Dutch GOLD gouda to black truffle, wild nettle and mustard to fenugreek, Friesan and chilli pepper smoked. Upon putting it on your tongue, you'll instantly know why they're so well-recognized by the cheese world.
Before leaving, be sure to also grab some of their curds (we love the cracked black pepper ones) and quark (a soft, yogurt-like cheese that is amazing when topped with granola and fruit).
Time to next stop: 14 mins
Stop 2: Udderly Ridiculous Farm Life
Where: 906200 Township Rd 12, Bright, ON. (View Map)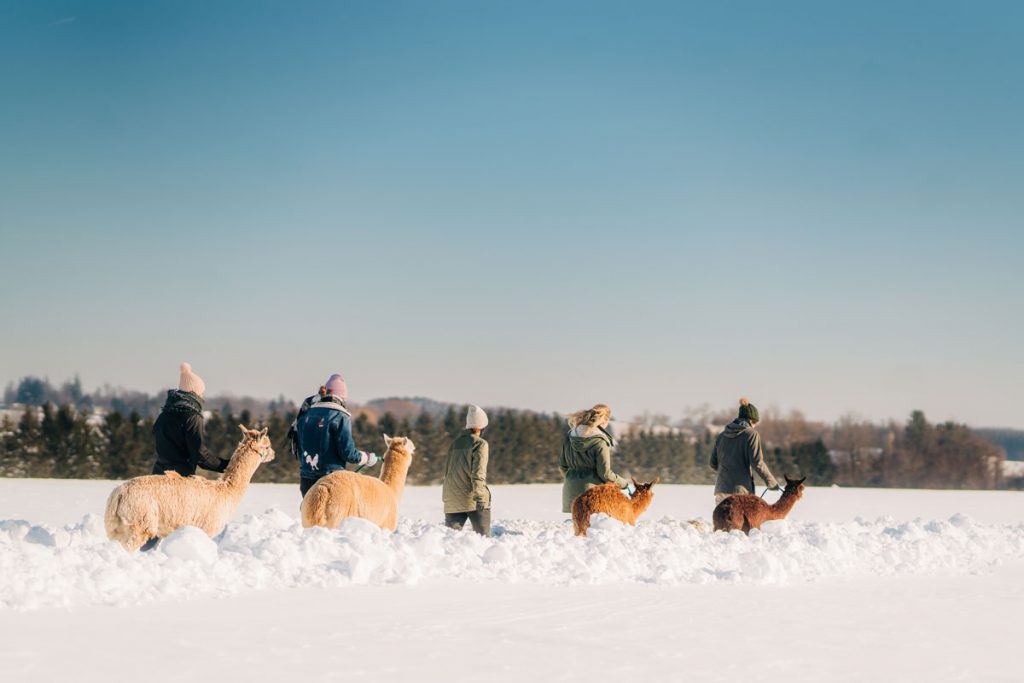 Udderly Ridiculous Farm Life provides rural agritourism experiences that go beyond a simple tour.
Whether you're enjoying recess time with the goats or feeding the chickens, you'll leave with an appreciation for what goes into keep this rural farm going and the wellbeing of the animals living there.
In the winter, one of our favourite things to do is go on an alpaca walk. When you book ahead, owner, Cheryl Haskett, will lead you around their farm property with her herd of gentle alpacas and teach you how to communicate with them in a calm manner. We think you'll leave with a friend (or two)!
These animals, naturally suited to the snow as they originate in mountainous regions, are a joy to be around, we think you'll agree!
Before heading out, be sure to stop into the on-site farm store where you can shop products from over 50 Ontario-based producers that range everything from sparkling ciders and goatmilk soap to alpaca wool socks, Ontario goat cheeses and Udderly Ridiculous's own award-winning goat milk ice cream.
*Bonus: Make a stop to Bright Cheese and Butter right on your way to your next stop! You'll find award-winning cheddars, asiagos and more in one of Canada's oldest cheese factories.
Time to next stop: 12 minutes
Stop 3: Thames River Melons
Where: 775530 Blandford Rd, Innerkip, ON. (View Map)
Next stop: Thames River Melons Farm Market. This farm is lively in the summertime but come winter, things really quiet down and the farm kitchen begins to take centre stage.
Pop into the market Wednesday-Saturday to shop a wide variety of winter produce, made from scratch baked goods like their famous hand pies, homemade preserves (we love their blueberry jam), honey, pickled items and focaccia bread.
On Fridays, you can order ahead to pick up their soup of the week with a little bread too! What a perfect way to get cozy.
Time to Next Stop: 15 mins
Stop 5: Dine at FeastOn® Restaurant, SixThirtyNine
Where: 639 Peel St. Woodstock, ON. (View Map)
Heading south to Woodstock, get ready for a wonderful dining experience at SixThirtyNine. This 30-seat restaurant is popular so be sure to book ahead and while you're at it, consider booking a seat at The Chef's Table so you can watch your meal come together and chat with the chef!
Run by Chef Eric Boyar, Jennifer Boyar and Chef Sam Vandenburg, this is a must-stop in Oxford. With a menu that changes every six weeks or so, we love their take on the season's freshest ingredients. One staple though? Their cheese arancini features a different Oxford County cheesemaker throughout the year.
In the winter, their house-made Berkshire pork sausage and their heavenly gnocchi really shine and make any cold night feel warm and cozy. It's the ideal way to wind down the day in Oxford County.
Stay the Night
Where: 415 Harris St. Ingersoll, ON. (View Map)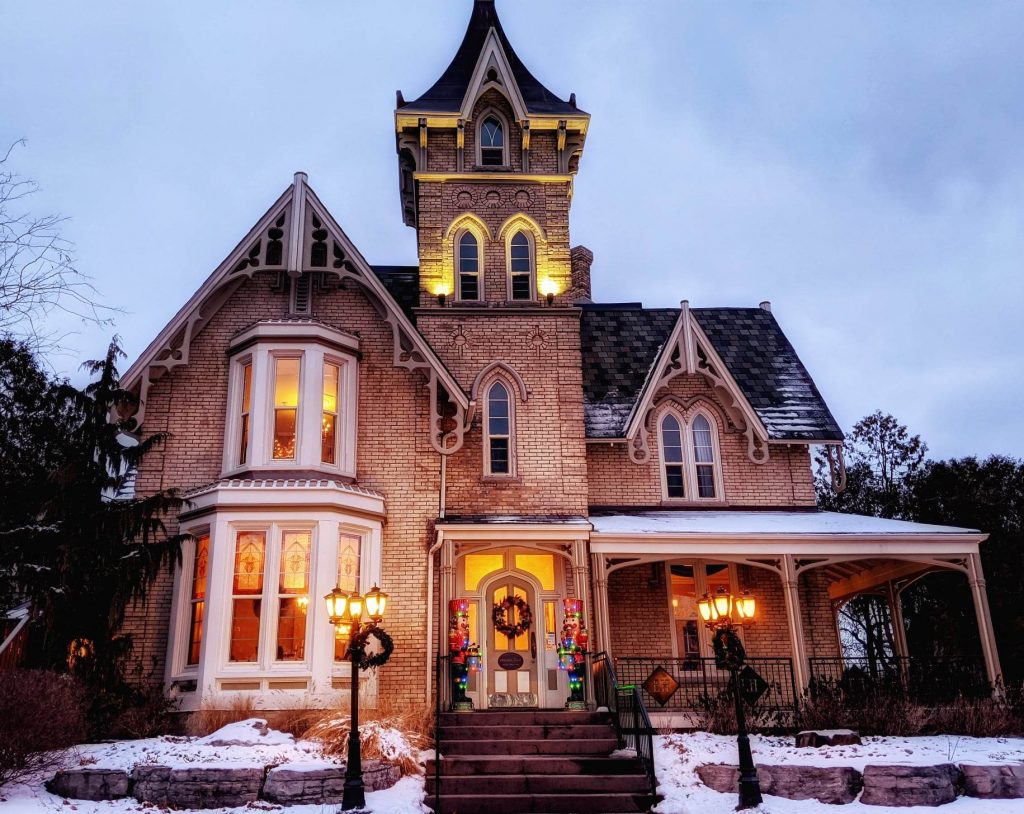 Want to stay the night and extend your trip to Oxford! Book a stay at The Elm Hurst Inn & Spa, the former home of renowned cheesemaker James Harris and a member of Ontario's Finest. It won't disappoint!