The Cheers to the Coast Drink Trail shines a spotlight on the many award winning talents of our Lambton County drink producers. These producers are masterfully creating handcrafted wine, uniquely brewed beer, delicious dry and hard cider and the oldest drink of them all, mead derived from honey. Travelling along the drink trail route allows you to taste your way throughout Lambton County at 14 different stops.  Come and sip, savour and let your taste buds decide on your favourite.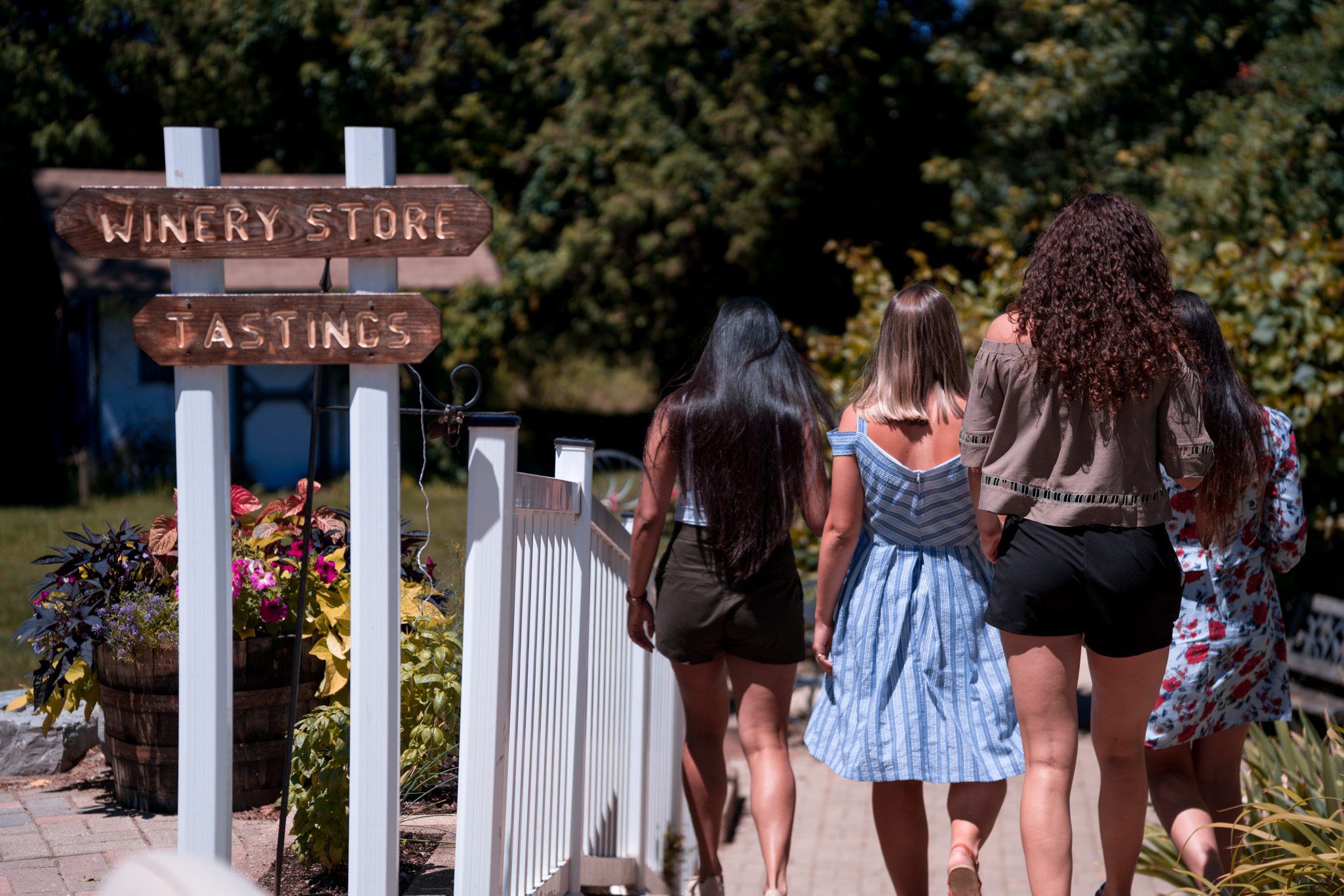 ---
Lambton County is affectionately known as Ontario's Blue Coast with it being in the heart of the Great Lakes region. Lake Huron entices visitors with its azure blue waters often compared to those of the Caribbean Sea. Lake Huron is our backyard summertime pool and water enthusiasts are guaranteed a fun time sailing, swimming, fishing, jet-skiing, kayaking or kicking back on the beach to catch a few sunrays.  Did we mention our beaches have been awarded International Blue Flag designation. Consider yourself invited to our pool!
We serve up even more fun throughout the region, especially to those seeking a truly local taste experience. Let's begin road tripping at stops along the Cheers to Coast Trail.

Start your trip at Imperial City Brew House, 1330 Exmouth St. Sarnia, ON. this large industrial style taproom and patio is the perfect stop for a tall pint.  Proud to feature local premium ingredients, it's shaped the collection of bold, unmistakable tasting beer.
Only a 5 minute drive south on Lambton Mall Road let's head to our next brewery.
Refined Fool Brewing Company, 1326 London Road is Sarnia's first brewery in over a decade with two vibrant taproom locations; Mid-town and Downtown. Each location features 20+ styles of craft beer and two unique culinary options.
Let's travel to downtown Sarnia, the Cultural District via London Road, eastbound to Christina Street.
We suggest a stop at the Judith and Norman Alix Art Gallery for some Canadian inspiration by viewing the iconic work by the Group of Seven – Their Visions Revisited 100 Years Later.  The gallery has 45 original pieces from the Group of Seven in the permanent collection. This exhibit showcases the early beginnings of the famed artists and the connection with the Sarnia Art Movement a century ago.
River Run Brew Company, 146 Christina St. Sarnia, located within The Tin Fiddler Brewpub, pouring a variety of craft brews including seasonal rotating taps. We recommend tasting "The Nut Buster" a peanut butter porter packed with flavour and aroma of a peanut butter cup.
This brewery boasts a million dollar view of scenic Sarnia Bay waterfront, sit back with a cool brew and enjoy the view at Big Family Brewing Company, 485 Harbour Road, Sarnia, ON. Popular during the summertime the outdoor Biergarten is a local favourite. Try a Scottish Kiss, this strong and soulful inspired ale features delicious sticky toffee notes.
Continue travelling to central Lambton County and the Oil Heritage district, and only a 15 minute drive from Sarnia.
Black Gold Brewery 395 Fletcher St. in historic downtown Petrolia offers small batch craft beer. The oil town history has inspired the brewers to provide a great place for locals to gather and visitors to discover.  Don't miss seeing the Victoria Playhouse Petrolia, a Victorian architectural gem, a former opera house now live theatre only steps away from the brewery.
Travel via Petrolia Line County Road 4 to Highway 80 southbound to Alvinston.
Enroute to Alvinston, we suggest a side-trip to Oil Springs to view an impressive collection of life-size interpretive metal art sculptures.  Kick off from the Oil Museum of Canada to view the Fairbank Driving Tour of Sculpture,  the popular driving tour provides a car radio narrative. Sculptures on the tour visually tell the story of how Lambton County oilmen produced and shipped the crude through many decades.
Munro Honey & Meadery, 3115 River St. Alvinston, ON has been keeping bees for over a century, farming premium Ontario honey and supporting the prosperity of honeybees.  This family owned and operated honey farm celebrates local flavours by brewing honey based beverages and products.  We recommend tasting the newest Hive and Harvest session Blueberry and Cranberry mead.  A well-stocked retail store offers a wide variety of honey products to take home. Pick up a jar of the gourmet jalapeno honey, hot and sweet stuff!
There's more to see and taste, so continue travelling north to Plympton-Wyoming via Highway 79 then to Aberarder Line, west.
Established in 2005, all the wines are handcrafted and use sustainable practices at Alton Farms Estate Winery, 5547 Aberarder Line, Plympton-Wyoming. This pioneer estate winery and vineyard features 17 different wines.  Sip a glass of aged wine and enjoy some pizza fresh from the oven on the (seasonal) outdoor patio. Walking trails are a favourite of visitors to the winery.

Follow Aberarder Line to Highway 21 north to Forest.
At Stonepicker Brewing Company, 7143 Forest Road, Plympton-Wyoming the beer enthusiast will have a variety of ales and lagers brewed with farm grown barley. The brewery building is a drive shed showcasing a farm theme.  Try a flight of beers and make sure to include a taste of Oops It Fell Out, grapefruit and peach notes give it a light fruity aftertaste.
Back to Highway 21 north to Townsend Line (#12) follow to Arkona and take Hwy 79 north to Thedford.
Train Wreck is the flagship premium lager craft beer at Widder Station Brewing Company, 8395 Decker Road, Thedford, ON.  Enjoy the best view of the GTA (Greater Thedford Area) from the open air Tap House or restaurant, at Widder Station you can play a round of golf, enjoy a delicious meal and a chilled beer.

Shale Ridge Estate Winery & Cidery, 9090 Widder Road, Thedford, ON is Lambton County's newest destination for those looking to taste handcrafted cider and now wine.  The recent wine release of a Riesling and Farmerette Rose, there is a touching story behind this vintage, make sure to ask about it. The family farm has a rich history of producing quality fruits and reducing their carbon footprint. Here's a must-taste new hard cider Cabernet Funk, with a sour raspberry and tangy cranberry infused taste. It tastes like a party on your palate!
Staying right in the neighbourhood, it's less than a 10 minute drive to the next stop.
Twin Pines Orchards & Cider House grow and hand pick an array of Heritage and English Cider apple varieties, which are used for making the Traditional British Hard Cider and apple wine. Proud recipients of The Premier's Award for Excellence & Innovation, this family owned and operated farm has been growing tasty, fresh apples since 1968.  Visit the tasting room and try a chilled glass of Hammer Bent Scrumpy, Red or Old World cider. Don't be shy to ask questions of the cider experts.  They love to share their story!
Let Wave Limo & Tours take care of touring you around the Cheers to the Coast Drink Trail in Lambton County. Sit back and relax in a limo and enjoy luxury transportation services with full and half day tours.  We can customize your choices of stops on the Cheers to Coast Trail.
Taste your way along Ontario's Blue Coast – Lambton County.
---