Few destinations in South Eastern Ontario rival Belleville and Prince Edward County when it comes to food and drink—two locations renowned for their variety of restaurants, wineries, craft breweries and cider houses. If you're thinking about taking a road trip this fall or winter, be sure to include these nine places to please your taste buds on your itinerary.
With ongoing developments regarding the global pandemic, please visit each location's website, or connect with their staff via email and telephone, for updates on COVID-19 procedures such as guest capacity, sanitization methods and mask requirements.
---
Waupoos Estates Winery
Feast On Certified
3016 County Rd. 8 Picton
waupooswinery.com
Menu Highlights: The Grand Rabbit 2016 (Red Wine) | Smashed (Apple Cider) | Chef's Snacks MP (changes weekly)
Waupoos Estates Winery was Prince Edward County's first winery located on 100 acres of waterfront property. It's home to a vineyard, cider house and farm-to-table restaurant. Waupoos Estates is perfect for wine lovers and cider critics, while being a family-friendly destination with walking trails and a petting zoo on the grounds.
Guests are invited to take part in wine tastings or to book an Estate Experience Dinner tour online. Due to their popularity, the wine tours are currently sold out. The restaurant features a state-of-the-art kitchen along with a full-service bar and enclosed gazebo-style building that offers panoramic views of Lake Ontario.
---
Sugar Mama's Bake Shoppe Inc.
144 North Front St. Belleville
sugarmamasbakeshoppe.ca
Menu Highlights: Salted Caramel Cupcakes | Peanut Butter Chocolate Cheesecake | Homemade Donuts 
Expect "love at first bite" and exceptional service from this mother-daughter duo at Sugar Mama's Bake Shoppe Inc. Treat yourself to yummy goodies, and satisfy your sweet tooth with whole ingredients and quality baked products, like hand-rolled donuts made fresh each morning. The flavour selection is out of this world with too many options to list. Be sure to visit the website for a taste of Sugar Mama's baked goods.
The shoppe is currently operating at reduced hours, but you're invited to take advantage of their custom orders and pop-up location in West Zwicks Park (weather permitting).
---

Rosehall Run Vineyards
1243 Greer Rd. Wellington
https://www.rosehallrun.com/
Menu Highlights: JCR Pinot Noir (2018) | Chardonnay Bundle | Kinsip Whiskey Barrel Aged Maple Syrup
Rosehall Run Vineyards is an award-winning winery named after the historic hamlet of Rosehall in Prince Edward County. Featured at some of the County's top farm-to-table restaurants, Rosehall Run offers tutored tastings of their most popular vintages by appointment or a quick and contactless drive through bottle shop. Wines can be purchased onsite or online, and Rosehall's retail shop includes wine stoppers, barbeque sauces, mustards, and convenient 'wine off spot removers'.
---
Chilangos Mexican Restaurant
394 Front St. Belleville
chilangos.ca
Menu Highlights: Tres Amigos Platter | Sop De Tortilla | Enchiladas Verdes Vegetarian
Owned and operated by brother and sister duo Marlem and Abraham, Chilangos brings authentic Mexican cuisine to the Belleville community. Enjoy family recipes and ethnic flavours that are undeniably delicious—from homemade tortilla chips and pico de gallo to enchiladas, queso dip and tacos (of course).
Chilangos invites you to enjoy a dining experience that will make you feel like you've taken that much-desired trip to Mexico. Takeout and delivery options are also available.
---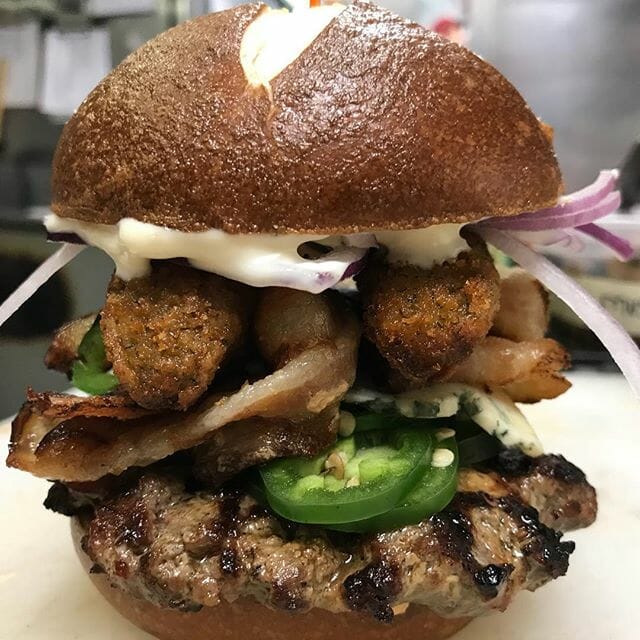 Burger Revolution
300 North Front St. Belleville
burgerrevolution.ca
Menu Highlights: The Propaganda | The Utopian (veggie – gluten & lactose free) | The Rebel
A quick read of its manifesto tells you everything you need to know about Burger Revolution—premium, local and sustainable grain-fed beef that's flamed grilled and topped with locally grown produce and cheese. Simply put, you won't find an ordinary burger between their buns.
Husband-and-wife owners Jeff and Rayling Camach bring chef experience spanning from China to Niagara-on-the-Lake to the United States, and yes, right here at home in Belleville. They invite you to stay hungry and join in the Burger Revolution!
---
Linguine's Italian Restaurant
257 North Front St. Belleville
linguines.ca
Menu Highlights: Wood Plank Bruchsetta | Linguine Olio with Chicken | Veal Parmigiana
Serving the Belleville and Quinte area for over 20 years, Linguine's is a Readers' Choice Awards winner for favourite Italian Restaurant and is a proud supporter of the local community. Family-owned, Linguine's cooks up authentic Italian cuisine in a casual setting that will make you feel right at home.
Dishes feature locally sourced ingredients with wine and beer found within South Eastern Ontario and abroad. Grab and go as you pass through town, or dine in and enjoy first-class service. Due to the restaurant's popularity and reduced seating, it's recommended to make a reservation in advance.
---
Prince Edward County Wine Tours
1533 Hwy 62 Bloomfield
pecwinetours.com
Service Highlights: Private Limo Tour with Lunch | Two Person Private Tour | Half-Day Tour
Prince Edward County Wine Tours is the county's premier wine-tour company that delivers an unparalleled experience all year round. Sit back and relax as you enjoy a taste of the best wineries, craft breweries and cider houses South Eastern Ontario has to offer, while being educated on the region's rich history by experienced drivers and wine connoisseurs.
Wine tours are done from the comfort of a limo or a stylish Rolls-Royce Ghost in small groups or privately. The two-person tour offers a custom itinerary that features five stops (cider companies included) and a roomy luxury Yukon XL SUV. This tour is pet-friendly for those who can't leave home without their four-legged companion.
---
Stella's Eatery
105-172 Main St. Picton
stellaseatery.com
Menu Highlights: Call ahead to ask about Stella's everchanging menu and specials.
 Chef Leah Marshall Hannon takes an ancestral approach to food by offering simple, fresh food prepared from locally sourced, seasonal ingredients. Stella's Eatery features a chalkboard-style menu that is constantly changing depending on the time of year and what's available through the region's growers and suppliers. The same holds true for their wine and beer list.
If you're in the mood for good comfort food, a cold drink and an atmosphere that takes you back to a simpler time, Stella's Eatery is a must-stop destination in South Eastern Ontario.
---
Midtown Brewing Co.
266 Wellington Main St. Wellington
midtownbrewingcompany.com
Menu Highlights: 1927 IPA | Witbier | Wood Fired Pizzas
 Founded on the belief that a pub is a community centre—a gathering spot for locals to come together and enjoy each other's company over a cold pint—Midtown Brewing Co. offers a relaxed vibe where none are left out. Located in a former warehouse, the building also features a farmer's market and retail store for a well-rounded microbrewery experience.
Enjoy classic beers brewed from English, German and Belgian recipes concocted from self-taught brew masters. Unlike many of the craft breweries in South Eastern Ontario that focus on in-your-face, flashy branding and out-of-the-box flavours, Midtown Brewing Co. delivers traditional beer with a reliable taste.
---