Simcoe County is home to some pretty incredible dishes. From the heart of downtown Collingwood to roadside stops on Highway 11, the folks of Simcoe County have created amazing food for years. While it was hard to pick just five, we did it!
Our Top Five Things to Eat in Simcoe County
Keep reading for five of the epic meals we can't stop talking about from Simcoe County.
1.    The Hen of the Woods Mushroom
Where: The Tremont Café, 100 Pine St. Collingwood, ON. (View Map)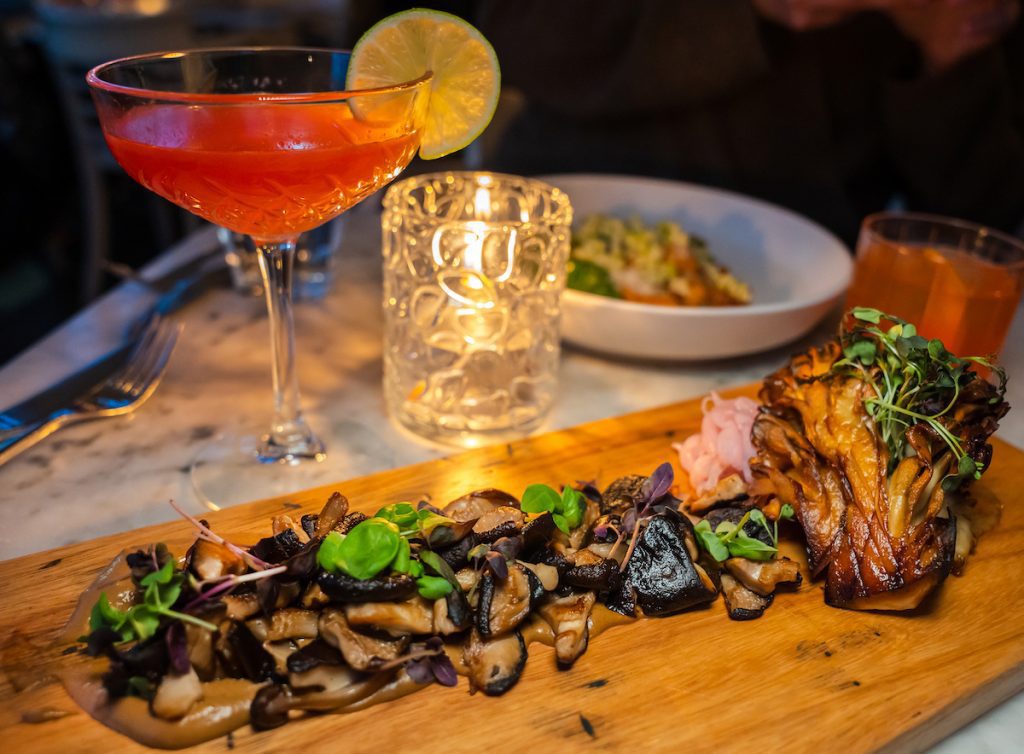 The Tremont Café has an incredible menu of food both plant-based and omnivore, but we know no matter which group you fit into, the Hen of the Woods Mushroom will leave you satisfied.
This maitake mushroom is a sight to behold for the plating alone, but the umami flavour combined with a classic earthy taste and topped with a sesame-peanut-nori crumble… this meal leaves you drooling for more.
Tremont Café was recommended to us by more than one Collingwood local, so you know it's good. Cozy in and enjoy!
2.    Oat Standing Oatmeal
Where: The Press Market, 2 Mountain Rd. Unit 3, Collingwood, ON. (View Map)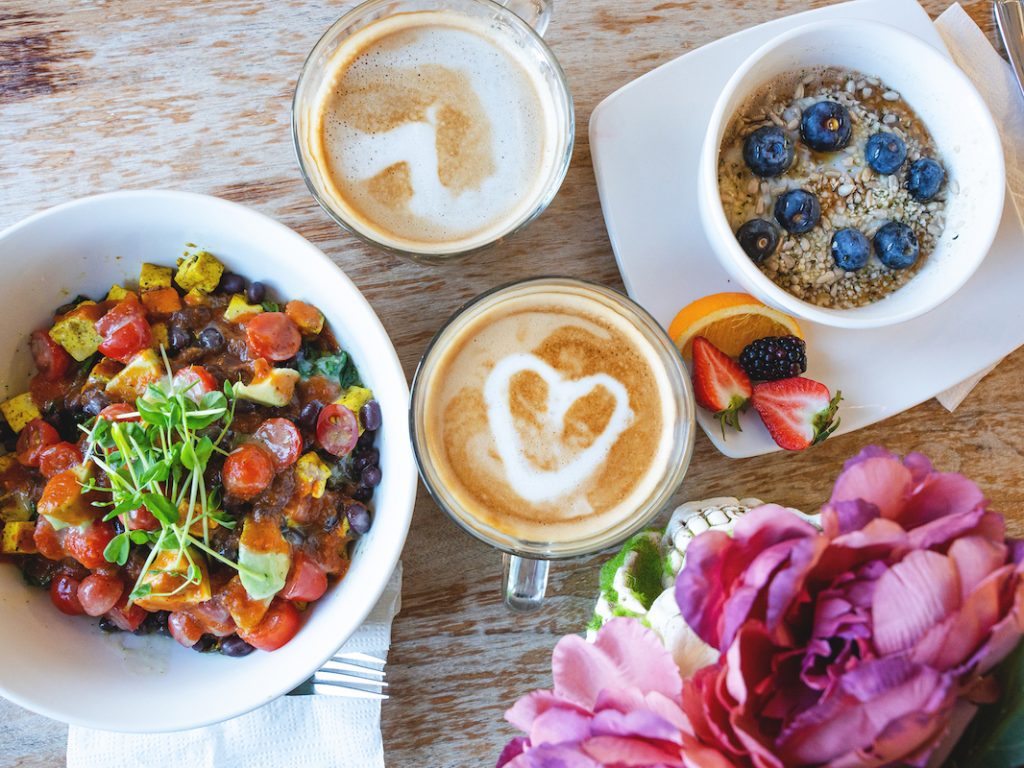 This isn't your grandma's oatmeal! She might like it too though.
For those looking for a healthy AND delicious start to their day, a visit to the Press Market is a must. This dish combines gluten-free oats, almond butter, fresh marries, raisins, maple syrup, sunflower seeds, hemp hearts, coconut yogurt, and cinnamon into one giant bowl of hearty goodness to keep you going all day.
Not into oatmeal? They also have a whole menu of delicious, health-conscious dishes like their savoury market hash, breakfast burrito, and avo-smash toast.
3.    Opa Toast!
Where: The Beach Club at Friday Harbour, 3740 Sunreef Ave. Innisfil, ON. (View Map)

Start your meal off right at The Beach Club by ordering the Opa Toast! You definitely won't regret it.
This grilled crostini is topped with whipped feta, a salty and delicious olive tapenade, and candied cherry tomatoes – simple and delicious. It's the perfect starter to pair up with a glass of wine or one of their elegant signature cocktails.
This spot is right on Lake Simcoe and the view is spectacular! Save some time before your meal to explore Friday Harbour which has everything from cafés and restaurants to shopping, bakeries, and more.
4.    A Classic Burger (…and also poutine)
Where: Weber's, 8825 ON-11, Orillia, ON. (View Map)

Few people head to Cottage Country and don't stop at Weber's for a burger and fries. We're definitely in the majority here.
This Highway 11 institution has been around since 1963 and became such a tradition for families that they built a massive orange bridge across Highway 11 so visitors could access it going north and south.
Order yourself up one of those classic charcoal-grilled burgers and pair it up with a poutine topped with Thornloe cheese curds for a little extra treat. You deserve it!
Enjoy this well-oiled machine as you wait for your food then take it out back to the picnic tables if the weather's nice or enjoy it in the train car one chilly and damp days.
5.    Schnitzel Sandwich with a side of Pierogies
Where: Schnitzel Haus, 5402 Hwy 11 S, Oro Medonte, ON. (View Map) or 2921 Hwy 11 N, Oro-Medonte, ON. (View Map)

Can there really be TWO roadside stops on Highway 11 worth writing about? The answer: yes. Whether you are heading north or south, Schnitzel Haus is a must-stop and it has locations on both sides of the highway so you're good to go.
It may not look like much on the outside (going south it's attached to a gas station and going north it's in a strip mall) but you'll be pleasantly wrapped in amazing, savoury scents as soon as you step in the door.
We recommend their Combo 4 which includes a schnitzel sandwich (the pork is our fav) and a side of their pierogies (choose soft or crispy). We love the pierogies stuffed with potato and cottage cheese best but there are a few different options for those feeling a little adventurous!
Make a Trip of It
Want to make a trip out of some of these dishes? Start in Collingwood! We've got an itinerary we think you'll love.