The brightest, most colourful bike ride in Canada is making its return for 2022.
Friday Night Lights, a pub and grub crawl on bicycle through Windsor, Ontario that has grown exponentially since 2014, is returning after a hiatus due to the COVID-19 pandemic. The event invites participants to light up their bikes (and their spirits) as they visit local establishments throughout the city. There is plenty of friendly one-upmanship when it comes to bicycle decorations, and the pack often takes up the entire street, sometimes stretching several city blocks at a time. It's quite a sight to behold!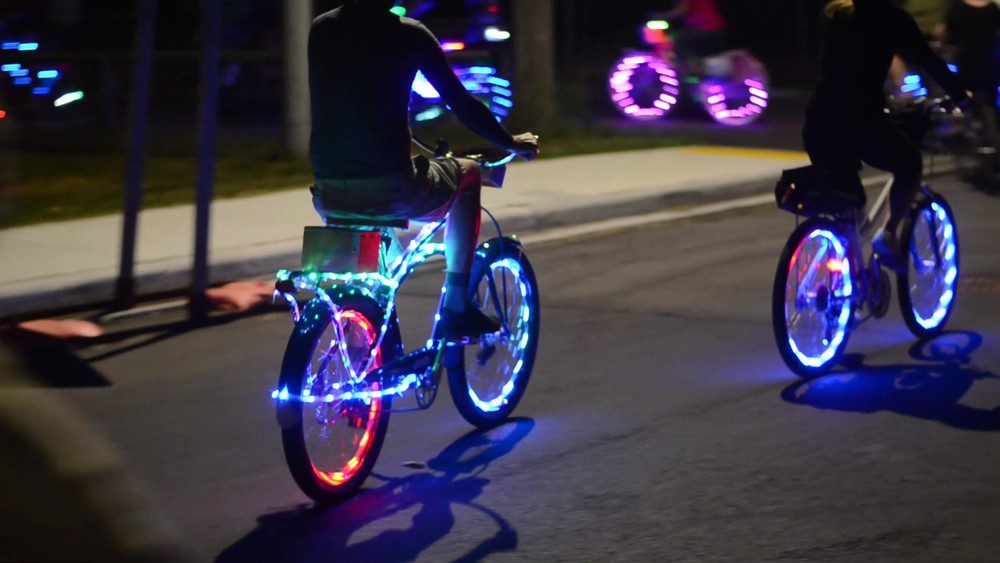 The first ride of 2022 will take place on Friday, May 13, 2022 and will run each and every Friday into October. The ride begins at WindsorEats' new location, 400 Erie Street East, at 8pm and finishes at midnight. Cost is $6 in advance, $10 on site.
Part of what makes this event so much fun is that the stops and routes along the way are always a secret and different with each ride. Visits have included everything from stopping to enjoy a beer and play beach volleyball at a local fitness club to a dance party at a wine bar, Pride festivals to beer gardens, Caribbean festivals to local dive bars. In the past, the ride has even stopped at the Art Gallery of Windsor for an outdoor celebration of the launch of an Andy Warhol exhibit.
There's no better way to explore the city!
Tickets are available for purchase online here.