Just an hour and a half from Toronto, Waterloo Region offers the best of both worlds: all the amenities and exciting hot spots of city life with the wide open spaces and locally grown food you find in rural areas. It's perfect for families who want to get out of the city and onto some beautiful back roads to explore rural Ontario.
A Family Road Trip to Waterloo Region
This summer (or fall!) bring the whole fam for a delightful day that everyone will enjoy. Read on for our perfect road trip for families to Waterloo Region.
Stop #1: Start Your Day with an Apple Fritter
Where: Stone Crock Bakery, 1402 King St. S. St Jacob's, Ontario (View Map)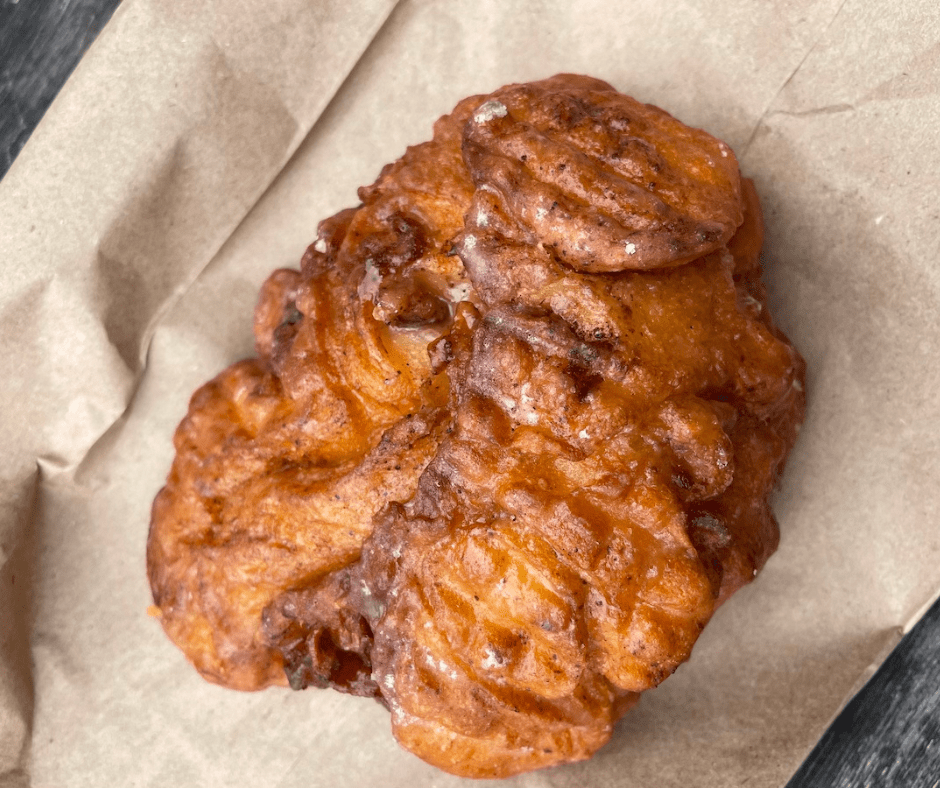 You know what they say: "An apple fritter a day keeps the doctor away." Right? In our books, every family road trip should start with one and apple fritters are found all across the region because of their ties to the Mennonite culture. You'll also find loads of handcrafted pies so you'll definitely want to bring a cooler.  
Our fav apple fritters that we tried were at the Stone Crock Bakery in St. Jacobs. It even has fresh apple slices tucked beneath the outer layer of the donut.  This bakery, owned by Chef Nick Benninger of Fat Sparrow (who also owns other hot spots like Taco Farm), will hit you with a waft of goodness as soon as you open the door. 
Known for their fritters, tea balls (they're a donut-tea-biscuit hybrid shaped like a tee ball) and their fresh-made dill pickle bread, you'll definitely want to indulge in a few treats. 
When you've made your selection, take your plunder and grab a spot at one of the picnic tables outside to enjoy in the sunshine. St. Jacobs is a really charming town so if time allows after, be sure to wander the street and check out some of the stores.
Drive Time to Next Stop: 4 mins
Stop #2: St. Jacobs Farmers' Market
Where: 878 Weber St. N. Woolwich, Ontario (View Map)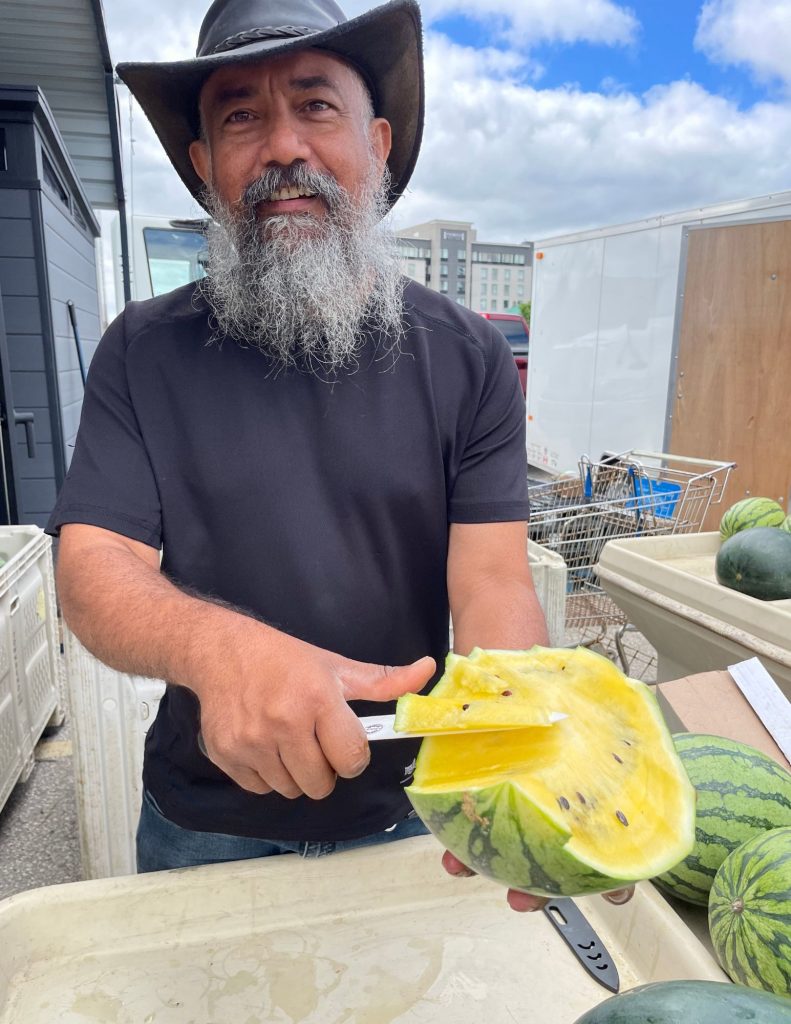 On Tuesdays, Thursdays and Saturdays, The St. Jacobs Farmers' Market is hopping! You don't want to miss out as there truly is something for the whole family to enjoy. With several market buildings filled with vendors as well as an entire outdoor section of fresh fruit, veggies and flowers, it's a sight to behold, particularly in peak season. 
Kids will love the giant pretzels, ice cream, lemonade and other treats that can be found at the market while adults will love the selection of craft producers selling preserves, dressings, craft beer and spirits too. Our friends at West Avenue Cider and Willibald both have booths here!
Outdoors, stroll the tents of fresh fruit. We visited in early August, the heart of peach season here in Ontario, and saw loads of amazing produce that included everything from yellow watermelon and nectarines to colourful plums, peppers and so sooo much more. Like we said, you'll definitely want that cooler. 
In addition to food and drink, you can also enjoy a little live music in the sunshine and some vendors selling leather goods, clothing, jewelry and more!

Drive Time to Next Stop: 20 mins
Stop 3: Schmidtsville
Where: 3685 Nafziger Ave., Wellesley, Ontario (View Map)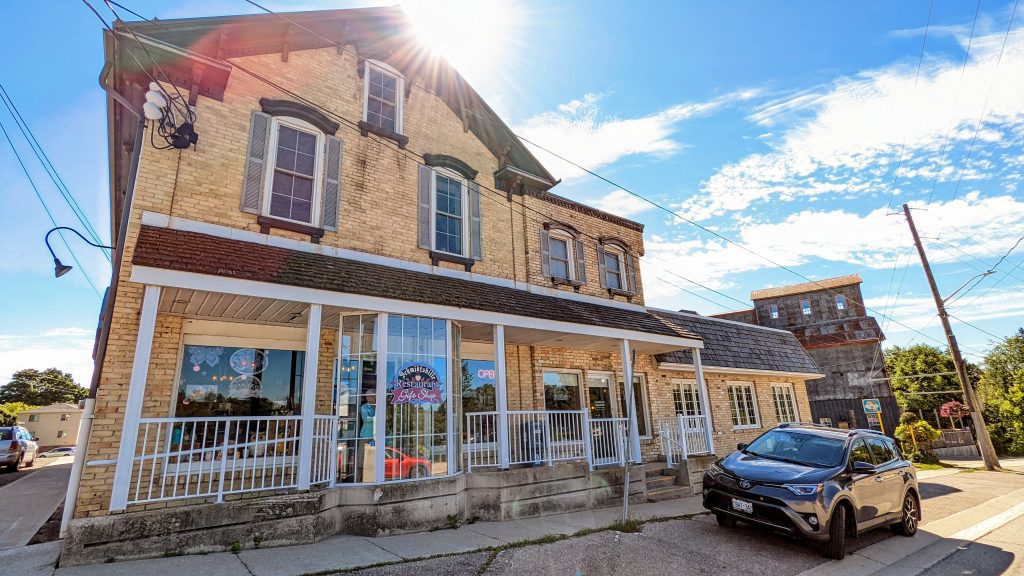 Ready for the local inside scoop? Schmidtsville is that quintessential diner that locals flock to in a small town and for good reason! The meals were hearty and totally hit the spot…and at a great price point too!
What can we recommend to you? Well, definitely the French Toast. It's stuffed with cream cheese making for a tangy, salty-sweet combo. We also had the Schmidtsville Special Breakfast Sandwich with homefries and it did not disappoint. 
A community staple and supporter, this restaurant and gift shop has roots in Mennonite culture and of course serves up some wicked pies as well as diner classics like bottomless coffee, pancakes and more.
Stop 4: Choose Your Adventure
Where: The Iron Horse Trail (start just off Belmont Ave. W. and Glasgow St.) or THEMUSEUM, 10 King St. W. Kitchener, ON. (View Map)
After all those tasty bites, it's our guess that you and the kids may just want to stretch your legs a little bit! Luckily there's no shortage of family fun in Waterloo Region.
For those looking for some straight-up exercise, we recommend hopping onto the Iron Horse Trail at Belmont Ave. W. and Glasgow St. and going for a nice stroll. This trail is 5.5km but doesn't loop so (pardon our dad joke), walk until you're half tired and turn around! You can even take this trail all the way to Victoria Park where a splash pad awaits for the kids and views of the river await you. Keep your eye out for Kitchener's famous swans, Otis and Ophelia. 
Museums more your thing? THEMUSEUM in Kitchener is great for kids and adults alike. Open Tuesday-Saturday, their ever-changing exhibits have featured everything from exhibits on the climate crisis to marketing movies! With lots of interactive elements, it's pretty cool so be sure to grab your tickets online.
Drive Time to Next Stop: Right across the road (Iron Horse Trail) or 7 mins from THEMUSEUM
Stop 5: Dinner At Graffiti Market
Where: 137 Glasgow St. Suite 385, Kitchener, Ontario (View Map)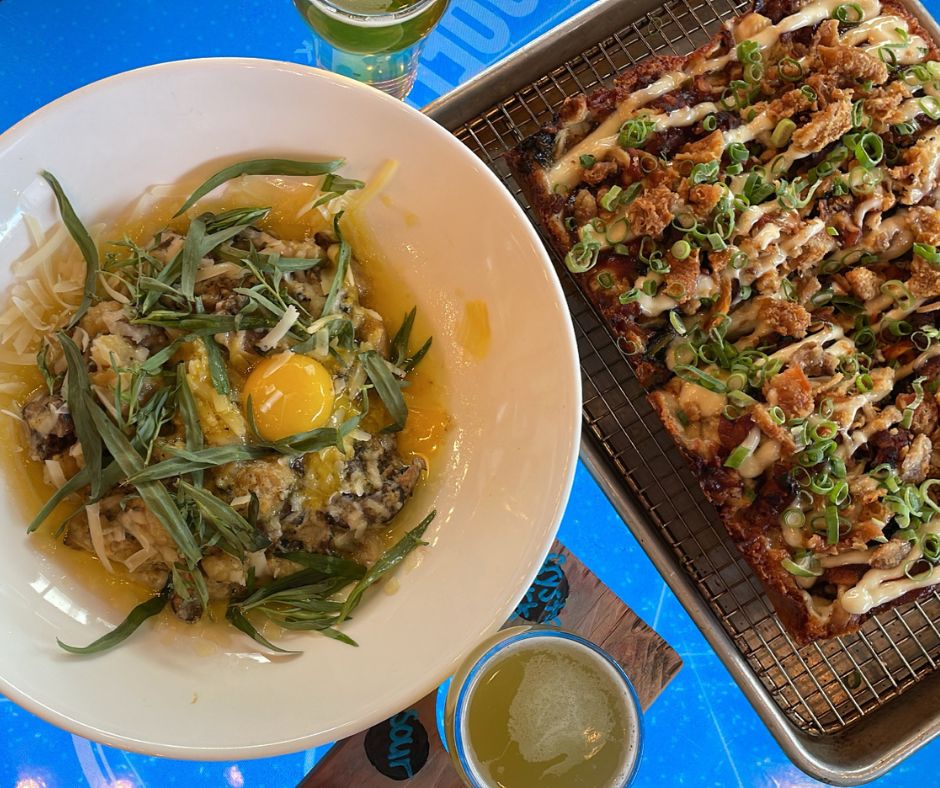 Just a short drive (or walk if you chose the Iron Trail) away, Graffiti Market is located in Catalyst137, an awesome spot for businesses to rent out office space, home to a cafe, Stockyards Brewing and so much more. Graffiti Market fits right into this creative hub!
Grab a booth at one of their interactive tables and check out their menu full of Detroit-style pizzas and delightful pasta. We ordered the South Bound pizza which was topped with crispy chicken skin among many other mouth-watering ingredients and a cavatelli pasta that featured mushrooms, pecorino and brown butter. 
As we waited (and enjoyed a few flights of beer brewed in-house at Stockyard Brewing) we enjoyed the tables. Perfect for kids and adults,  you can play air hockey, do puzzles and loads of other fun games. It's the perfect way to wind down your day in Waterloo Region. 
Plan Your Getaway
There you have it! An especially fun and delicious family getaway to Waterloo Region. Be sure to download your Great Taste of Ontario Passport for Explore Waterloo Region to double the fun! Check into enough spots and you'll receive a $25 voucher to a participating Feast On Restaurant!