---
Imagine a place where you can glimpse into the future through the cutting edge of technology or back in time to horse-drawn buggies. Imagine the excitement of big-city life with world-renowned festivals and attractions, and yet being close enough to escape into the stillness of the surrounding countryside.
Located in the heart of Southwest Ontario, Waterloo Region provides the perfect balance between new and old, rural and urban, nature and technology, classical and contemporary, tranquility and adventure.
Explore bustling urban centres with unique restaurants and microbreweries to sample, or the slower pace and old-world charm of the surrounding countryside. There's a great mix of innovative restaurateurs doing cool things and classic, rustic shops creating the kind of food we all grew up eating.
It's impossible to write about the regional culinary reputation without acknowledging the heavy German influence. Waterloo Region is home to the largest Oktoberfest celebration in Canada. Founded in 1969, the annual event has been celebrating with great beer, bratwurst and lots of lederhosen.
No matter what your mood, Waterloo Region has it for you to explore.
---
ST. JACOB'S VILLAGE
Located in the Township of Woolwich, the history of St. Jacob's is steeped in local Mennonite history. It has become a retreat for locals and visitors alike with the St. Jacob's Farmers' Market, which is the largest year-round farmers' market in Canada, as well as the Village of St. Jacob's, which has great shopping, restaurants, and a craft brewery. There are also many roadside stands where visitors can get fresh produce, meat, eggs, cheese, honey, maple syrup, and much more, or hop on board Waterloo Central Railway for a scenic return trip between St. Jacob's and Elmira.
FIND YOUR
GREAT TASTE OF ONTARIO
IN WATERLOO REGION
Download a passport to help guide your planning and inspire you to explore our big, BIG province. Then, take the time to safely visit the growers and makers who make Ontario so special. Each time you check-in to a spot on your passport, you'll be one step closer to redeeming some sweet Ontario-made prizes - while supporting communities across Ontario! That's pretty sweet.
---
For tacos, tequila and a good side of sauce – head to Taco Farm on Erb Street. We love their housemade chorizo, churros and always end up going home with a bag of their fresh tortillas.
Food lovers know you can't visit the region without stopping at St. Jacob's Farmers' Market. The market is a gathering place for locals, farmers and people looking for hard to find seasonal ingredients. Don't miss the sugar coated Lil' Donuts – fresh from the fryer or the Menonnite summer sausage.
We're pretty obsessed with the Fickle Mistress dry-hopped kettle sour with blueberry and cranberry from Block 3 Brewing in St. Jacob's Village. Stop by the brewery for a taste and check out their seasonal releases.
We are all season ice cream eaters – and Four All Ice Cream has won our hearts. Try the Burnt Honey Five-Spice or the Pear Ginger Sorbet.
If you're really looking to impress, book a weekend away at Langdon Hall. Chef Jason Bangerter creates beautiful meals inspired by the rivers and woodlands surrounding the property and the hospitality never disappoints.
If a totally adorable instagram moment is what you're after, head to the West Montrose "Kissing Bridge" – the last remaining covered bridge in Ontario.
---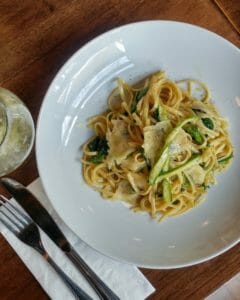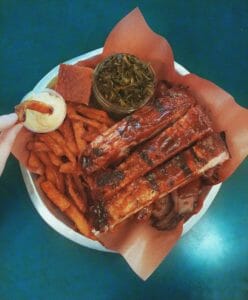 ---
Exploring the Region?
Here are a few great places to start.