Whether you knew it already or not, Cornwall is known for their pizzas. This city in Eastern Ontario is home to numerous old-fashioned pizzerias serving up perfectly baked pies with thick blistered crusts piled high with delicious toppings. Best known as 'Cornwall Pizza' and a source of pride for Cornwallites, these delicious pies are an absolute must-eat for those who visit the city.
Cornwall's obsession with pizza can be traced back to the 60's when Giuseppe Salvatore Zappia and his family opened Zappia's Restaurant on Brookdale Avenue and Ninth Street. Possibly the first pizzeria in Cornwall, Zappia's served pies made from scratch and cooked on a stone slate that quickly became a hit with the locals. The restaurant closed in 1970. Since then, many pizzerias have popped up across Cornwall, serving up the same legendary pies celebrated by locals and visitors alike.
Talking to a local about pizza in Cornwall is sure to spark lively debates. There are entire Reddit threads and articles dedicated to this unique pie. What makes it unique is still up for debate. Some folks say it's that the toppings are usually under the cheese, while others say it's the old-school pizzerias that haven't changed in +50 years that bring the unique flare.
Whatever the reason, it's well worth trying! Here are a few pizza shops in Cornwall any pizza lover should try.
---
Riverside
837 Montreal Rd.
facebook.com/RiversideCornwall
Riverside serves up authentic pies that are big on flavour. Among the old-style thick crust pizzas, the winner might be the Riverside Special, it's dressed up with a generous dose of toppings and is popular with the locals.
---
King George
401 Montreal Rd.
facebook.com/King-George-Restaurant
This family-owned restaurant situated on the corner of Montreal Road and McConnell Road is rightfully known for its pies. The kitchen dishes out all the classics, but the star of the show is the King of the Ring – a thick-crust pie loaded with hamburger, bacon, onion rings and a liberal shower of parmesan.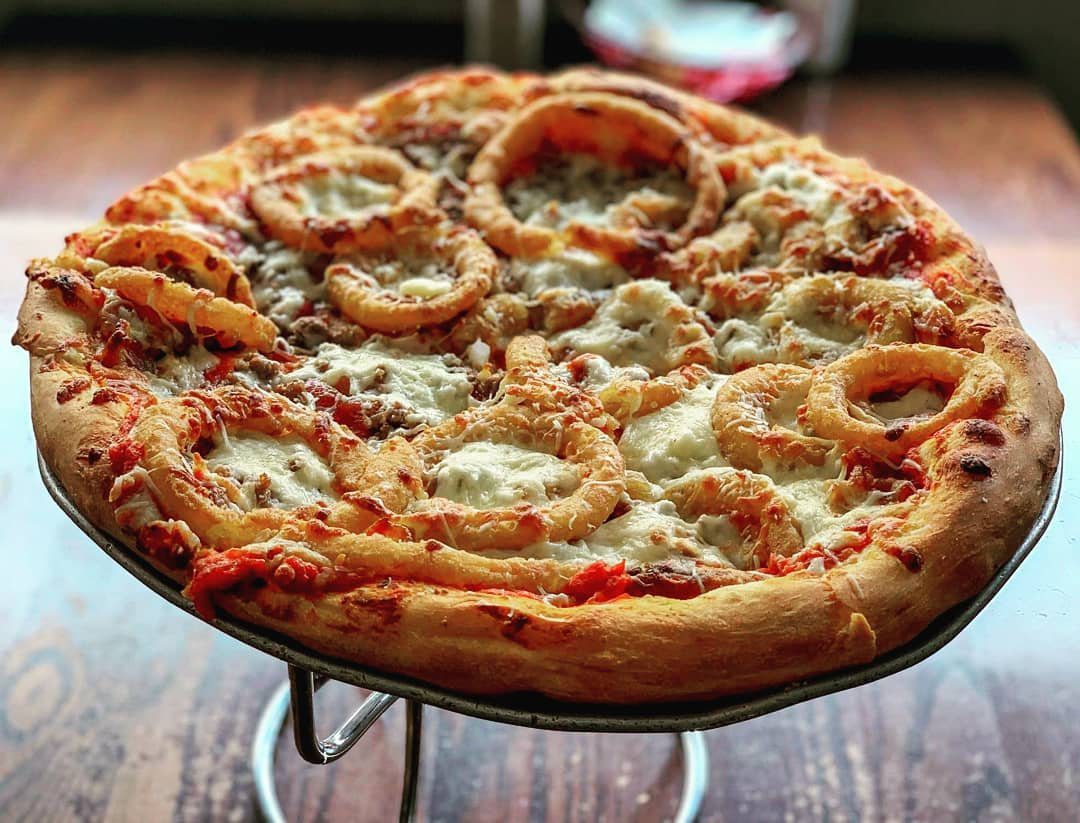 ---
Cornwall BBQ
436 Second St. W
A popular spot frequented by Cornwallites, Cornwall BBQ has been serving delicious pizzas since 1972. BBQ chicken and gravy is their signature dish, but they also do a pretty good pie, like the Cornwall BBQ Special – a perfectly baked thick crust topped with chicken, green peppers, mushrooms, mozzarella and feta.
---
Roma's
200 McConnell Ave.
facebook.com/new.romas.restaurant
This family-owned restaurant has been serving Cornwall great Greek & Canadian inspired food for over 20 years. When it comes to their pizza, expect a perfectly blistered chewy crust with simple yet delicious toppings.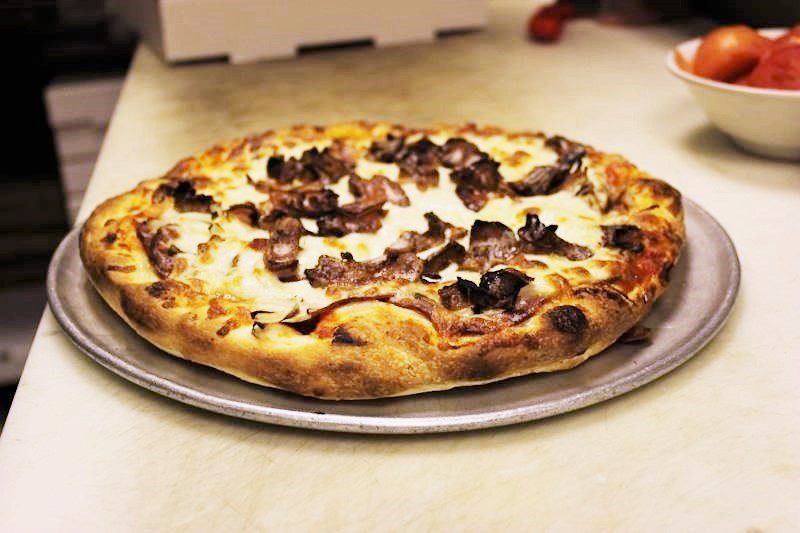 ---
Olympic
1255 Pitt St.
Olympic has been serving pizzas from its modest pizzeria located in Pitt Street since the late 70's and has built up a loyal following. Loaded with toppings and melty cheese it's the perfect pie to refuel with after a day exploring the city.
---
North End
1552 Pitt St.
Another Cornwall institution, North End's pizzas have a great crust and loads of toppings. They don't offer dine-in services but be sure to stop by and grab a slice or two to go. From All-Dressed, to the Canadian creation – Hawaiian, North End's popular and iconic pies won't disappoint.
---
ESCA Gourmet Pizza + Bar
317 Pitt St.
For those looking for a pizza spot in Downtown Cornwall, ESCA serves up delicious gourmet pizzas. They also offer 12 Ontario craft beers on tap to go with the wood-fired pies that are made from scratch using locally sourced ingredients. There's nothing old-school about their pizza; each pie is perfectly made, with a thin crispy-chewy crust and thoughtfully chosen toppings.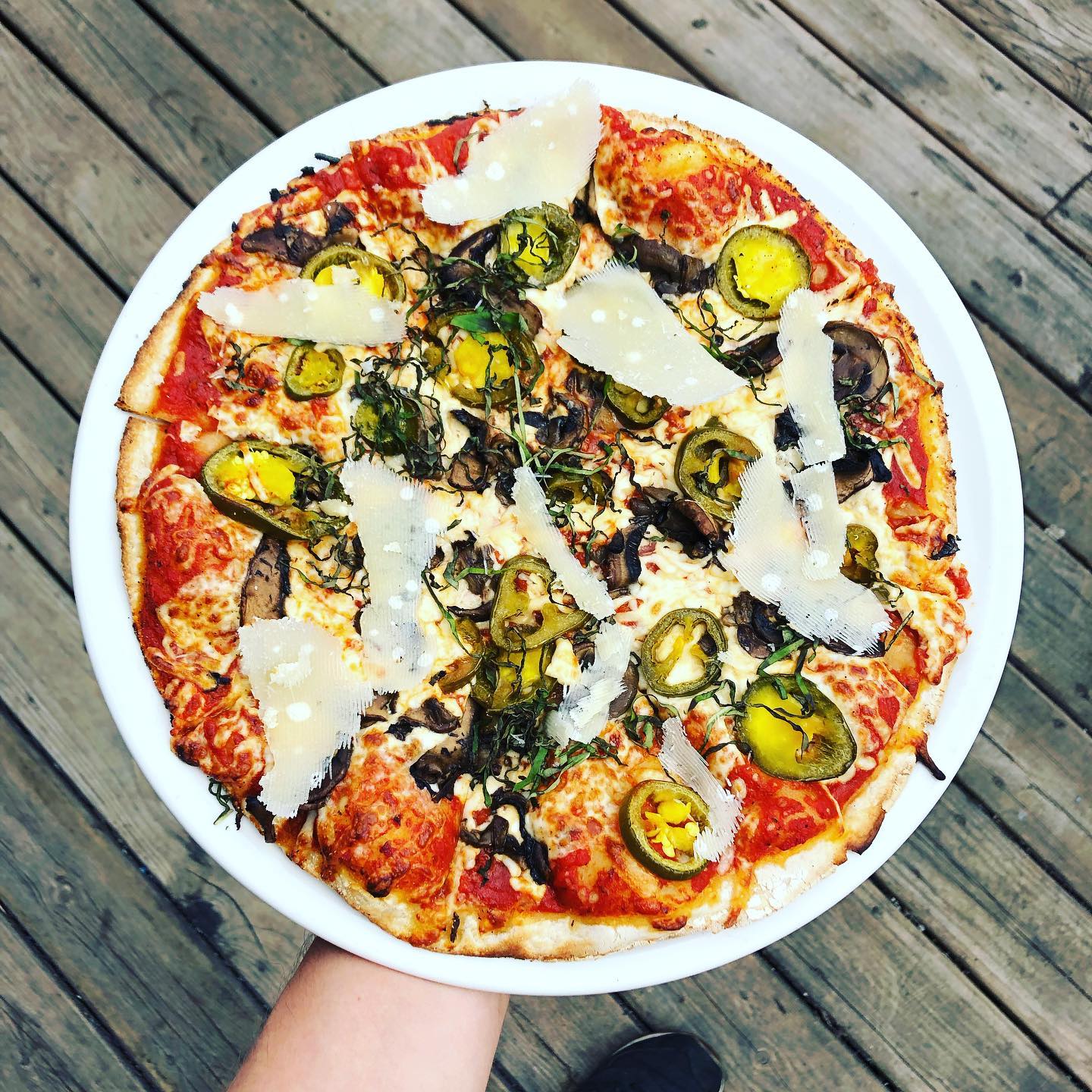 ---
Louis' Pizzeria
740 First St. E
Blink and you'll miss this hidden gem on First Street and McConnell Avenue. Louis' offers up a great menu but the highlights are their delicious pies and calzones.
---
Rudy's
335 Montreal Rd.
Located in Cornwall's Le Village district, Rudy's is the latest pizzeria to join the local pizza scene. They may be new in town but owner and chef, Rudy Deschamps has been making pizzas for over 45 years, perfecting his sauces and dough. Rudy's pies are a result of this labor of love. Be sure to try their signature pizza, the Rudy Special – it's a combination of a meat lover's pizza and a vegetarian pizza.
---