It took Scott Nichol four years to open Old Dog Brewing Company in Bobcaygeon – and a few weeks later, the pandemic closed his doors.
That didn't stop him though, this brewery is his dream and it took a while to get here. Nichol has had many careers before brewery owner. He was an actor, a banker, a restaurant worker amongst other things. He opened the brewery because he loves beer and has a passion for rural hospitality. Bobcaygeon was an obvious fit.
Despite the obvious challenges, the brewery has been thriving. Locals come through the door at a steady pace, many with photos of their beloved pups in tow. Nichol loves seeing photos of his canine fans posing with the pupper themed tallboys of his craft beer. He owns an Airedale Terrier named Maggie who can often be found greeting guests at the door of the small brewery.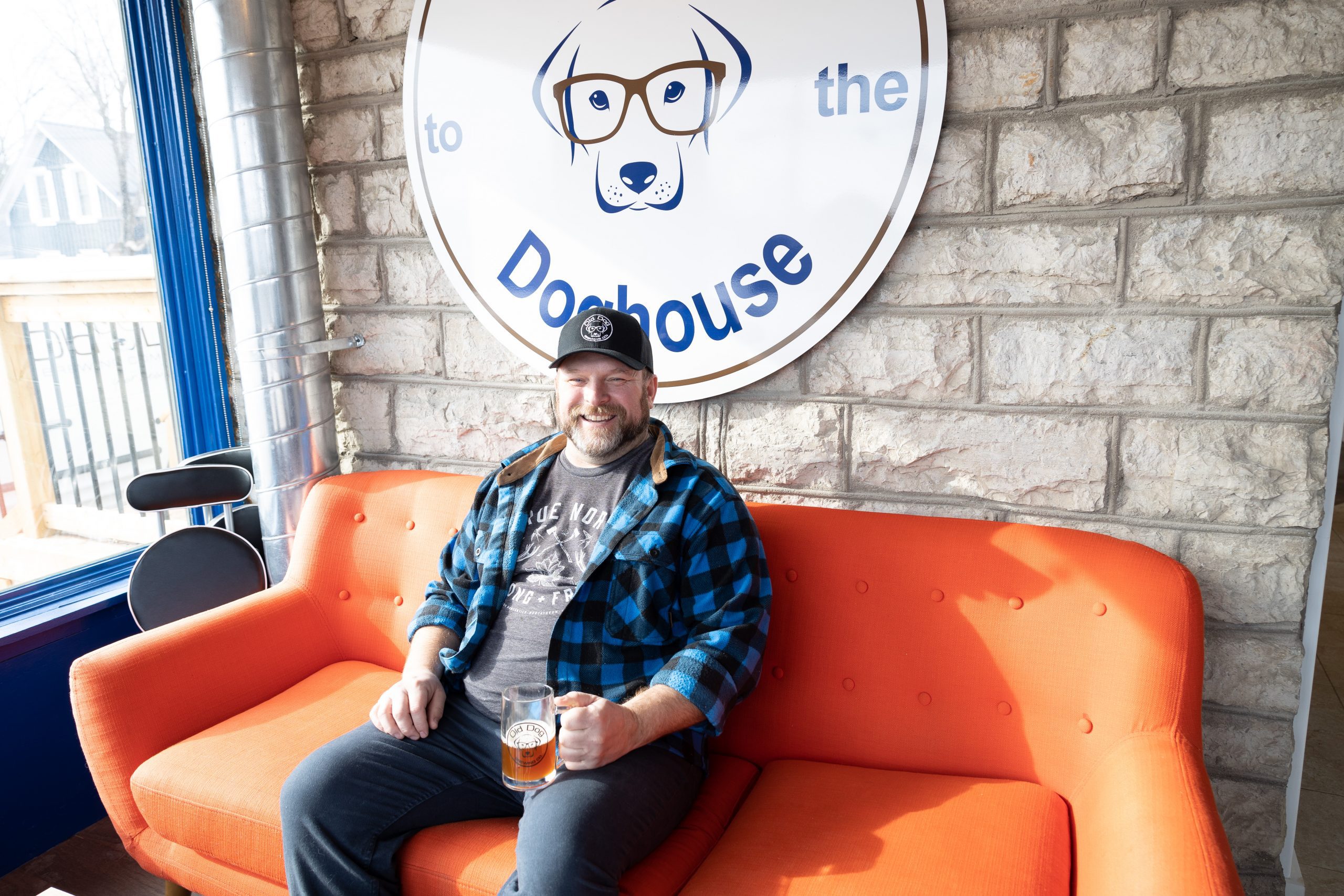 Scott brews twice a week and is always experimenting. He currently offers nine cans at any given time, including a few seasonals. His Yellow Lab Lager, Single Malt Scottie and Mad Dog APA are available year round, but smaller batches like the Chihuahua Mexican Lager or Honey Hound Cream Ale can be found in the fridge too. Specials like our current obsession, the Puppy Love Cinnamon Ale, are offered on tap and in flights.
The brewery doesn't offer food, but locals have a secret. They order gourmet grilled cheeses from the shop across the street for delivery to enjoy on the sunny patio, or inside in one of the cozy tasting nooks. The Grilled Cheese Hideaway opened not long before the brewery and the two businesses have been teaming up ever since.
"I know people are all about their grilled cheeses, but they make the best soup in the Kawarthas. The tomato is my favorite, but honestly – they're all good" says Nichol, who jokes about eating there at least once a week.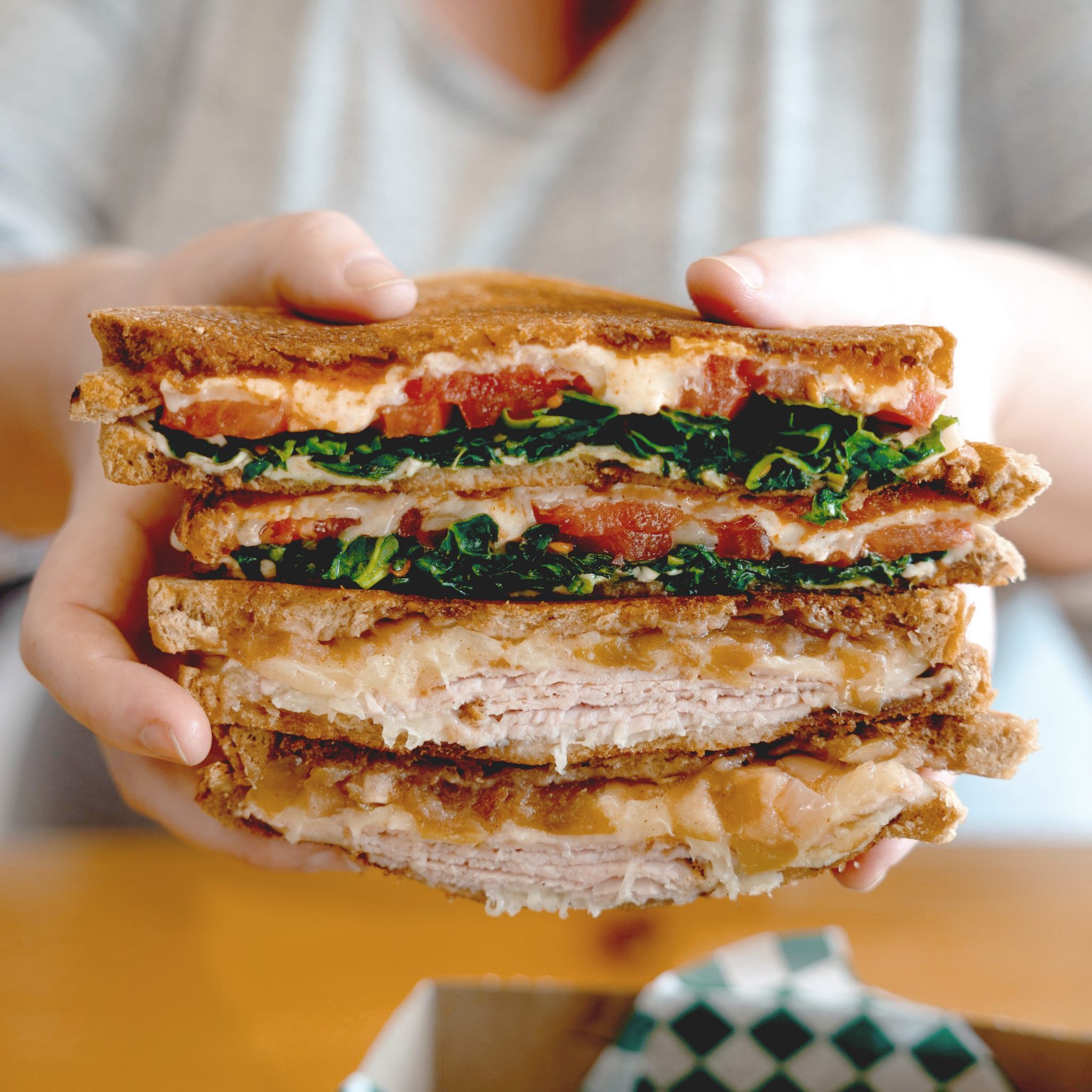 On the menu you'll find all sorts of creative takes on Ontario's favorite sandwich.  Rotating specials including creations like the Pineapple Express featuring cheddar, mozzarella, peameal and pineapple chutney; and the Whip It Good which boasts whipped blue cheese, havarti, pears, toasted walnuts and spicy honey. The permanent menu includes local favorites like the Ragin' Caygeon with mozzarella, chilli flakes, pesto, spinach, tomato and sriracha; and the Great Northern with old cheddar, maple dijon roasted peameal and house made apple chutney (both pictured above).
Old Dog Brewing Co. is open seven days a week. The Grilled Cheese Hideaway is closed Sunday and Monday and operates at lunch hour. We suggest grabbing a stack of sandwiches, ordering a flight and taking in that famous Bobcaygeon hospitality from the patio at the brewery.
---
LOOKING FOR MORE SWEET TASTES OF SPRING IN KAWARTHAS NORTHUMBERLAND?
This content was created with support from Kawarthas Northumberland. For more ways to eat, stay and play in Kawarthas Northumberland, visit: kawarthasnorthumberland.ca. Follow @PerfectWknds on Facebook, Instagram and Twitter.