The Guelph.Beer Bus is a free city bus that takes visitors to five different Guelph-based breweries. It runs on select Saturdays and makes for a great outing with friends!
We recently hit the road for a day with the Guelph.Beer Bus and well…we ate and drank a lot of good stuff. Obviously, we had to tell you about it.
7 Tastes of the Guelph.Beer Bus
Here's our rundown of the best things we ate and drank during our time exploring Guelph's epic brewery scene.
1.    The Chorizo Mussel and Frites at Royal City Brewing Company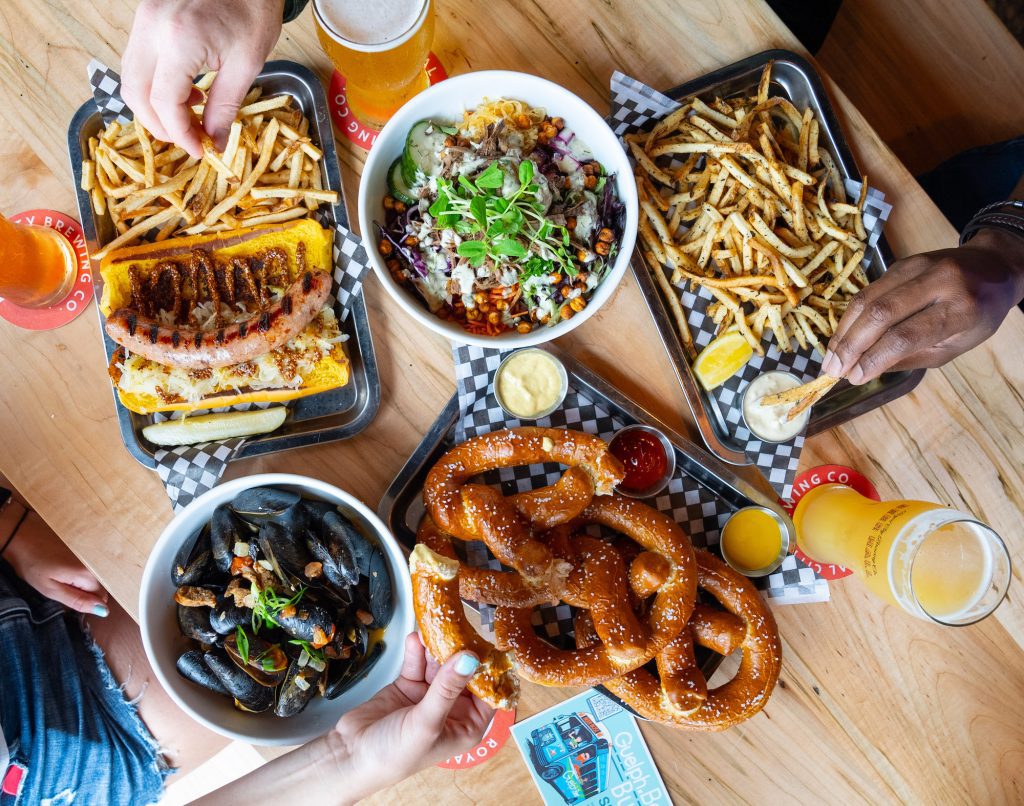 Fancy a trip to Belgium without leaving the province? You're in luck. The Chorizo Mussels and Fries (or moules frites if you're fancy like that) at Royal City Brewing is an edgy twist on this classic dish.
These pan-steamed mussels come piping hot to the table and you won't believe the aroma that pops off them when you remove the cover. Mixed in with savoury ground chorizo, peppers, onions and a light broth…wow we're hungry now.
Of course, the classic pairing for mussels is a side of fries. These ones come fairly thin with a crispy exterior and a fluffy interior. If you're feeling a little extra (we love that for you), swap them out for the brewery's well-known duck fat fries.
Trust us, you'll thank us later.
Hot Tip: We found it really hard to just pick one dish. Soooo if we had to pick two from here, we'd recommend a DIY sausage off the menu.
2.    Queen of Craft IPA at Wellington Brewing Company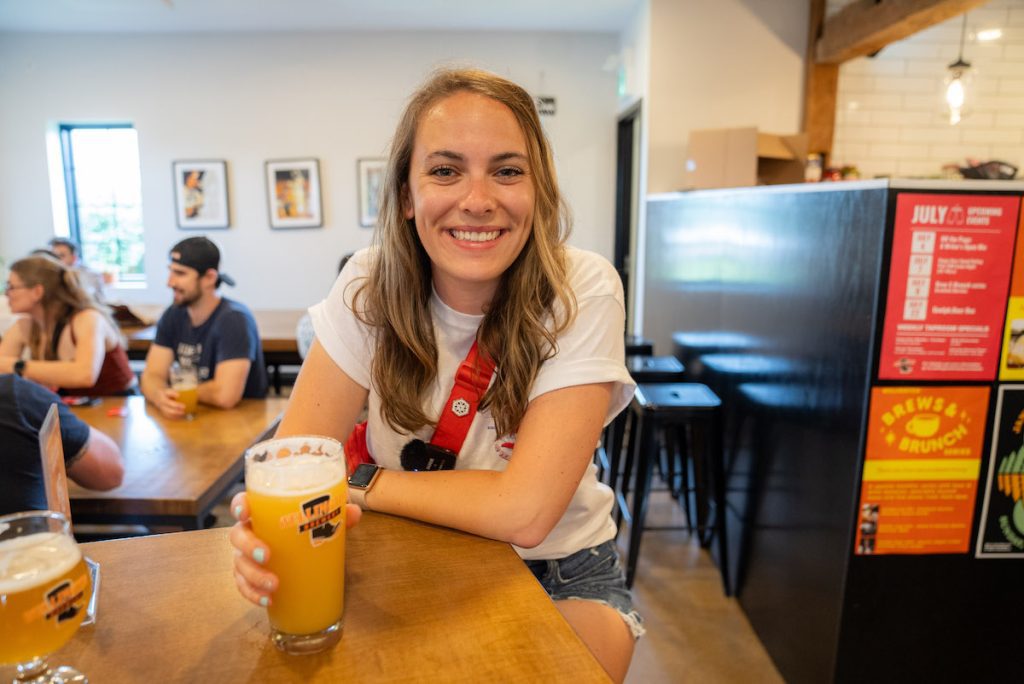 Alright, we'll admit it. We really love this beer and we talk about it a lot (just ask our friends). Not only is it juicy as heck with its notes of mandarin orange and grapefruit but it raises money for an awesome cause.
Wellington Brewing Company has been brewing this beer for ten years and 25 cents from each can goes to the Guelph-Wellington Women in Crisis. They have raised over $80,000!
To boot, a different local artist designs the label each year so you can feel good drinking this one for sure.
3.    Tandem Helles Lager at Brothers Brewing Company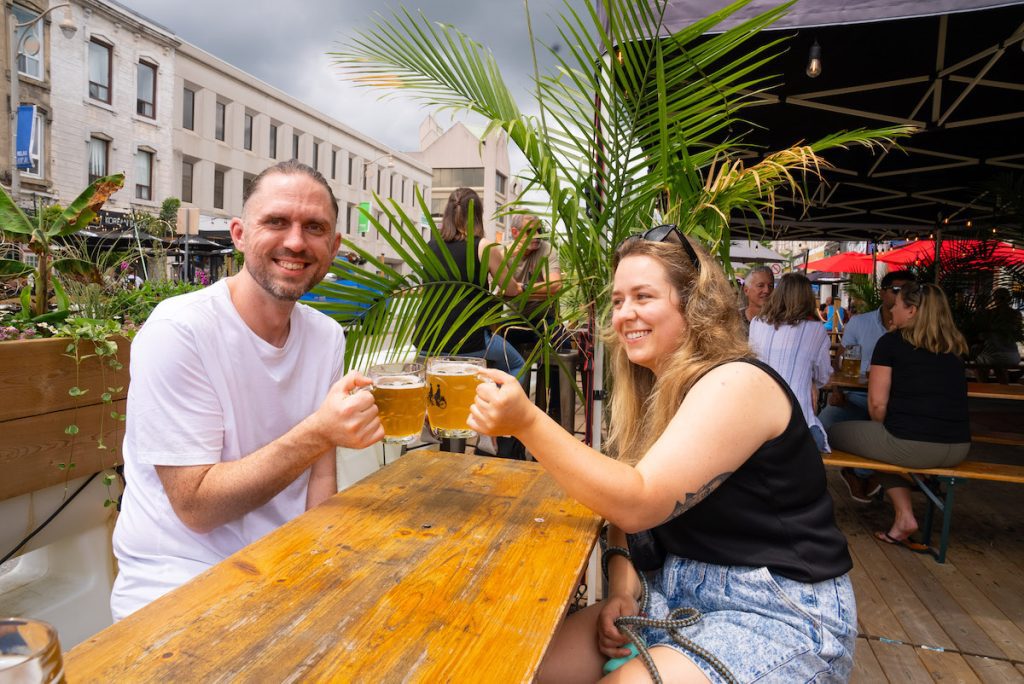 Who doesn't love a tandem bike? Well even if that's you, we think you'll love riding this beer from Brothers Brewing Company straight down the ol' gullet.
This malt-forward lager is clean and easy-drinking, perfect for a hot summer day. Crushable and easy-going, this beer is brewed in the Munich-style and is always on tap. Cheers to that!
Hot tip: Even if you aren't into beer, there is still lots to discover on this Guelph.Beer Bus route! At Brothers Brewing, we loved their Moscow Mules on tap but loads of breweries also carry hop water and other non-alch options.
4.    Card in the Spokes Pizza at Fixed Gear Brewing Company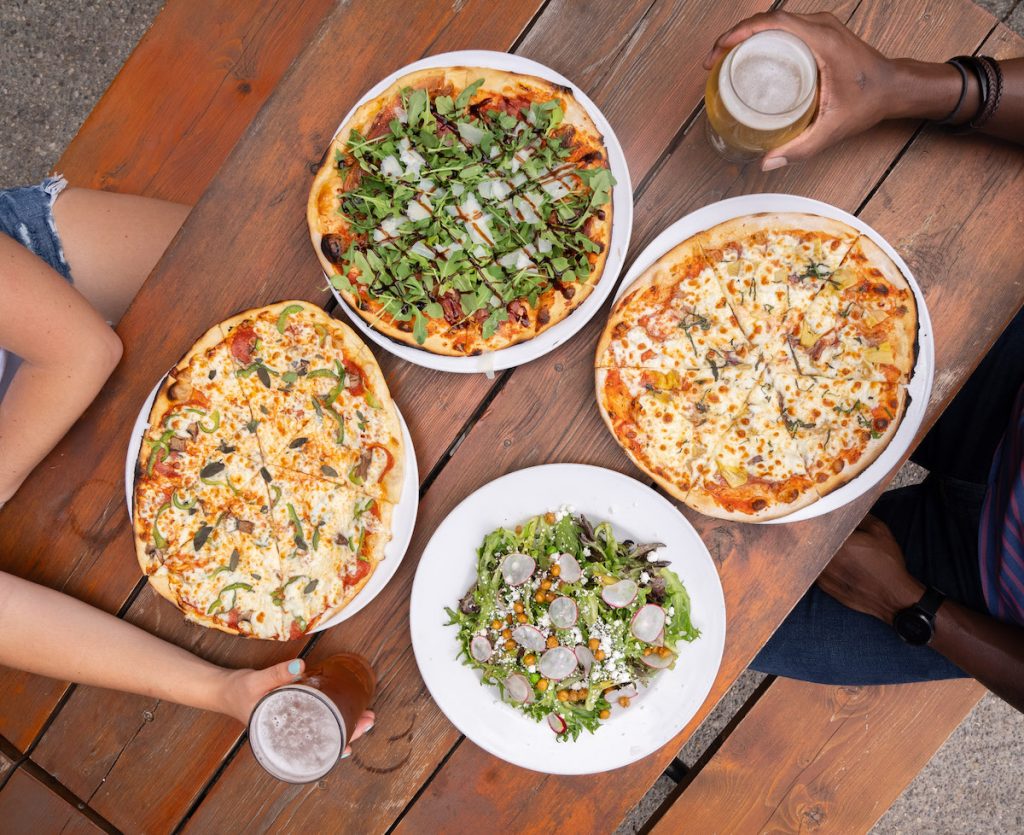 In our eyes, a good 'za is really the key to happiness and when you pair it up with a nice beer on a patio…what more could you ask for? More beer, that's what.
The Card in the Spokes pizza came recommended to us from the folks at Fixed Gear and for good reason. This pizza has your standard sauce and mozza cheese base, but then it's piled with grilled pineapple and prosciutto.
THEN, the whole thing is topped off with fresh mint and drizzled with hot honey for a delightful bite each and every time!
5.    The Original Lager from Sleeman's Brewery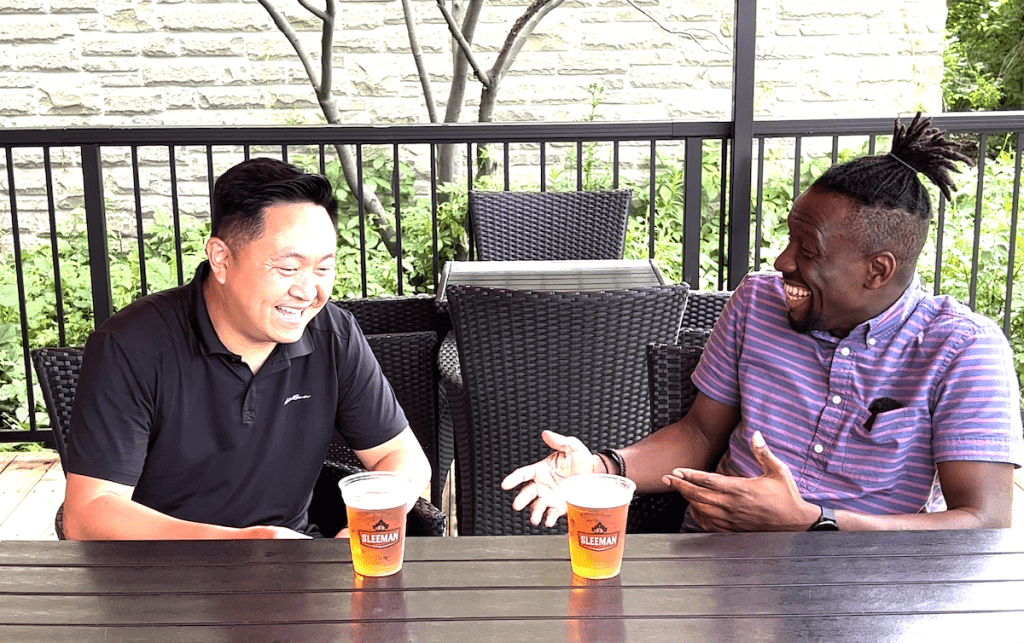 Chances are you've had this brew more than once over the years! The original lager from Sleeman's Brewery is a classic at Canadian cottages every summer.
Golden in colour with a floral, hoppy aroma and a refreshing aftertaste, it's a great one to enjoy right at this charming and historic brewery.
6.    Exhibition Session IPA from Royal City Brewing Company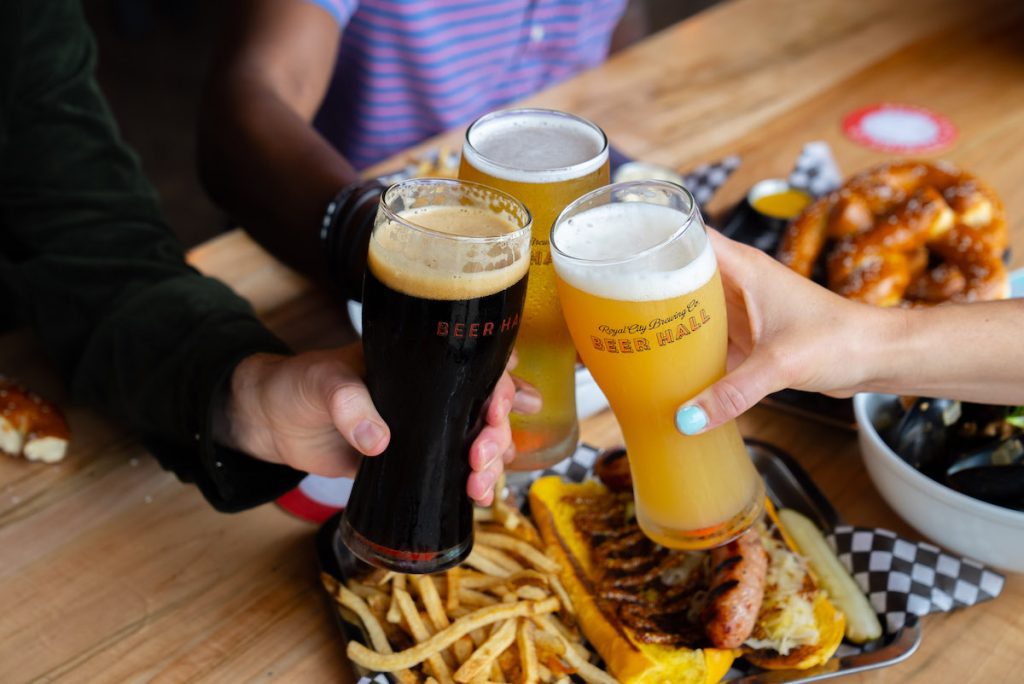 As far as IPAs go, The Exhibition Session IPA is actually pretty easy drinking for regulars to IPAs and non-regs alike! With a refreshing bitterness made from Citra and Amarillo Hops, this one is a fav among brew staff and for good reason.
We know IPAs are a dime a dozen but trust us, you need to try this one. This award-winning beer has won the gold medal at the 2019 and 2021 Ontario Brewing Awards as well as the gold medal at the 2019 Canadian Brewing Awards! Most recently it also won bronze at the 2022 Canada Beer Cup. So even if you aren't from the area, this is worth the drive (but for the record you can also buy it online).
7.    The Beet Dip at Wellington Brewery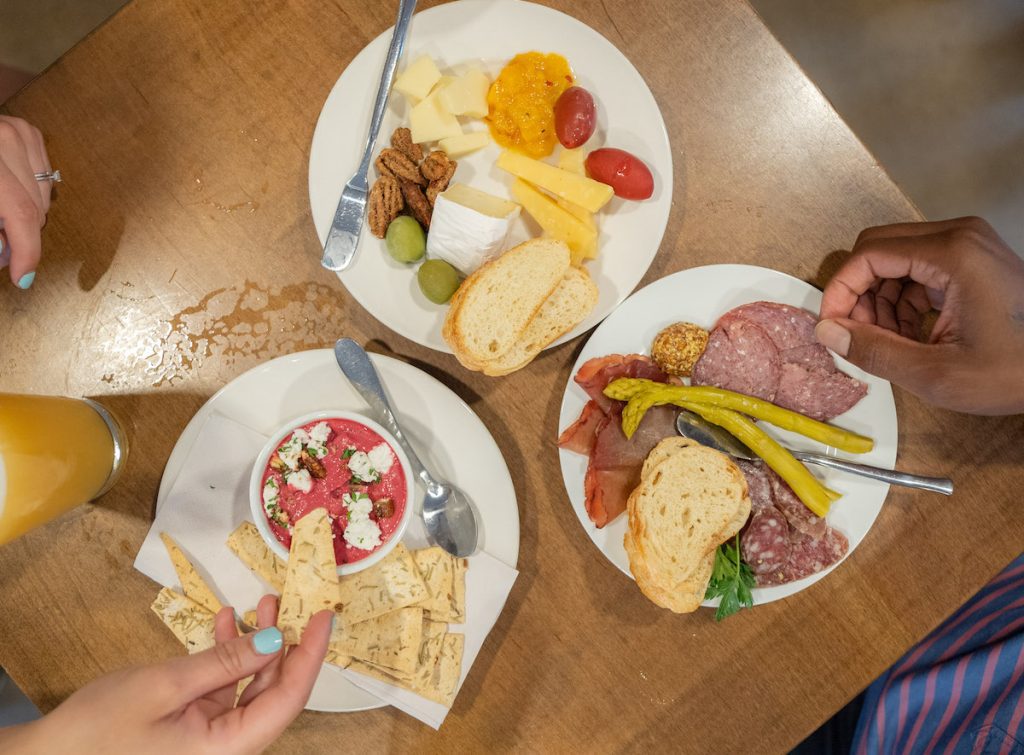 Full of what we'd call "nibblies", the menu at Wellington Brewery is great for a light snack paired up with their beers.
Their beet dip with pecans and goat cheese is the perfect alternative to your average veggie tray. The dip is HOT PINK and oh so tasty with a mix of roasted beets, garlic, yogurt, zaatar and crumbled pecans on top. Served with some lovely herb crackers, we think you'll agree it's an awesome snackaroo (which, if anyone asks, is the technical term).
Enjoy the Guelph.Beer Bus
Well, there you have it! Seven things you should not miss when you tour Guelph on the Guelph.Beer Bus. Of course, there are plenty more so be sure to check them out for yourself.
Want to know more? Check out our recent blog about the bus and breweries.