Craft beer lovers will fall head over heels for the Guelph.Beer Bus – a free city bus that takes you to five different Guelph breweries for free on select Saturdays.
Discover the Guelph.Beer Bus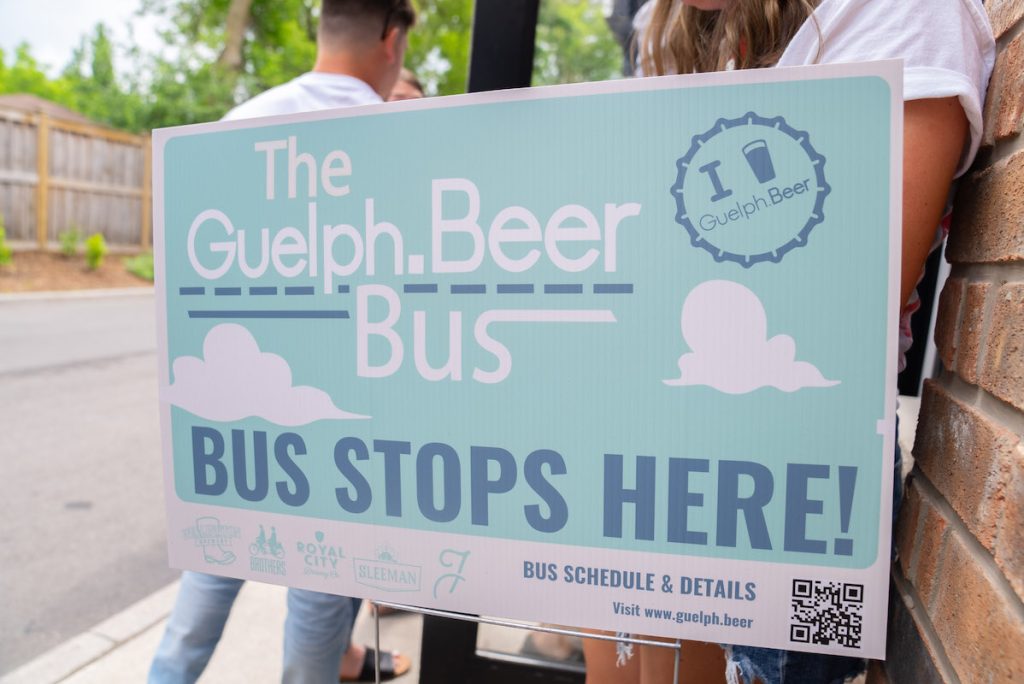 The Guelph.Beer Bus started as a partnership between five local breweries that make up the Guelph.Beer Association. This group decided that rather than competing, they'd work together to make Guelph a craft brew destination worth visiting.
Enter stage left, the Guelph.Beer Bus!
The Guelph.Beer Bus runs on select Saturdays (see the full calendar) and brings you to all five breweries: Royal City Brewing Co., Sleeman, Brothers Brewing, Fixed Gear and Wellington Brewery.
Just hop on the bus during its run time (the bus runs from 12-6 pm) and you're golden! Each bus also has a bus monitor so your chances of getting to talk to the different brewery owners is actually quite high!
The coolest part though? This ride gives you a chance to see a huge range of breweries. You'll experience a nano brewery (Brothers Brewing) specializing in loads of unique varietals as well as mid-range craft breweries like Wellington, Fixed Gear and Royal City.
Finally, checking out Sleeman Brewery gives you the chance to check out Canada's third largest national brewer. The fact that they're all working together is pretty cool if you ask us.
Read on to learn more about the breweries.
Stop 1: Royal City Brewing Company
Where: 199 Victoria Rd S, Guelph, ON. (View Map)
We love: Their Community Collabs and Mussels
You'll find Royal City Brewing Co. in an unassuming plaza on the outskirts of Guelph. Step inside though, and you're greeted with a warm and welcoming beer hall vibe.
Royal City Brewing opened in 2013 as a small bottle shop with limited seating but this past November, a brand-new beer hall was installed as well as a full-on restaurant.
Owned by two friends: Cameron Fryer and Russel Bateman this stop specializes in a huge range of interesting beers. Among them are a smoked honey ale they've become known for using Tuckamore Honey and a rotating selection of community collab beers that raise money for great causes in the area.
This month, the Community Collab beer is a blonde ale. Fifty cents from each can goes toward the BIPOC Outdoor Gear Library which is a community-based lending library focused on making the outdoors accessible for racialized communities.
Of course, we'd be remiss if we didn't chat about the food. Inspired by Belgian and German foodways, the menu is not to be missed!
You'll find brewery staples like soft pretzels and a fried chicken sandwich alongside less expected items like their pan-steamed mussels with chorizo, a DIY sausage menu and duck-fat fries…DROOL. We'll definitely be back for more.
Stop 2: Sleeman Brewery
Where: 551 Clair Rd W, Guelph, ON. (View Map)
We love: Learning the history of this brewery
Definitely the biggest player in the Guelph.Beer Bus game, Sleeman Brewery has a history in Guelph that dates all the way back to 1834!
A visit here allows you not only to enjoy some classic pints or a flight on the patio but also to see and learn about the fascinating history of Canada's third-largest national brewer.
Learn about Sleeman Brewery during the prohibition era, see some fascinating artifacts and then kick back to just enjoy.
Stop 3: Brothers Brewing
Where: 15 Wyndham St N Unit A, Guelph, ON.  (View Map)
We love: The selection of unique one-off brews and seltzers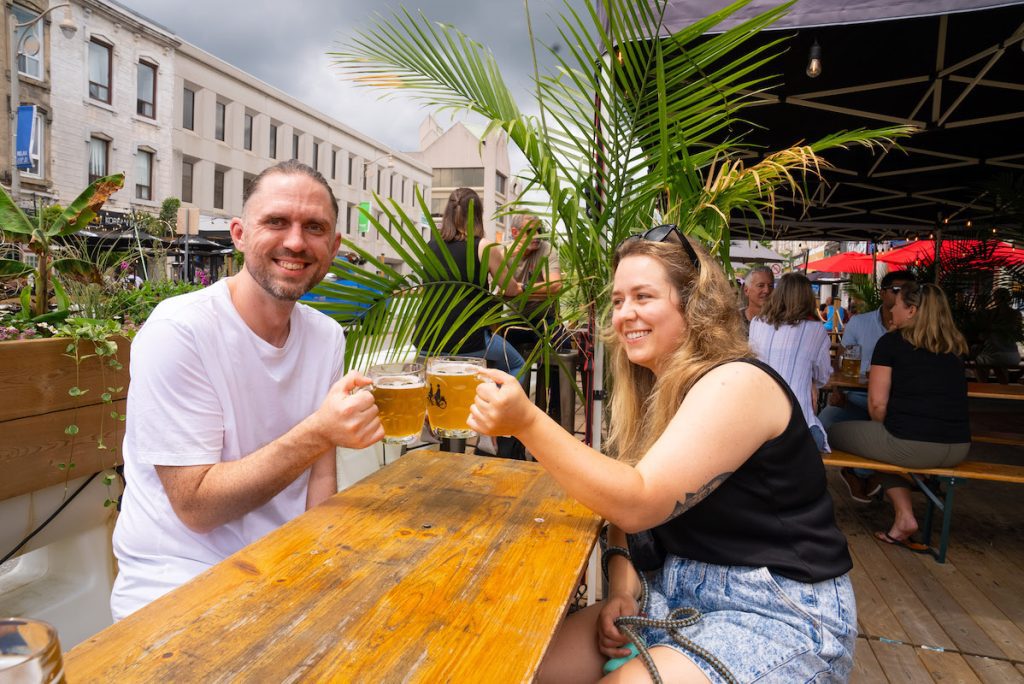 From the largest to the smallest, the next stop is Brothers Brewing in downtown Guelph! Started by twin brothers, Asa and Colton, this brewery was actually dreamt up by the pair in a high school business class.
Fast forward to 2015, the brothers met up with Michael Bevan and brought him on board to launch the bricks and mortar brewery! Let us tell you- it's a VIBE.
Visiting on a beautiful Saturday afternoon, you'll find a packed patio and great indoor seating too (think industrial but with beautiful rugs and art on the wall to give warmth to the space) full of folks enjoying a few pints and kicking back over a board game.
Trust us though, you want to start by heading up to the bar to check out their selection! Changing all the time, there's always a new reason to go back.
The day we went, there were loads of unique drinks on offer including an elderberry berliner weisse and cucumber guava baby pale ale.
For those who don't love beer, there are also some pretty delicious seltzers to try! Right now those include a ginger mule hard craft seltzer and a juniper grapefruit and açai hard craft seltzer- yum!
Stop 4: Fixed Gear Brewing Company
Where: 5 Edinburgh Rd S, Guelph, ON. (View Map)
Hot tip: If this location is packed when you go, just walk up the block to their second location!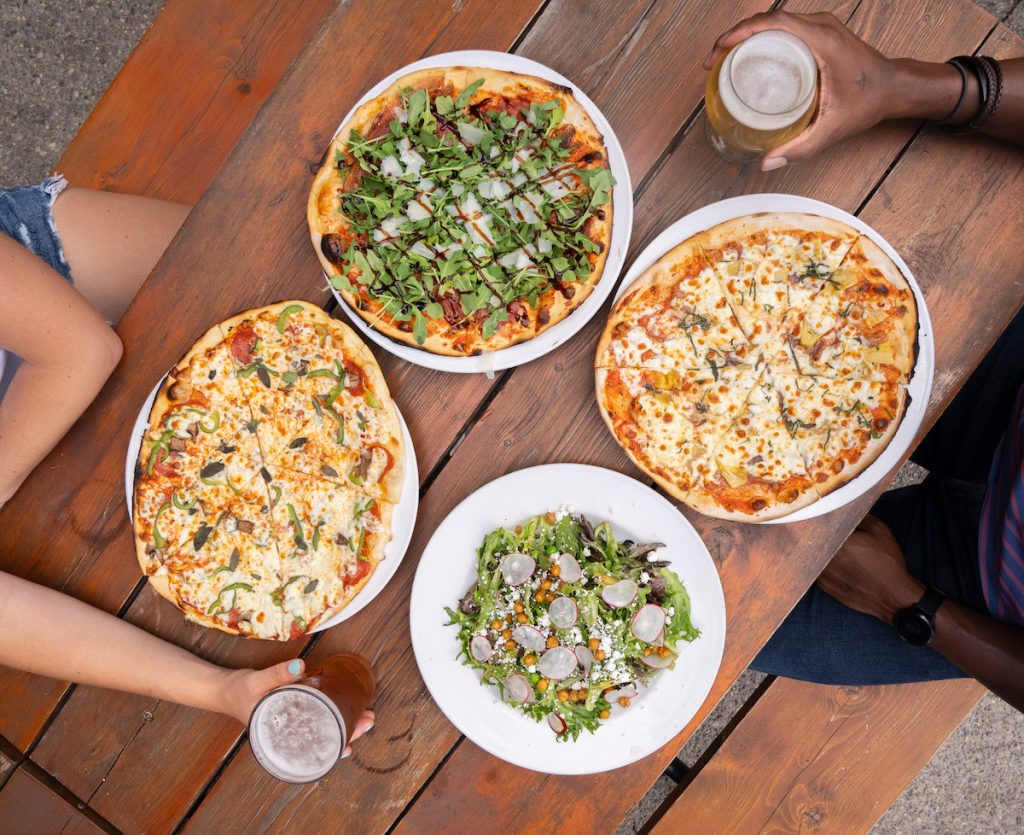 Fixed Gear is a brewery inspired by Guelph's avid cycling community! A great place to grab a pint and a pizza after a long ride (or just whenever you feel like it), Fixed Gear creates a number of flagship brews and a couple rotating ones as well.
Not sure what to get? We recommend checking out a classic- the Peleton German Pilsner- for something light and refreshing or if you're looking for something a little punchier give the Cherry Training Wheels Sour a spin.
Of course, the goodness here doesn't end at the beer. They're also known for their wood-fired 'za. Watch as it's made right before your eyes at the bar or grab a table outside on the patio on a beautiful day.
The pizza menu boasts everything from simple classics like the Smooth Sailing Margherita Pizza to our personal fav, the Card in the Spokes Pizza which features classic sauce, mozza, grilled pineapple and prosciutto and is topped with mint and spicy honey.
Stop 5: Wellington Brewery
Where: 950 Woodlawn Rd W, Guelph, ON. (View Map)
We love: How this brewery puts their values front and centre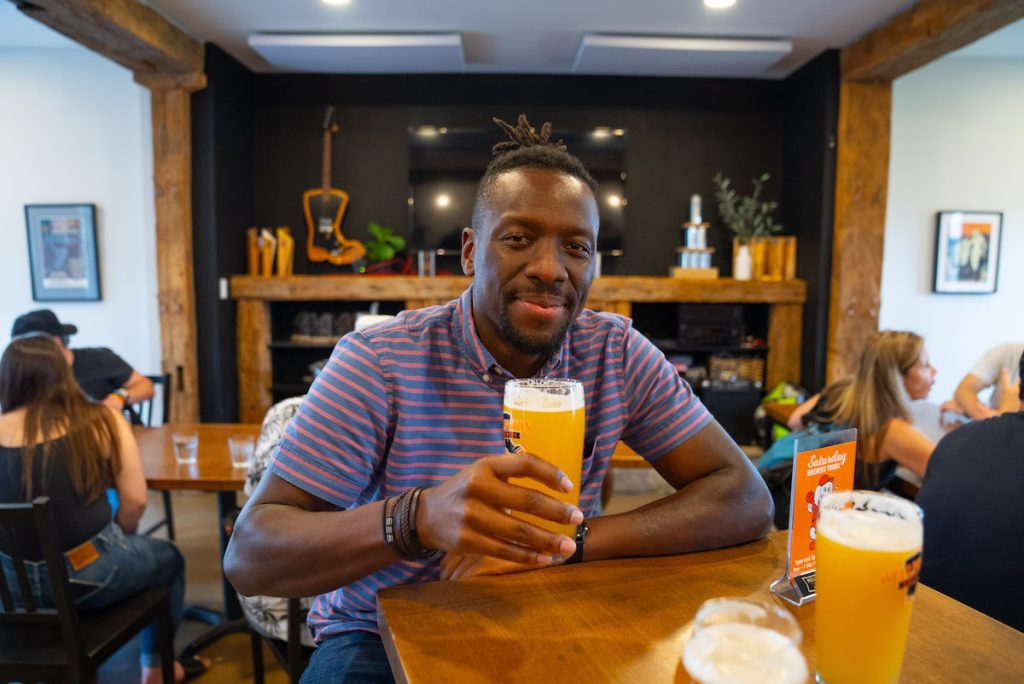 Last but certainly not least, Wellington Brewery is a spot that puts their values front and centre and backs it all up with some delicious beers. One of Ontario's OG craft breweries, Wellington Brewery has been making delicious craft brews at the same location in Guleph since 1985!
Newly Feast On® certified (hey-o!) you can feel good knowing that their beer and snacks support local farmers and food producers in the Guelph-Wellington area.
Head into the bottle shop to check out several of their beers to go as well as some merch and then grab a table. You can choose to sit out on the patio, in the tap room or even at one of a few tables in the brewery itself!
Let's talk beer. Wellington Brewery has a solid line up of flagship beers that they do really, really well. Their Helles Lager is beloved by many a beer drinker and the County Brown ale, offering notes of roasted malt, nut and toffee has been made since the brewery's inception!
Our fav beer by Wellington Brewery, however, is the Queen of Craft IPA. Created by women for women, this Queen of Craft beer gives 25 cents from each can to Guelph-Wellington Women in Crisis. Over its history, over $80,000 has been raised! Plus…it's delicious.
A Day Well Spent
We hope you enjoy your day on the Guelph.Beer Bus! Whether you're travelling as a family, a couple, a pack of friends or solo- you're sure to meet great people, enjoy great beer and eat some tasty treats along the way too!
While you're riding, there are also donation boxes that go towards the Guelph.Beer scholarship fund. These proceeds go towards a scholarship for BIPOC students to attend Niagara College's Brewing Program! Consider donating.
Please remember to plan ahead for a safe ride home afterwards. Be safe and have fun!