With his nine-course tasting menu at Naagan, Owen Sound-based chef Zach Keeshig is creating a one-of-a-kind Indigenous culinary experience.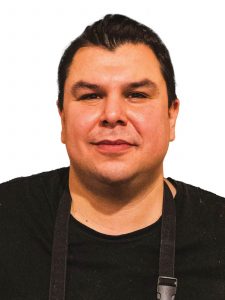 There is a sacred cultural rebirth afoot in Owen Sound. That's where chef Zach Keeshig has been running Naagan, a Feast On Certified weekly pop-up dinner series nestled in the heart of the city's historical farmers market, for the past eight years.
On the surface, Naagan, which is named after the Ojibwe word for dish, is an inventive and adventurous nine-course meal featuring dishes like a wild rice cracker topped with smoked duck, wild elderberry powder and fried wild rice; pork loin rolled in dehydrated and powder oyster mushrooms; or, for dessert, a mini ice cream bar filled with duck egg custard.
But its purpose goes deeper. Keeshig launched the pop-up both as a way to share his Ojibwe culture with curious diners, and as an ongoing culinary experiment education for himself and his team.
"We want to be at the forefront, showing people how to use things that are coming off the land. We are big advocates of Aboriginal cuisine, because there isn't much out there," Keeshig says. "When we bring dishes out to our customers, we're telling them what's in our cuisine, and an educational story about what herbs are in there. [For example], with our sweetgrass ice cream, we tell them it's one of our medicinal herbs. We source that locally as well."
Keeshig began his culinary education at Georgian College, then went on to apprentice with executive chef Tim Johnston of Sweetwater Restaurant and Bar at Cobble Beach Golf Resort near Owen Sound. From there, he worked at Michael Stadtlander's legendary Eigensinn Farm and Langdon Hall in Cambridge, Ont. Knowing he wanted to combine his culinary skills with his cultural heritage, he then began building Naagan.
"We're learning the techniques that I've learned in a professional kitchen atmosphere, and we're getting back to the land – we're foraging, we're sourcing our ingredients straight from the ground, from local purveyors around here. And whatever we can't source or forage, we grow ourselves," he says.
The menu changes seasonally in tune with Mother Earth's offerings and revolves around the belief that Ojibwe people have a sacred relationship with Mother Earth that permeates through to modern day. This relationship is honoured through Keeshig's delectable offerings, which are 90-per-cent sourced locally, if not actually foraged.
"Our signature dish on the menu that's always evolving is the wood-fired bannock, house-smoked lake fish and quark made from Saugeen yogurt with pureed stinging nettle. We are always trying to be innovative with the products that we forage or source; to be as local as possible," Keeshig says.
But it's not just about the meals he serves during the weekly pop-up dinner. Community engagement and education are also important to Keeshig; so, he seeks to go beyond the restaurant by hosting foraging walks, where he instructs attendees in the fine art of searching for delicious wild-grown ingredients, from blueberries to mint. In the future, he wants to go even further, building Indigenous culinary internships with the help of trusted suppliers and offering other educational programming around food, flavours and the medicinal benefits of different ingredients.
"It's not just a dining experience," he says. "I've always been a big believer in giving back my knowledge, so now we're able to reach out to schools and educate youth and give them an idea of what progressive Aboriginal cuisine looks like."
---
Five more Indigenous food and tourism businesses to explore
THRIVE TOURS (Sault Ste. Marie)
thrivetours.ca
This tour company offers eco cultural tours where guests can hear stories and teachings, and learn about Indigenous food gathering and preparation techniques. This summer, opt for tours focused on bushcraft, canoeing, kayaking, hiking, camping and, new for 2022, learning how to powwow.
MĀDAHÒKÌ FARM (Ottawa)
indigenous-experiences.ca/madahoki-farm
Ottawa's Mādahòkì Farm engages all ages and all communities through a food-based Indigenous agricultural program. Its signature event is the Summer Solstice Indigenous Festival, known nationally for its vibrant culture and artisan showcase.
ANISHINAABE WILD RICE EXPERIENCE (Thunder Bay)
wildriceexperience.com
This Indigenous rice farm seeks to intimately connect visitors with the experience of growing wild rice, or manomin. During the two-day experience, learn how to harvest the rice from a canoe, then take part in the drying, cleaning, thrashing and roasting process.
MANITOULIN BREWING COMPANY (Little Current)
manitoulinbrewing.co
This popular Indigenous-owned brewery isn't just the place to go for its award-winning brews, including popular Swing Bridge and Bridal Veil pale ales. It's also helping visitors get the whole Manitoulin Island experience with a new app that points them toward the most delicious things to do and see in the area.
RESTAURANT AT KAY-NAH-CHI-WAH-NUNG HISTORIC CENTRE (Stratton)
manitoumounds.com
Come to "the Place of the Long Rapids" and experience a truly Anishinaabe menu that features wild rice, bannock, walleye and other delicacies celebrated across Northern Ontario.