Whether you're looking to entertain or fix yourself a little snack plate, cured meats make for a quick, easy and delicious option. These restaurants and purveyors in Ontario make their own cured meat that you can order online for delivery or curbside pick-up.
---
King Cole Ducks
Stoufville, ON
For almost 70 years, this fourth-generation farm in Stoufville has been raising free-run ducks using time-honored, natural farming practices. The level of care and attention that goes into raising these birds is evident in King Coles' exceptional duck and duck products.
Their smoked duck breast is a must-try. Made from premium grade boneless duck breast and smoked using Canadian rock maple for just the right hint of smokiness, it's the perfect cured meat to add a little variety to your next charcuterie board. If you happen to visit their farm and retail store in Stoufville, be sure to pick up some duck sausage, it comes roasted in a maple or orange glaze and is perfect for Sunday brunch or a summer BBQ.
Where to buy: you can buy directly from the Farm store located in Stoufville or order online through their website for curbside pick-up. King Cole duck products are also sold at these grocery stores.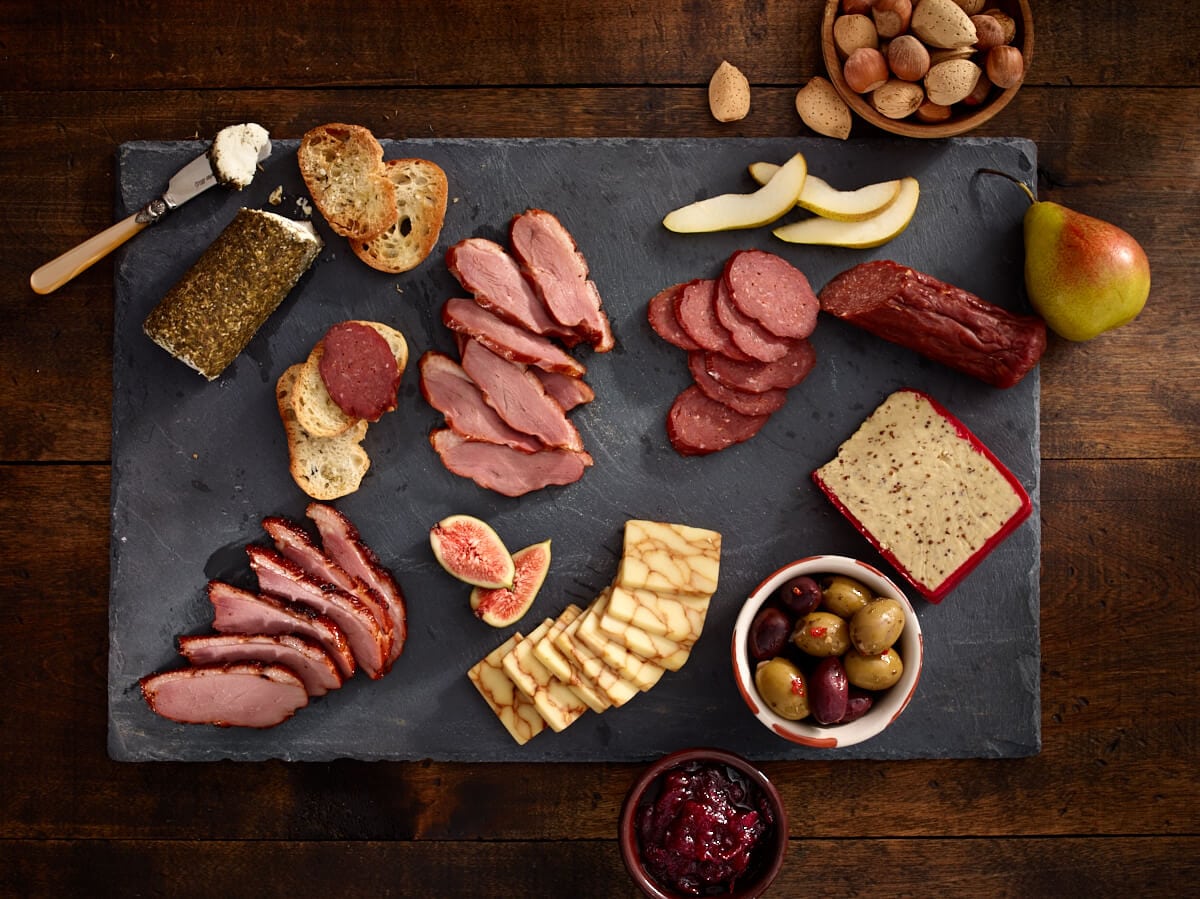 ---
Sanagan's Meat Locker
Toronto, ON
Sanagan's specializes in high quality meats and poultry that's sourced entirely from small, local family farms in Ontario. From dry aged beef, heritage pork and Dorset lamb, to air chilled chicken and game meats, this beloved butcher shop in Toronto has it all!
They also make their own charcuterie following European traditions and recipes, so you can get your pâtés, terrines, salamis, and cured carpaccio all in one place. Besides the top-rated meat and poultry, and house-made charcuterie, what's great about Sanagan's is their warm and friendly service.
Where to buy: Sanagan's butcher shops located in Kensington Market and Gerrard India Bazaar in East Toronto, or order online for pick-up or delivery within the GTA and surrounding areas.
View this post on Instagram
---
Richmond Station
Toronto, ON
Richmond Station's house-made cured meat comes in a take-out charcuterie & cheese box complete with mustard, pickles, buckwheat crackers & preserves and makes for a perfect "snack dinner"!
Where to buy: order online for delivery or contactless pick-up.
View this post on Instagram
---
Kitchen Kuttings
St. Jacobs, ON
Located in the heart of Elmira Ontario, Kitchen Kuttings is a specialty food store offering an array of homemade jams, pickles, preserves, local cheeses, and sweet treats.  They also carry an impressive selection of deli meats, which includes their famous summer sausage. Created from an old-fashioned, family recipe, this unique sausage which is similar to salami, is made using the finest Ontario beef and Canadian pork. It's then smoked with maple and hickory wood and cured in a canvas casing, allowing for an extremely long shelf life, making it easy to ship, store and travel with.
Where to buy: buy directly from the store located in Elmira, or order online for delivery across Canada. You'll also find their products at the St. Jacobs Farmers' Market in St. Jacobs, Waterloo.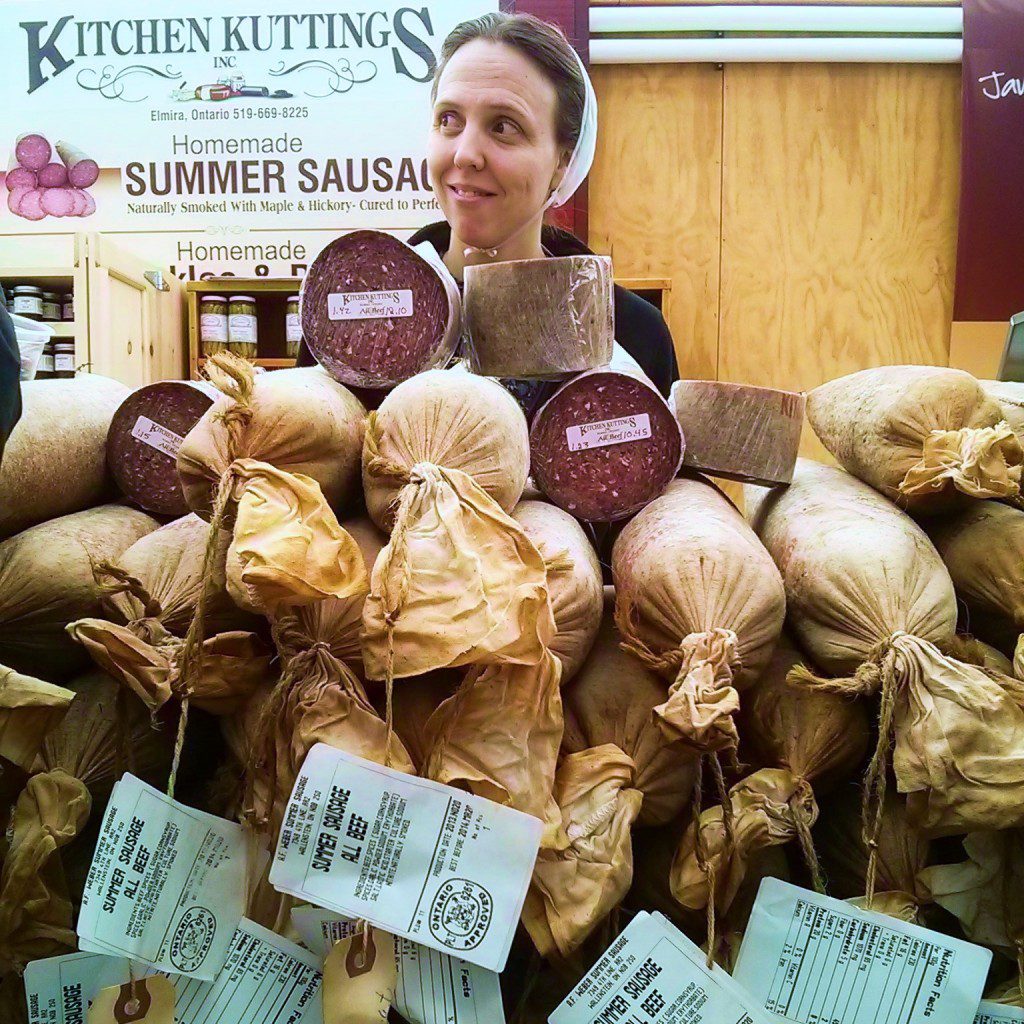 ---
VG Meats
Simcoe / Stoney Creek, ON

vgfarmtocity.ca
This local, family-owned farm has been serving Ontario families exceptional meat since the 1970s. VG Meats specializes in small herd, pasture-raised beef that's never fed antibiotics, is fully traceable and is the first tenderness tested beef in Canada. In addition to beef, they also offer local chicken, pork, turkey, chef-inspired prepared meals, and award-winning deli meats.
We love their spicy, meaty, hot pepperettes and highly addictive Blue Ribbon beef jerky.
Where to buy:  you can order VG Meat's pepperettes and beef jerky, as well as other beef and pork products online for delivery across the GTA.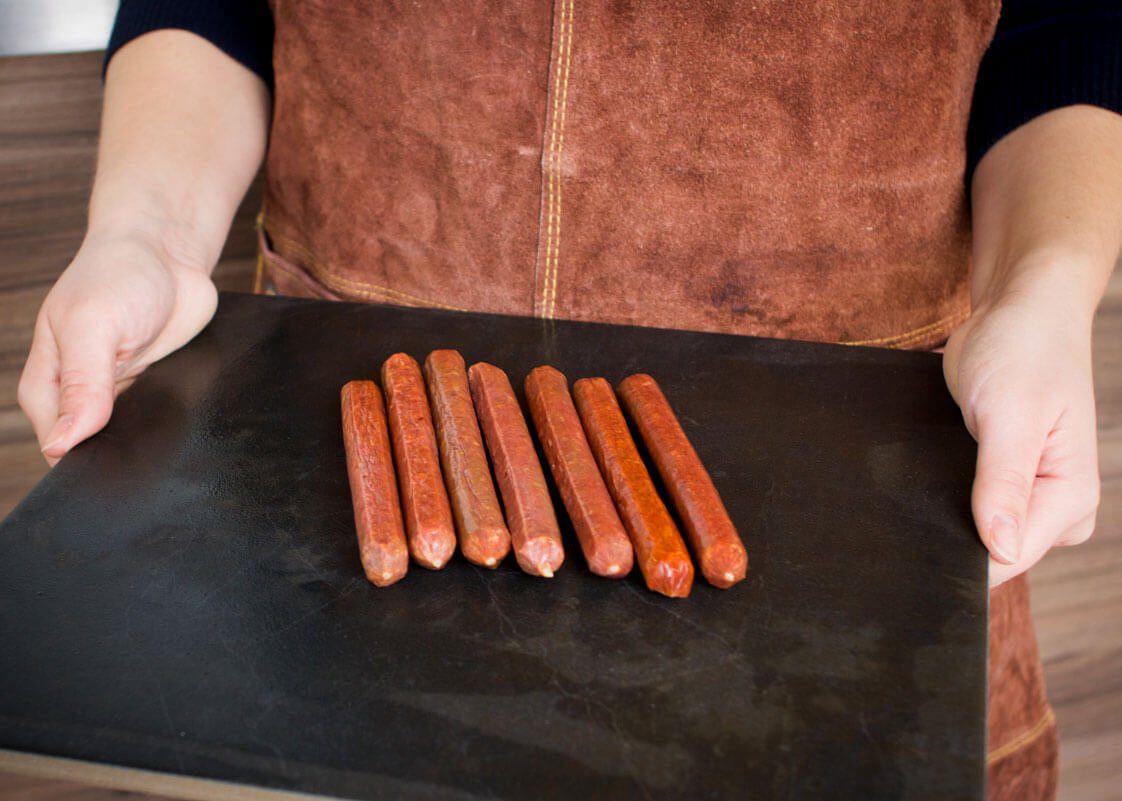 Picture Credit: VG Meats
---
La Cultura Salumi

Belleville, ON
Founder and owner, Frank Abballe has been perfecting the art of making fine Italian air-dried meats for close to thirty years. La Cultura Salumi's wonderful range of cured meats is a result of this true labour of love. Produced using artisanal Italian techniques, traditional recipes, high quality spices, local wines and the best quality local meat in a state-of-the-art facility located between Belleville and Trenton, their salumi is dry-aged using lower amounts of sodium. This process cuts the salt content by 50%, without compromising on the texture or flavour.
Besides the amazing carpaccio, culatello, bresaola and capicola, they also offer slinzega made with their own free-range water buffalo. Flavoured with salt, cinnamon, cloves, garlic, and pepper, and aged for 4-6 months, it's similar to bresaola but with a stronger flavour, and is best served thinly sliced, with a drizzle of EVOO, some crusty bread and a chilled pint.
Where to buy: they'll be launching an online-store soon, until then you can buy directly from their store located in Belleville.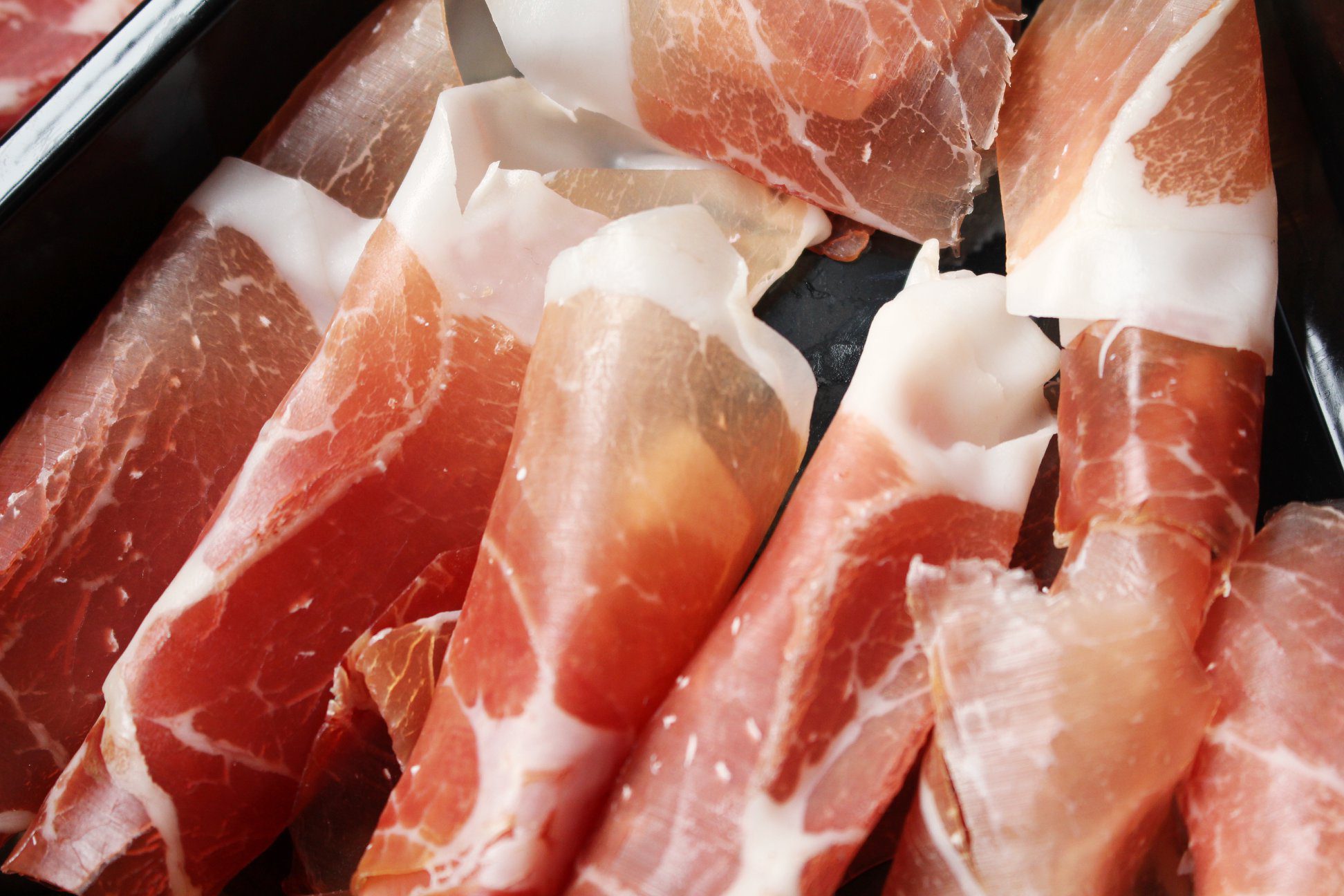 ---
Petit Brûlé
St-Eugène, ON
"Seacuterie" is a great alternative for those looking to up their charcuterie game. A fun play on the word charcuterie, seacuterie refers to smoked, cured seafood, and it's delicious!
Petit Brûlé is a smoked fish business located in St-Eugène, a small rural town on the Quebec-Ontario border, that does smoked fish right. They are known for the smoked sturgeon, but also offer other types of smoked fish such as catfish, carp and trout. The fish is responsibly sourced (they are licensed to fish Lake Sturgeon on the St-Lawrence River and many other species on the Ottawa River) and is treated and prepared with a lot of care, from the moment the fish is caught in the net , until the prepared products leave the kitchen.
Smoked fish is great as an appetizer, but it's also wonderful in dishes like salads, quiches and pasta.
Where to buy: order online for pick-up or buy directly from these locations in Almonte, Alexandria and Ottawa.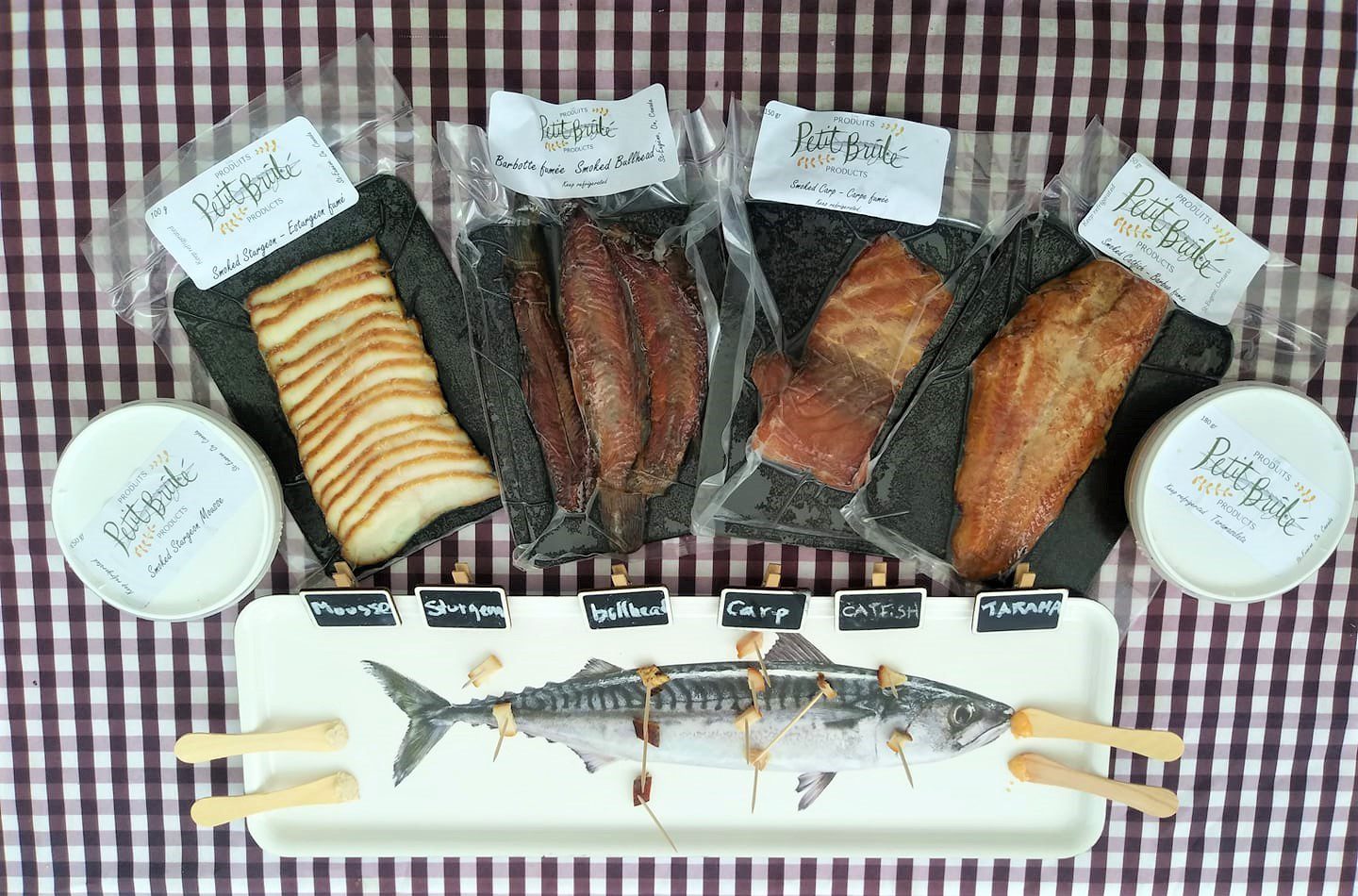 ---
HAPPY SNACKING!