Every year, around this time, my grandmother would bring out her nutcrackers to stand stoically alongside garland, lights and a bowl of unshelled mixed nuts. Red paint, silver buckles, shiny boots. I would park myself beside that bowl, cracking shells for whoever would let me, getting in trouble for not using the 'kitchen safe' nutcracker kicking around inside the bowl.
As the holiday season moves into the forefront, whether you're buying gifts to bring to parties, preparing phyllo pastries, or reaching for a savoury snack when out-and-about in the province, here are our absolute favourite Ontario grown nuts that we're going nuts over this season!
---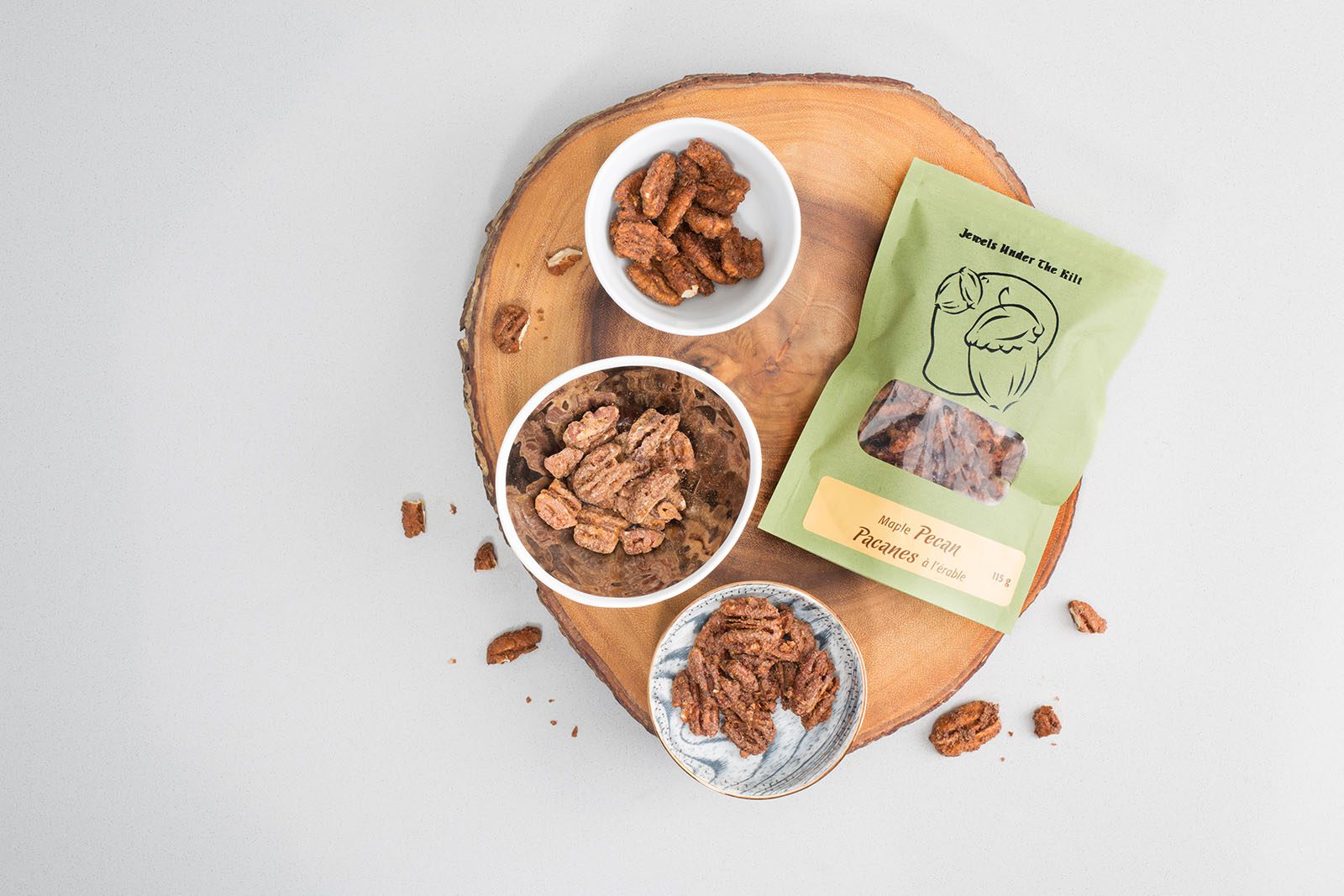 Our favorite local nuts are from Jewels Under the Kilt. Elisabeth Burrows is the woman behind these hilariously named, delicious concoctions. She's an artisan nut producer and roaster near Fergus, Ontario. Along with her husband, she grows pecans, walnuts and hazelnuts from the 100+ nut trees on their property. These nuts are then roasted with care and pride, infused with some of the most delicious savoury, sweet flavours.
In 2017, their Maple Roasted Nut was the Regional Winner in the Canadian Grand Prix New Product Award. This season, we're looking forward to trying their Spicy Caesar Walnuts . . . or maybe their Maple Hot Chocolate Hazelnut?
The next big producer of nuts here in Ontario is Grimo Nut Nursery. Ernie Grimo started his farm in 1974 in Niagara-on-the-Lake. Ernie grows over 12 varieties of nuts on his family farm, with an affection for hazelnuts and spreading knowledge of growing nut trees within his community.
For more than 40 years, the Grimo family has been breeding hazelnut varieties, with over 10,000 hazelnut seeds donated to local schools for the purpose of teaching kids about the origins of food. You can pick up a bag of Grimo Nuts at local shops in the Niagara region. We're particularly hoping to find Heartnuts for their sweet taste and heart shaped exterior.
Kernal Peanuts. Yeah, yeah. We're aware of the misnomer. Peanuts aren't actually nuts, they're legumes related to the pea family. BUT, they're thrown into the mix with their hard-shelled friends so often that we simply can't do without.
Kernal started in Norfolk County in 1982 as an alternate crop to tobacco. Thanks to the Norfolk region's sandy soil and temperate climate, things got a little nutty and turned Kernal into the largest peanut grower in Canada. Next time you're in Vittoria, checkout out their great gifts and peanut products.
And we butter not forget Picard's Peanuts. Picard's has been growing peanuts in the province for 30 years. From humble beginnings in 1979, they now produce over half-million pounds of peanuts each year. Producing a variety of roasted peanuts –as well as confectionary products and ice cream—it's worth a Sunday Drive to one of Picard's stores here in Southern Ontario.