Do something a little different on your weekly friendship zoom, try a virtual wine tasting! Wineries across Ontario are offering a myriad of unique and engaging ways to explore the diverse world of VQA wines – from the comfort of your own home.
Here's a few tastings we're looking forward to, but of course, head to winecountryontario.ca for more!
---
Unapologetic and Online
Online with Dark Horse Estate Winery
At Dark Horse Winery, they're got your virtual wine experiences covered. Take a virtual tour of the winery before tucking into the "UNAPOLOGETICALLY TASTING KIT" for one. You can grab your friends together on Zoom and taste together, or try it solo. Each kit includes samples, tasting cards, a logo tasting glass and a bottle of your choice!
---
Virtual Happy Hour
Online with Peller Estate Winery
Offered Friday and Saturday, the virtual happy hour has Peller Estates resident wine experts hop online with you for a 45-minute virtual happy hour experience from the comfort of your own home! This virtual tasting guides guests through a structured tasting of three of their fan favourites: Private Reserve Ice Cuvee Classic, Private Reserve Sauvignon Blanc and Private Reserve Meritage. While it doesn't include wine, the tasting will touches on the tasting notes, winemaking process, and some food and wine pairing suggestions for each wine. You can contact their Wine Country Concierge to arrange for wine delivery if you can't find the wines at your local LCBO.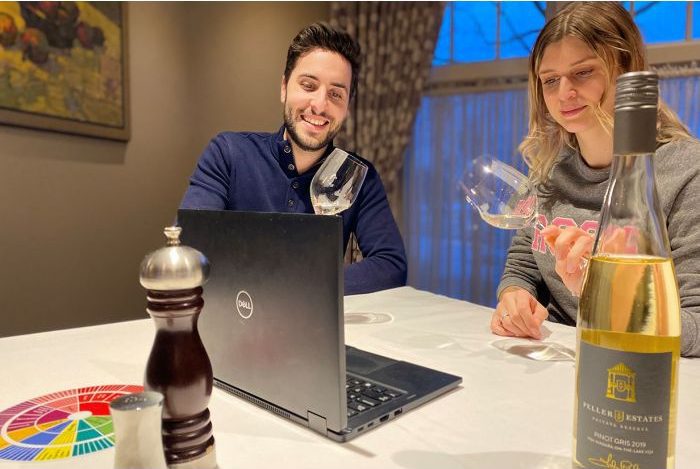 ---
An Evening with the Cheese Boutique: WINE & CHEESE COLLECTION
Online with Two Sisters Vineyards
Join us virtually on Thursday March 4th at 6:00 p.m. for a bespoke evening of TSV wines and Ontario cheeses. Afrim Pristine, owner of the iconic Cheese Boutique will come together with Estate Sommelier, Lorie O'Sullivan, to break down the pairing process and talk through some exquisite wine and cheese pairings. Besides tasting amazing wines, you'll also receive house-made crostini, Ontario Honeycomb, cranberry flatbreads and caramelized onion chutney to complement the collection.
---
Wine Club Blending Party
Online with Foreign Affair Winery
Have you ever wondered what it takes to be a Winemaker? At this wine club exclusive virtual event guests will build a series of red wine blends using barrel samples chosen specially by our Winemaker and event host – Rene Van Ede. The most loved blend will then be bottled as our first ever Wine Club red wine! The 'Wine Club Virtual Event Blending Kit' includes 4 barrel samples, blending equipment and instructions, all you need to provide at home is your own glassware.
---
Group Virtual Tasting Experiences
Online with Cave Spring Vineyards.
Whether you are looking for a unique way to connect with clients, reward your team or simply raise a glass and celebrate with friends, Cave Spring invites you to experience a fun, educational and interactive virtual wine event hosted by our winemaker or principal of the winery. Three packages to choose from. The Ultimate. The Incomparable. The Primo. All packages are booked for 10 to 25 people. Wine party anyone?
---
Virtual Tastings with Greenlane
Online with Greenlane Estate Winery
For these virtual tastings, GreenLane Estate Winery wines will be delivered to each participant ahead of time. During the tasting, one of our experienced Winery Ambassadors will lead your group through a fun and informative virtual tasting experience. Select from one of our suggested packages or create your own unique tasting flight!
---
For more virtual events and tastes of Wine Country Ontario, visit winecountryontario.ca