Walking into dinner at Naagan by Zach Keeshig is not your typical restaurant experience. Hosted weekly at the Owen Sound Farmers' Market in Grey County, these intimate pop-up dinners are a showcase of the journey Keeshig has taken to get to this community.
They set the stage for a unique story, one that hasn't been finished yet. Chef Zach Keeshig and his team have spent the last decade exploring the techniques, traditions and ingredients tied to their Indigenousness – and marrying them with culinary practices learned in some of Ontario's best kitchens. He's the first to admit he doesn't know everything about Indigenous food or his connection to it; but that's part of the beauty of the experience. Every dinner is a little different, every dish building upon the last version of itself – a story still being told.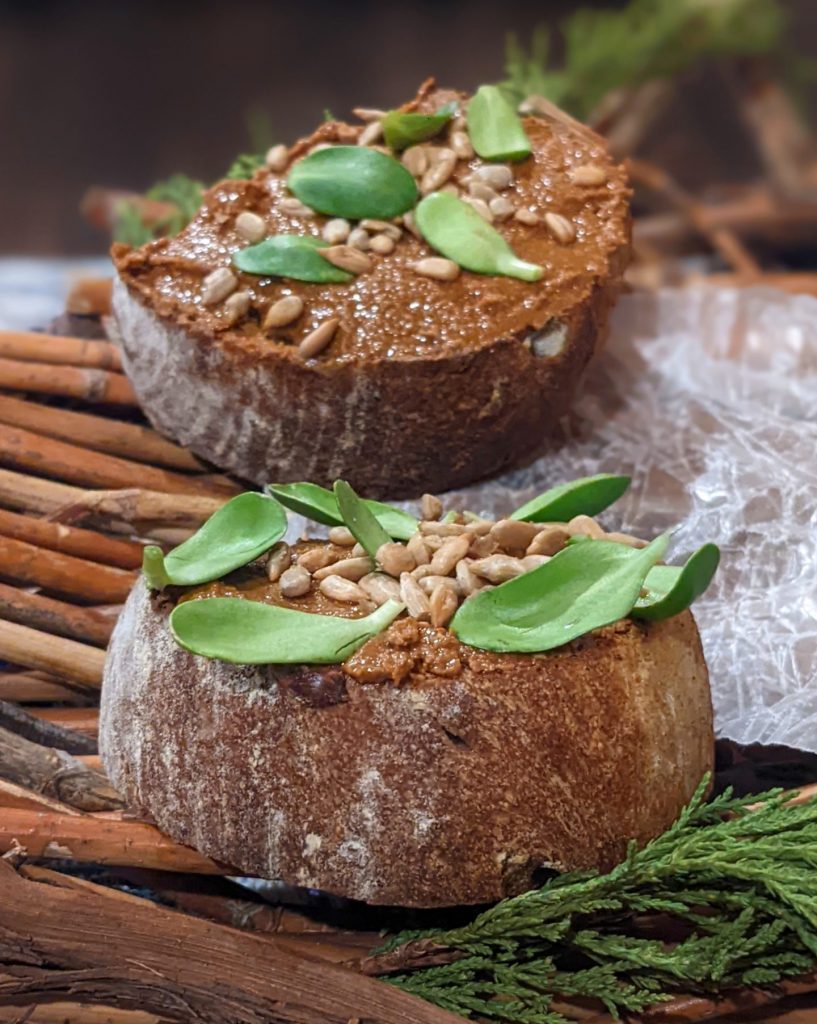 ---
"We used to make this sourdough with white flour, because that's how I was taught – but then we found this Ontario grown rye producer and decided to Indigenize it" he explains over the second course of the night, a warm and chewy sourdough rye with sunflower seed butter and sprouts. "We are trying to find ways of using more traditional, local ingredients where ever possible in our food."
What does "Indigenzing" food mean? It's a complicated question, but as the dinner progresses (there's nine courses!), our group begins to understand. There is no singular definition for Indigenous food but there are thousands of years of history to be inspired by.
Many Indigenous chefs, including Keeshig who is Ojibwe, reapplying teachings and traditions used by their ancestors, all while trying to share their lived experiences with the world. It's an on-going process, as any cultural exploration would be. There are common threads between communities and families though. A respect for the land and that which comes from it is paramount and has deep ties with Indigenous people accepting responsibility as stewards of this land. It's why you will find so many foraged and wild ingredients featured in Indigenous food. Dishes tend to highlight what's available in that one moment in a time, a brief window or homage into the season and place you're in.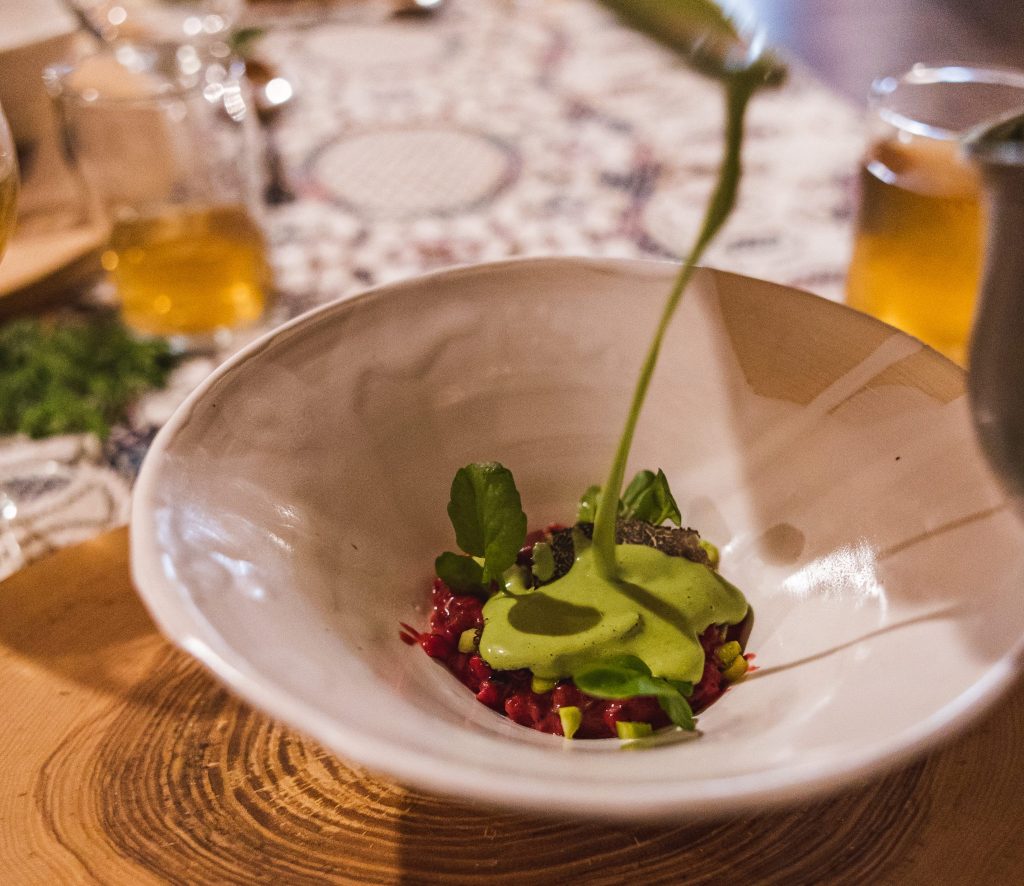 ---
The next course, a barley porridge with beetroot, goat's cheese and foraged watercress finished tableside with a frothed dill and sunchoke sauce was an example of this ethos. It was an incredible bite and a favorite of the night. It's no wonder Keeshig will be making a version of this dish for the 2022 Garland Culinary Competition. He was one of 12 Canadian chefs chosen to compete.
The main course was equally enthralling, the smell of toasted oyster mushrooms and smoked pork loin wafting in from the market kitchens before it arrived at our seats. With each course, came a story from Keeshig about the ingredients and how him and his team are learning to use and respect them.
By dessert – a multicourse affair that include a duck yolk custard popsicle, as well as a chocolate forest-scape complete with tiny meringue mushrooms and chocolate soil – we had a better understanding of what it means to cook progressive Indigenous food but also what it means to be a chef in Grey County. The connection to producers, the woodland, water and to other incredible chefs with a shared ethos was palpable.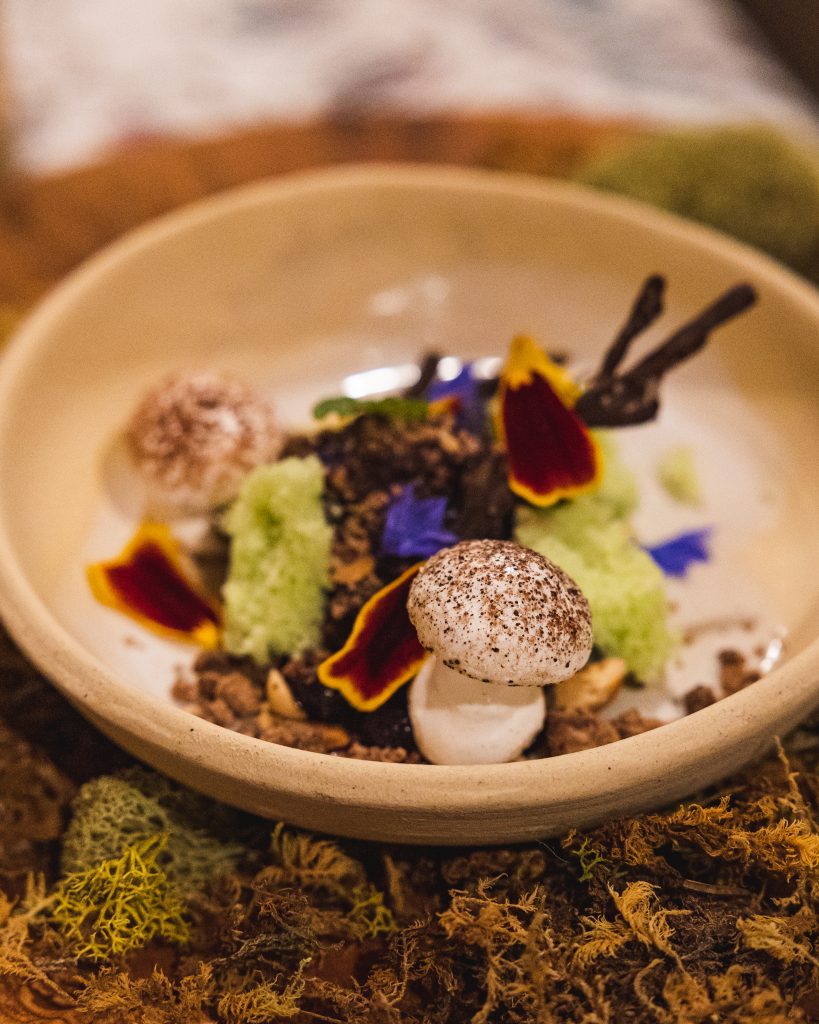 ---
Keeshig attended Georgian College's Culinary Arts program before completing an apprenticeship under local Chef Tim Johnston of Cobble Beach. He has since worked in many award-winning restaurants, honing his craft, including Eigensinn Farm and Langdon Hall. His mission is to fuse his cultural Ojibwa cuisine with modern culinary techniques and ingredients – and that's evident on every plate.
Naagan is on hiatus until February 2022.  "I want to take some time this winter at stage under some of the chefs I respect in this country," he tells us when we ask about the future. "I want to learn more about preserving and fermentation. I think it will help me understand the science behind what I was taught about food."
Dinners for mid-February are posted now. Each seating is limited to 13 guests and can be reserved via email. You can find out more here.
Naagan by Zach Keeshig is a Feast On Certified experience.