One of our favorite delicious debates to spark at any cocktail party is the age-old question: what is a sandwich? Does a hot dog count? What about a taco? Try it sometime, you'll love it.
Whatever your definition, there's no denying that sandwiches are amazing. Who knew that putting things between two pieces of bread could bring so much joy? If you love sandwiches as much as we do, this list – presented in particular order – is for you.
---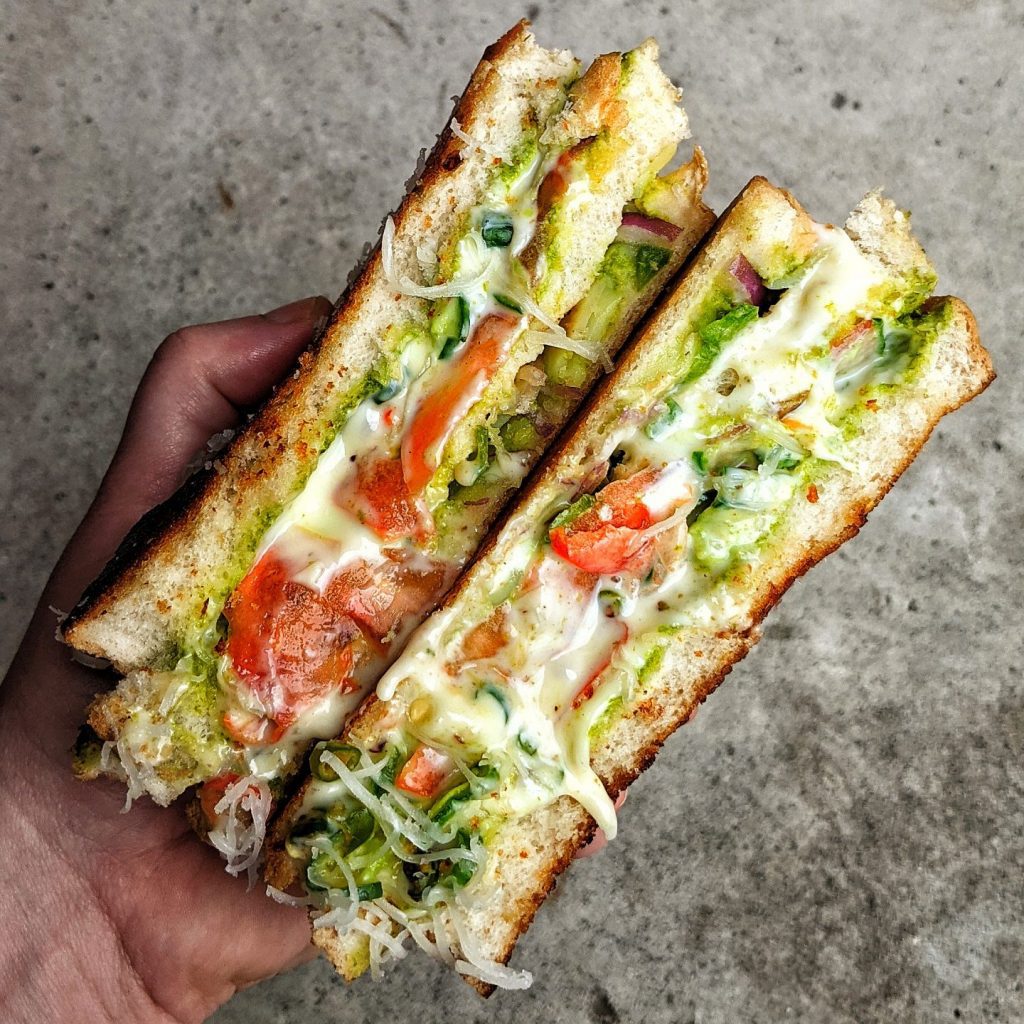 The Mumbai Grilled Cheese
at THINDI Cafe
400 College St, Toronto, ON     www.thindi.ca
Layered with fresh coriander chutney, potatoes, cucumbers, onions, tomatoes, chaat masala, and of course, plenty of cheese. The quintessential Indian street-side sandwich, it's a must-try!
---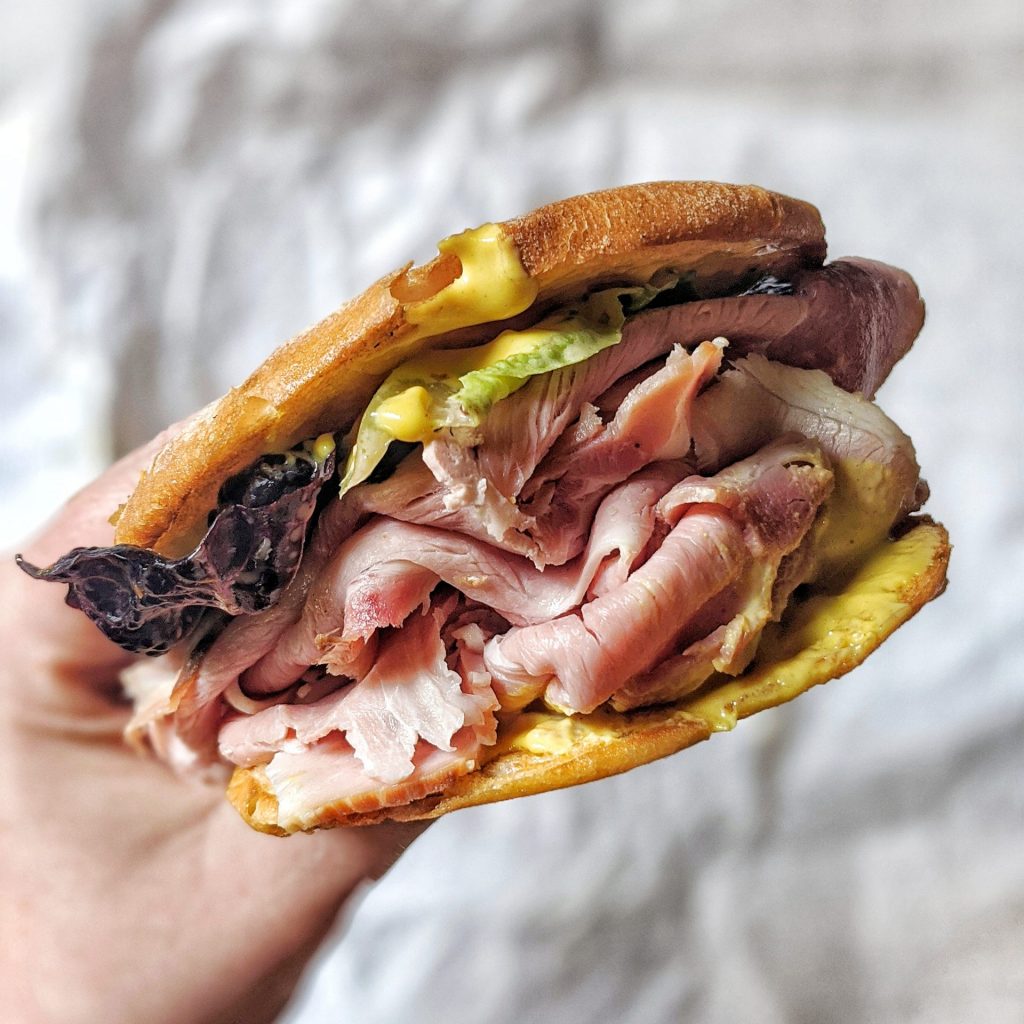 The 'Donna Ham' Sandwich
at Donna's
827 Lansdowne Ave, Toronto, ON     donnas.ca
House smoked ham is piled high on a soft, but crusty roll with a fresh greens, a shmear of Colman's mustard, mayo and a generous portion of pickled shallots. It's a simple, albeit magical, combination.
---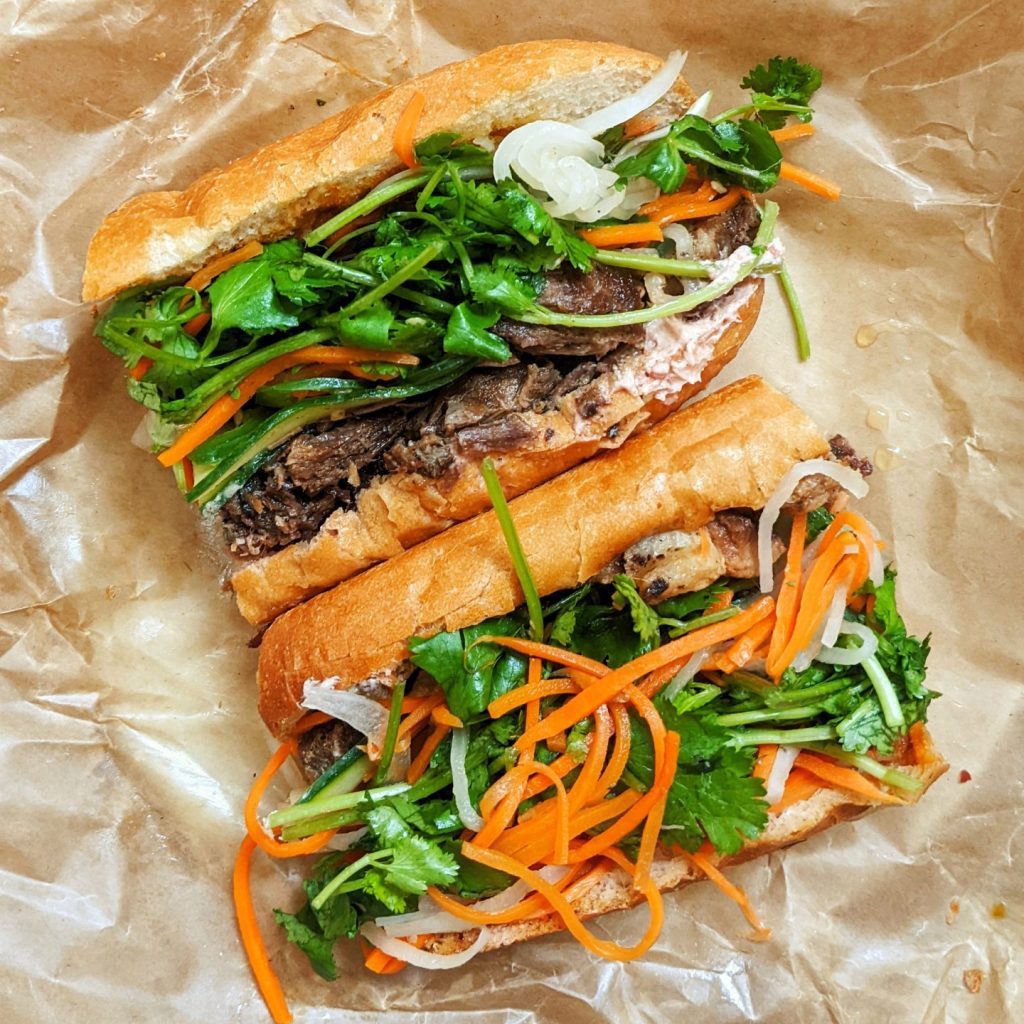 The Pork Banh Mi
at Cà Phê Rang
147 Spadina Ave. #109, Toronto, ON    capherang.ca
Tender pork belly bits are fried to crispy perfection then tucked into the softest-ever roll before being piled high with cucumber, pickled carrots and daikon, plus loads of fresh herbs. The result is heavier on the veg than your typical banh mi, but down right unctuous.
---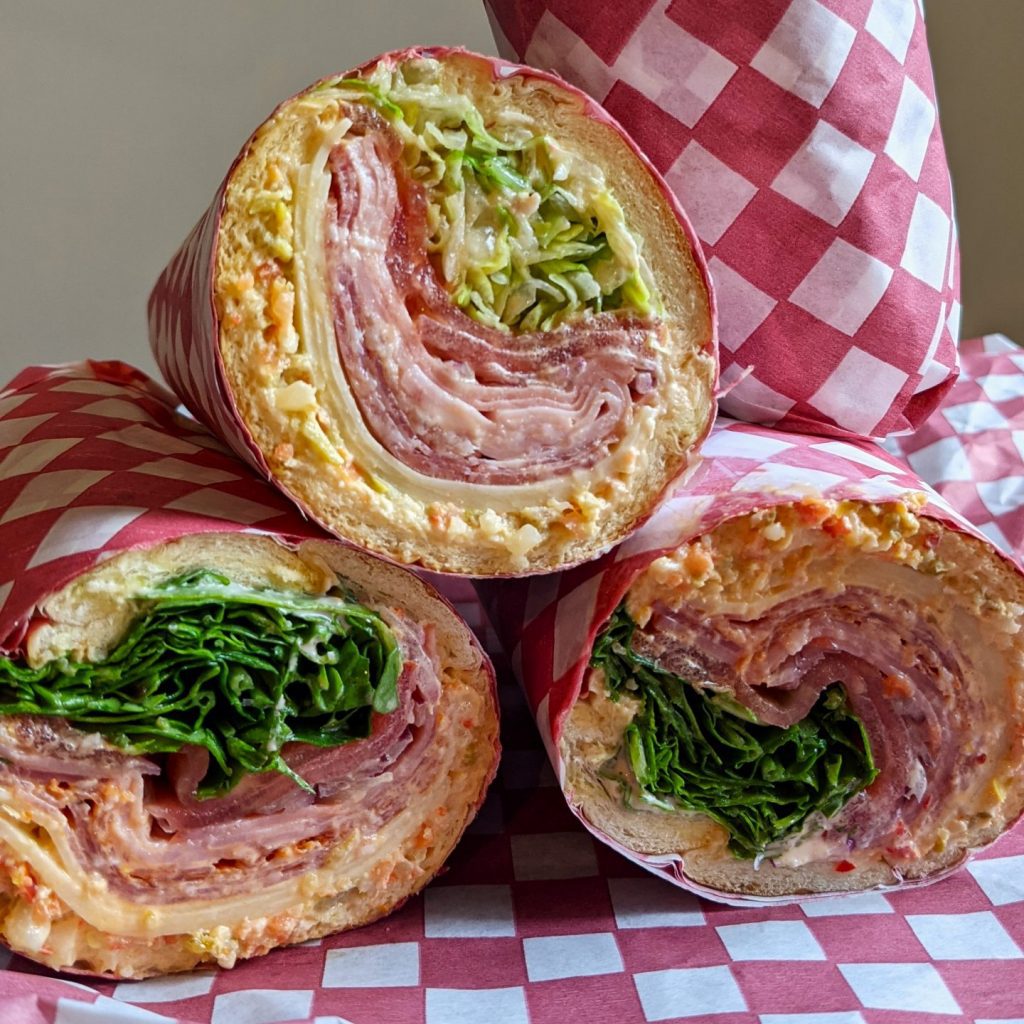 The Classic Cold Sub
at Good Behaviour
342 Westmoreland Ave N, Toronto, ON    goodbehaviourto.ca
The ingredient reads like a love letter to subs: soppressata, genoa salami, mortadella, prosciutto di parma, prosciutto cotto, provolone, giardiniera, and crunchy iceberg lettuce. It's all wrapped up tight in a sesame speckled hoagie roll.
---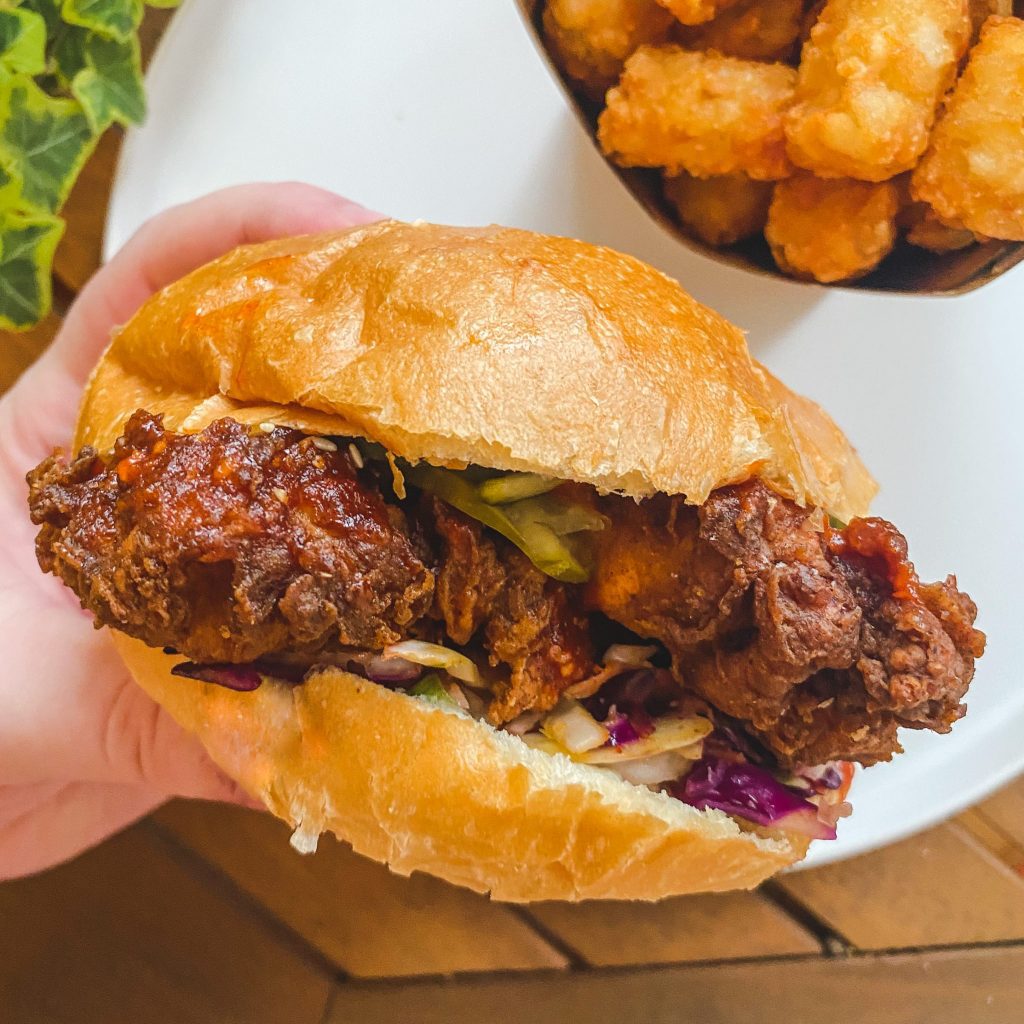 The Buttermilk Fried Chicken Sandwich at Knuckle Sandwich
969 Coxwell Ave, East York, ON     www.knucklesandwich.ca
A deliciously different take on a classic, the fried chicken sammy comes with roasted poblano slaw, chipotle honey and garlic aioli. We highly recommend adding a side of tots because, let's be honest, you deserve it.
---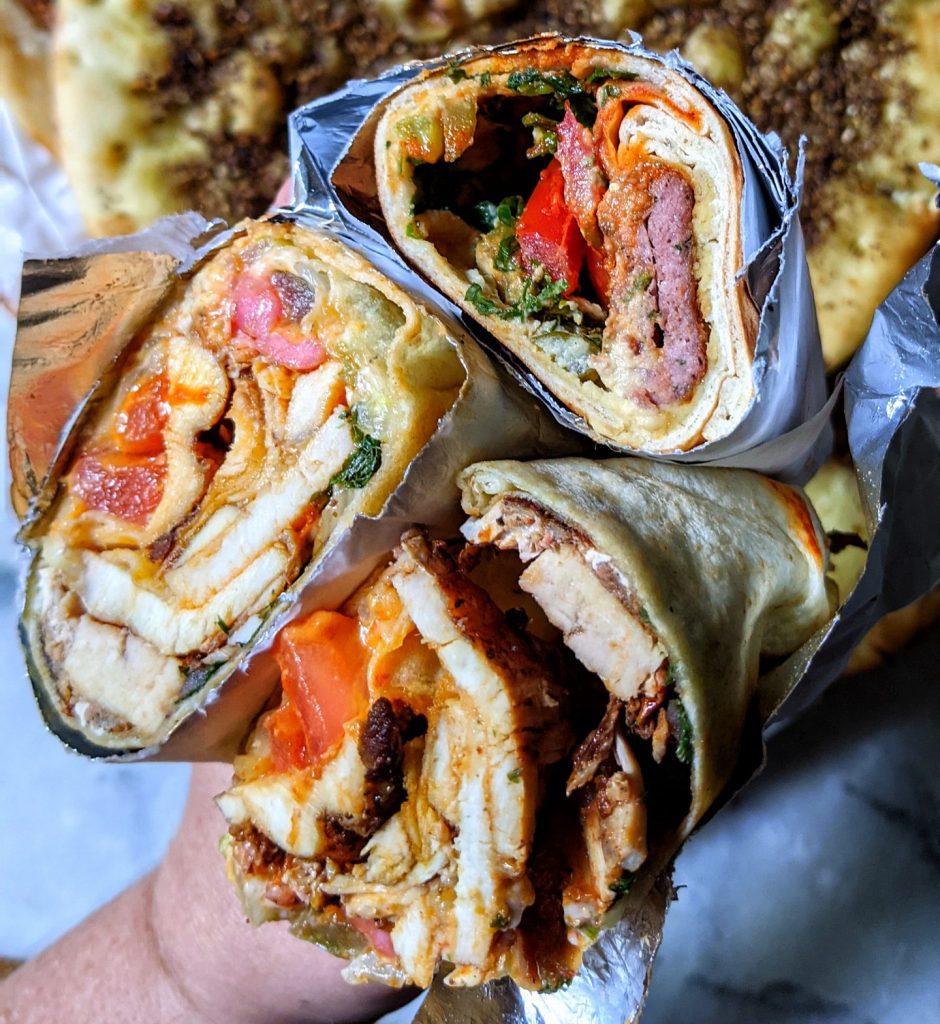 The Chicken Shawarma
at Ghadir Meat & Fish
1848 Lawrence Ave E, Scarborough, ON    ghadirmeatmarket.com
We won't judge you if you get one of everything at this grocer slash hot counter slash butcher shop in Scarborough specializing in Lebanese and Middle Eastern foods. The chicken shawarma is classic and comes with all the fixings like pickled turnips, tomatoes, tahini and more.
---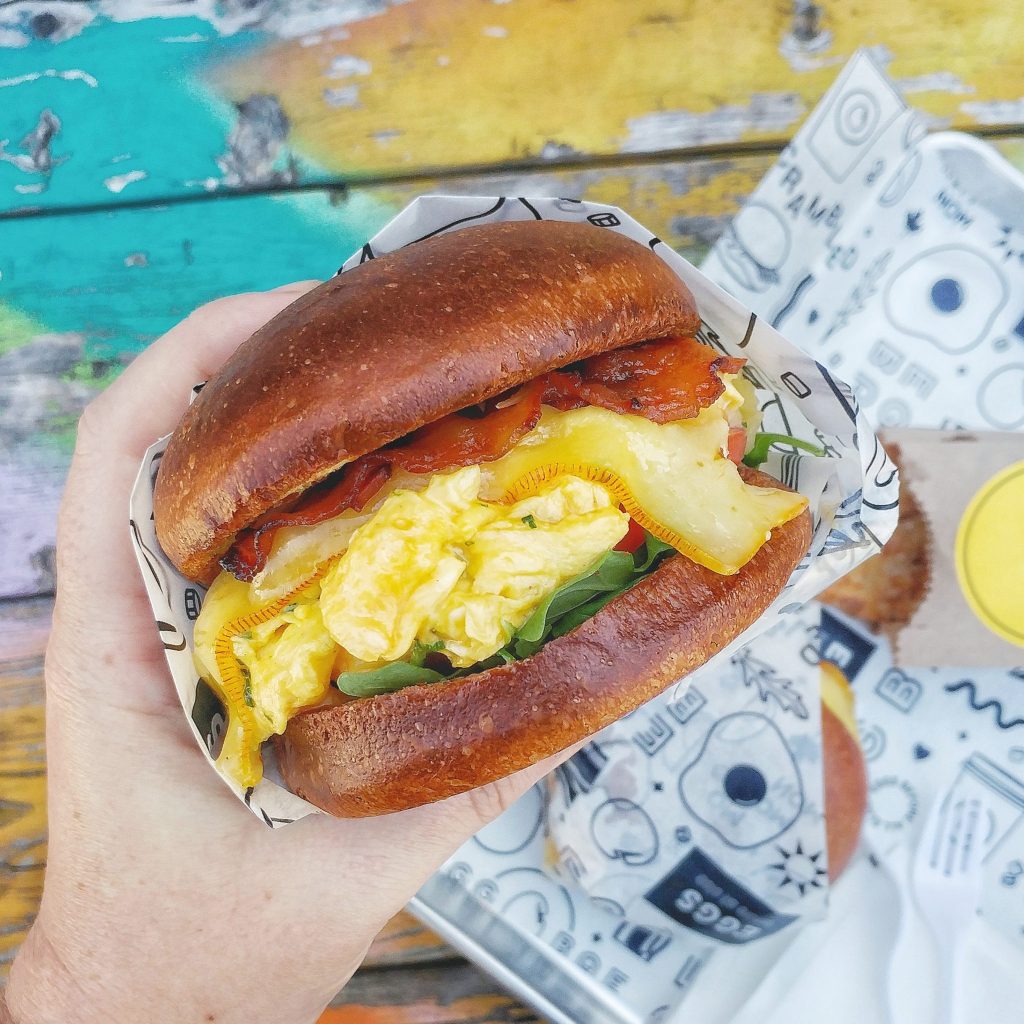 The Eh Bae Bae
At Egg Bae
189 Augusta Ave, Toronto, ON    eggbae.ca
Soft Scrambled Eggs, Sweet and Spicy Bacon, Muenster Cheese, Tomato, Arugula, Pickled Shallots, Bae Sauce on a freshly baked milk bun? Every morning should start this good. For those who prefer a taste of the sea in the morning, the Seaside Bae is also delicious.
---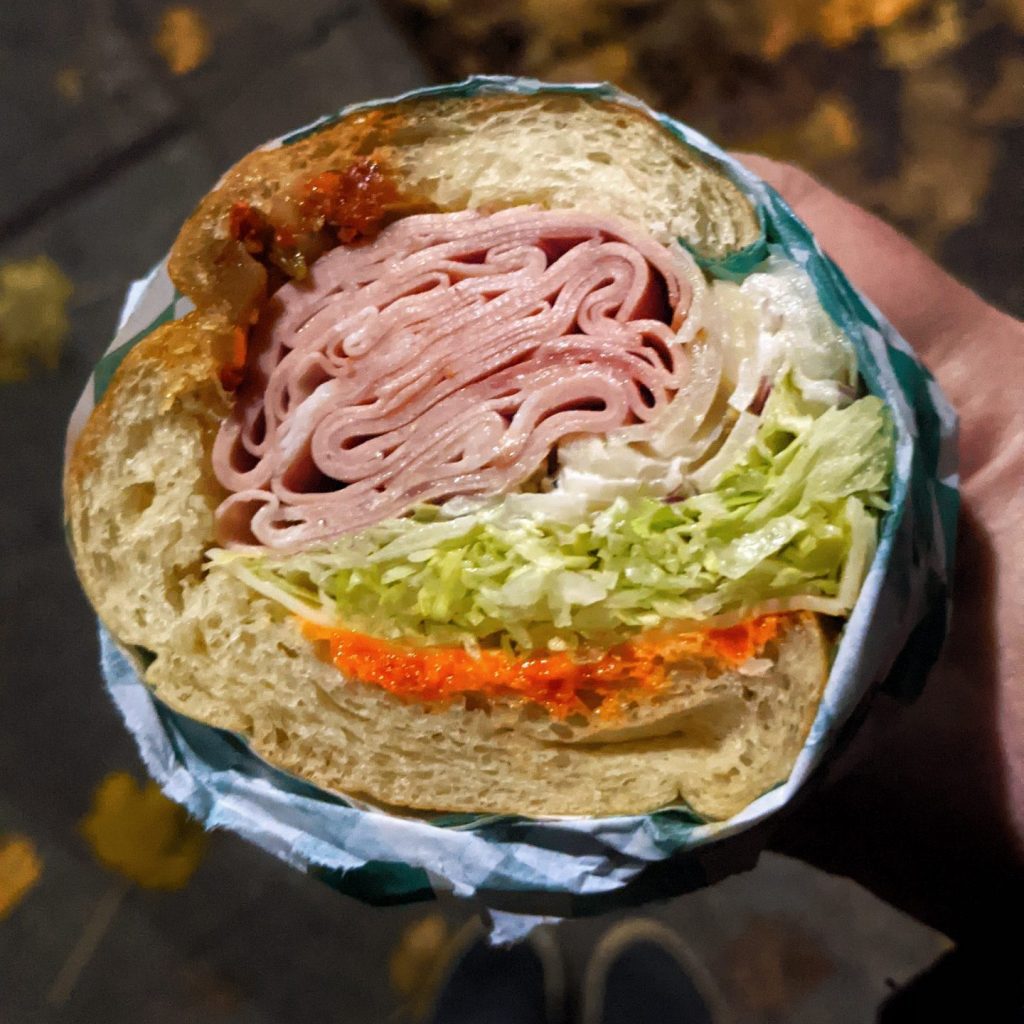 The Mortadella
at Lambo's Deli & Grocery
176 Bellwoods Ave, Toronto, ON    www.lambosdeli.ca
We have a special relationship with Mortadella. We're not exclusive, but it definitely has a special place in our hearts. At Lambo's, the pair thinnly sliced 'Della with provolone, shredduce, muffuletta and a generous helping of pickled fennel.
---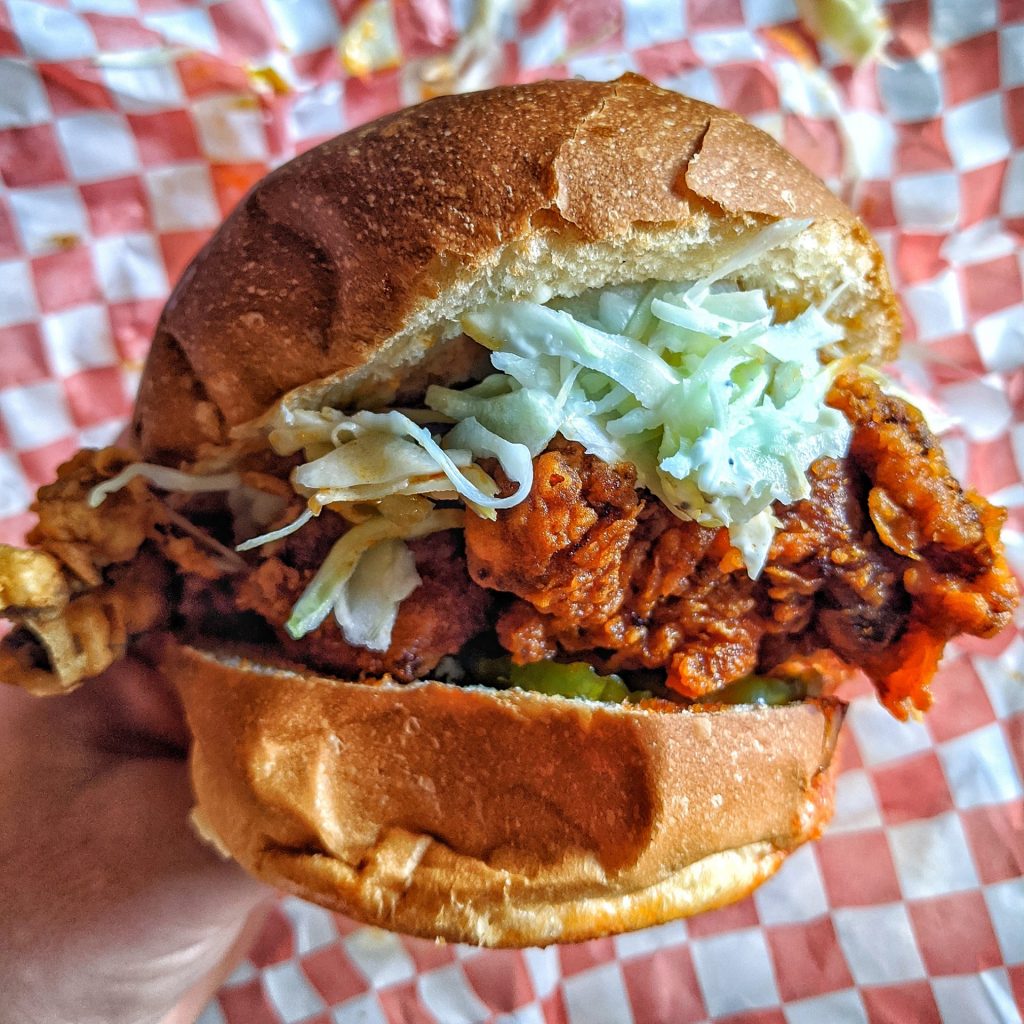 The Spicy Classic
at PG Clucks
610 College Street or 112 Queen St West, Toronto, ON     www.pgclucks.com
Doesn't get much better than this: coleslaw, pickles, ranch; plus, the fried-to-order chicken gets a slathering of Nashville-style hot sauce. It also delivers surprisingly well!
---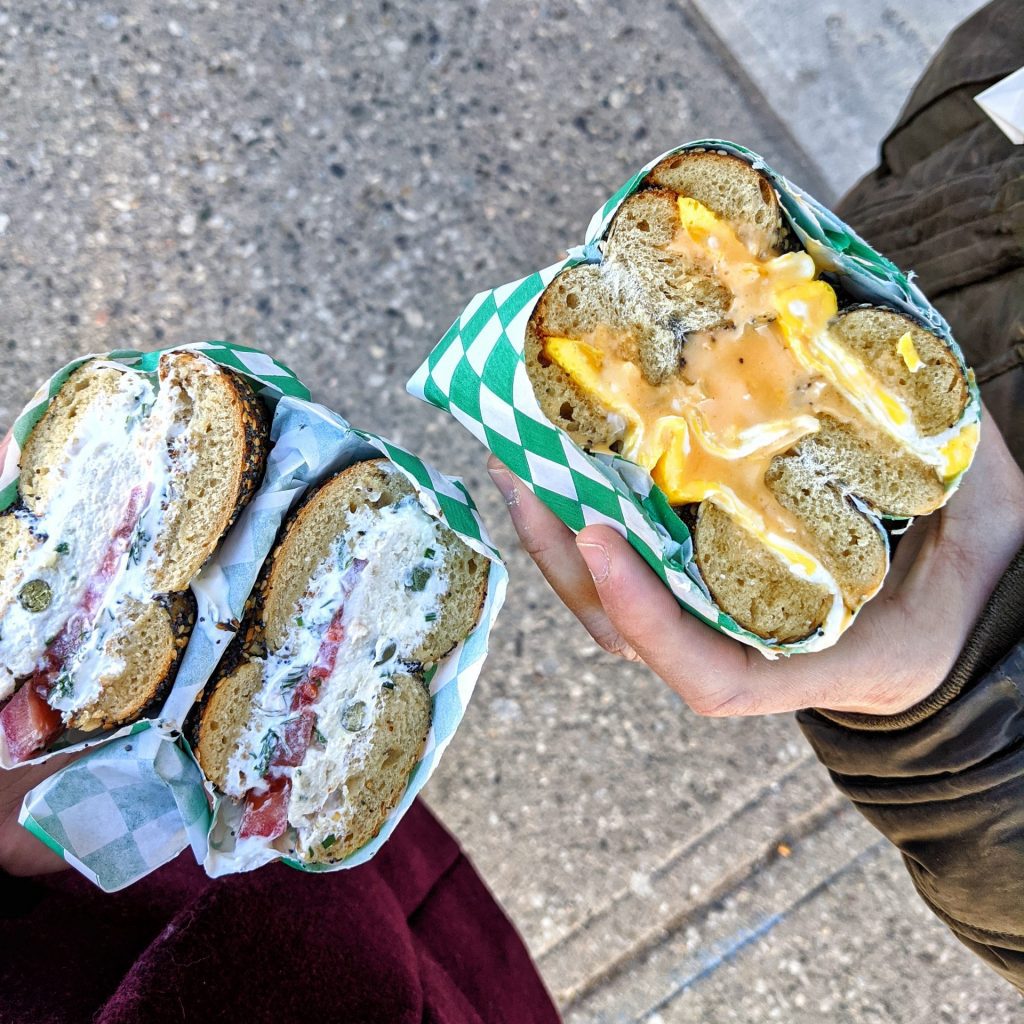 The Lower East Sider
at Primrose Bagel Co.
317A Oakwood Ave, York, ON    www.primrosebagel.com
Mornings are made for bagels and shmear. At Primrose, its a toss up between the classic egg and cheese (classic!) and the Lower East Sider – a hefty mix of house smoked whitefish, scallion cream cheese, cucumber, sliced red onion, dill, and spicy wasabi-crema.
---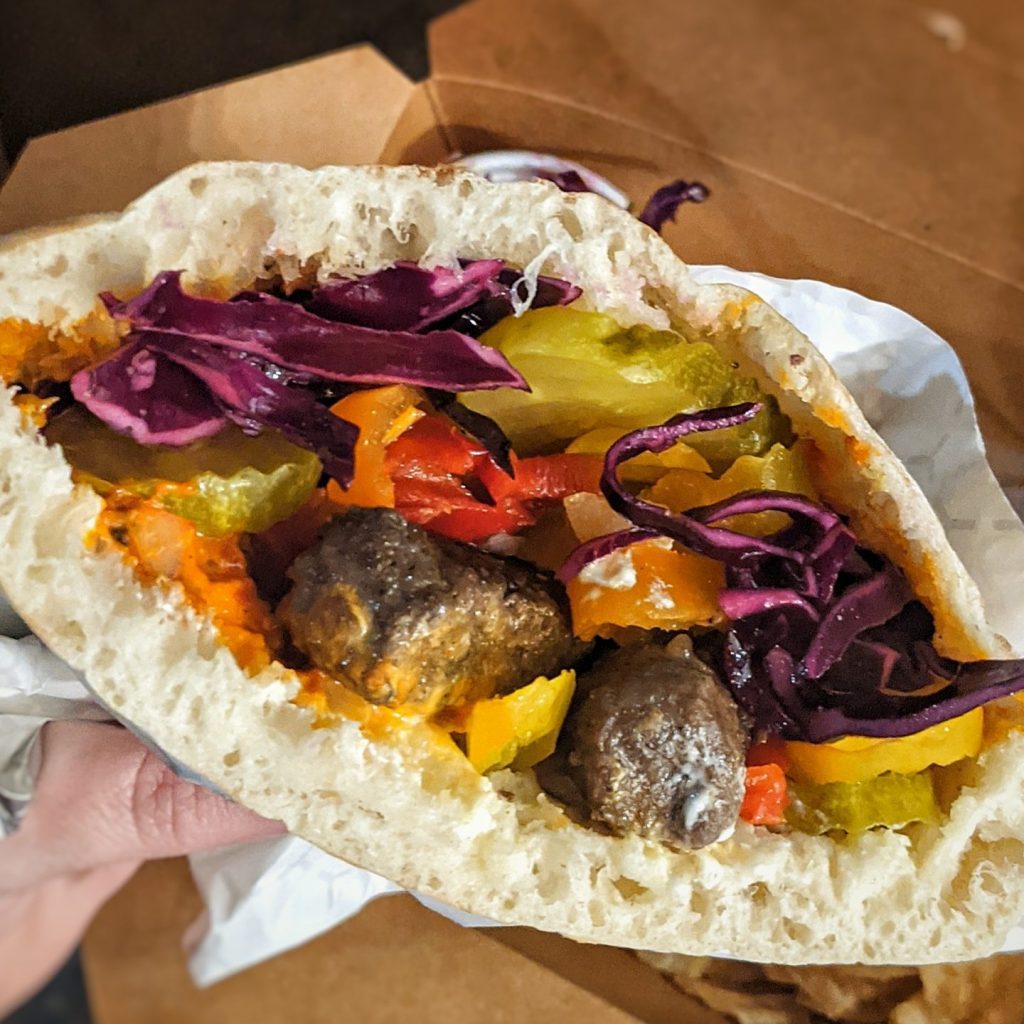 The 'Loaded Sandwich'
at Somun Superstar
998 Kingston Rd, Toronto, ON    www.somunsuperstar.com
Somun is a wood-fired bread. Pillowy and deliciously chewy, with a thin, fire-kissed crust. At Somun Superstar, they stuff theirs with all manor of deliciousness. Inspired by the way ćevapčići are usually eaten across the Balkans, the "Loaded" also comes with raw onions, kajmak, ajvar roasted red pepper, tangy dill pickles and banana hot peppers.
---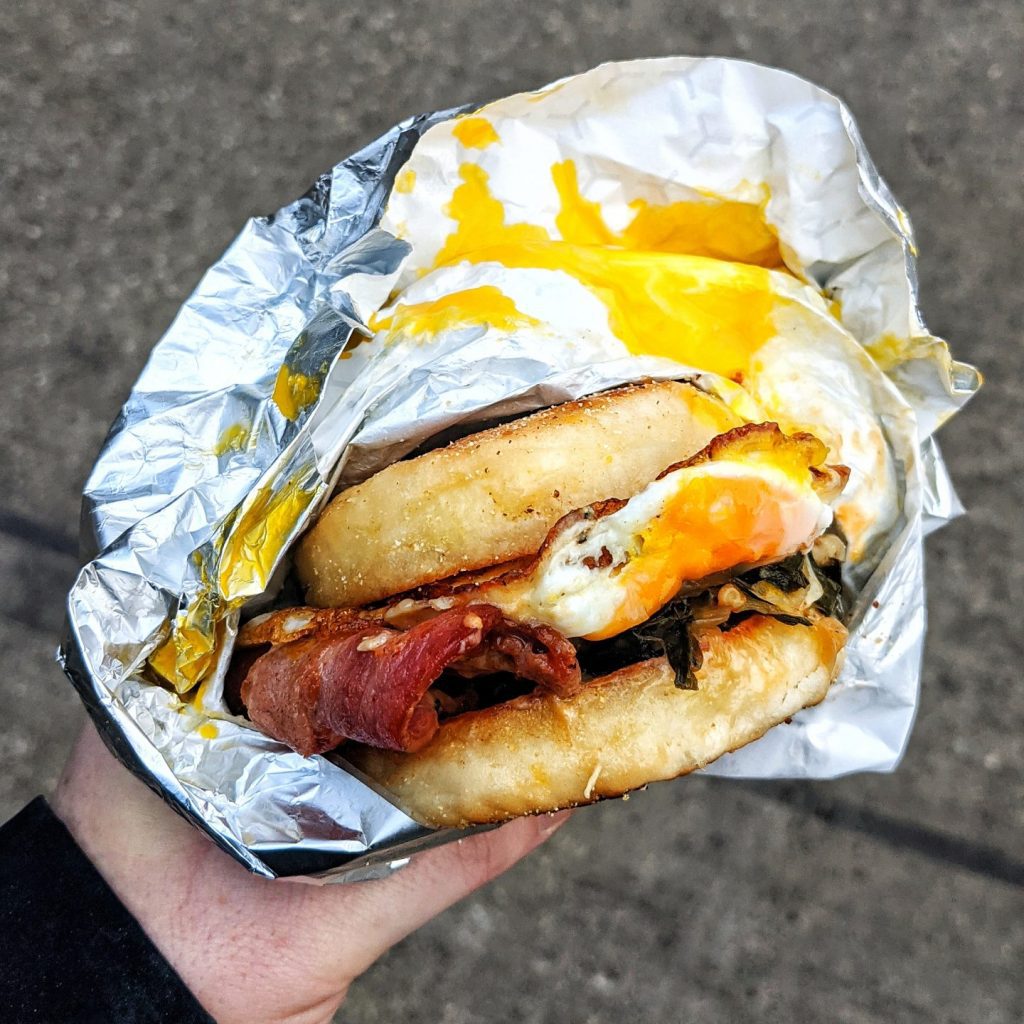 The Breakfast Sandwich
at Manita
210 Ossington Ave, Toronto, ON    www.manita.ca
We're suckers for a house made English muffin, but it's the addition of red wine vinegar braised Tuscan kale that has us coming back for this morning sammy, again and again. We find ourselves asking, why is this not also considered lunch?
---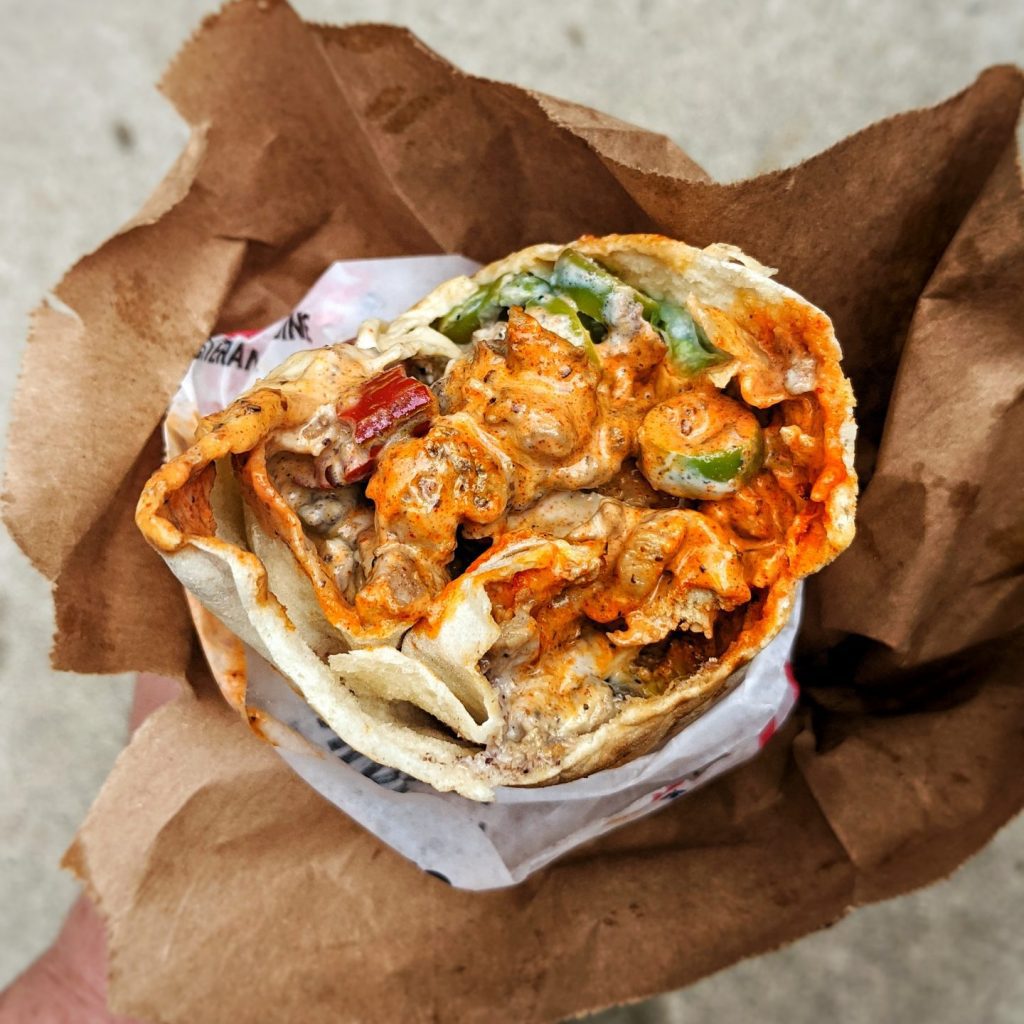 Chicken Shawarma
at Osmow's on College
351 College St, Toronto, ON    osmows.com
Don't @ us, but we think Osmow's serves one of the best shawarma's in the province. The wildly successful franchise was launched in Hamilton almost a decade ago. It's got all the classic toppings and the meat is good – but it's the actually-hot-hot-sauce that has us addicted.
---
Do you have a sandwich in the city you love? Tell us about it!