Icewine is one of Ontario's most celebrated concoctions. Lovers of the sweet sipper call it "liquid gold". It receives critical acclaim, wins gold medals in international competitions and commands the high prices that go along with quality craftmanship. We find ourselves looking for creative reasons to open a bottle!
To produce Icewine, summers must be hot and winters must be cold and sharp. Of all the wine-producing regions in the world, only Ontario has a winter climate sufficiently cold to ensure an Icewine crop (almost) every year. It's one of the reasons Icewine is so closely tied into our winemaking identity.
---
DID YOU KNOW?
To make Icewine, grapes must be naturally frozen on the vine
and harvested and pressed in a continuous process while the air temperature
remains at or below -8°C.
---
If you haven't explored the wonderful and varied world of Icewine, there's no better time to start. You can order a bottle from LCBO vintages or better yet, direct from an Ontario producer. Here's six bottles – all from Niagara-on-the-Lake – we're sipping right now and why we love them.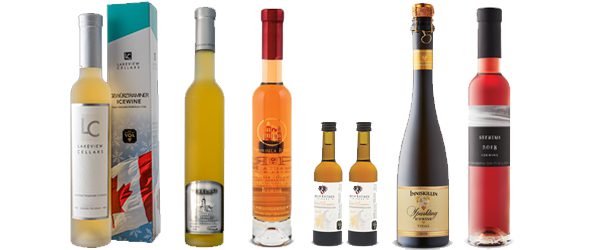 Vidal Icewine
Vineland Estates
www.vinelandwineshop.com
This unique Icewine has been described as tasting like sponge toffee, buttered dates, sweet pineapple and candied blood orange. It's nuanced acidity makes it the perfect pour for all those people who always 'skip dessert'. It's available through the winery or LCBO now.
---
Gewürztraminer Icewine
Lakeview Cellars
www.lakeviewwineco.com
This winemaker describes this wine as "a unique dessert wine that displays lively characteristics of orange zest, candied mango and floral tones with a rich palate of apple, ginger and cider." We love it for mixing into cocktails as a result! It's available direct from the winery with free shipping options and other varietals in their catalogue are available through the LCBO.
---
Cabernet Franc Icewine
Peninsula Ridge
www.peninsularidge.com
This one is for the chocolate lover – particularly chocolate covered strawberries. The winemaker describes the 2013 vintage as having "aromas of strawberry and honey, with rich flavours of strawberry preserves, cranberries and orange". We're partial to red Icewine because of it's versatility and that 'je ne sais quoi' factor that comes with something so rare.
---
Vidal Icewine
Reif Estates
reifwinery.com
This is for all those people who just want to dip their toes into the world of Icewine. It comes in little 50ml bottles, perfect for cocktails. It's a classic example of the style with lots of apricot, honey and candied lemon throughout. Reif also makes a Grand Reserve Icewine, which is excellent.
---
Sparkling Vidal Icewine
Inniskillin
on.inniskillin.com
This is a special occasion wine. The charmat method is used to capture the natural bubbles in this sweet sipper. This unique style offers a dry sensation to Icewine as the bubbles cut the natural sweetness of the tropical flavours. Find it through the winery or LCBO vintages.
---
Red Icewine
Stratus
stratuswines.com
This wine is made from a blend of cabernet franc, cabernet sauvignon and petit verdot grapes. It's warm and spicy for an Icewine. Fun fact: according to the winemaker, the two acres assigned to this wine were picked after midnight on November 22, 2018 when temperatures plummeted to -9 degrees celsius. This made for the earliest, complete harvest at Stratus on record!
---